Jumping Longines Crans-Montana: Grand Prix win goes to Bucci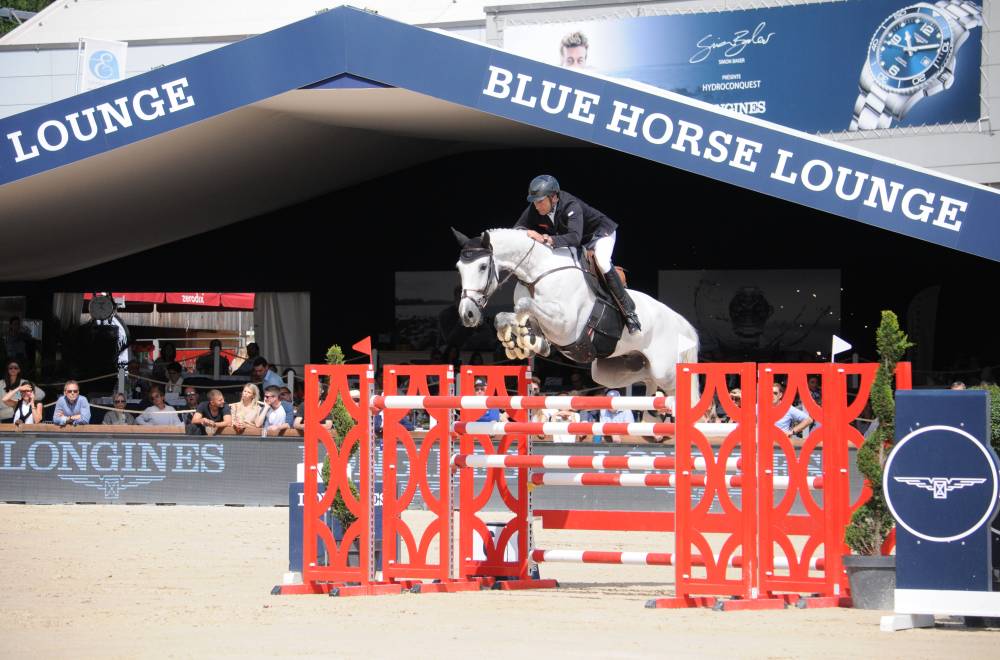 14 July 2019
40 combinations started in the 4* Jumping Longines Crans-Montana Grand Prix this Sunday, and in the end, it was the Italian anthem that rang out. In the top three, German Hans Dieter Dreher placed between the two Italians, Piergiorgio Bucci and Riccardo Pisani. As the only Swiss rider to make the jump-off, the young Anthony Bourquard, achieved the best performance of his career, taking 4th place. The audience had flocked en masse to the heart of the Alps for a day in the sun.
Only three combinations managed to turn in double-clear rounds over the delicate Rolf Lüdi and Reto Ruflin track. The jump-off allowed some riders penalized by faults in the first round to make a comeback. First to start in the jump-off, which brought together the 10 best riders of the class, was Bruno Garez who added 4 faults to the 4 he had in the first round. His magnificent 11-year-old stallion United Sunheup (by Balougran) impressed with his technique and quality. In the end, they placed 9th.
The only Swiss rider to qualify for the second round, Anthony Bourquard scored a magnificent clear round with Tum Play du Jouas (by Querlybet Hero). Then, team rider Steve Guerdat just had to wait to find out his placing. The fine man from Jura once again brought all of his talent out to play. As for his riding, it's so similar to that of his mentor, that one might at first glance, get the Olympic Champion and his employee mixed up.
After taking out second last year in this class, Frenchman Nicolas Deseuzes had a second pole down and was penalized by a total of 8 points. The Frenchman finished in 7th place with his good mount Quilane de Lezeaux (by Garnet de Grez).
The third qualified Frenchman, Titouan Schumacher, who also placed last year in this Grand Prix, was penalized by 4 faults with his elegant son of Amadeus Z*brimbelles, Amak Des Brimbelles Z, and finished with a total of 8 faults, for 8th overall.
Penalized by one time point in the first round, Irishman Alex Duffy took two poles in the jump-off, relegating him to 10th place. His young 9-year-old Fantastico B (T Flamenco Desemilly) beguiled the audience with his strength and technique.
Already prominent on Friday in the main event, Taiwan rider Jasmine Chen was the first of the clear round riders to start in the jump-off. With her bouncing Ninyon (Nintender), Piergiorgio Bucci's pupil couldn't avoid the faults over oxer N°4. The 30-year-old rider, who has already competed in two World Games (Lexington and Tryon), is aiming to qualify for the Olympic Games. Although she's an amateur - she works in the art world - Jasmine Chen has proven she has the talent to achieve her goal.
The elegant transalpine rider Riccardo Pisani scored the first double-clear round of the day with his handsome Cristo (Cornado I x Stakkato). The rider who regularly represents Italy in Nations Cups, impressed the Swiss public with his fine riding. The Italian came as a neighbor, having settled in Lombardy, northern Italy. His wife breeds many of the horses he brings to the highest level.
A fault over oxer N°4 swept all hopes of victory away for Irish rider David Simpson. His Gentlemen vh Veldhof (Quite Easy), couldn't clear the last fence, and therefore they took 5th place.
Piergiorgio Bucci was counting on Cochello, a 10-year-old gelding by Casall – as he did with a certain Casallo Z - with whom the Italian distinguished himself at 5* level by winning the Estoril Grand Prix in 2016, as well as the Nations Cups in Rome in 2017, and Dublin in 2016. It should be noted that of the 40 horses that started, there were no less than 4 Casall's. The transalpine rider managed to come in quicker than his compatriot Riccardo Pisani's time, and therefore took control of the class before the last rider's round.
The first rider to achieve a clear round at the beginning of the class, Germany's Hans-Dieter Dreher was the last rider who may have been able to dethrone Piergiorgio Bucci. Despite the legendary German's speed, he and his good mount Berlinda (Berlin) had a difficult turn before the final line, leaving him 26 hundredths of a second behind the Italian. Hans-Dieter Dreher is well-known in Switzerland as he lives not far from the border, was still satisfied with his performance: "My mare is in really good shape. I've been pretty unlucky this weekend with one or two poles down each round. This 2nd place in the Grand Prix was my first placing of the weekend. So I'm satisfied. I hope to come back next year. The courses were well designed. The 5 clear rounds in the first round, and three in the second proved that. It was perfect. I'll go to Ascona next weekend and then I'll take part in some stages of the Global Champions Tour."
Among the disappointments of the day, was Swiss man Alain Jufer fault over the last obstacle of the first round, relegating him to the difficult 11th place, meaning he was the 1st unqualified rider.
Walter Gabathuler, who recently finished 5th in the CSI 5* Grand Prix in Lausanne, fell at obstacle N°11 after a dream round til that point. Ibrahim Hani Bisharat and Chactino (Chacco Blue) also had a fall. However, the Jordanian had won the main event the day before with King of Diamond (Prince Vd Wolfsakker). And while many saw Billy Twomey as a favorite to win, the Irishman dropped out with Chat Botte E.D. (Casall)
As for last year's Grand Prix winner, Wouter Devos, he couldn't avoid two mistakes with his loyal mount Tonik Hero (Ogano SItte). However, he could rejoice in his brother Pieter's victory in Chantilly.
Piergiorgio Bucci
"The jump-off track suited my horse well. He's very respectful. As he has a big stride, I was able to put 6 strides in between the triple-bar and the vertical. So I was able to take the next option and it made that small bit of difference between Hans and me, because up till then, he was faster than me. I'm really happy and proud because I've been riding this horse for 2 years. He has jumped small events and he's not very confident, so I've had a lot of ups and downs with him, but in recent weeks, I've felt him become more confident and ready to win. The organizers have done a really good job, because it's not easy to organize a competition here. As for my program, I will go to Ascona now, because I'd like to strengthen my horse's confidence at this level of competition. I can also count on my fabulous mare Driandria (Carthino Z), with whom I will take part in the Hickstead CSIO with the Italian team. I'm very proud of Jasmine Chen, my pupil. She had a very good weekend. She's a very hardworking rider. She only rides 4 months a year, because the rest of the time she works in the art world, but as she's trying to qualify for the Olympic Games, she has been riding a little more recently. I think she'll have a bright future. Her horse is fantastic, but she deserves it. When Janika and I split up, Jasmine moved with her, but she didn't like Germany as much, so she returned to Belgium."
Anthony Bourquard
"This is my best performance. I've never placed in a 4* Grand Prix before. I'm very satisfied, especially with the success of this performance here in Switzerland. This was my first Grand Prix at this level with Tum Play. It was Steve's idea to ride him rather than Janus Vb (Namelus R), who's my lead horse, and he was right again! Tum Play has always jumped very well. We wanted to try something. We were unlucky at the Grand Prix in Lausanne, where I took a pole at the last obstacle. I already placed 5th in Albführen last weekend with him. I've been riding him since the end of May, so I only began riding him quite recently. Tum Play is a sales horse, so we don't know his long-term future, but I'd obviously like to be able to ride him and keep getting good results with him.

I had no luck in this competition until the Grand Prix, but I wanted to continue believing until the end and I did well. I spoke to Steve on the phone right after our jump-off round. He was happy for me, but a little frustrated that he wasn't able to secure the victory for Switzerland in the Falsterbo Nations Cup.

For the rest of my program, I'll give my two leading horses, Janus and Tum Play a break. So I'll be participating in National competitions in the coming weeks, in Maienfeld and Chalet-à-Gobet. I hope to go to the Verbier CSI, and then onto the Swiss Championships in Humlikon. But all of that depends on the horses. I've been at Steve's for 4 years now. I've really learned everything I know from him. Being a rider is not just about getting out on course, it's also about knowing everything else, how to get a horse to peak on D-Day and much more. It's thanks to Steve that I'm the rider I am today. I hope to continue progressing with him."
Grand Prix results