Julien Epaillard marks the occasion in Madrid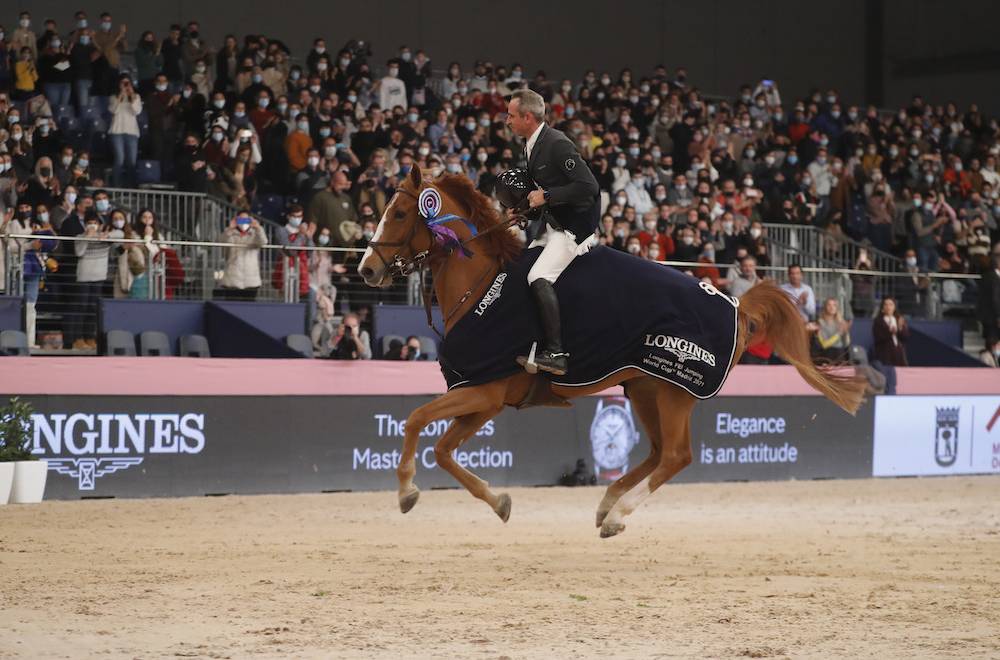 29 November 2021
Julien Epaillard looked at ease this weekend in Madrid where he won not one, and not two, but three events, including the Sunday Grand Prix, which is part of the World Cup. Not really surprising, considering how regular the rider from Normandy is, especially since the Spanish capital is his second home.
After a few weeks' break due to the cancellation of Stuttgart, the World Cup circuit came to Madrid for its fourth stage. Simon Delestre and Hermes Ryan, the last winners in Verona, were once again in the running to score points for the final in Leipzig next April. However, it was another French pair who took the spotlight in Spain: Julien Epaillard and Billabong du Roumois (Mylord Carthago). This victory was all the sweeter for the rider since he is closely attached to the country: "My wife Susana is Spanish and she lives here, my son goes to school in Madrid, and I share my time between Normandy and Madrid", Epaillard recalled.
He managed to achieve the best ride of the six jump-offs although, in his opinion, it was not the most successful of his career: "I knew that there were several very fast riders going after me and it was not the best jump-off of my life. There was a lot of pressure and I was very lucky!" Despite a few touches, he wasn't stopped from winning ahead of David Will with C Vier (Cardento) and Denis Lynch on GC Chopin's Bushi (Contendro II).
Julien Epaillard completed a dream weekend with this victory in the World Cup Grand Prix. He had already won two major events this weekend with Solero MS (Silvio I) and Billabong. Billabong has little experience at this level of competition but has shown exemplary consistency since his arrival under Epaillard's saddle last June. "He's a great horse, he won three Grand Prix in Gorla Minore, the CSI4* one in Saint-Lô last month and now a CSI5*, he's super competitive", his rider said. The 10-year-old gelding was trained in Bruno Rocuet's stables before Clément Bertho took over. The young rider aged 22 is none other than the son of Billabong's breeder, Philippe Bertho. After competing in a few 2* Grand Prix, the pair split up to give Billabong the opportunity to quickly reach the top level. And quite rightly so!
With 23 points, Julien should now be going to La Coruña and then to Mechelen to accumulate some more points for the final. After the first four stages, some riders are already close to qualifying (40 points are normally needed). Denis Lynch dominates the Western European league with 37 points accumulated from three stages. He is ahead of the Dutchman, Kévin Jochems, (30 points) and the Swede, Jens Fredricson, (27 points), who is none other than the older brother of a certain Peder Fredricson.
Third in Madrid and Verona, GC Chopin's Bushi allowed Denis Lynch to take the lead of the World Cup Circuit
© FEI/Stefano Grasso