Julien Epaillard, full speed towards an Italian victory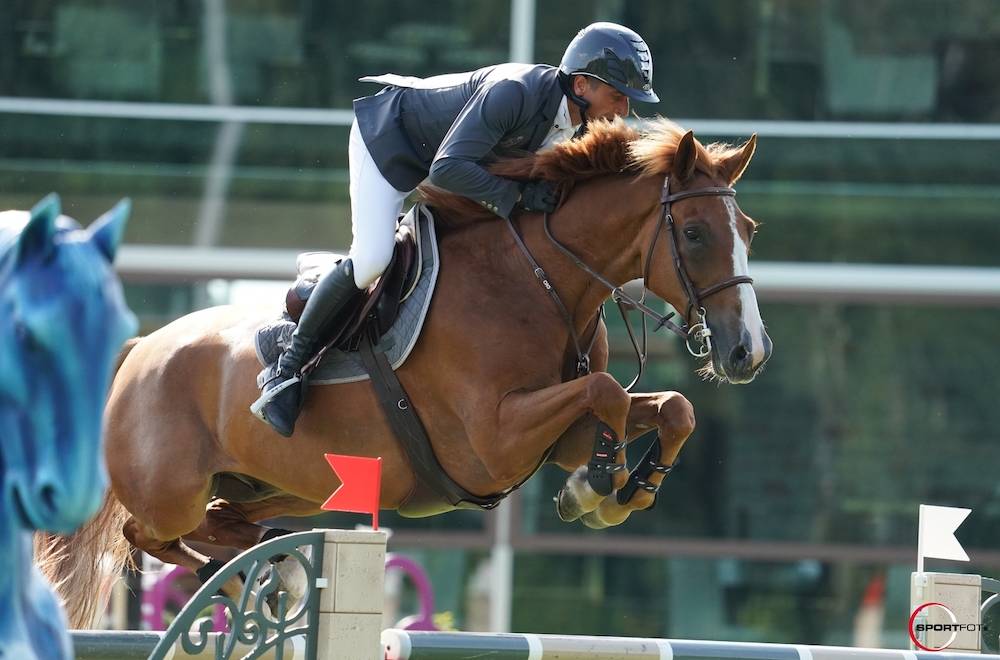 04 October 2021
There was only one 5* on the program this weekend! These last few days, the top show jumping riders have been gathered in Spain to compete in the Nations Cup final. Meanwhile, other lower level competitions have taken place around the world. Let's have a look at the results!
Barcelona CSIO5*
The curtain has come down on the 2021 Nations Cup circuit! The last stage was held in Barcelona this weekend, culminating in the grand final on Sunday. It was won by the Netherlands for the third time since its creation, followed by Ireland and Belgium. Read the event report here.
Gorla Minore CSI3*
Only one competition was held in Italy. Gorla Minore hosted 3* events in their multiple arenas. In the Grand Prix, Julien Epaillard again showed his speed by taking first place with Billabong du Roumois (Mylord Carthago). They were the only ones to have lowered the jump-off time below 42 seconds, taking the win over Italian rider Marco Pellegrino (Vick du Croisy) and Swede Marcus Westergren (Hurry Up G).
Oliva CSI2*
The autumn tours have resumed in Spain with the Mediterranean Equestrian Tour which has just completed its first week of competition! The 2* Grand Prix course proposed by Swiss course designer Gérard Lachat was comprised of 15 efforts. Nine riders made it to the jump-off, but the fastest to get the double clear was young French rider Melie Gosa on Alouette d'Eole (Mylord Carthago).
Melie Gosa and Alouette d'Eole © Hervé Bonnaud/1clicphoto.com
"I bought Alouette when she was 6. She was competing with Stéphane Dufour at 4 and 5 years old. I always wanted to do things slowly with her. We had time to get to know each other. And finally, this year, I feel like we're in great form, it's a real breakthrough year for us. We've accumulated six placings," said the Frenchwoman.
The French rider won ahead of Clem Mcmahon and Pacato (Pacino) and Wout-Jan van der Schans, riding A S Bombay (Diamant de Semilly).
Opglabbeek CSI2*
On the Belgian side, two 2* competitions were offered to the riders. The first one took place at Sentower Park where Zascha Nygaard Andreasen had the Danish anthem resounding after the Grand Prix with his Carrico daughter, Carasina HD. After a 12-person jump-off, the 28-year-old rider beat two Dutch riders, Ruben Romp and Manon Hees, who took second and third respectively.
Bonheiden CSI2*
The second event took place in the Flemish region! Remco Been rode Holland Vd Bisschop (Heartbreaker). to the Grand Prix victory. With a lead of almost three seconds in the jump-off, the Dutchman snatched the victory from the Belgians Wilm Vermeir with Hotshot (Carembar de Muze), and Chloé Vranken with Tahis du Masure (Muriesco du Cotentin).
Riesenbeck CSI2*
Ludger Beerbaum's facilities, which hosted the European Championships last month, have hosted some 2* classes over these past few days. There was no place for foreigners on the Grand Prix podium which was 100% covered in German colors! Eight-year-old Cascadello Boy RM (Cascadelllo) had his first victory at this level under the leadership of Katrin Eckermann. The duo secured the win ahead of Sophie Hinners and Galanda Mara TH (Lexicon). Third place went to Gerrit Nieberg and Blues D'Aveline CH (Baloussini).
Vancouver CSI2*
Vancouver, Canada, once again hosted an international 2* competition this week. Tiffany Foster won the Grand Prix ahead of American Lauren Brooks and her compatriot Alicia Gadban-Lewis with a horse she knows very well since they have been together for eight years! She began riding Brighton (Contendro II) after the 7YO World Championships and he has never left. Together they have already won several 2 and 3* Grands Prix as well as multiple intermediate events. Yesterday, they added another line to their already impressive list of achievements.
CSI 2* Fontainebleau
In France this time, the legendary equestrian stadium of Fontainebleau hosted an international competition organized by the Bost family. The 2* Grand Prix was won by young French rider Lalie Saclier and Ultra Blue de Jaurand (Mr Blue), who have been accomplices since 2015. They both came in ahead of the experienced Pius Schwizer, who was associated here with WH Delilah (Boritas), and Lars Kersten on Hallilea (Zirocco).
Biarritz CSI2*
On the Basque coast, a CSI2* was offered to the riders at the Biarritz facilities. There was no chivalry for Sébastien Duplant and Aldrick Cheronnet who respectively placed first and second in the Grand Prix with Alpha de Preuilly (Pacha de Preuilly) and Atlantys By Wisbecq (Argentinus). Marie Demonte completed this winning trio with Maxwell van HD (Diamant de Semilly), an 8-year-old horse that she has only been competing internationally since last August.
Featured photo: Sportfot.com