Julia Krajewski, Queen of the Arville CCI4*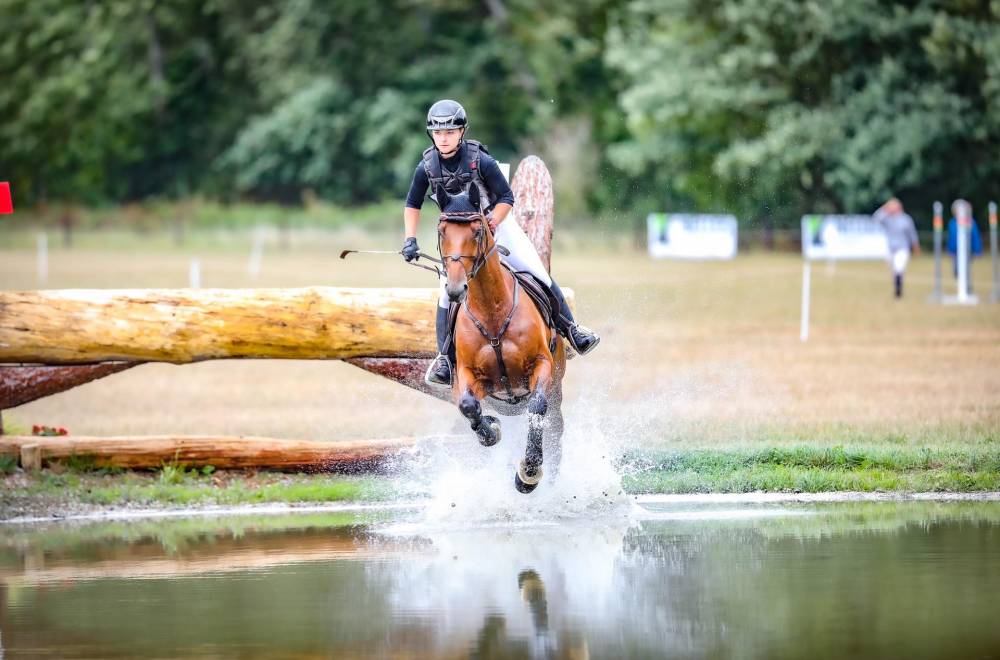 25 August 2020
The Arville organizers have had a hard time following the very strict coronavirus sanitary measures, but they were finally rewarded by the presence of a great line-up of competitors, where many top-level riders have (re)discovered the Belgian Ardennes.
The event started with dressage followed by showjumping, before finishing with the long-awaited cross-country event. The Arville CCI4* ended with a 100% German podium, with the 3-day event being led from start to finish by Julia Krajewski on Samourai du Thot (Milor Landais x Flipper d'Elle), whose maternal half-brother Warsaw du Thot competed in 1.50m events last year with Mégane Moissonnier, before being sold to Switzerland. His dam is a maternal half-sister to the Jean-François Noel's Normandy breeding star, Ideo du Thot, who himself performed at the highest level under the saddle of Beat Mandli.
"I'm delighted that Samourai is finishing the weekend as he started it. He won the dressage, had a very nice round in the showjumping and a very good cross-country round today. In fact, he knows it all, and when he's there, he's there! I'm very proud and so happy. It's been a while since I've been here and to win our first time out after all this time with no competitions is very special to me. It's a beautiful place and we're really happy to be here," said the winner.
It was an especially good day as the second step on the podium was secured by individual bronze medalist from the London Olympics, Sandra Auffarth, who was sitting in second place after the dressage, and remained there in the wake of her compatriot during these three days of competition with another Selle Français, Viamant du Matz (Diamant de Sémilly x Voltigeur le Malin AA). Their compatriot Christoph Wahler, had a different scenario this weekend as he was sitting in 10th after the dressage with Carjatan S (Clearway x Galant Vert xx) before moving up to 5th place after the showjumping, and then onto the third step of the podium once he crossed the cross-country finish line!
Second of the Le Pin CCIO4* last week, Thomas Carlile decided to come to Belgium without his stars and instead brought his young horses to line up in the CCI3* to give them the best experience he could. It was a successful outing, as the French rider won his category with Spring Thyme de la Rose (Sir Donnerhall x Pik Junior). Sitting in fourth at the end of the dressage, he took the lead at the end of the showjumping and never relinquished it. His compatriot, Maxime Livio, was sitting in first place after dressage with Casanova des Isles (Flipper d'Elle x Darco), but they failed to secure a podium finish.
Twentieth after the dressage, Germany's Ann-Catrin Bierlein moved up to second place just ahead of Belgium's Celia Benay on Delara (San Remo x Caritas), who took advantage of the occasion, winning the national title for young riders.

On the Belgian side, Lara de Liedekerke won with her homebred mount Alpaga d'Arville (Wonderboy vd Zuuthoeve x Shamaraan xx), securing her fourth Belgian Championship title! She came in ahead of Stephanie d'Andrimont on Casperelli (Cooperit) and Senne Vervaecke on Google van Alsingen (Watch Me).
Pictures Sebastien Boulanger /Eventing Arville