Jos Verlooy makes it a double with Varoune!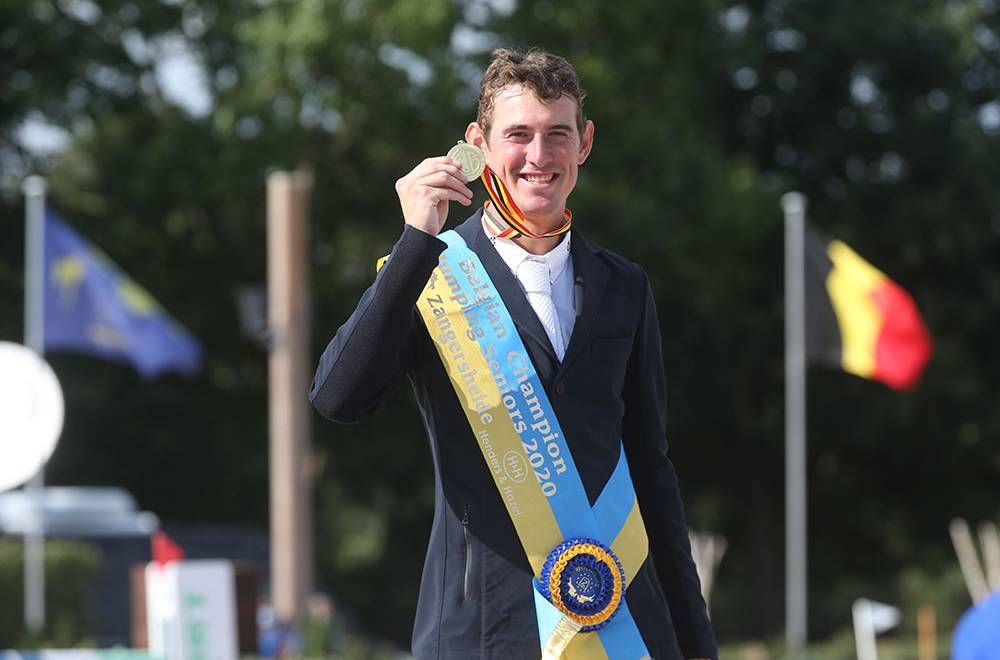 06 September 2020
This 2020 Belgian Championships was special. Access to the site was well secured and you had to show your credentials to enter... but once again, Zangersheide showed its ability to organize events under all circumstances! A reality appreciated by the riders who never failed to thank the organizing team, each in their own way.
There was no other event happening, which was unique for the Belgian Championships... and as a result, the riders have had quite exceptional conditions to warm up, with three arenas used as the warm-up paddock, two of which were equipped for jumping. It's hard to dream of anything better!
The only disappointment of this championship was unfortunately the suspense! During the first round, Nicola Philippaerts was the only one of the favorites to drop a pole with Zayado (Cayado).
In the second round, there was a bit more suspense though. Dominique Hendrickx was the big loser of the day with Vintadge de la Roque (Kannan), while young rider Gilles Thomas excelled with Konak (Nabab de Rêve), but came out of the arena with three poles down.
Christophe Vanderhasselt rode Happydam (Quidam de Revel) and Jérôme Guery rode Eras de Ste Hermelle (Vargas de Ste Hermelle), each turning in beautiful final rounds respectively, notching up 4+0 and 0+4, to finish 8th and 9th respectively.
But the incredible performance of the week came from Liège and a certain Charlotte Philippe! She was already very happy to be able to take part in this final, and the young woman who rode Cacharel de Armoranda Z (Corlensky G) was not just a figurehead as she easily achieved a double clear round!
An incredible performance that granted the pair the 5th final place: "I bought Cacharel at the end of her six-year-old year... but she didn't know anything. She was barely broken in. When she arrived, Jerenmias (editor's note: van het Hulstenhof aka Hello Jefferson) was still there. But when he was with us, she was doing 1.10m events and starting 1.20m events. But when Jefferson left, I found myself without horse! So, she went from 1.20m to 1.40m pretty quickly. It always went well because she has a lot of heart and she caught up very quickly. Nevertheless, she is still a very special mare; I guess I like that. Unfortunately her breaking-in experience was very complicated and even now, at home, there are days when I have to improvise because she likes to show her temper. Fortunately, in competition, it goes better, she is much more serene. When I bought her, I never imagined such a story unfolding. She became my lead horse kind of by default and she was really able to take her place in the stables. Now, that's easy to say, but at the very beginning, we couldn't have expected that. I'm not famous, people don't know me... so yes, I hope this result will open doors. I worked as an accountant for 4 years, but nowadays I have dedicated myself to horses. After the sale of Jefferson, I was so demoralized that I changed my life. I started to take care of the administration of my spouse's company, but there wasn't enough work to keep me busy 38 hours a week, so I started to gently do the horses on the side... and one thing led to another. I lack experience with riders like the ones I'm facing today, and I don't have ten horses that allow me to compete at this level every week. I also think that, in the end, everything went perfectly during that week. When I was sitting in 12th on the first day, I could only do better and improve my ranking. I'm really happy with how my championship has gone and this double clear in the final is really the icing on the cake.
When Jefferson left, I was really sad, and it also took a little while for Scott to adjust to the horse who is very special and really needs to be tamed. Today, seeing that things are going well on their side also reinforced my decision to sell him. The fact that the horse feels good where he is and that he is recognized for his ability really pleases me. Had it been otherwise, I think I would have really regretted selling him. I've always kept in touch with Scott and his grooms who send me news from time to time. Today, I really think I made the right choice by selling him because it also opened other doors for me.
I've been working with Lionel Collard Bovy for four months now and he has just returned from Argentina. I think having someone to help is really important. You just have to look around. All the riders here have someone to advise them. I think I have done a lot on my own, but it's all about the details. I really needed someone to help me. At home, I didn't have a schedule and I didn't really know how to manage a horse. I registered week after week for competitions and I didn't jump at home. Sometimes I would come out with a fault or several faults, but I wasn't able to justify myself being there. Now he's always next to me and he has a look at everything I do. I'm going to train at his place and we will prepare for the big events together. He motivated me all through the Gold League to notch up the clear rounds and I got here! For this final, it was good to have him next to me, to reassure me and tell me that I could do it. Of course, even if he's there all the time, there will still be failures and you still have to question yourself too... but it's still a shoulder to lean on. In the warm-up, he helps with the way we jump the warm-up fences… with Peter, my partner, we were all alone in the paddock, we had no warm-up tactics... we jumped until we reached the height that we were going to jump in the arena. So this fifth place is really great."
Nathan Budd had decided to throw his huge talent, Cashpaid J&F (Casall) in the deep end and the 9-year-old stallion was ready, to say the least. Unfortunately, a small fault in the second round knocked them off the podium, finishing in 6th final place.
"It's a shame we had that rail, even though it doesn't change much in the end. Obviously, I would have preferred not to have had a pole down at all this weekend. A lot of things happened on the first day in the end! I think I really did bring Cashpaid in great shape here. This morning I rode him and he was as fresh as ever. He jumped the first round very fresh and was very responsive to me on the second one. It's a very positive thing for the future, whether it's for bigger competitions or maybe one day a bigger championship. I'm really happy with my horse. Today, I can only thank my owner for trusting me since the beginning. I have been riding this horse since he was 4 years old; we have lived through so many things together. I always knew he was special, we believed in him as we've never believed in anything else before. My owner has always trusted me and I'm very happy for him today. It's a performance that thanks him for all the times he has trusted us despite people's doubts. Today is only the start of the adventure, it's far from over. I would also like to thank Grégory Wathelet very much. The first day, I walked the arena, I had made my plan, then he came over to me, we walked it together and he said 'change this and that'... and that made my course easier and more fluid. With my plan, I might have had a small fault, or at least I would have been slower. Today, I told him I really needed him and last night, even though he wasn't going to make the final, he told me: 'I'm coming tomorrow but you better not have any time faults! So I focused hard today. Without him, everything would have been different because I don't have enough experience at this level yet. Today's rounds were real and even though I've already done some high-level events, the horse had only just done his first three-star Grand Prix in Deauville, just two weeks before! Those were real courses today and it really makes me feel good to have someone I can rely on like him. He's really great with me. Now we can only wait and see which of the few competitions will remain. The Winter is going to be very complicated, and next year already looks like it will be a more difficult year as well. Maybe it's time to make some changes. We're all in the dark at this stage but it also allows us to remember why we started riding horses in the beginning; to be able to just enjoy riding a horse, quite simply."
With a lot of luck at the water in the first round, François Mathy Jr. managed to complete the second double-clear round of the day with Uno de la Roque (Numero Uno). The podium was right there... but in front of him, there were some solid performances.
"I have nothing to regret. Uno jumped magnificently on all three days, even over the obstacle where he dropped a pole! I think he touched the tip of a hind hoof to the second part of the oxer, we've never done that before! For me, Uno is really a championship horse. He's not a horse that's made to be competitive in the 2 or 3 star events, he needs difficult events to make the difference," explains François Mathy who took advantage of his absence on the podium to arrive exactly on time in Valkenswaard to ride in his event in the Netherlands. "That's one way of looking at it. We had to be very well organized. In any case, it's very nice to have been allowed to participate in both competitions... but above all, we must congratulate Judy-Ann Melchior and her team who had a lot of trouble organizing these championships and who, moreover, put everything into it! In these conditions, it was easier not to do it at all than to go ahead with it. We can really only thank them."
The man that the pressure doesn't affect was indeed there also. Yves Vanderhasselt proved to all those who doubted it that Jeunesse (Eldorado vh Zeshoek) is indeed back. They didn't make any mistakes during the week and they made it onto the podium.
"Jeunesse didn't work too much during the Winter but was ready to jump again at the beginning of March... but as there were only a few indoor events left, I told myself that it was useless. We were ready for the outdoor season... but there were no more competitions! So we bred her to Casall and did an embryo transfer. In the end, we just did a three-star event in Lier and another one in Opglabeek where she jumped well. We had taken our time all Winter long and she was really ready to get back to the competition scene. As a result, I really made this championship a real goal for me this year. It was the only major competition of the season. I think this Winter there will be no season; there won't be anything! This championship was really the only important competition I could compete in this year. We'll see what happens next, it's now very difficult to predict the future. For the moment, I'm taking advantage of the opportunities I have to have fun, such as here. So far, I've managed to stay motivated thanks to this championship; I had 100% motivation. After this weekend, chasing the two-star events with this mare is useless! She's not competitive enough to ride fast enough in that kind of event. We're going to keep her in work hoping that there will be a season next year... but it's not a given! I'm nevertheless happy with this third placing because it's a milestone achieved. It has allowed me to win a medal, something I've never achieved before! To be third behind two such good riders, and coming in ahead of all the others is still something! Maybe it's just a shame to see that the final placings didn't change much during this final when we were expecting more suspense."
Pieter Clemens didn't waver with Quintini (Quintender), as they also posted a double clear round!
"I was really motivated in the jump-off and I turned a little tight... so we ended up turned towards the flowers a bit more than expected and my horse looked at them a bit, jumped weird, and boom, we had a fault. I don't think this is the worst day to have a rail, though. I was really fast and in the end it's a shame. I'm a bit disappointed, but I think after all this, I'll be happy because had this not been a championship, we would have accepted a second place without a worry. My horse was consistent and jumped well every day. However, that was a mistake on my part. It's true that the final round didn't do much to change the results in the end, but I think that all the courses were very well balanced. My horse is very fast so it's easy for me to say we could have set a quicker time, but I don't think that's the right way to think about it. Eugene Mathy did a very good job."
Jos Verlooy was under pressure, but he's been through worse. Varoune (Verdi) answered the call and the pair managed to achieve the double!
"Last year I dropped a pole in the final but today it was much more exciting because I couldn't afford to make any mistakes. Last year I had only been riding Varoune for six months and that victory was a surprise, but this year, I was the favorite. It put more pressure on me, but with time I have learned to deal with it," said the two-time Belgian Champion.