Jessica von Bredow-Werndl and TSF Dalera BB win gold in Tokyo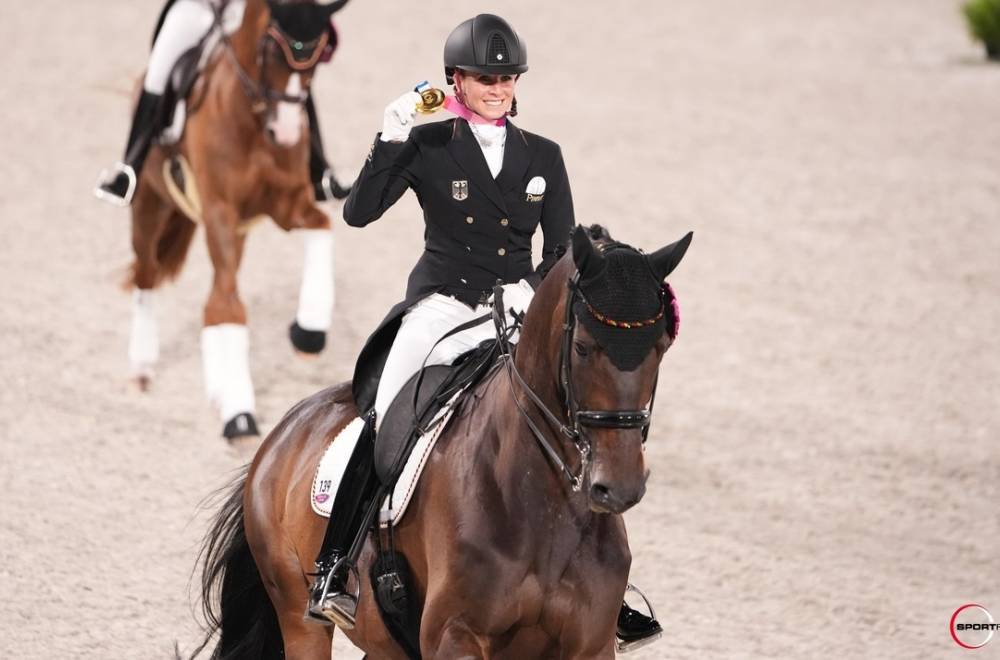 28 July 2021
Author : Eléonore Magnien
During the Musical Freestyle today, Jessica von Bredow-Werndl and TSF Dalera BB (Easy Game) completed an absolutely crazy week: three performances, three personal bests and two gold medals. For her first Olympic Games, the 35-year-old rider made history.
Jessica von Bredow-Werndl and TSF Dalera BB embody all that modern dressage should aim for: freshness, lightness, harmony and sensitivity. These qualities were sublimated in the individual final, set to music from the film Lala Land, scoring 91.732%. "It was my goal to crack the 90 percent. In the beginning I used tactics, in the end I took more and more risks. But everything was good, there weren't any major blunders, instead many highlights, I could feel that," she analyzed in the mixed zone, as soon as she got off her horse. At the same time, she learned that Isabell Werth and Bella Rose 2 (Belissimo) would not be able to beat her. Tears came to her eyes. She had just won the individual Olympic gold medal. She had finally secured the Holy Grail.
Jessica's destiny could have been quite different. After her first European Youth Championship title in 2004, the rider went through a period of nothing: five years passed without a single victory, so much so that she decided to stop competing at the highest level to devote herself to her career in marketing and communication, which she had started with great success at a sports club. "At the time, I gave myself an ultimatum: I would give my all to horses and I would take stock at 30 to see if it was worth it..." she told our colleagues. A decade later, she is now the golden girl, with a big smile on her face, surrounded by two champions, Isabell Werth and Charlotte Dujardin, on top of the podium at the Olympic Games. It seems that she has chosen her path well.
Germany and Great Britain were still hungry for more medals
Not yet satisfied after their team medals, Isabell Werth, Jessica von Bredow-Werndl and Charlotte Dujardin were again on the individual podium in Tokyo. Three different styles of equitation, but three warriors all the same © FEI/Shannon Brinkman
Isabell Werth did her best to try to take the gold from her compatriot, but this time, the top medal-winning rider in the history of equestrian sports had to be content with second place with Bella Rose 2 (Belissimo). A situation that she saw, as always, from a philosophical point of view: "The competition was tough and that's what we love. There can't be 10 winners, only one, that's the sport." The marks of 10 that she collected in the pirouettes and piaffes weren't enough to make up for her more average extended work (89.675%). That didn't stop Isabell from being thrilled with her 17-year-old protégé. "What a mare!" she exclaimed as she left the arena. As there was no better way to end her career, Bella will retire when she returns from Japan.
The podium could have been 100% composed of German women. A lot was expected from Dorothee Schneider and Showtime FRH, whose electrifying freestyle to the tune of "The Show Must Go On" has already made an impact in the past. This time, there were too many mistakes during the tempi changes and pirouettes. With a score of 79.432%, they dropped to 15th place, leaving Charlotte Dujardin and Gio (Apache) free to fight for third. If some people still had doubts about Charlotte's ability to find the best and train them up to the highest level, their questions must have disappeared after this week. With the knife between her teeth, the Briton brought out the best in her little mount Gio (Apache). "I went in knowing I wasn't going to give up without a fight, but I also wanted to enjoy it and have fun, which I really did." For the second Musical Freestyle of his life, Gio earned a score of 88.543%. That's a good sign for the future.
A new generation is knocking on the door
Five years after her victory in Rio with Valegro (Negro), Charlotte has returned to the top of the scoreboards with the engaging Gio © FEI/Christophe Tanière
This final, which was very competitive to say the least (13 of the 18 combinations exceeded the 80% mark!) was marked by the arrival of a new generation of horses. With Gio, obviously a leader amongst this new class, as well as Bohemian (Bordeaux 28) and Heiline's Danciera (Fürstenball) under the saddles of Danish riders Cathrine Dufour and Carina Cassoe Kruth, and Glock's Total US (Totilas), who placed sixth with Edward Gal. The latter had chosen to ride his Musical Freestyle to the same music as Totilas when he won the World Championship in 2010. A participation in the Olympic Games will remain the only line missing from their prize list, since the stallion had to be withdrawn shortly before London in 2012.
The history of the Olympic Games often goes this way: beautiful stories like Edward's who closes out the Totilas chapter 10 years later, or the story of Portuguese rider Rodrigo Torres, who placed 16th with a Lusitano from his family breeding program. Many other stories are yet to be written. Tomorrow, the eventing competition will begin with the first horse inspection. There is no doubt that this new chapter will also have its share of surprises and emotions.
With release. Featured photo: Sporfot.com