Jessica Springsteen wins ahead of the Stephex boys in Brussels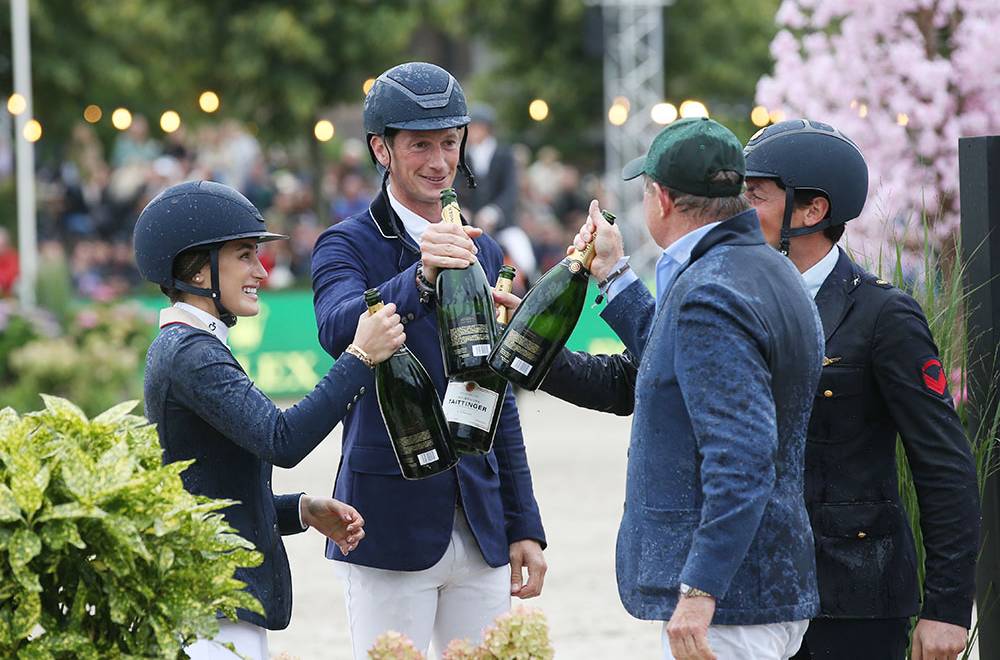 07 September 2021
The Stephex Brussels Masters, which took place from August 25 to 29, wasn't just a sporting success. The sporting tour de force of the Stephex riders in the 5* Grand Prix, with no less than four combinations among the nine runners-up and a 100% home podium in Wolverthem, was obviously fantastic. However, Stephan Conter's greatest achievement may not have even gone ahead this year.


In the particular health conditions that we are going through, he fought so that the Belgian public could indeed be present at his competition and not just the VIPs. It was a successful tour de force since the authorizations came through the week before but with a whole series of measures which required extra staff and organization. But never mind, all the measures were strictly respected, and entry remained free! The public was grateful to the organizing team and came in great numbers throughout the whole weekend despite the gloomy weather, and they stayed until the end of the prizegiving even though umbrellas were often necessary.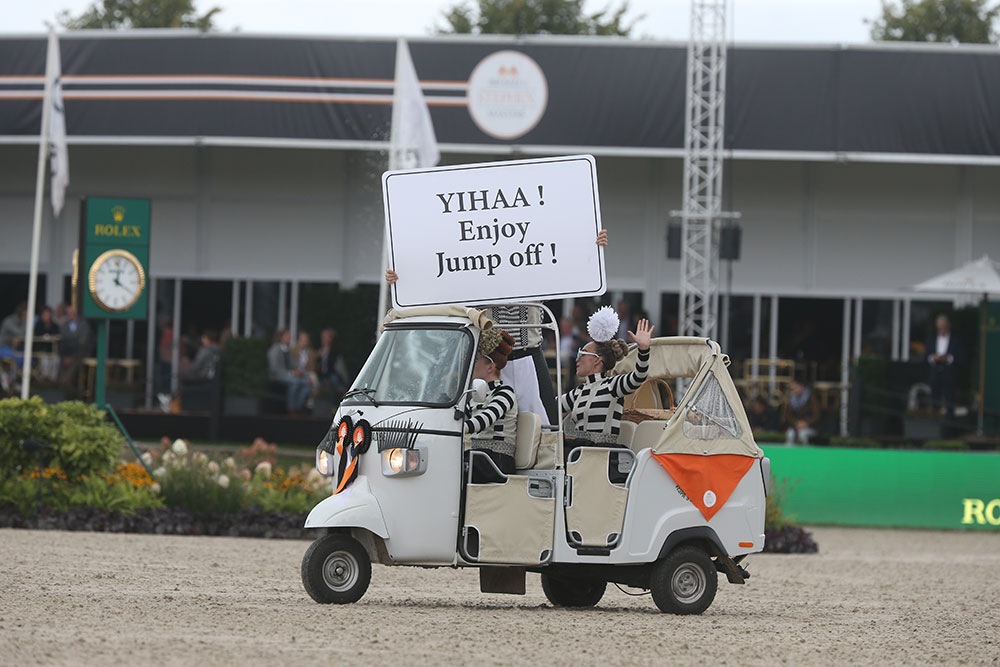 "I think that equestrian sports are a democratic sport where everyone can find their place. Here, we were faced with a difficult choice because we needed VIPs to be able to organize this event, but I couldn't bring myself to hold this competition without an audience. It's important that passionate breeders and riders of all levels can come and see their idols. We moved heaven and earth and it was really important for me that it remained free! This has been my wish since we started organizing this competition," insists Stephan Conter.
Moreover, unlike the Spa-Francorchamps, the public was able to attend a great show because the sporting moments took over. Several clear rounds quickly qualified pairs for the jump-off... but while we were expecting a long jump-off, the faults followed one after the other and in the end there were only nine riders for this final round against the clock.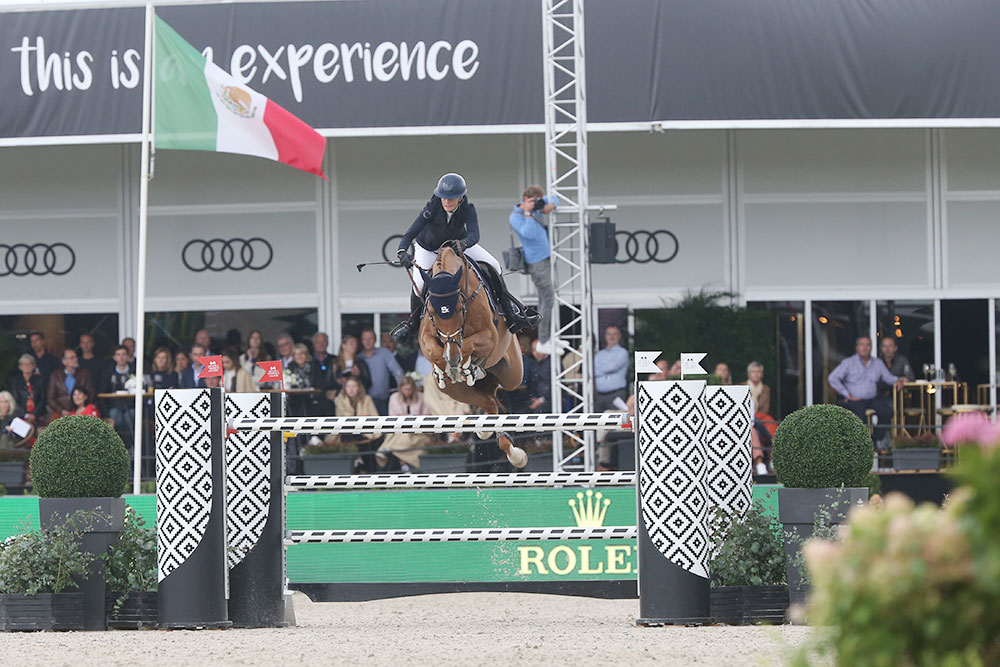 Petronella Andersson was the first to start with Castres van de Begijnakker Z (Coriano Z), a half-brother to Goya vd Begijnakker, the former 6-year-old Reserve World Champion under the saddle of Charlotte Bettendorf, before he continued his career under the saddle of Janne Friederike Meyer. After winning her 7-year-old Belgian Champion title, Stefan Conter's spouse hasn't left the forefront of the sporting scene and achieved a new feat in spite of having a fault in the jump-off. "I'm very happy. It's true that I've had some great weeks and when I saw Castres' performance today, I told myself that there are still great things to come because it was only his first performance at this level, and he showed that he was ready for it".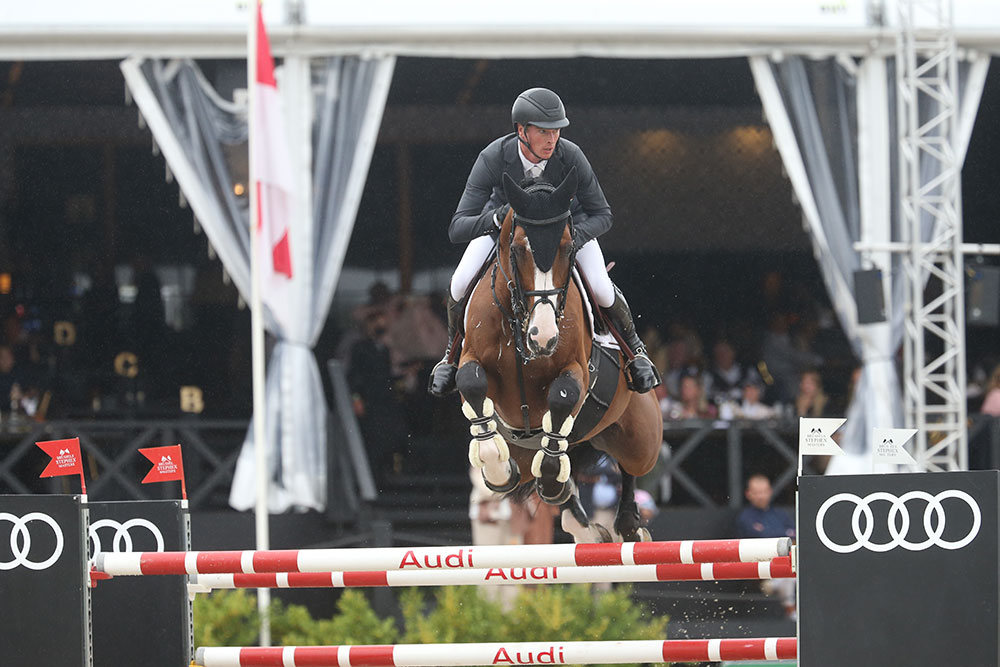 Another horse making his debut at this level was the Zangersheide-admitted stallion Akarad Hero Z (Aganix du Seigneur), who is a half-brother to the stallions Don't Touch Tiji Hero and Best Friend Hero Z. He is also from the same line as Simon Delestre's latest recruit, Tinka's Hero Z and the Olympian Verdini d'Houtveld. For their first 5* Grand Prix, the pair immediately achieved a double clear round.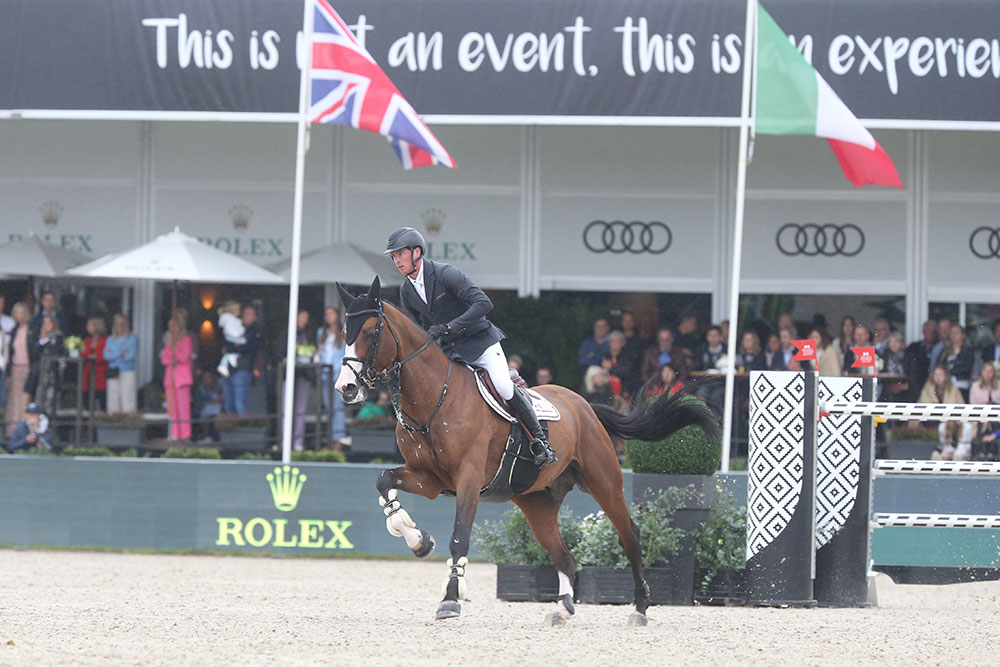 Pieter Clemens had stars in his eyes when he talked about his new star: "This is his first 5* Grand Prix, and he has already gone double-clear! I am so happy today. He jumped fantastic. I've been riding him for two years. He's a great horse who needed a lot of time. He's very respectful, and we took our time with him. When I came here, I hadn't made my decision to jump the Grand Prix with him or Icarus. I rode him for two days; I had a very good feeling and with Jos Lansink, we decided to compete him in the Grand Prix! Now he has shown us that he's ready for the big time. I am happy to have an extra horse to jump at the 5* level. We will discuss the next steps with Jos, but I think he's ready for this level. I think he's a real championship horse who is really respectful and very powerful. We will now decide if we will compete in the Belgian Championships with him or another one..."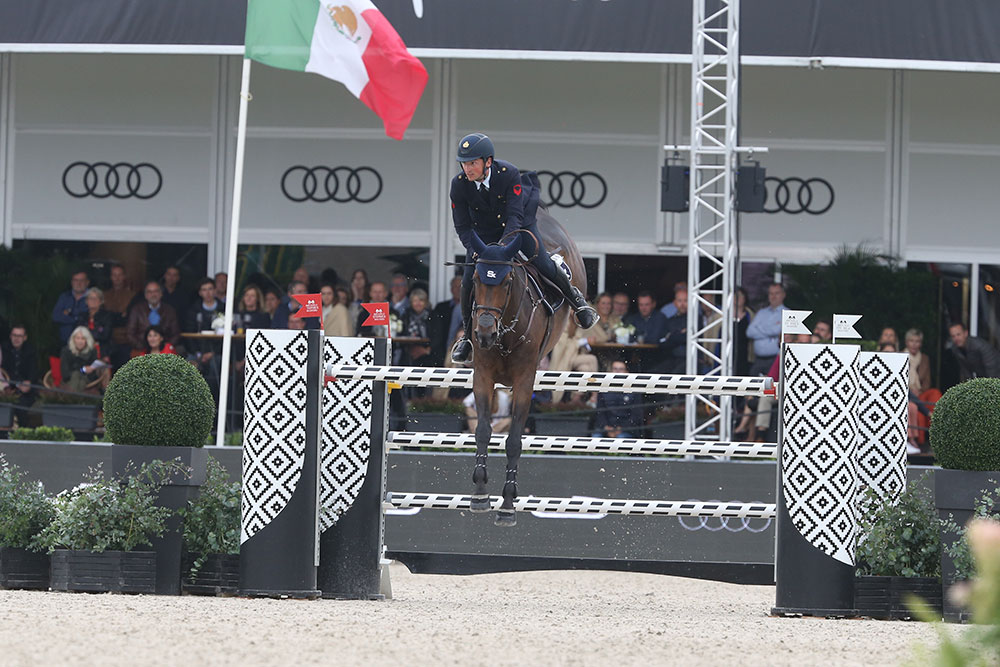 Lorenzo De Luca is at home and he wants to do well at his home facilities. The Stephex rider attacked the course with Nuance Bleue VDM Z (Nabab de Rêve), granddaughter of the Grand Prix mare Blue Curacao. The Italian rider had a magnificent fast round improving on Pieter Clemens's time by almost three seconds: 38.32 seconds, a new reference time.
The third Stephex rider to start, American Michael Hughes couldn't keep up the pace. But that wasn't the case for Belgium's Jérôme Guery, who didn't hesitate to bring out his Olympic mount, Quel Homme de Hus (Quidam de Revel) for the occasion. And obviously not as an extra! The pair attacked and succeeded with an extremely tight turn but the distance became very short, the stallion brushed the rail which fell... such a shame.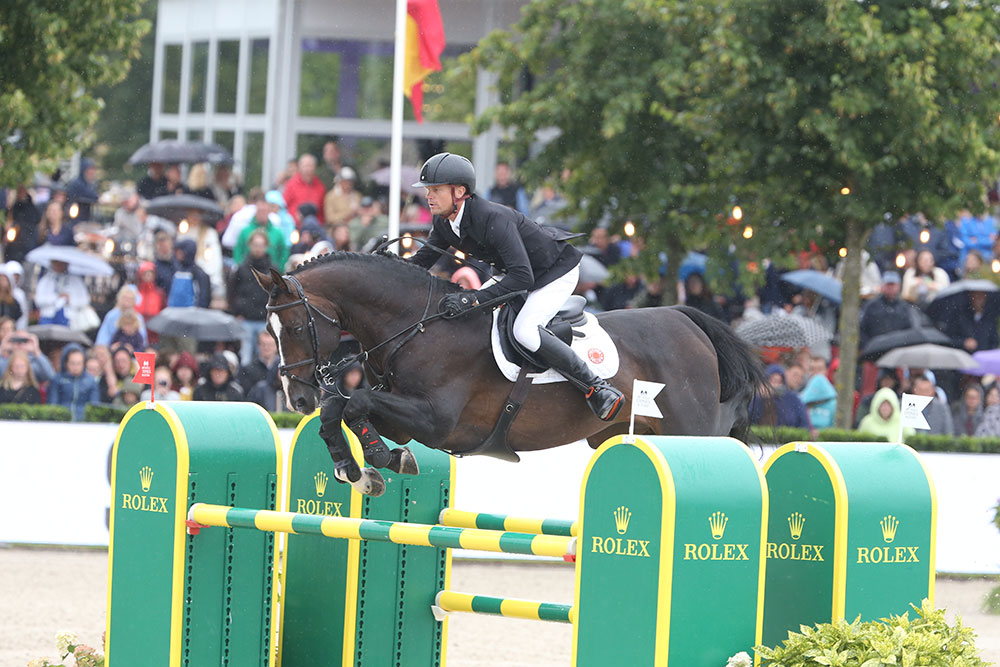 "We're here, we're trying. Here, unfortunately, we made a very small mistake. Now I think you have to remember that Quel Homme has just come back from the Games, and he has just jumped incredibly again. I took a lot of risks, maybe even a few too many, but when you want to win you have to take them! He touched the rail and it fell... Now for a slow horse, he has the best time of the jump-off! For the future, we are going to manage the horse as I have always done, trying to get him to perform well during his outings by targeting competitions, while considering the requests we have for covering mares. It will also be necessary to arrange periods reserved for collecting even though he will only be available via frozen semen until the end of his career. With the shape he's in, we want to focus on his remaining years of sport. The horse came back from Tokyo in such good shape that I decided to ride him in a small event and the Grand Prix here. You can see the difference with a lot of the other horses: he doesn't have to force himself to jump big rails. I didn't feel he was tired, and he showed it today," explained Jérôme Guéry.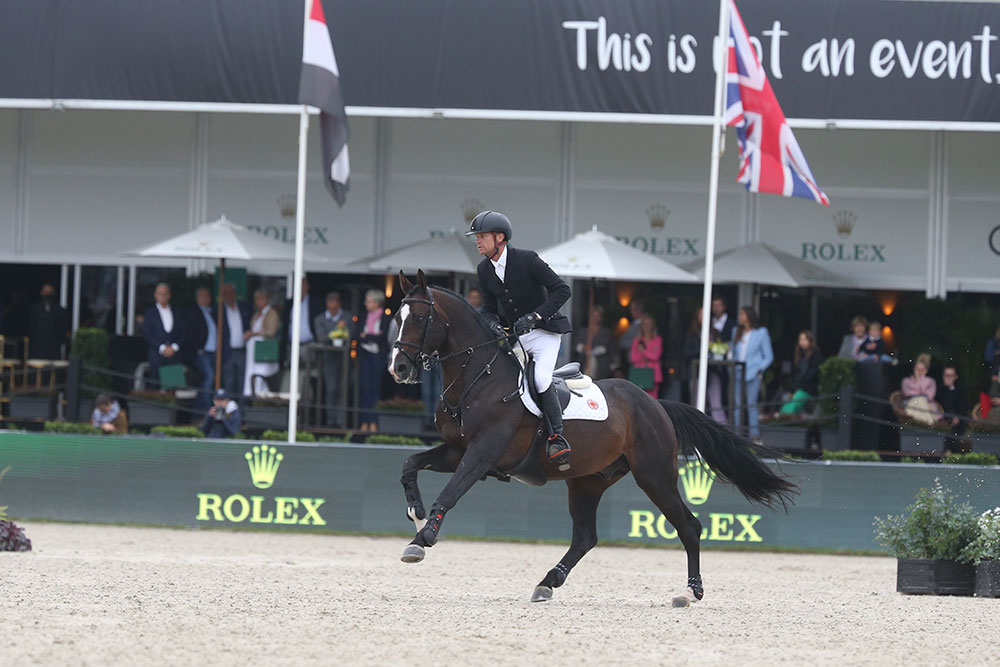 Stephex stables' German rider knew that his stablemate was at the top of the leader board and that a double was possible, but Daniel Deusser would not be satisfied with just doing well. Killer Queen VDM (Eldorado vd Zeshoek) was in good shape and it showed: 37.05 seconds, he was the new leader!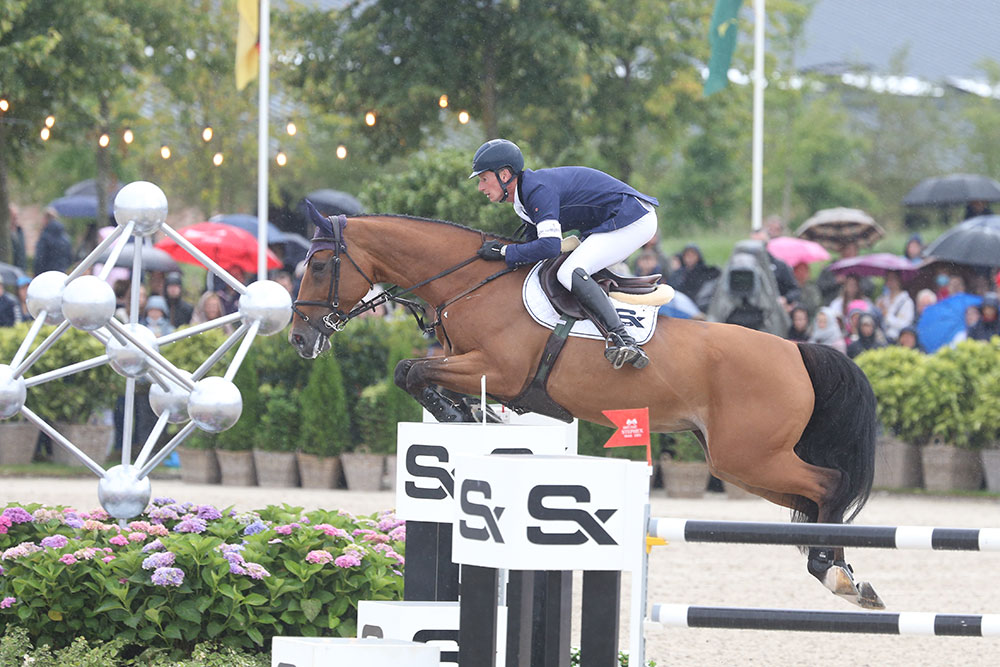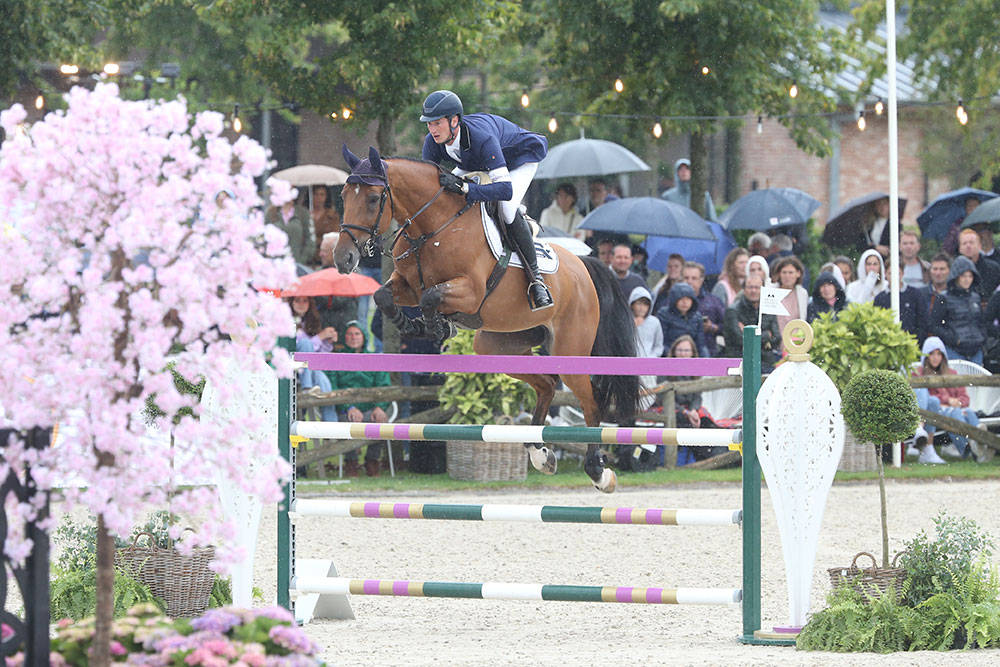 "I was expecting a little bit more from the Olympic Games but to be honest it's already behind me. I can't say that my horse wasn't in good shape but in the individual final I lost control a bit at the end of the round, and we made two mistakes. She was good again for the first round of the team qualifier, but I was a little disappointed with our second round. Nevertheless, she came back in good shape and showed that she's a very good horse. I hope today will open a new chapter and that she stays in this form. We talked about the possibility of doing the European Championships as well but now I only have Killer Queen at the highest level, and I have to choose my competitions a little bit. Our home competition was important for me and with the prospect of Aachen in three weeks, I decided not to ride in the Europeans, but the Stephex Masters instead. I think that the course designer did a very good job, even though at the beginning of the event we were afraid that we would have too many clear rounds, in the end there were only nine. So it was perfect! I was the second to last to start. So you had to make a decision, either go to go fast or to do your best to go clear. I did a little bit of both. I was happy with my round... but Jessica went faster and that's sport!"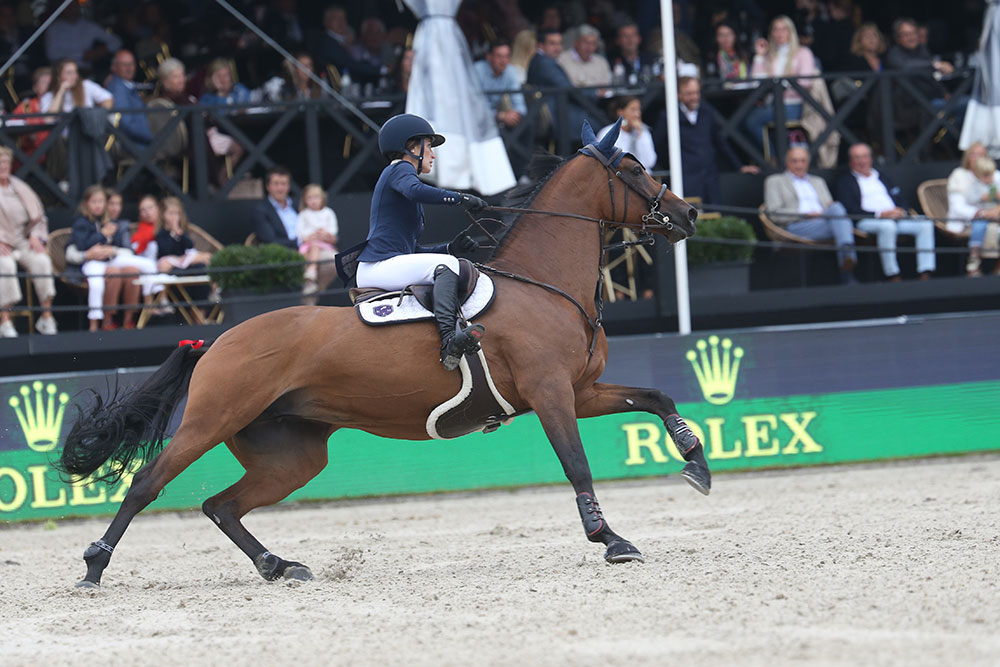 Indeed, Jessica Springsteen was the last to start. The American started slowly, and we thought that the deal was closed and that we were heading for a magnificent Stephex double... but the Boss's daughter accelerated, ready to avenge her partner Lorenzo De Luca, who had just been beaten by Daniel Deusser. On Rmf Zecilie (Acolord), she completed a historical last line and took a sumptuous victory to close out a magnificent edition of the Stephex Masters, marked by an incredible enthusiasm that not even the weather could thwart.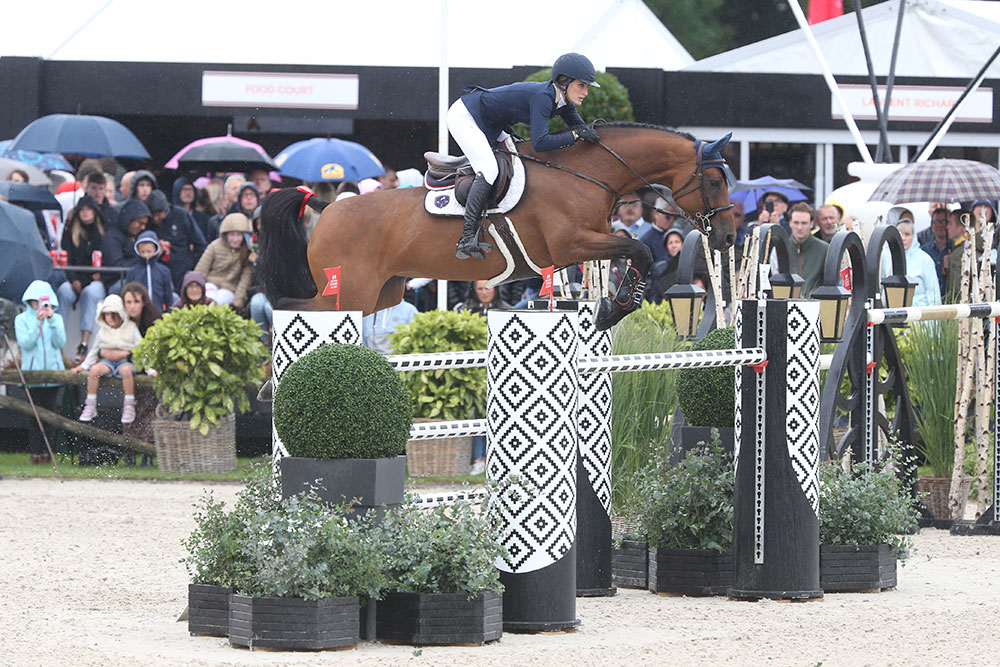 "I had seen Lorenzo and Daniel's rounds. My plan was to not to take too many risks at the start, then I gained confidence and we accelerated. On the last line, I got the impression that the more I galloped, the further away the obstacle got. But she is so brave... I had no doubt that she would jump it... And I was lucky that she didn't hit the obstacle. I really wanted to be double-clear at the start. I decided to stay calm on the turn between 1 and 2 but on the turn at the end of the course she turned very fast, so I decided to keep pushing. I couldn't be more satisfied with my mare who jumped incredibly well," said the winner of the day who helped the Stephex team to secure a magnificent podium since the American is also based in Wolverthem, close to her partner.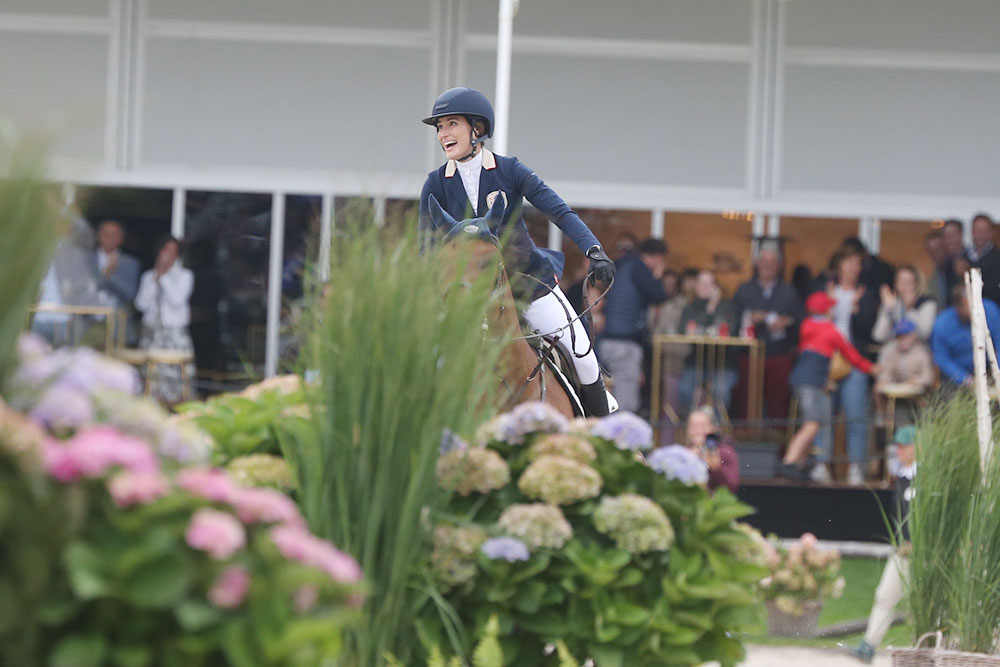 A partner who is happy with his third place finish. "I'm happy that Jessica won. I would have preferred to win myself, but since that didn't work out, I'm happy with this. Nuance Bleue is an incredible mare. This is the 4th Grand Prix of her life. She is a superstar in training and I am very excited for the future. Our plan now is to compete at Aachen with her. I think everyone saw what Stephan and the whole Stephex team did this week. We don't have competitions like this every week and it's really an honor to see that our home competition is such a special event," said Lorenzo de Luca.