Jessica Springsteen: the star of Brussels!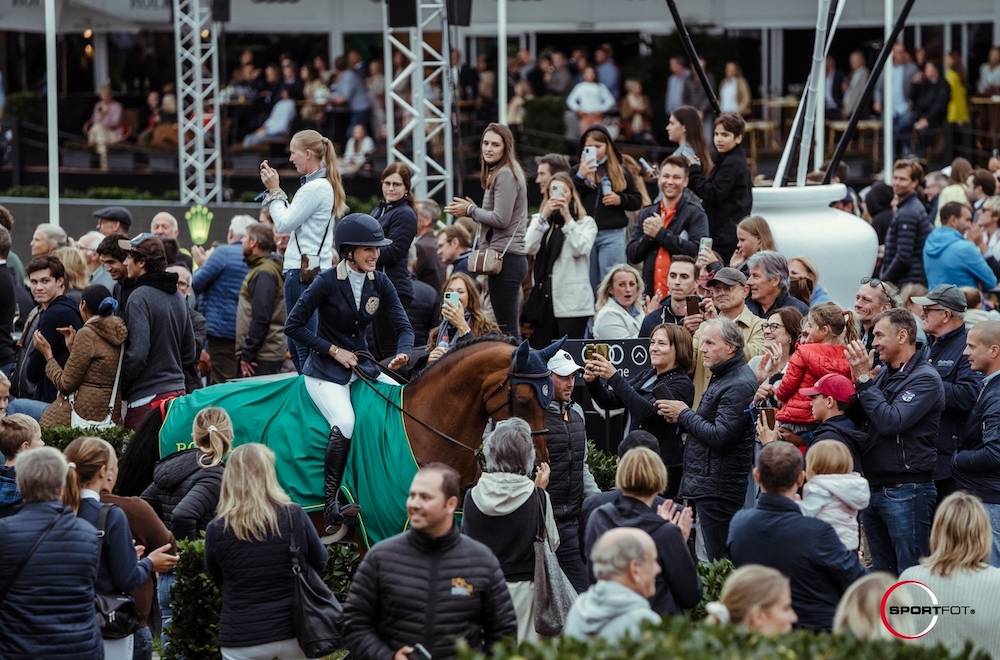 30 August 2021
Though there were three CSI5*s and many other international competitions on the program, this weekend was synonymous with the last rehearsal for the riders of the Old Continent before they take to the road for the European Championships next week! Back to the Grands Prix results.
Brusels CSI5*
This weekend, Stephan Conter held the Brussels Stephex Masters show jumping event at his facilities, with great sport taking place at the rendezvous! The 5* Grand Prix, held in the Rolex colors, was won by Jessica Springsteen who dethroned the Stephex riders. Riding RMF Zecilie (Acolord), the American beat the World No. 1 Daniel Deusser and Killer Queen Vdm (Eldorado Vd Zeshoek) by only 10 hundredths of a second. She also took the opportunity to kiss her partner Lorenzo de Luca who took the last step of the podium with Nuance Bleue Vdm Z (Nabab de Rêve). The prize-giving ceremony ended with a shower of champagne from Stephan Conter, who was happy to see his riders winning at home! Note that Jessica Springsteen is not a Stephex Stables' rider but keeps her horses there during the summer season in Europe.
Jessica Springsteen was the last to start in this nine-person jump-off and kept the suspense going right to the end!
At the same time, two other CSI events were also held at these facilities. The Sinner (Sanvaro) won the 3* Grand Prix with his rider Martin Fuchs. There was no doubt that this victory has put a smile on the face of the whole team who have fought these last days to support Clooney 51 during his hospitalization after his humerus fracture. As for the 2* Grand Prix, it was won by Belgian rider Philippe Vanderhasselt and his mare Fenne, a daughter of Namelus R.
Hamburg CSI5*
This week, the Global Champions Tour's suitcases landed in the north of Germany. The league was won by the Paris Panthers team this time which consisted of Nayel Nassar (Coronado/Darry Lou) and Eve Jobs (Venue D'Fees des Hazalles), who joined the team as an U25 rider mid-season.
The Paris Panthers were followed by the St Tropez Pirates (Olivier Robert/Michael Pender) and Valkenswaard United (Marcus Ehning/Gilles Thomas)
The Grand Prix took place following the LGCT event with 29 starting riders. The course proposed by German course designer Frank Rothenberger posed some difficulties for the riders as Evergate Stables' rider Harrie Smolders completed the only perfect course at the reins of Une de l'Othain (Conterno Grande). Eve Jobs, again with her 16-year-old mare Venue D'Fees des Hazalles (Président), and Michael G Duffy with Lapuccino 2 (Livello), were second and third respectively with one time fault each. Having stood on two podiums today, the 23-year-old American said, "This is probably the biggest day of my career, I feel really honored to be here at a show with such a history, I really couldn't be happier to be here. (...) I did everything I could, and I was delighted all day."
Rockwood CSI5*
On the other side of the Atlantic, another Major League event was being held at the Angelstone facility in Rockwood, Canada. Canadian Mac Cone and Zaia Di San Giovanni (Cornet Oblensky) dominated with the fastest double clear. They took the win from the experienced Rodrigo Pessoa on Quality FZ (Quinterden 2). Shane Sweetnam brought the time down a lot in this jump-off but was penalized by a rail with Karlin Van't Vennehof (Fantomas de Muze) and had to settle for third place.
Valencia CSI4*
There was only one 4* on the program this weekend and it was in France! The victory went to François Xavier Boudant and Brazyl du Mezel (Haloubet du Gorze) who gave the legend John Whitaker no chance. The British rider had to be satisfied with second position with his gelding Unick du Francport (Zandor). Rodrigo Giesteira Almeida closed out the winning trio with his 13-year-old bay Delvaux (Chacco-Blue).
"Brazyl du Mezel has been in the stables for three years now and keeps progressing. He's incredible, he has one clear round after another. This weekend, he completed five courses and posted five clear rounds. In the jump-off, I was probably a little bit lucky because Titouan Schumacher was a little bit faster, and the Portuguese rider, Rodrigo, was going fast but missed his last turn. It's a bit of a game. I went at the beginning. I had a good jump-off and I also pushed them a little bit. This time it worked out for me! Before the awards ceremony, I told John Whitaker, who came second, that it was already great to win, but that it was even better to beat him, he's such a legend!", said the winner.
François Xavier Boudant from France put in an excellent performance with his 10-year-old mount as it was their first victory in a CSI4*!
Vancouver CSI3*
Back to Canada, and this time to the west coast! Eight pairs managed to complete a clear round to reach the jump-off of this 3* Grand Prix. Most of the final rankings were secured by Irish colors as Robert Blanchette and Chardonnay (Comic Hilltop FRH) and Conor Swail and Theo 160 (Christian) took first and third place respectively. Only Canadian rider Vanessa Mannix and her mare Catinka 25 (Catoki) managed to get between the two riders from the Emerald Isle.
Humlikon CSI3*
In Switzerland, the 2021 edition crowned Niklaus Schurtenberger and Quincassi (Quintero) in the 3* Grand Prix after they went a little faster than young rider Edouard Schmitz and Quno (Quo Vados I). A female rider closed out this winning trio; Barbara Scnieper on Escoffier (Lord Z).
At this event, Dominik Fuhrer became Swiss Senior Champion. The 32-year-old rider and math teacher achieved one of the greatest successes of his career with Ghost II (Lord Z). Pius Schwizer was the leader throughout the competition and finished second with Karel VDB (Darco). Third place went to Alain Jufer and Dante MM (Diarado).
Opglabbeek CSI2*
It seemed as if the Americans had decided to shine in Belgium this weekend! At the end of an eight-rider jump-off in this 2* Grand Prix, the podium was 100% female. Rebecca Conway won with Con Coleur (Contendro I), ahead of German rider Hannah Schleef and Perry Khr (Perigueux). Third place went to Laura Baaring Kjaergaard on First Lady G (Whitaker), the former mount of Frank Schuttert and Pieter Clemens.
Auvers CSI2*
In France this time, in the English Channel, a CSI2* was held in Auvers. The Grand Prix was won by young mother Marie Hecart and her bouncy mount Vahinee (Lauterbach). Since their return to competition last June, the duo has notched up no less than five podiums. Needless to say, they're in great shape for their return! Not far behind her, with a double clear as her final score, Margaux Rocuet settled for second place with her stallion Best of Iscla (Diamant de Semilly). The last step of this podium went to Marc Le Barre and Donato de la Gree. Note that this 8-year-old son of Conrad was participating in his first international competition.
Lastrup CSI2*
In Germany, 13 riders fought it out in the jump-off to win the 2* Grand Prix event in Lastrup. On home soil, Johannes Ehning took the cup with C-Jay 3 (Carthago). His compatriot Guido Jun. Klatte followed closely behind with Qinghai (Quidam de Revel), while Denmark's Lars Pedersen took third place with Gladiola (Grafs Stakkato).
Featured photo: Christophe Tanière / Sportfot.com