Jeroen De Winter: Talent and Hard Work Combined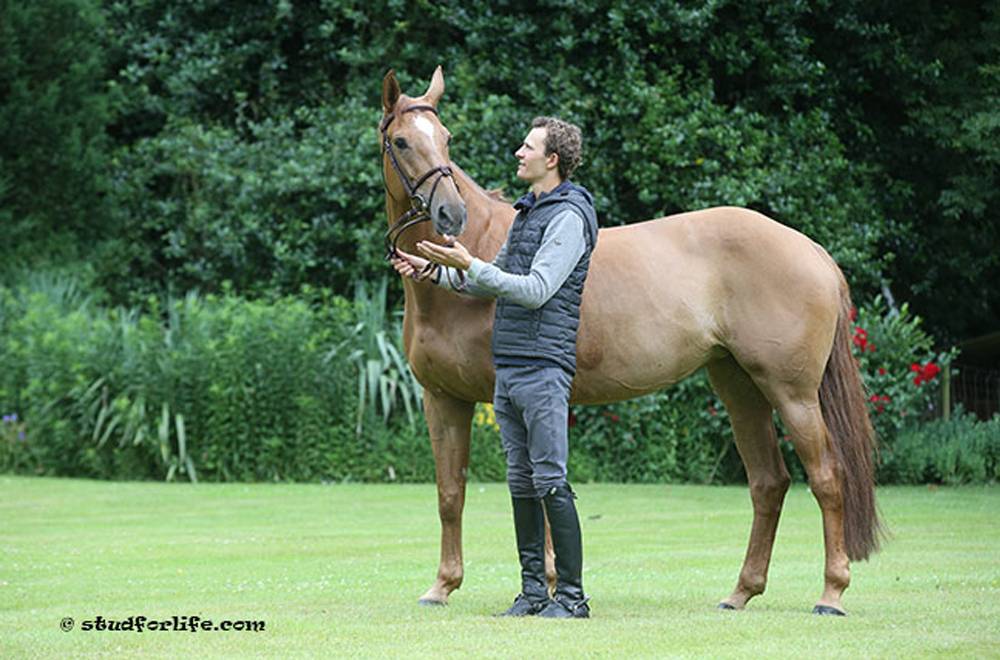 27 July 2018
You started riding young but soon, even though your dad is a professional in the business, he decided to entrust your coaching to Maurice van Roosbroeck.
J.D. : "With ponies, I was always trained by Muriel Deans. Maurice started to coach me when I was 14 or 15 years old. He has also ridden my grandfather's stallions. In the past, my dad had a lot of contact with Maurice and I learned a lot with him, I was there for four or five years, I think, and now we still have a good relationship with him. In the meantime, Dirk Demeersman came our way, because Maurice was also training with Dirk, as was his daughter Catherine. Maurice told us to go once to Dirk's, and it worked very, very well from the beginning, so I continued with him."
What did these people give you? Whether it's Maurice or Dirk, what is different about the way they work?
J.D.: "The difference between Maurice and Dirk? I don't know... Maurice was a lot about training and all that, and as for Dirk... To my mind, he's a little more about the competition. Maurice is fantastic for doing the basics and dressage work, but Dirk is even better at motivating me for the competitions."
Do you think it was a good idea that your dad didn't take care of your training himself?
J.D.: "Oh yes! My father always helped me well and he always came with me to Dirk and Maurice's lessons. So, when we came back from the classes we always discussed a little bit about the lessons or what we learned, so we also learned a little bit from Dirk and Maurice together. They are experienced people... My father has ridden and that's an asset for me, but Dirk and Maurice have even more experience than my father and that's normal."
Your dad has done more with young horses and trading,... Did you want to follow in his footsteps or is your objective to create a place for yourself in the great sport?
J.D.: "Yes, I also have to trade a bit, but I can't do it like my father. He likes to trade quickly, sometimes by buying a horse and selling it the next day. I don't have it in me. I am more interested in buying a horse and starting with the horse, working it, and selling it after a few years. I can't buy a horse and think, "Okay, it's worth that much" and sell it the next day for an extra €500. I don't have the same talent as my father for that."
Do you regret that Quolita Z(who is jumping at the highest level under Harold Boisset) left too quickly?
J.D.: "No, because Quolita wouldn't be the same here as with Harold. My father had bought Quolita in Holland in the evening for...€1500 (laughs), but when he was on his way back the next day, he sold half of her to a friend because he didn't have any room for her at home. Three weeks later, I sold two horses to the Montpellier Grammont riding school, which still owns them today. I don't want to work like that, my father is fine with it. This is a topic on which we do not entirely agree."
Today, you are settled in the family stables, but do you want to have stables yourself or does this system suit you?
J.D.: "Yes, I want to stay here and let the stable grow here, together with my parents. Because by myself, it is also not possible to do everything. I'd be stupid to want to leave all this because I have everything here. We have good mares to raise and it's all started now. We have to work and stay focused on everything, but the basics are there."
Jeroen & Cleopatra Z at the 2018 Young Riders European Championships in Fontainebleau
On the other hand, when we see that your cousins are also starting to do well, it becomes a very big family, among young riders in Belgium at least. It's gratifying. Are family reunions more enjoyable?
J.D. : "Ah, I'm very happy that we can go to international competitions together and that's all very nice. Especially with Thibaut, as there is no competition, seeing his stable there and me here is very nice."
In the family, is it difficult for those who don't ride?
J.D.: "No, we're all there. We all had the opportunity to start riding. Those who have done their best have also had good horses, but there are others who prefer to go to school or do not like riding enough. We all had, in the beginning, the same opportunity, I think."
Jeroen with the stallion Leandro VG (Gitano x Chellano x Darco), from the Atlanta VG strain, isaura VG, Jupiter VG and the star City Banking.
Does your future depend on waiting for these promising young foals to come on?
J.D.: "No, the future should be closer. In two or three years, I'm going to have horses to jump higher. I still have Cleopatra Z, Karmelia vd Dries, Leandro and L'innocence, as well as some other horses that are coming on, too. I really have a good stud to jump competitions at a slightly higher level than what I do now, I think."
When you look at the evolution of the sport today, with its excesses, its global nature, and its VIP and corporate tables, is that something that you're afraid of?
J.D.: "No, because there are also many other competitions that you can just ride in. And when the results are good, you have the opportunity to compete in bigger competitions. Yves Vanderhasselt does not take tables to big competitions, but he knows how to ride a horse that he has produced himself with his team. So, we shouldn't be afraid of that, we just have to try to ride well and have good horses. The rest will come by itself, I think."
Who are your role models as a rider?
J.D.: "I've never really had a rider of whom I can say: "That's my idol". But riders like Harrie Smolders, Dirk Demeersman, they mold the horses themselves from a young age. They are riders I look at as idols, yes. Maybe in a while, I should ask Harrie if I can visit him with Emerald's sister. It would be a good idea to go to his place a few times to learn a little."