Jeroen De Winter: Talent and Hard Work Combined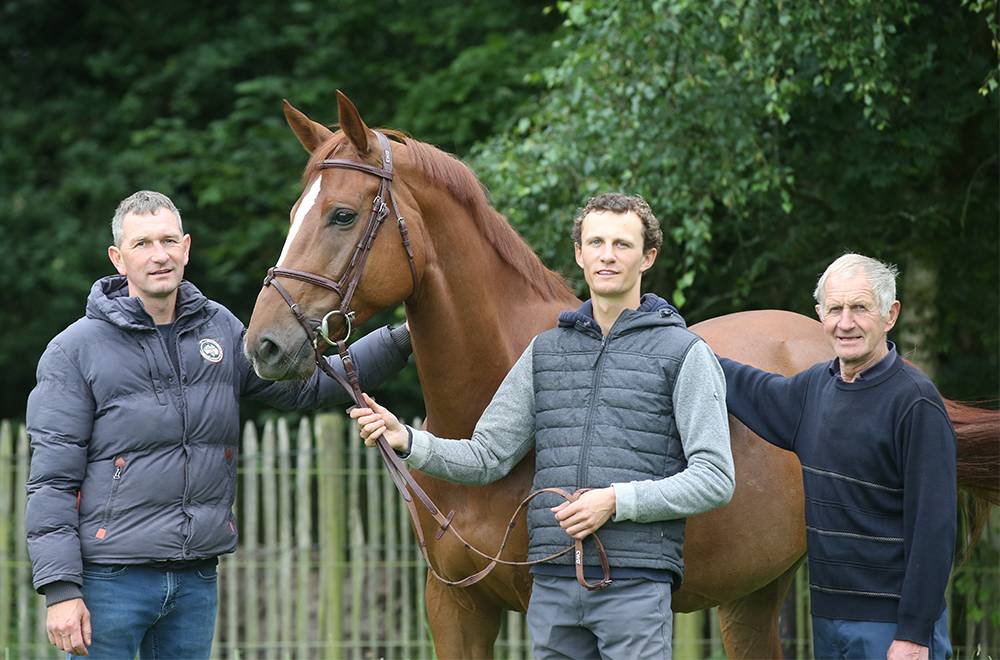 26 July 2018
Jeroen won the Belgian 4-year-old championship in 2012 on Illuna vh Netehof (Casall x Darco), raised by his grandfather Roger De Winter.
Your passion for breeding comes from your grandfather?
J.D.: "Yes, from my paternal grandfather. My other grandfather also did a lot of breeding, but not with the same passion. He [editor's note: Jos Ceulemans] likes to have a lot of everything... He also likes to let the horses jump freely but he doesn't have the same passion for seeing the foals in the meadows. He doesn't get pleasure from thinking up the combinations of stallions and dams the way my paternal grandfather, who has a real passion for it, does. Even my father doesn't have the same passion as my grandfather. Stallion handling – my father is starting to enjoy it with Nixon, but before that it was not his cup of tea. It was also an activity that appealed mostly to my grandfather."
Like Codex, Camus... was that really your grandfather?
J.D. : "Yes, my father always only wanted to do business, and he wasn't interested in stallions at all. Now he is, especially since it brings in a little money."
Jeroen accompanied by Skelton van het Netehof and Sara-Linn van het Netehof, two foals born by embryo transfer from the mating of For Pleasure and L'innocence van het Meulenhof, full sister of Emerald and Diamanthina van't Ruytershof.
Did the fact that you saw very different ways of working with your two grandfathers allow you to do what you wanted to do yourself?
J.D.: "Yes, I was able to observe a lot with them and also see the mistakes they made. Seeing too big and all that. I know I want to do things differently. My maternal grandfather had so many horses at one time that he no longer enjoyed them. So, I already know that I have to be careful about that.
For you, does the future as a rider also involve breeding?
J.D. : "Oh yes, I'm sure of that. Of course, we have some very interesting mares from the best lines in Belgium and it will certainly have a great influence on my sporting career. Simply because with the best horses you are much more likely to have a good horse from this family than just a good mare that won't have a family afterwards, I'm sure of that. When you start with some four-years-old and each one is from a very good family, you will be much more likely to have good horses at seven and eight years old than when you start with just good four-year-olds. In that case, there is a lot of lost work when there is no family in it and the horses do not become what you hoped."
But would you rather get out on the road to look for some promising four-years-old?
J.D.: "No, because you're wasting too much time with that. Now I'm lucky to have my father do this job. He often does this work, but it is difficult to find good horses and often he sells them quickly with only a small mark-up. Now with Emerald's sister, the foals belong to us and we decide for ourselves on the future of her foals. When you have half a horse, it's always a little complicated. In the end, scouting for good young horses takes too long for my taste... Even if breeding also takes time, I think it's a better way."
What's unusual about you as a rider is that you rely on very few owners. The majority of the horses in your stable belong to you.
J.D. : "Yes, that's right. The big exception to the rule is Nixon van het Meulenhof, who belongs to his breeder and Axel Verlooy. But he is a stallion whose time with us will, I think, leave a huge mark. He's giving us the opportunity to develop and really grow in the world of breeding. He also allows us to meet many new people. However, we also have several horses of which we are co-owners, and which are very important for my future career, such as Leandro, L'innocence... The only difference when there is a co-owner is that we must systematically refer to them when there are offers and ask what to do or work out a solution together. When it's a horse of your own, you know directly what you have in mind."
Jeroen between his father Erik and his grandfather Roger, who raised the great-great-grandmother of L'Innocence van't Meulenhof. A line that finally returns to its origins.
Is it rare for riders to have this chance to be able to decide everything?
J.D.: "Yes, because most riders just ride for owners."
Is that an option you've never been interested in?
J.D.: "No, I don't want to... Of course, there are always exceptions. There are people who do this for passion and really for the sport. Even if it doesn't mean that they can never be sold, of course. However, it means we can decide when to sell them. I just hope to avoid having to ride for owners who do this for money and take a horse away from me to put it in another rider's yard. I want to be able to make decisions together with the owner, with owners who do this with passion not just for money or just to win."
On the other hand, with Nixon, that's the opposite. There you know the horse is going to leave.
J.D.: "Yes, we've known from the beginning that he will leave. But as I said, he also gives us many other possibilities. It's not just like a sports horse coming and going. When Nixon leaves, he will leave a huge mark from his time here... A story, foals – he's giving us a lot."
When at sixteen you become Belgian Junior Champion and Belgian seven-year-old Champion... was that an extraordinary year where you say to yourself that everything will be fine?
J.D. : "It was also the year that I won my first two-star grand prix with Va Vite. That year everything was good, it was great, but then we also had a few more difficult years because we had some problems with Gretel, who we couldn't make progress in the sport as planned... But at the same time that allowed us to find good young horses. This is what allows us today to have a more significant base that should allow us to avoid a standstill like that again. I was 17/18 years old and it wasn't easy. But today, thanks to this, we have a much larger base of young horses."
Jeroen De Winter at the age of 16, when he won the Belgian seven-year-old champion title with Gretel S (Corland x Baloubet du Rouet)'
What's in your head when, at 16 years old, everything works for you... then Gretel gets hurt and everything falls apart. Is there a time when you doubt?
J.D.: "No, because the year after, I qualified for the European Championship with Gretel but I didn't go because she was sick and I went to Gesves with the four-year-old instead. That year we bought Emerald's sister, Leandro, and I always found something else to focus on. You must always go on and not forget where you come from. If I had been depressed for two months thinking I couldn't go to the European Championship, it wouldn't have done me any good. You have to be able to accept taking one step back and working on the young horses."
Is that part of a rider's life?
J.D.: "I already know that now, yes!"