Jeroen De Winter: Talent and Hard Work Combined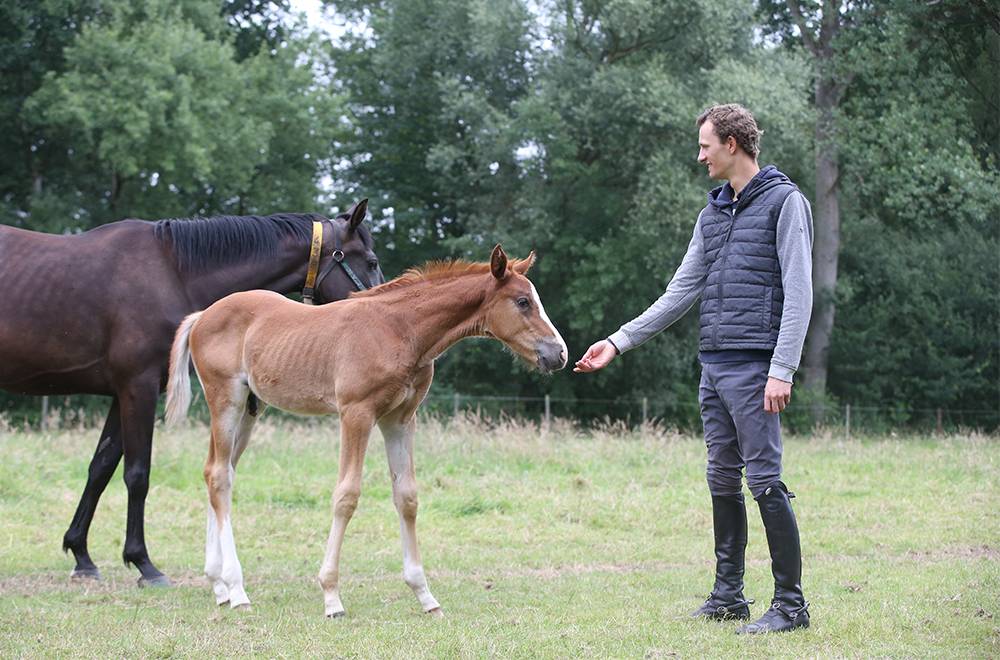 25 July 2018
Coming from a family of vegetable farmers who all had a passion for horses, Jeroen De Winter quickly found his vocation. His grandfather Roger De Winter is a breeder (at Het Netehof stud) and stallion keeper. His father Erik De Winter is a horse dealer, and his other grandfather, Jos Ceulemans (De Dwerse Hagen), is also a well-known figure in the Belgian horse world. Jeroen De Winter is a quiet boy, but he soon let his talent bloom. At 16, he won the title of Belgian seven-year-old and junior champion with the same horse, Gretel S. This winter, he won the winter stallion competition for five-year-olds with Nixon van't Meulenhof and for seven-year-olds with Leandro VG (Gitano), while also winning the BWP Champion title with Pegase van't Ruytershof (Comme il Faut). Last week, he participated in his first European Championship in Fontainebleau with the Young Riders.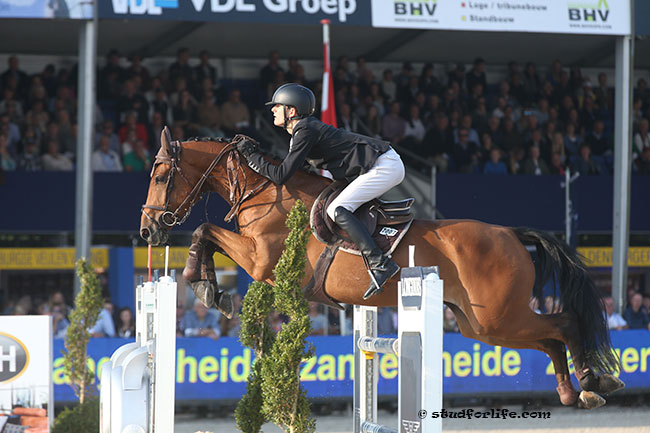 What were your first experiences with horses?
Jeroen De winter: "The day I was born I had a horse, I think! (laughs) Even before I was born, my father bought a Shetland for me and the Shetland produced a foal too and I think I started riding when I was six. At the beginning of the summer holidays, my father had bought a pony, a bay pony, and throughout the holidays I didn't ride it and didn't even look at it, but on the last day of the holidays, I climbed on it. And since that day I've been riding almost every day..."
When you're in a family with so many horses, is there a sort of pressure for you to ride?
J.D.: "No, not at all, because my brother and sister don't ride anymore, we could choose for ourselves whether to ride or not..."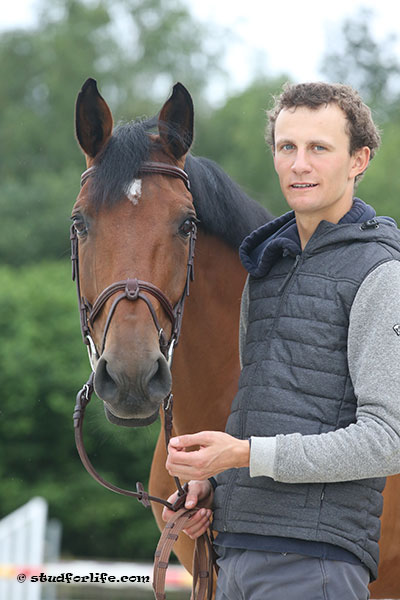 Was it nice for you that your parents never put pressure on you?
J.D. : "Oh yes, I think it's better to be able to choose because if we don't like riding, it won't work in the future. I am happy to have been born into a horse family, because otherwise it is very difficult to start on your own and to buy stables, a track and a truck. It is impossible, I think, to start without a family behind you."
In reality, there were a lot of horses around you, but your parents, your dad especially, have always been careful that there weren't not too many horses for you...
J.D.: "Yes, it was important... even if I finally stopped school when I was 17... when I already had too many horses in my stable! At that time, I already knew that I wanted to spend my life in this sport, so I made this decision calmly. However, my dad is still very present today. He's the one in command, and he calms us down too because we want to remain a small structure. You have to be careful not to think too big. We've already had times when we had too many horses and we didn't notice that it's not good for them, nor for us. We want to do things in the best way possible. You're not happy when you have 20 horses to ride either! I think having a 12-horse stable is ideal for doing things right."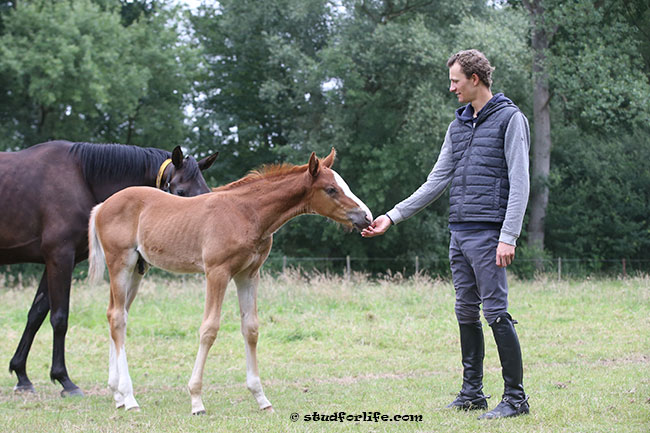 Secreto van het Netehof (Nixon van't Meulenhof & Kaya van't Netehof (Catoki), raised by his grandfather, with whom Jeroen is progressing on the international circuit.
When you decided to finish school to ride horses, were your parents a little scared or were they happy...?
J.D.: "I think my dad was very happy. With my mom, I'm not sure. After the fourth year, I decided myself that I would do something more or less difficult and, during the last week of the holidays, we had to do an internship in finance. I did something in mathematics and science. It was something very new to me, while some of them had been doing it for two years. I went there a week and then I told my mother, what else do I have to do in school? Because it was so easy. I said I don't want to go to school anymore and I just want to go to the central examining board in Brussels. I studied on my own. I did it for my mother. I didn't ever say "I want to stop". It came step by step, and she didn't make a fuss about it..."
Didn't you regret at one point not having studied for later, just in case?
J.D.: "No, not at all! Not so far, anyway. I don't know about the future. So far I don't regret it, but I also don't have any pressure in my life. I still don't have a house, I don't have to pay anything every month, I still live with my parents. Maybe in ten years when I have to pay for everything myself, I'll tell myself I should have studied better, but I hope it won't happen, even if we can't know what the future will bring."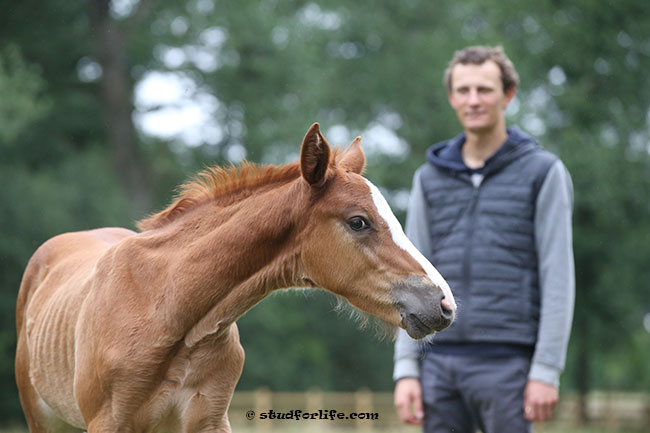 As we can see, you actually stopped everything very early. Like with ponies, you also switched from ponies to horses quite early on. Was the switch due to the sale of your pony?
J.D. : "Yes, that's right. It also showed me directly the importance of trade in our sport. My father always wanted this and we're going to do it... but today, with our best horses, we also want to do sport. It is certain that we will have to sell one of our best horses one day or another, but we do not want to be a commercial stable where everything is for sale. We also want to have fun with our horses in sport."
But to be professional, you have to properly finance the stable. How do you plan to do this?
J.D.: "As far as I'm concerned, I just want to start with very good young horses and make them evolve until they are eight years old. After that, I want to sell them. For me, that would be good timing. My grandfather and father still want to keep and keep the horses, so they keep the good horses for me and I can sell mine! (laughs) I can afford it because I know my father already keeps horses for sport, so when I start with young ones I want to sell them."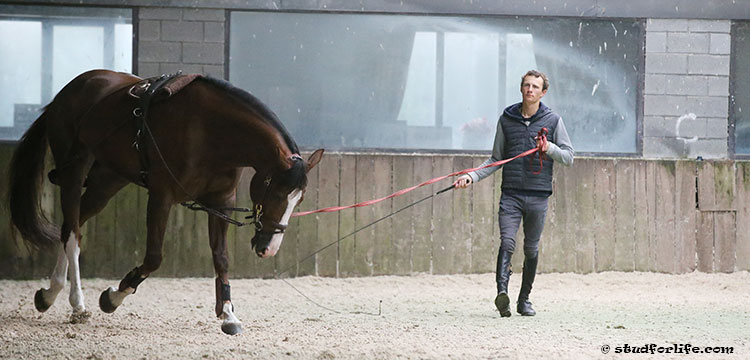 Mystic van't Hoogeinde (Echo van't Spieveld & the international Geena van't Roosakker) is part of the young rider's hopes
In the end, you're more of a trader than your dad?
J.D.: "No, but my dad also has the stallions and his crops [editor's note: the De Winter family grows chrysanthemums and various vegetables]. I ride, and I have to sell the horses I've raised, but I will also ride horses for him, and in the future I would also like some stallions for mating."