Jean-Baptiste Marteau at the service of equestrianism at the Tokyo Olympics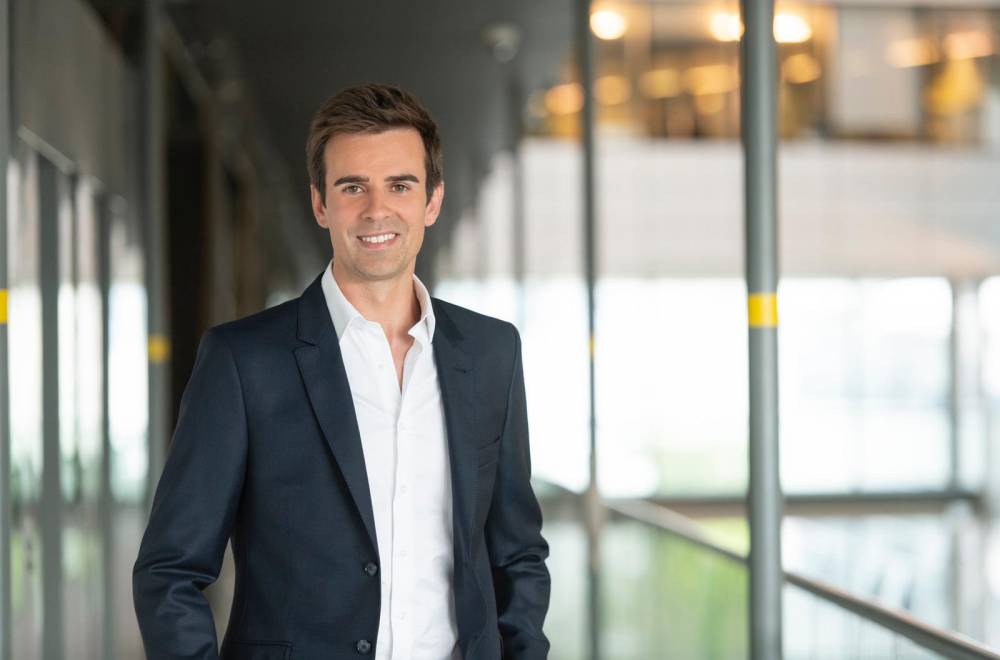 28 June 2021
A few days ago, he took part in the Fort Boyard program, before taking part this weekend in the Paris Eiffel Jumping as a speaker... and he is heading to the Elysée Palace after the last event on Sunday to report on the departmental and regional elections. Although Jean-Baptiste Marteau wears many hats and is an increasingly familiar face on television, he remains above all, a passionate equestrian. He was appointed to broadcast all the equestrian events for France Télévisions, for the Tokyo Olympics. We wanted to know more about his new assignment.
We recently learned that you were going to do the commentary along with Virginie Couperie-Eiffel, for the equestrian events at the Olympic Games in Tokyo, on France Télévisions. How will this take shape?
"As usual on France Télévisions during the Olympic Games, all disciplines will be covered. We take over the air, at least on France 2 and France 3, where there is always something happening: either where there are potentially French medals that are in the process of being secured, or because there are stars to follow, although it always depends on the competition schedule. For equestrianism during this Olympiad and depending on the program of each sport, we have some good and some bad surprises. The show jumping finals will fall at the same time as the athletics finals, so it may be complicated to have large time slots dedicated to the show jumping final. However, if there's a French medal at stake, we will obviously be live on France 2 to bring you the news. The good news is that the eventing cross-country competition will take place in the middle of the night, from midnight to 4am, so we are almost sure to have the whole event live on France 2! In any case, you will be able to find all the sports directly on the mobile application France TV sports, which will offer more than a thousand hours of airtime during these Olympics.
The fact that I am part of the France Télévisions sports team and know equestrian sports well, while being one of the news faces in the group, helps in any case to increase the visibility of equestrian sports. However, it is the editors who have the final say on what will be broadcast live, as I said, according to each sport's program. This will be a big first for me, since it's the first time I'm going to be part of the France Télévisions sports system, so I'm discovering a whole lot of things that are quite different from what I usually do in the news department."
We are here at Paris Eiffel Jumping, where you are the French voice of the event along with Alexandre Depagne. You and Virginie Couperie-Eiffel are part of all the adventures!
"What's funny about my partnership with Virginie Couperie-Eiffel is that we had already done this during the World Equestrian Games in Aachen in 2006. I was 23 years old at the time; it was my first major experience on the Equidia channel! We commented on the entirety of the WEG, and had many hours of airtime with Virginie. So we are going to rekindle our duo 15 years later; I am delighted.
About Paris Eiffel Jumping, I have been officiating here for passion and pleasure for five years, at Virginie's request, who has become a friend. This year is a bit special because it falls right on the weekend of the second round of the departmental and regional elections, so I will go to the Elysée for a program on France 2 as soon as the last round of the competition is over! It wasn't originally planned like this, but Emmanuel Macron shifted the schedule when he should have known that there was the Paris Eiffel Jumping that weekend anyway (laughs)!"
Will you live out these Olympic Games on site or from a Parisian studio?
"I'll be on site! There will not be ideal conditions because, for the moment - it changes every week, it's necessary to remain careful - we are very constrained by the sanitary restrictions set up by the Japanese Olympic Committee. For now (Editor's note: interview performed on Sunday, June 27, 2021), we will not be able to go anywhere else other than to our hotel, the press center and the Olympic sites... We don't even have the right to take public transport or to go to a restaurant. Despite everything, we will be on the spot trying to make the Olympic atmosphere - which has no equal - come alive, even if it will be different from the previous editions."
You look optimistic though, I saw that you bought a tourist guide to Tokyo!
"I just ran into Nelson Monfort, who is here at the Longines Paris Eiffel Jumping, and I can tell you that he too is quite optimistic that the Japanese are easing the health restrictions a bit as the event gets underway, at least for people with a full vaccination schedule. This will be the case for all of us at France Télévisions. There is no reason, being double-vaccinated, that we cannot live on site like all the Japanese, keeping our masks on and being careful. On the other hand, it is true that there is a certain fear of the Japanese towards foreigners who travel to their country for this event, in the middle of a pandemic."
You have been involved in the organization of Chantilly Jumping for a long time. A few days before the first edition of the Masters of Chantilly, we imagine that you will be following this closely, perhaps even from the plane to Tokyo?
"I won't be gone for the Olympics by then. I joined the Chantilly Jumping association exactly 20 years ago, for this extraordinary project of creating a competition between buddies. We were friends and friends of friends, and we got together to have a horse show and have fun. This has now been the case for 20 years! For financial reasons that I can completely understand, the organization is changing this year, with a new organizer taking over the reins. I respect him completely, but that's not why I joined the Chantilly Jumping association 20 years ago. I will therefore watch this edition as a spectator and not as a player. Another adventure is opening in Chantilly, and a chapter of 20 wonderful years that is closing on my side. I hope it will open again in a few years."
In any case, we are counting on you, in Tokyo, to be our greatest equestrian ambassador!
"You put so much pressure on me (laughs)! Maybe people don't realize, it's not easy because my colleagues at France Télévisions don't know this sport at all. Our sport must be repackaged to be more "sellable" to the general public. We were talking about it with Nelson Monfort a few minutes ago. Today we have a 5* Grand Prix which will be run with 45 starters. For us, fans of horse riding, it seems normal to have such an event, with the best in the world on the program, but it is unwatchable for those who are from totally outside of this field. Unfortunately, I don't have a miracle solution, but we must find solutions for tighter events, and attempts have been made with the Global Champions Tour which proposed a 3-part Grand Prix, with a second part gathering the 18 best riders, then a jump-off between all the double clear rounds. This format with 18 riders was very interesting for TV. All sports are moving towards shorter and shorter formats, that is really the trend we are seeing now. What is going to happen at the Olympics for show jumping; three riders per team instead of the usual four, is a good idea in this sense. I know that for the riders and the purists it will be hell and it might do a lot of damage to the few teams that will collapse because of a big score, but for the general public it is maybe better. In any case, to conclude, we must collectively think about all these media coverage issues for the very general public, because we have a fantastic sport and I see it every day by helping people discover it, they are always amazed by the feats performed by this animal."
Featured photo: France Télévisions