James Kann Cruz, an upcoming superstar made in Ireland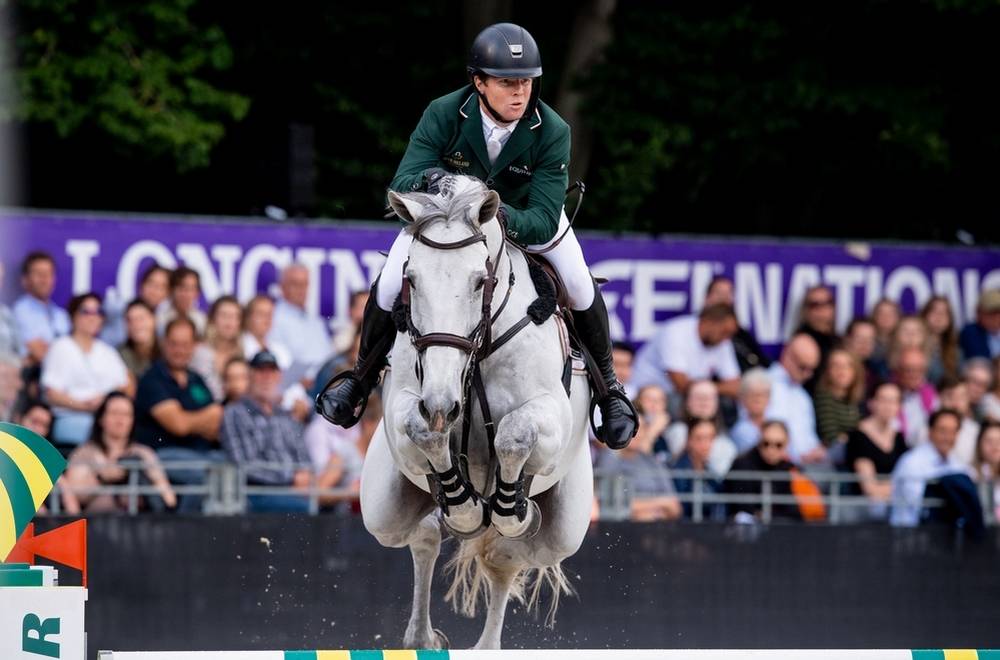 16 July 2022
Author : Mélina Massias
Bred and trained in Ireland from, the exceptional James Kann Cruz is also ridden by a representative of the irish Shamrock: Shane Sweetnam. The great grey gelding makes his nation proud, and especially his breeder, Patrick Connolly, his previous rider, Francis Connors who produced him alongside John Mulligan, and his new owner and pilot, Shane Sweetnam. At just nine years old, this son of Kannan, owned for height years by the Gannon family, has everything to turn into a real superstar. Talented, sometimes bored with flatting, and with his own character, the Irish Sport Horse burst onto the scene in Rotterdam, for his first 5* appearance in Europe. For sure, James Kann Cruz has not finished making a name for himself.
Riders are not the only one to shine in Ireland. At the end of June, during the CSIO 5* in Rotterdam, a grey horse named CSF James Kann Cruz (ISH, Kannan x Cruising) caused a sensation in the Nations Cup. Ridden by Shane Sweetnam, this son of Kannan was born in Ireland and comes from an all-Irish dam line. At just nine years of age, this great gelding, obviously registered in his national studbook, the Irish Sport Horse (ISH), has delighted all those who have been involved in his rise. "He's a real superstar," slips in with a smile Francis Connors, who produced the one nicknamed Gizmo from October 2019 until the autumn of 2021, taking over from John Mulligan. "I supposed he felt like he was the boss of the stables. (laughs) I think he knew he was a good horse."
Late last year, Shane Sweetnam acquired James Kann Cruz, almost unknown on the international scene. "I went to Oliva with him when he was seven, but we were only there for a week because Covid came along. That was the end of our trip. We had to turn around and go home. What a long way! (laughs) The idea was to take part in this series of competitions when he was seven years old. Alongside this, we have the Irish Horse Sport's Young Horse Circuit, with events for five-, six- and seven-year-olds throughout the season. These are used to qualify for the World championship for young horses in Lanaken. But Lanaken didn't happen that year either," recalls Francis Connors about his protégé's trajectory. "So my job was mainly to train him and teach him his job. Last year, when he was eight years old, we started competing in a few National Grand Prix at 1.40m, and then we competed in some Premiere Grand Prix, which are 1.50m. He won or placed in every national Grand Prix he jumped. He qualified for Dublin, but we were very unlucky in the eight-year-old class. I made a jockey error, and we got a bloody time point in the final! But everything he did as an eight-year-old just got better and better with each ride." So much so that the grey caught the eye of Shane Sweetnam.
A thunderous start at top level
In September 2021, the Irish rider met James Kann Cruz. "He started jumping a few national Grands Prix last year, and that's when I saw him. He had performed pretty well and I went to try him, before buying him," Shane Sweetnam recounts. "The first time I rode him, I was very excited! He had a lot of power, was very sensitive, but I felt like everything was there, even though it was still a bit raw at that stage." Backed by a group of loyal owners, who have acquired this new crack alongside him, Shane Sweetnam can look forward to the future with confidence. Indeed, the aim is to enjoy sport with the talented nine-year-old gelding. Moreover, there is no question of rushing into anything. "For the time being, we will simply get to know each other and let him mature. He had only jumped one international competition before last January. He did well in Ireland, but going to all these international shows is really different. Vancouver was a big grass arena, Rotterdam a smaller sand one, with lots of people. He just needs experience. If he keeps doing what he is doing, he will show good things, but if he has a bad day, it doesn't matter. Like all of us, he must learn from those moments. He also had to fly to the United States, where he discovered new stables, new landscapes, etc. It's good for him. The plan is to give him the best education possible this year," explains the irishman.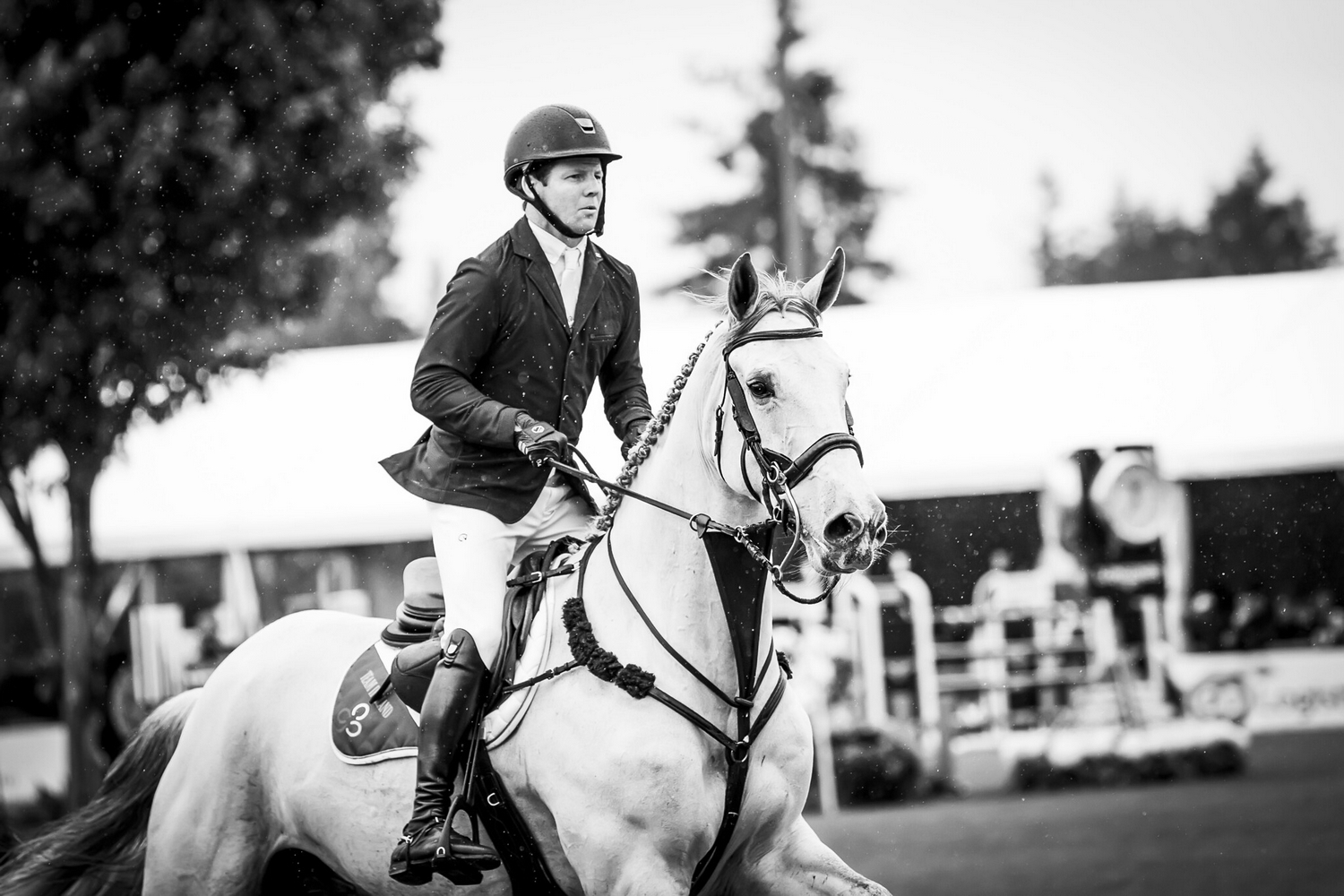 Shane Sweetnam and James Kann Cruz in Vancouver. © Mackenzie Clarke/FEI
For James Kann Cruz, the international life has started earlier this year. Thanks to his qualities, he has not been slow to make a name for himself. In fact, his record shows he only jumped one international round with more than one fault! Double clear in his first 3* Grand Prix, eleven and seventh in his second and third attempts at 5* Grand Prix, in Wellington and Vancouver; the son of Kannan has distinguished himself even more in Nations Cup. In Vancouver and Rotterdam, James Kann Cruz produced astonishing results, scoring four perfect rounds over fences and conceding only one time fault in the second round of the Canadian team competition. "I set a good plan and I don't feel I pushed him too hard," recognizes Shane Sweetnam. "In Vancouver, the Nations Cup was nice. The Rotterdam one was different, but both came at the right time in his career. I had these Cups marked off from the start in Florida and it all worked out well. I'm delighted, because that's not always the case. "
An innate intelligence and jump
These recent performances are a delight to all those involved in the development of this young talent, starting with his breeders. "He is a breeder's dream horse. He's special, there's no doubt about it, and probably the best we've bred here," Patrick Connolly said. "He has so much scope and blood - he seems to be the full package. I'm delighted to be his breeder. He seems to get better and better with each outing with Shane Sweetnam. I was amazed when I saw him in Rotterdam, where he jumped two outstanding courses for a nine-year-old. He does it all with such ease; everything is simple with him."
The big James Kann Cruz, here with his first rider: John Mulligan.
Born in the West of Ireland, in the province of Galway, James Kann Cruz always stood out. "He was a very athletic colt with a great gallop and blood," recalls his breeder. "He was also very intelligent. We sold him as a foal, at six or seven months. The Gannon family, who bought him and kept him until he was eight years old, originally came for a filly by Kannan. Mary and Anne's father, Mike, saw James Kann Cruz in the stables. From that moment on he refused to leave without buying him. In the end, he made the right choice!"
Very successful and consistent from a young age, the ISH immediately revealed his jumping qualities, qualifying every year for the youth events at the Dublin Horse Show, a hallowed competition for the Irish. "In the ring, his main quality was that he always wanted to leave the fences up. You had to do a big error for him to make a mistake. He loves to jump and is always very exuberant. Whether it's a 70cm or a 1.40m jump, he makes the same effort every time, which is a great quality," praises Francis Connors, who does not hide his boundless admiration for his former partner. "I've loved him since the first time I rode him (laughs). He's very tall, so what he found most difficult was to gather his stride in the lines, while remaining comfortable. He's always been very clever, already with John Mulligan. There was no problem jumping the obstacles; he always wants to go to the fence. But, for the rest of his career, he needed to understand how to shorten his stride and gain flexibility in his body." And the friendly rider, whose training skills are widely recognised in Ireland, is full of compliments for his grey. "I have to say that he is probably the best horse I have had in my career. I've ridden a lot of good horses, taken part in team events, but James Kann Cruz is probably the biggest jumper I've had," he confesses. "I think our last two Premiere Grands Prix would be my favourite memories with him. Over difficult courses, he gave an exhibition. He was incredible. I felt that everything was starting to fall into place, that the training was paying off and that he was ready for bigger things."
James Kann Cruz, here as an eight-year-old, fifth in Mullingar 1,50m Grand Prix.
For Shane Sweetnam too, there is no doubt about James Kann Cruz's predispositions. "He has the look, he stands out and of course he has all the qualities. He's super talented, but also very smart. He's still learning, and he's only nine years old, so I'm careful not to go too fast just because it's easy for him. I have to make sure that his mind is also ready. I just have to guide him in the right direction," added the Irishman. "He is a funny character and really smart. He can be cuddly if he wants to, but he likes to have his space. He seems to like it when there is an audience in the major events. He seems to understand what is at stake and reacts positively to the atmosphere. He has his ears pointed forward constantly. He loves to jump. The most difficult thing is often to get him to work on the flat. He gets bored easily. So I compare him to a young Irish rider: they don't like to ride on the flat, but they do love to jump. Everything is easy when you jump with James Kann Cruz, but sometimes he just doesn't want to flat (laughs)."
A full-Irish damline
James Kann Cruz has inherited his many qualities from his ancestors. His father, Kannan, does not need an introduction. Often delivering an excellent technique to his offsprings, Michel Hécart's former accomplice is also known for producing rather late bloomers. However, at nine years old, his new prodigy son seems to be well ahead of his age. Perhaps the explanation lies in his damline? In any case, it is worth a look. "We bought his grandmother, Tell Of Clover," Patrick Connolly begins. "She was part of the Swiss team that won gold at the European Junior Championships (in Athens in 1994, editor's note). She was Irish herself, as her sire was Clover Hill (ISH, Golden Beaker xx x Tara). We bought her via an Irish dealer. We were lucky to have her back in our country after her international career. Then we had her inseminated by Cruising (ISH, Sea Crest x Nordlys xx). This gave us CSF Telly Cruz, the dam of James Kann Cruz, who we kept as a broodmare."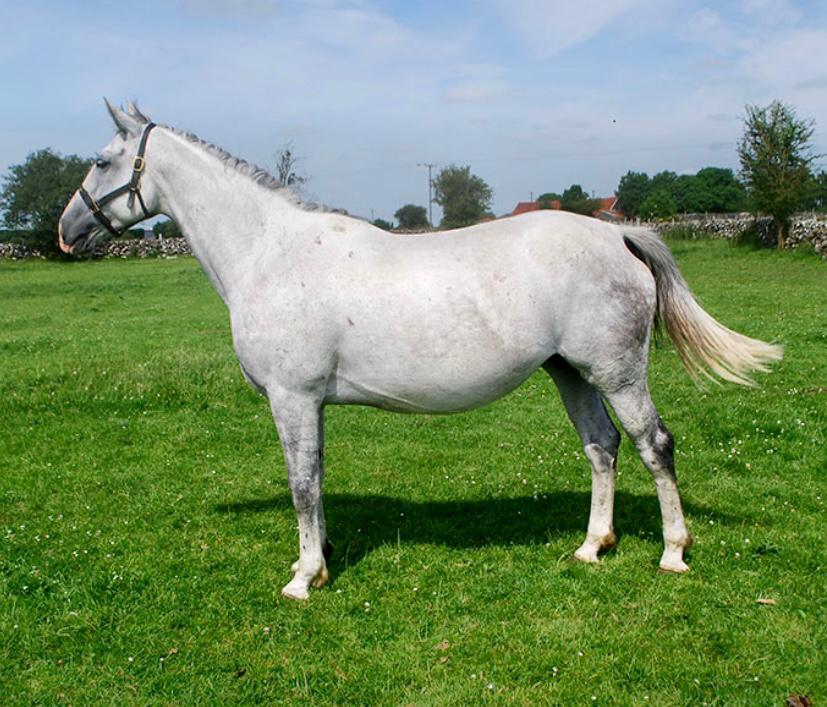 Telly Cruz, James Kann Cruz's dam. © Private collection
Initially involved in the trade of young horses, bought as foals or yearlings and then sold as two- or three-year-olds, the Connolly family's breeding operation took a completely different direction when the patriarch acquired a two-year-old filly. In Dublin, he saw a certain Cruising, winner of the legendary Grand Prix of Aachen in 1999 with Trevor Coyle and son of the excellent Mullacrew, who herself competed up to 1.60m. The latter was the first stallion to be granted the favours of the CSF Stud farm. Since the early 2000s, between sixteen and twenty horses are born there each year. Among the most successful jumpers of the Irish structure are Ramiro Cruise (ISH, Ramiro B x Cruising), son of Cummer Cruise, one of the first mares of the Connolly adventure, who was sold to the Tops stables and notably saw under the saddle of Australian Edwina Tops-Alexander and Italian Alberto Zorzi up to 1.55m, WCE Cruco (ISH, Cruising x Darco), good partner of Alex Duffy and placed up to Grand Prix 4*, or CSF Vendi Cruz (ISH, Ars Vivendi x Cruising), ridden by Shane Breen up to 1.60m at 5* level. WCE Falco (ISH, Cruising x Darco) finished third in the European Young Riders Championships ridden by Luncinda Roche, and the list of good performers from Irish breeding goes on, including CSF Sir Geroge, CSF Olympic Cruz, CSF Olympic Lady, CSF Princess Blue, CSF Royal, Paddy's Dream, Warrenstown Wall Aware, etc.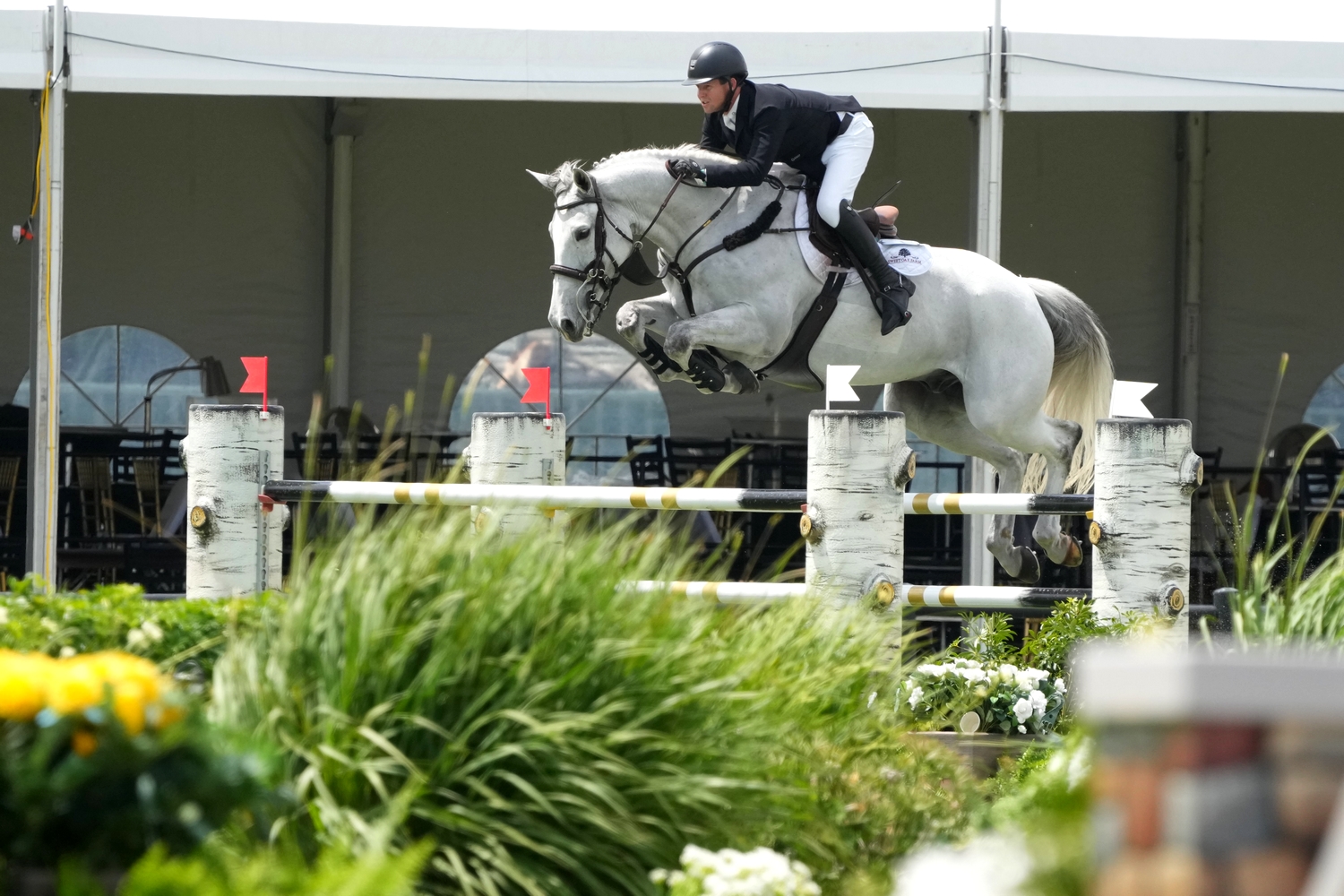 James Kann Cruz, here in Florida under Shane Sweetnam. © Sportfot
Furthermore, James Kann Cruz is not the only success story of his line. The grey has several siblings, and three of them have already performed on the international scene: CSF Vinze (ISH, Luidam), CSF Premier Cruz (ISH, Hold Up Premier) and CSF Kanncruz, James Kann Cruz's full brother. All of them competed between 1.50m and 1.35m. Two descendants of Glasgow van't Merelsnest, aged six and five, are also on Irish soil, carrying on the great blood of CSF Telly Clover. "Kannan seemed a good choice for CSF Telly Clover. She is about 1.63m tall, very bloody and has a good jumping technique. She also seems to be very consistent in producing horses that can jump well. We have not had a foal from her this year, but she did give us a filly by Zirocco Blue (ex Quamikase des Forêts, SF, Mr Blue x Voltaire) last year. She was sold at the Goresbridge auction for thirty-five thousand euros (to Anne and Mary Grannon, former happy owners of James Kann Cruz, editor's note). At the moment, we are trying to take embryos from Telly Clover", adds Patrick Connolly, who also has two mares by Diamant de Semilly (SF, Le Tôt de Semilly x Elf III), dedicated to breeding. One of them, CSF Ali's Diamond, has already been crossed to... Kannan, thus producing a three-quarter brother to the phenomenon James Kann Cruz. "He's a lovely colt with a lot of blood," says the breeder. He adds: "It's getting harder to get mares with an all-Irish pedigree. There are a lot of crosses with other studbooks, even here at home."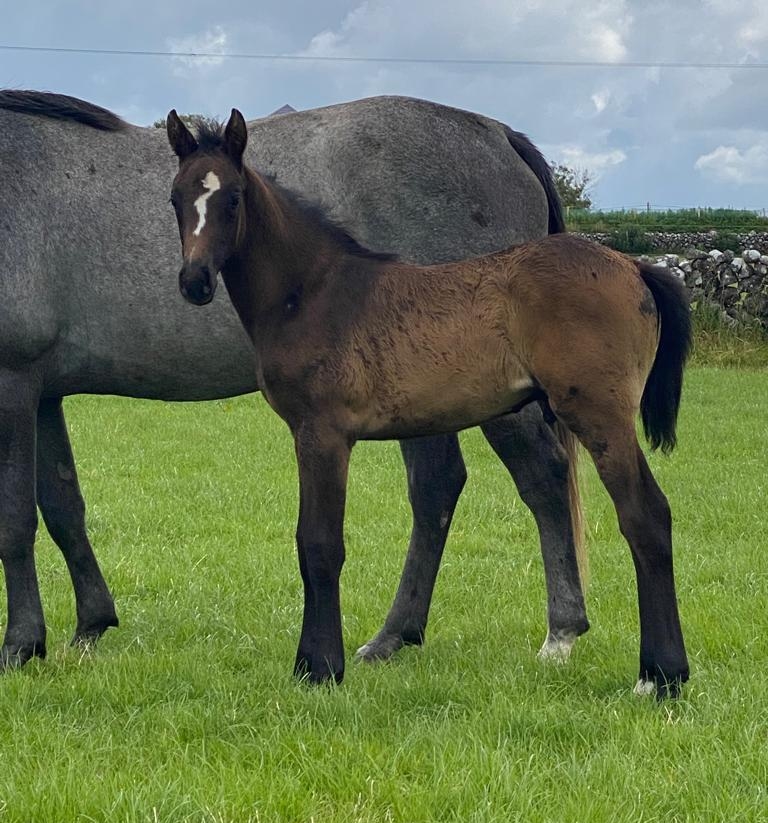 James Kann Cruz's three-quarters brother. © Private collection
A bright future in sight

It's hard to find flaws with James Kann Cruz. His almost insolent ease has been striking since his debut with Shane Sweetnam. With his 100% Irish paper, this brilliant grey is following an impeccable course for the land of the Shamrock. "It's great that he's ridden by an Irish rider and it makes the story a bit more special. To see one of our horses jumping for our national team is a dream come true. We always hoped to breed a horse of like him," is pleased Patrick Connolly. "I am delighted that he has joined Shane and is still competing for Ireland. I think Shane knows and understands that he has a superstar in hands. I think he will take his time this year, and gradually build him up for next year. From there, he can do anything he wants: any championship and hopefully the Olympics," Francis Connors imagines. For Shane Sweetnam too, the fact that his new partner is Irish is special: "I haven't had many Irish horses at a high level. The last one was probably Solerina (dam by Diamond Lad), another daughter of Cruising. She won a lot for me. She was very intelligent, as is James Kann Cruz. They both have their own characters. I think that's an Irish trademark, but it's becoming beneficial to the big sport." He concluded, bluntly: "There is no doubt that James Kann Cruz will be a championship horse. It just depends on the timing. There's nothing he can't do."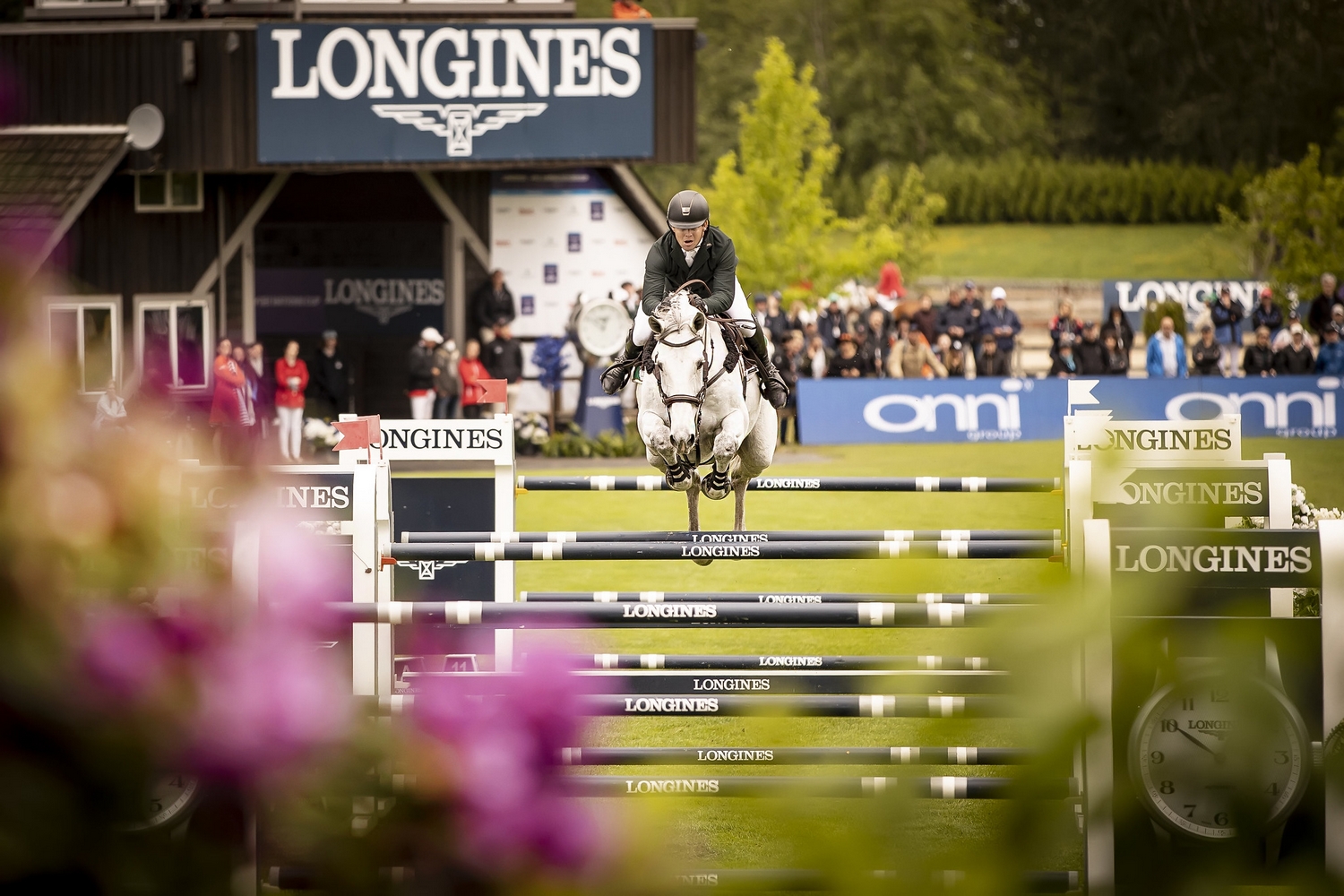 James Kann Cruz, always jumping with so much ease. © Mackenzie Clarke/FEI
Main picture : Shane Sweetnam and James Kann Cruz in Rotterdam's Nations Cup, last June. © Shannon Brinkman/FEI