"It's amazing how one person's help can make a difference." -Tim Wilks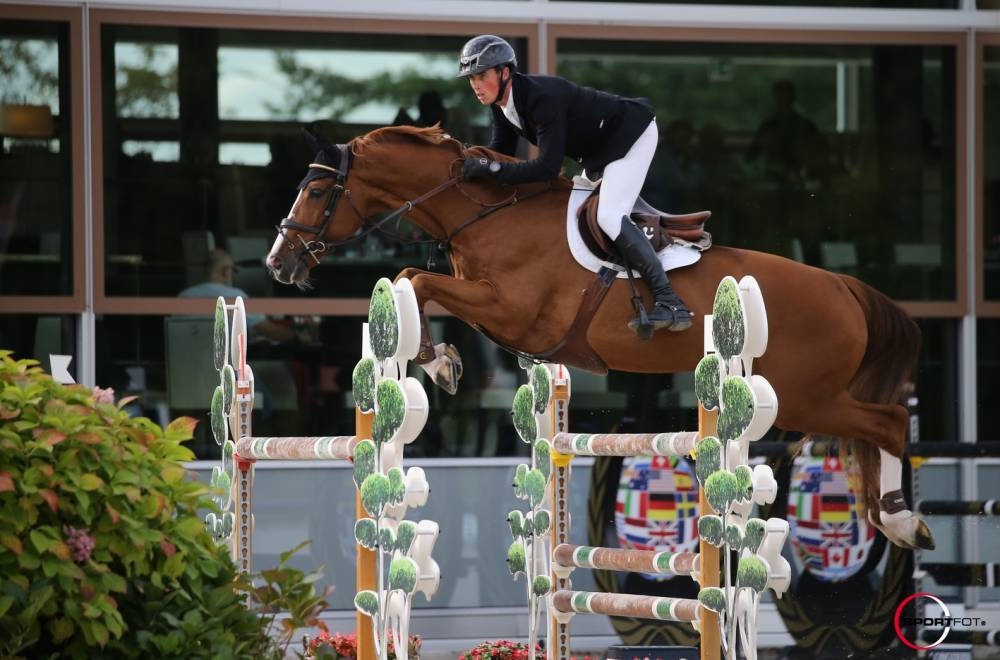 14 August 2019
We're proud to share some of our encounters with you... You certainly don't know him, but he is one of Canada's great hopes for the future! 24-year-old Tim Wilks was, until recently, competing under the British flag, but has decided to take a big turn in his young, yet well-defined career. Check out his story!
TIM, CAN YOU INTRODUCE YOURSELF TO OUR READERS?
"I am 24 years old and am based in London with my family in a large stable. We are mainly focused on young horses and also have an investment company. We invest in horses that are between four and five years old, and we train them up before selling them at around eight years old. The investors in this project are private individuals and most of them are not from the equestrian world. They have an outside opinion that is rather oriented towards business and less of a direct interest in horses. It is a risky investment, like any investment, but can bring a lot of returns. My parents are both in the banking business, and that's how we got the idea. So that's a breakdown of my professional life is!"
SO YOU GET TO RIDE A LOT OF YOUNG HORSES. DO YOU SOMETIMES SPOT THE RARE GEM THAT YOU CHOOSE TO KEEP?
"Absolutely. I don't come from a family with huge financial means, but my parents and I decided to find another way to access this sport. My sister is also moving up to the CSI3* level. So we're looking to continue at this level for the next few years. The goal is to keep the investment company going with the same idea, but to increase the sporting part on my side.
For the moment, when I spot a good horse and start to compete them, they attract buyers and must be sold. But sport-wise it's not the right time to sell as I can't take my experience up the levels and participate in big events. This combination between the investment company and my sporting career is a bit difficult at the moment. In the future, we would like to change this aspect of the business a little bit to allow us to keep some horses longer."
ISN'T IT DIFFICULT TO WORK WITH YOUR WHOLE FAMILY ON A DAILY BASIS?
"It's quite interesting. I left home when I was fifteen, for two years of adventure around England. Then I moved to Belgium to work for Henk Nooren for three years. I finally made the decision to return home after that period. I found myself alone at home, with too many horses. My sister was working for another rider at that time and was competing in eventing. She won medals in the junior category. But I tried to convince her to come back home to support me and compete in show jumping with us!
And now that's what she loves to do. We didn't get along very well when we were young, but things have changed. It's great to be able to work together. We all have the same motivation and want the best for each other. And it works really well. We've worked in different environments and with other people. So it's nice to now be able to work together and combine our ideas. I'm surprised that we get along so well! My mother is in charge of the management/communication with investors. My father oversees the financial/accounting side. We've had some very good horses and sporting results lately.
To support us when I'm in competition and we can only take two or three horses with us, we have a very talented person at home who works with young horses. So when I'm away, I know the horses are in good hands. That helps a lot."
YOUR SISTER IS PART OF THE BRITISH TEAM. IS IT COMPLICATED FOR YOU TO LIVE IN LONDON BUT RIDE FOR CANADA?
"Less than six months ago, I was also riding for Great Britain! When I was younger, the British team gave me a lot of opportunities. I'm very grateful for that. But at a certain point in my career, when I started to think seriously about approaching Canada because I have dual nationality, I said to myself that if I wanted to change, then this was the right time to do it. In March of this year, I was officially able to change over. I was given the opportunity to move up to the Canadian team, and that immediately confirmed my choice. The team believes in my horses and myself, and it's a pleasure to work with this group of people with whom we share the same vision."
SO YOU'RE WELL INTEGRATED INTO THE CANADIAN TEAM NOW?
"It's funny because I used to know this team, but not very well. And since the change of nationality and their positive reception, I have discovered a team of great people, that goes far beyond each individual team member. It's nice to be surrounded by so many good people. During each event, the whole team is present, no matter if it's a big or small event. There's a real team spirit. It gives you confidence. When you work with someone like Eric Lamaze, you can't dream of anything better. But I continue to support the British team of course. James Wilson, for example, is one of my very good friends, and I support him a lot!"
DO YOU HAVE STABLES IN CANADA?
"No, my main stables are in London. It's not something I thought would make sense for business, or even for me. Most of the investors are British, and I need to be based in Europe. During the CSIO5* in La Baule in May, I made the decision to go to Calgary for the five-week Spruce Meadows tour. It will be the first time in my life that I will be riding there. It's an important decision for my future career, but also for the company. It gives me visibility in Canada and the United States, while also supporting my team."
DURING THE WINTER, WILL YOU GO TO THE UNITED STATES LIKE MANY RIDERS DO?
"Maybe in the future. Of course, that's something I'll consider if I have a horse with which to do it. At the moment, we have spent most of our winters in Spain. In England, we don't have a riding arena and the winters are not very mild. Especially with young horses, it's better to have the shortest possible winter and to spend time in Spain, with the mild weather and good arenas."
ERIC LAMAZE ACCOMPANIED YOU A LOT DURING YOUR COMPETITIONS YOU BOTH ATTENDED. WHO TRAINS YOU FROM DAY TO DAY?
"I work with different people. For the last few years, I have been working with a Belgian trainer, Patrick Vandereyt. He has helped the company to find good horses a lot. We have been working with him since my return to England. I have also been working recently with an American, Sean Crook, who has helped my sister a lot. We're actually in a transition period. I'm very open to working with new people. We're part of a sport where you never stop learning. Any information is good to take on board. It's amazing how one person's help can make a difference. I'm very open and willing to learn."
WHAT IS THE MOST IMPORTANT THING YOU LEARNED WITH ERIC LAMAZE?
"At home, training is training, you have to work hard to achieve your goals. When you're competing, you're there to compete and do your job; to fine-tune the details or work. It all happens beforehand though, at home. Eric is very focused on what needs to be done. Don't get distracted by everything that's going on around you. He brings a lot of confidence and makes you believe in yourself. He also gave me a lot of advice on my riding, which really helped me: he changed the way I ride. From the very first day working together, he helped me to improve certain details that changed my position and helped me a lot. For example, he tells me that I'm always too forward. He explained to me how balance and movement change a lot depending on the obstacles and horses. For the horse I had in La Baule for the Nations Cup, I needed to grow up, for example. It's full of little things, details that make a big difference."
ARE YOU THINKING ABOUT THE 2020 TOKYO OLYMPIC GAMES?
"Of course, I think it's something we all have on our minds. I hope I can keep my good horse for the moment. If that's not possible, I have a lot of seven-year-olds coming in. Anyway, we have a very good team, and everyone has their goals well set. Now we have to start thinking more specifically about the Olympics."
Interview by Théo CAVIEZEL . Featured photo: © Sportfot.com