Irréelle de Talma makes the show at the Talma Auction!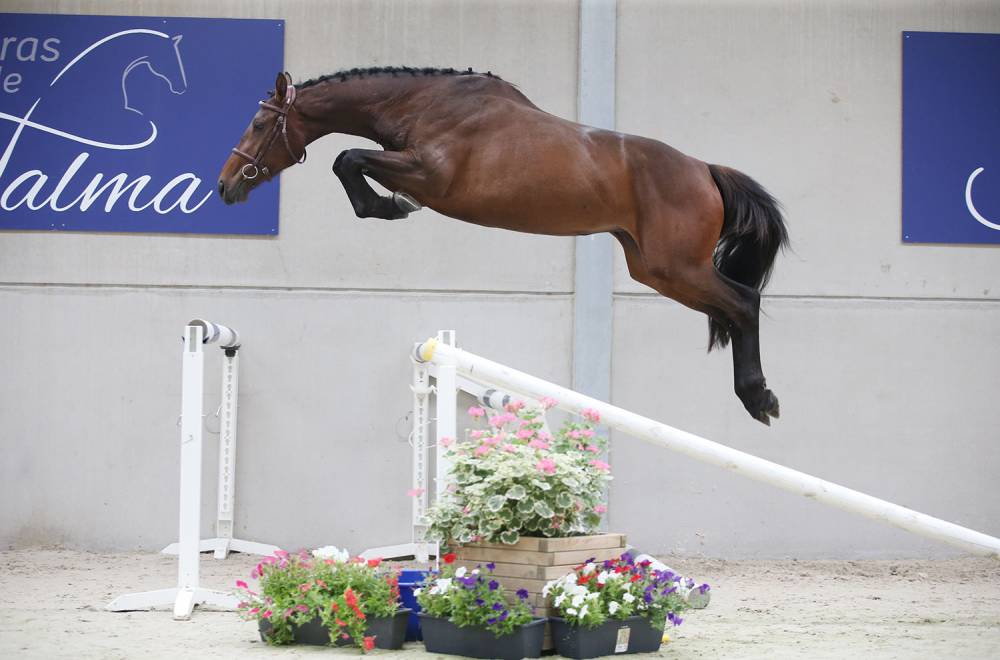 06 July 2021
The first Talma Auction proved a great international success. After a convivial presentation day on Saturday, July 3, many of the buyers waited until the last moment on Monday early evening to set the sale alight and make it a resounding success. Twenty-four horses will shortly be joining their new owners.
After confirming all her abilities on Saturday in front of the Talma public, Irréelle de Talma (By Cera d'Ick x Quaprice) was in the spotlight of a very nice fight and was finally acquired for 52,000 EUR by a syndicate who want her to develop in the sport. At the same time they will also be counting on this sister of the international Baikal de Talma, from Itot du Château's line, to be bred by embryo transfer.
A second Franco-Belgian partnership was also formed around Insolente de Talma (Mylord Carthago x Baloubet du Rouet) who was sold for 42,000 EUR while the other product of the international Cocaine de Talma, Insolent de Talma (Thunder vd Zuuthoeve x Baloubet du Rouet) will go to Spain for 29,000 EUR.
The impressive filly Lambada de Talma (Baloubet du Rouet x Quidam de Revel), out of the Rahotep, Karla and Jadis de Toscane, will be joining the élevage de Pléville after being sold for 15,000 EUR, while Look de Talma (Tangelo vd Zuuthoeve x Thunder vd Zuuthoeve) and Lullaby de Talma (Canturano x Kashmir van't Schuttershof) will be joining an investor of Marlon Zanotelli after bids at 11,000 EUR each.
"This sale has been a real success. I am so happy and proud of my teams who gave their all. I think that the Haras de Talma has reached a new milestone with the organization of an annual sale. We appreciate the closeness to our buyers, and we are happy to bring them to Talma", Michel Guiot explained.