Ireland win the Nations Cup Final and their ticket to Tokyo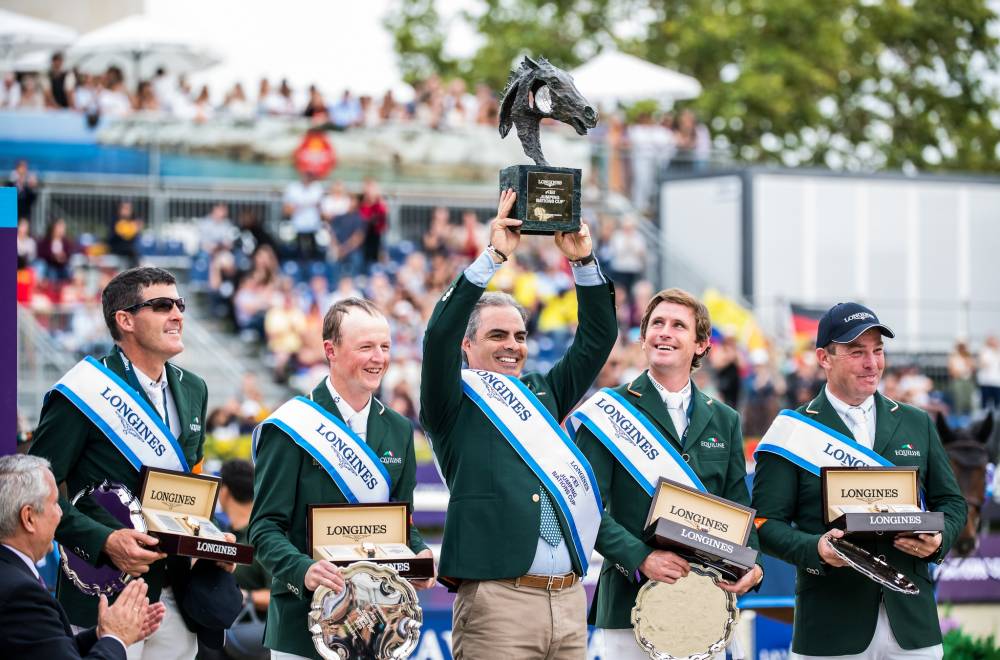 07 October 2019
For Ireland, this Nations Cup final was of twofold significance as they hoped to grab the last place for the Tokyo 2020 Olympic Games. In addition to securing their participation in the Olympic Games, Rodrigo Pessoa's Irish team won the Barcelona final with a deft hand. Highly motivated, Paul O'Shea, Peter Moloney, Darragh Kenny and Cian O'Connor fought like lions to ensure that they would not miss the Olympics again. Darragh Kenny, the team's No. 3 rider, was already booking this Olympic ticket with the one-point round that he made on his great Balou du Reventon (Cornet Obolensky). Cian O'Connor offered them victory by achieving a clean round with PSG Final (Toulon), and Paul O'Shea also completed a penalty-free course with Skara Glen's Machu Picchu. Italy and Colombia, also competing for the last Olympic ticket and who had managed to qualify for this grand finale of eight, had to admit defeat.
Victory could have gone to Belgium, who have been so strong in recent seasons. Weren't they the Cup holders, after all? The reigning European Champions were also the winners of Thursday's qualifying round. All the pressure was on Gregory Wathelet's shoulders. After Olivier Philippaerts' clear rounds with H&M Extra (Berlin) and Jerome Guéry's with Quel Homme de Hus (Quidam de Revel), Niels Bruynseels made a fault at the last fence with Jenson van't Meulenhof (Vagabond de la Pomme) -, and Gregory Wathelet had to achieve a clear round. However, Belgian hopes vanished at the penultimate fence, which Nevados refused. A fault on the last oxer made the burden heavier and the Belgians had to settle for second place.
Sweden, Italy and France took 3rd, 4th and 5th place in the final, all three penalized with 12 points. Germany –6th with 16 points– was further behind, as was Switzerland, 7th with 17 points. Colombia, surprise guest for this final, could not consolidate today and closed out the rankings.
In addition to the €1.25 million purse for the final, Thursday and Sunday's double clear rounds shared a bonus of €100,000. In the end, only Olivier Philippaerts and Daniel Deusser succeeded in this challenge. Obviously, the pressure of this final, added to the pressure of the last place for the Olympic Games, all on the tricky Santiago Varela course, undoubtedly played a decisive role in the way Sunday's played out.
On Saturday evening, the Spanish delighted their fans by winning the Challenge Cup, thanks in particular to a clear-round from Sergio Alvarez Moya with his good 9-year-old Jet Run (Chacco Blue) who, last to start, did not fail. Willem Greve, the only double clearround (Thursday and Saturday) with Zypria S, pocketed a €50,000 bonus.
Photos © FEI