Imperial Jérôme Guery in Knokke!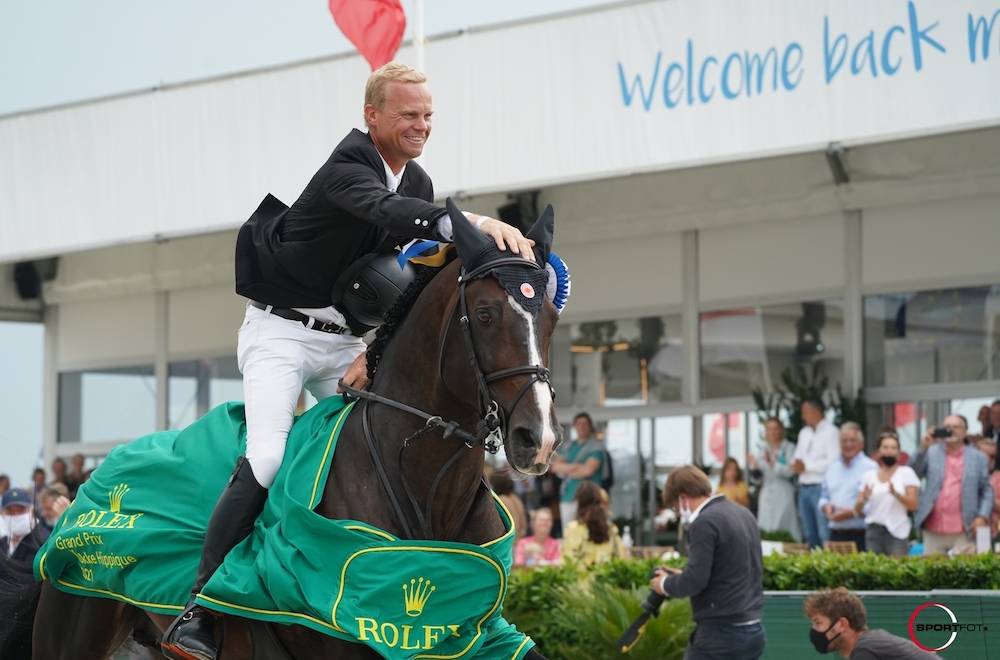 28 June 2021
Six years after his first win, Jérôme Guéry does it again in the Knokke Grand Prix, while Ben Maher takes over the French capital and the young riders show off in Italy... As usual, let's go over the weekend's international competition results!
Knokke CSI5*
The Knokke Hippique facility this weekend hosted the Stephex teams who organize three weeks of intense sport, starting with their CSI5* under Rolex colors. Many people came to the event. The Grand Prix was run on Sunday afternoon, with no less than 48 qualifiers. For a long time, we thought it would be a four-point jump-off, as the final line was rather tricky. We had to wait for the 19th rider, who was just back from the United States, Lillie Keenan, to find the key to the clear round with Fasther (Vigo d'Arsouilles). Eight others followed her into the jump-off in which we found names such as the two first world riders in the FEI rankings, Daniel Deusser and Steve Guerdat, Scott Brash and Max Kühner.
This Grand Prix victory went to the Belgian combination that were recently selected for the Tokyo Games: Jérôme Guery and Quel Homme de Hus (Quidam de Revel). "The news that Quel Homme de Hus and I have a place in the - Olympic - team gave us extra confidence to be forward today. This is the last competition before Tokyo, so to have such a result makes me very happy. It's not a small victory, it's a huge one! I know my horse is not super fast, but we are a great team. Everyone here saw that it was possible to go faster, but luck was on our side, so to speak. When we are in a jump-off, you can count on us to do our best and this show really brings out the best in me," said the Belgian following his award presentation. As a reminder, Jérome Guéry won this Knokke Grand Prix in 2015 with Papillon Z.
Second place went to French rider Kevin Staut and Bulgarie d'Engandou (Vargas de Ste Hermelle). It's worth noting that this 10-year-old mare was competing in her first CSI5* Grand Prix. Max Kühner closed out this podium with his bay gelding Elektric Blue P (Eldorado Vd Zeshoek).
Paris CSI5*
The Global Champions Tour stopped off in Paris for its sixth leg, at the foot of the Eiffel Tower. Read our article dedicated to Ben Maher's victory in the Grand Prix and the Saint-Tropez Pirates in the Global Champions League. Also of note, Frenchman Edward Levy is undoubtedly THE rider of this 2021 edition, with three major victories at the 5* level.
Traverse City CSI3*
It was the third and final weekend of the "Traverse City Spring Horse Shows" tour in the United States! It ended with Californian rider Karl Cook's victory with Caillou 24 (Casall ASK). "Caillou didn't compete last week, so we were able to relax and rest, but also prepare. Each day leading up to the event, we tried to prepare for today. We had the double clear class two days ago, but the goal was just to get one or more good rounds for today. It worked out; he felt great today and I'm just super happy," said Karl Cook. Camilo Rueda placed second with Indus van het Keysereyck (Carabas Vd Wateringhoeve). The podium was completed by John Perez Bohm and Voodoo 10 (Valentino 240).
Karl Cook and Caillou 24.
Gorla Minore CSIO YR
This weekend, if there was one place where the young generation of riders could compete, it was at the Italian complex located near Milan, at Equieffe. In the Young Riders category, the Spanish won the Nations Cup while the Italians monopolized the Grand Prix podium, which was 100% female. Sofia Manzetti won with Bombay de Beaufour (Newton de Kreisker); they were the only double clear! Her teammates Alessandra Bonifazi and Elena Datti were second and third respectively.
On the junior side, the Swiss won the team event. The Grand Prix went to Germany's Lara-Marie Juraske and Carracio 2 (Calido I), followed by Martina Ferrari on Aberdeen 34 (Araconit).
The Germans dominated all the major Children's events of the weekend. Young rider Amy Halfrich and Leon 36 (Loran) won the Grand Prix ahead of Maria Ilatia Grilli and Saetta Del Terriccio (Can Can del Terriccio). Third place went to Emma Bachl and Classic White 2 (Clarimo). The Nations Cup also went to the German team.
San Giovanni CSI2*
Italy also offered a CSI2* event to riders this weekend. Swiss rider Pius Schwizer lead the final Grand Prix placings with Balou Rubin R (Balou du Rouet). Hans-Dieter Dreher, riding Vestimalle des Cotis (Baloubet du Rouet), followed closely behind with a double clear in the jump-off, but wasn't quite as fast. Riccardo Pisano closed out the podium on Seronera (Chacco Blue).
Royan CSI2*
Many French riders were present this weekend in Royan, but the Grand Prix victory went to Victor Bettendorf from Luxembourg on his 11-year-old mare Astuce de la Roque (Kannan). "I had a great weekend with her. She won the two ranking classes in the jump-offs. She's a mare with a big heart and a lot of confidence. When she's in a good mood, she's hard to beat," said the rider. Second place went to Margaux Rocuet and Trafalgar Kervec (Quaprice Bois Margot). The Frenchwoman told us a little bit about herself and her horse; feel free to watch our video here. Third place went to Marie Demonte on Bugano de Brekka (Ugano Sitte).
Santander CSI2*
This Grand Prix event in Spain ended with a podium full of Spanish colors! Four riders qualified for the jump-off in this major event, but the victory went to Iván Serrano Sáez and Rain Man (Chacco-Blue). Pablo Diaz Cuevas placed second with Alto du Roc (Rock'n Roll Semilly), while third place went to Rocio Lázaro Alonso and Infamia Del Amor 3 05 (Grand Rivage).
Bonheiden CSI2*
Fifty-one starters lined up in this Belgian Grand Prix, but only two of them had the perfect course as many of them were caught out by the time. The jump-off was between two Dutch riders; Remco Been won with Holland Vd Bisschop (Heartbreaker). The pair were followed by Kim Emmen, who saddled Jack ven het Dennehof (Toulon) for the occasion. Swiss rider Clarissa Crotta managed to get on the podium with one point over time, with Yoghi (Frh Quaid).
Photo credit: Sportfot.com - Andrew Ryback Photography