"I'm still learning every day." - Max Kühner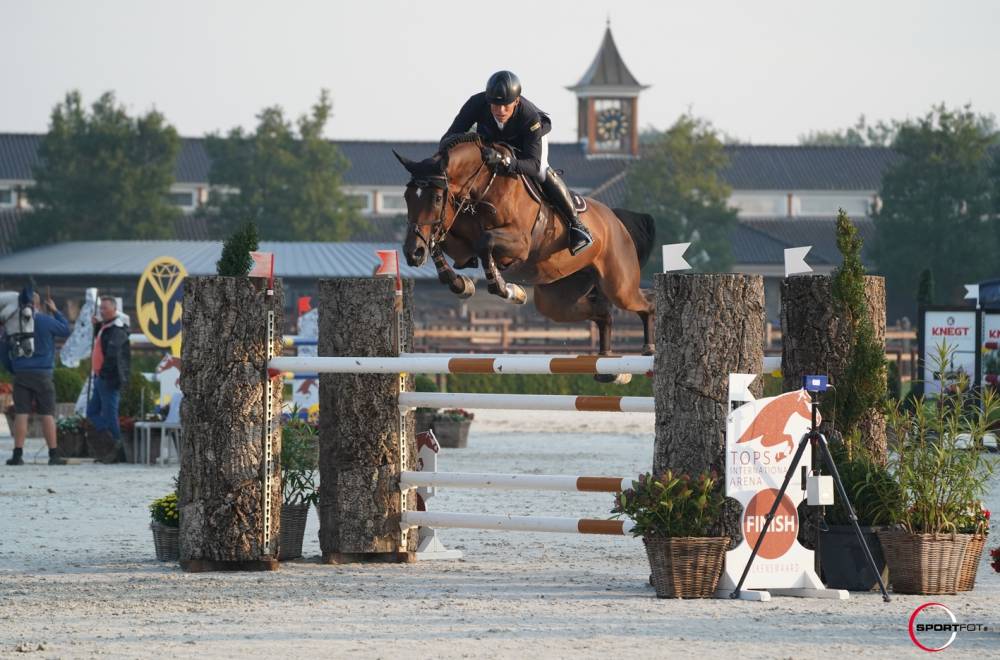 28 June 2019
A pillar of the Austrian team, Max Kühner is making a comeback after a month's absence following shoulder surgery. A rider and family man, as well as the head of a company in the world of finance, the 45-year-old man has a busy life but took the time to meet up with us so that we could learn more about him.
YOUR RIDING DEBUT WAS QUITE SPECIAL, WASN'T IT?
"Yes, I was supposed to go skiing and it was one of those winters when there wasn't a lot of snow. At that time there were no snow makers and as we had a lot of energy, as kids do, my parents registered us to a riding school in Austria, and that's where it all started. My parents always had a horse and loved to ride but they never competed, they just rode as a hobby."
AS YOUR PARENTS WEREN'T PROFESSIONALS, WAS THE CLIMB TO THE TOP DIFFICULT?
"When you don't come from a family that is totally involved in the sport, I think it's more difficult because you have to experience a lot of different things and make a lot of mistakes. When you grow up in a family of professionals, you can make mistakes but you pretty much already have the "right way" of doing things and people aren't going to let you fail. I said to a good friend of mine, who's none other than Martin Fuchs: "Look, you're on the highway to the top, while for a long time I was lost in the middle of the forest without knowing where that highway was." But deep down, being in that forest and thinking about where that highway to the top can be gives you a lot of experience even though it may take you longer. And on top of that, you have time to get to know your horse well."
WHO HELPED YOU GET TO WHERE YOU ARE TODAY?
"A lot of people helped me; I won't point a finger at one person because it wouldn't be fair. These people helped me to grow, develop, and I'm still learning every day and a lot of people are still helping me, whether it was growing up in the sport or helping me do things better and finding an easier way to reach my goal."
WITH YOUR EXPERIENCE, WHAT DO YOU THINK OF THE ROLEX YOUNG RIDERS ACADEMY?
"When you look at the riders at the Young Riders Academy, some of them are there because they're very good riders and don't come from a wealthy family. They have the opportunity to work with the best coaches in the world and get experience on their side; I think that's something that is important for our sport."
WHY DID YOU SWITCH YOUR NATIONALITY FROM GERMAN TO AUSTRIAN?
"There were many reasons, but in Germany it's very hard to participate in a championship. In Austria I had the opportunity to do more or less what I wanted; to use my own program. In Germany by comparison, once you get to a high level, you do what you want, and others follow what you do, but I wouldn't have been at the highest level, and I would have had to follow those who were, and that would have made my job complicated for myself and my family. This sport is also a business, we have to fund all this. We sell horses, and as we don't have a big sponsor, it's easier for us to manage everything as we do now."
CAN YOU TELL US ABOUT YOUR MAIN HORSE, CHARDONNAY 79?
"My best horse is, of course, Chardonnay 79, and our story is quite funny. A good friend of mine, Sabina Illbruck, has always had a lot of horses and when she wanted to downsize, she asked me for help sell them. Chardonnay was only four years old at the time and he was quite small. He jumped fantastically well but at that time he looked too small for me and I had a good offer from someone who told me that if she took him, she would put him in with her 17 other young horses, foals and mares... In the end, as this person was a friend of mine, I seized the opportunity and sold her Chardonnay.
Two years later, this friend told me that Chardonnay was doing a very good job and that he had to come back to me, that I had to buy him back. So I bought a half share, and when he was 7 years old I bought the second half, obviously at a much higher price than the original selling price, but it was a very good decision. I'm really very grateful to this friend who gave me the opportunity to get him back. He has grown quite a bit and is now almost 1.70m tall. I'm his owner and we want to keep him and maybe do some breeding in the future as he's in demand, but for now we are focusing on sport."
YOU ALSO HAVE ALFA JORDAN.
"Alfa Jordan is also a very talented horse, I spotted him when he was still young, and I was very interested. He was sold at 4 years old at the Holger Hetzel auction as the top priced horse. I really liked him, but I couldn't afford to buy him. However, towards the end of his 7-year-old year, his owner asked me to ride him. He's a very good horse that is constantly improving."
AND WHAT ABOUT YOUNG HORSES?
"Vancouver Dreams is a very talented 9-year-old mare. She has a lot of blood and needs to gain some experience. Elektric Blue P is only 8 years old. He's a young talent but he has already had some good results and he needs to progress to top-level sport now."
YOU'VE ALSO RECEIVED HIGHER EDUCATION, WHY IS THAT?
"My father always told me that I had to finish university. I must admit that he forced me to do it at first because it wasn't easy for me, but in the end I'm glad he did. Apart from sport itself with my company Sporthorses, I also run a company in the field of finance in Germany and Switzerland, having studied all aspects of finance and business administration."
WERE YOU ABLE TO MANAGE YOUR STUDIES AND RIDING AT THE SAME TIME?
"I rode while I was in college, and I think you have a lot of free time when you're studying. Actually, that was the time of my life when I had the most. I didn't compete as much as I do now, but I still managed to ride every day. I also had pupils and clients, I rented stables and we had about ten or twelve horses. That was when I started to enter the professional equestrian world."
AS A DRESSAGE RIDER, HOW DOES YOUR WIFE WORK WITH YOUR HORSES?
"It's always on the flat, aimed at show jumping, even though she has the ability to ask a horse to do pure dressage, we don't ride them that way: we do easier things with our jumpers. She has a good eye for giving me feedback on my work on the flat. Our horses don't just do jumping or flatwork, they also go to racetracks."
AS A FATHER OF TWO CHILDREN, HOW DO YOU MANAGE TO FIND A BALANCE BETWEEN FAMILY LIFE AND SPORT?
"One important thing is that the whole family loves sports. I've been taking my kids to competitions since they were very young and they have fun, they live the showjumping life and love it! The configuration of our house and stables means that my youngest daughter lives just above Chardonnay's box: she sleeps 2 meters above him! They grew up with horses and they love them; I think that's why they understand why daddy gets up early in the morning to go and ride. That's the life they've known and right now they appreciate it."
HOW IS YOUR EXPERIENCE OF BEING PART OF A TEAM AND NOT JUST AN INDIVIDUAL NOW?
"We had a team go to the 2017 European Championships, and we want to have one this year for Rotterdam as well. I think there are pros and cons when you go as a team. Of course it's nice to have team spirit and to be with colleagues and compete together with the same goal, but on the other hand, it's also an advantage to have to concentrate only on your own rounds: you can really concentrate just on your own work. There's no need to think about your results in relation to the rest of the team, you ride only for yourself and only think about what's best for your horse. Of course, if I could choose, I would still compete as a team!"
Interview by Marie-Juliette MICHEL. Featured photo: © Sportfot.com