An ideal weekend in Grimaud for the Guerdat clan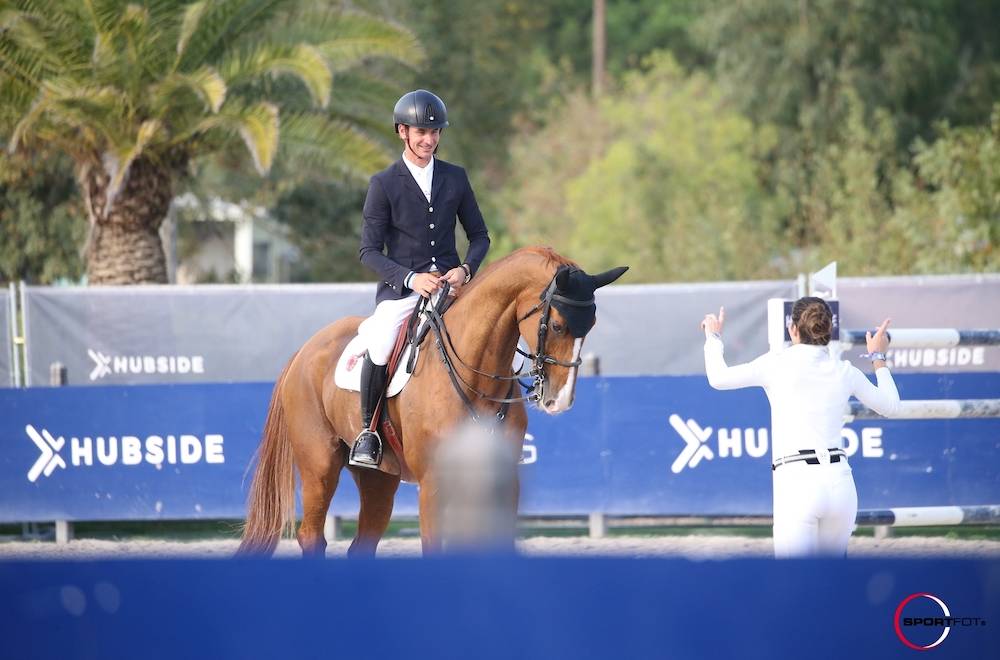 27 September 2021
There were plenty of competitions this weekend thanks to the various CSI all over the world. Finally, time has come for the young riders and horses to be honored. The finals of the Nations Cup circuit for Ponies, Children, Juniors and Young Riders were held in the Netherlands and the World Championships for young horses took place in Lanaken. Reports on these competition will be published very soon on Studforlife.com.
Grimaud CSI5*
The competitions came one after another, just as they did in Grimaud! As in July, Steve Guerdat and Victorio des Frotards (Barbarian) won the 5* Grand Prix, beating Peder Fredricson on H&M Christian K (Namelus R) and Simon Delestre on Chesall Zimequest (Casall). "When I saw Peder's time I hesitated about trying everything because he leaves next week for Barcelona (editor's note: for the Nations Cup circuit final) and I didn't really want to take too many risks. In the end, once I was in the arena, I didn't ask too many questions, I kept going and told myself that if it went well so much the better, if it didn't it didn't matter, I'd nothing to lose", Steve said.
Yesterday was a great day for the Guerdat clan with Steve winning the 2* Grand Prix with Ulysse des Forêts (Col Canto) in the morning, and his wife, Fanny Skalli, third with Jonka-A (Cardento). September was globally full of successes for Steve - between his title of European Team Champion in Riesenbeck, his victory in the Spruce Meadows Grand Prix and his tenth place in Aachen.
See here the video of Steve and Victorio's jump-off:
Caledon CSI5*
This weekend a CSI5* was held in the Caledon Equestrian Park, near Toronto. There were only 18 starters for the Grand Prix and the victory went to Santiago Lambre riding Easy Girl (Conthargos). The Brazilian rider was just a couple of tenths of a second ahead of Shane Sweetnam on Birdy du Thot. This Selle Français mare by Magic d'Elle, associated with the Irish rider since the beginning of the year, was competing in her first 5* Grand Prix! Almost on home turf, the Canadian Francois Lamontagne completed the podium with Chanel du Calvaire (Luccianno).
Vancouver CSI4*W
After three Grand Prix victories this summer, and in great form, Conor Swail and Vital Chance*de la Roque (Diamant de Semilly) repeated the feat in Vancouver ahead of Canadian Vanessa Mannix on Cakinta (Catoki) and Kent Farrington on Austria 2 (Casall), the 2019 Top 10 winner in Geneva. This Grand Prix was something special, since it marked the return of the World Cup circuit to the American continent after two seasons disrupted by Covid-19. Let's hope that the final scheduled in Leipzig can take place this season.
Conor Swail and Vital Chance*de la Roque© FEI/Quinn Saunders
Canteleu CSI3*
This weekend Normandy hosted a CSI3* where the Grand Prix was won by Mathieu Lambert and Cayetano Loisel ahead of Félicie Bertrand on Dakar and Florian Angot on Chrome d'Ivraie, respectively second and third. At only 9 years old, the son of the former French champion of the 7YO Oslo du Chalet, this wasn't his first ranking at this level. He had already been placed fifth at the 3* Grand Prix in Deauville a few weeks ago. All bodes well for the future.
Roeser CSI3*
Fifty-three pairs took part in the Luxembourg Grand Prix and the Swedish national anthem resounded at the very end with the victory of Stephanie Holmén and her faithful Flip's Little Sparrow (Cardento). The Dutch rider, Kim Emmen and Viktoria Häussler of Luxembourg completed the 100% female podium.
Gorla Minore CSI2*
About 30 pairs met in Italy to compete in the 2* Grand Prix in Gorla Minore. The German rider, Barbara Steurer-Collee, was the fastest of the four double clear rounds, winning on Quantus 14 (Quantum) ahead of France's Franck Goubard on Liberty (Clarimo) and the Czech rider Emma Augier de Moussac on Homey (Cardento).
Arezzo CSI2*
Despite the predominance of Italian riders, it was an American who won the Grand Prix of Arezzo. Riding Con Coleur (Contendro), Rebecca Conway was much faster than Filippo Martini di Cigala and François Spinelli.
Rebecca Conway and Con Coleur © Sportfot.com


Nations Cup Youth Final in Peelbergen
In addition to their own respective championships, the Ponies, Children, Juniors and Young Riders were all able to defend their colors again at the finals of the Nations Cup circuit. This year, they did not meet in Opglabbeek as they usually do, but in Peelbergen, in the Netherlands.
In the Ponies tournament, Irish Chef d'équipe Gary Marshall chose to send the same team as the one he sent to the European Championships. It was a decision that paid off this time, since his four riders (Coen Williams, James Brennan, James Derwin and Katie Mcentee) were the only ones to finish without faults at the end of the two rounds. They won ahead of Germany and France.
In the Children's tournament, Belgium almost lost the victory to Sweden, who conceded one single time point too many. Belgium's national anthem was played in honor of Estee Bomere, Brent de Schrijver, Nikita van der Meerschen and Seppe Wouters. It would have been a surprise if the Belgians had not won a final after having swept away everything else this summer - all done!
In the Juniors, the American riders Caroline Mawhinney, Ansgar Holtgers Jr, Virginia Bonnie and Zayna Rizvi did not make the long journey in vain - winning the final ahead of Spain and Belgium.
In the Young Riders, Emilia Löser, Leila Bingold, Antonia Ercken and Matthis Westendarp, all from German, were the only ones not to make any faults at the end of the two rounds. They therefore logically won ahead of France (4pts) and Sweden (8pts).
The winning Belgian team in the Children's final consisting of Estee Bomere, Nikita van der Meerschen, Seppe Wouters and Brent de Schrijver with their coach Jean Jacques Mathijs
Featured photo: Sportfort.com