Ialta Sitte has passed away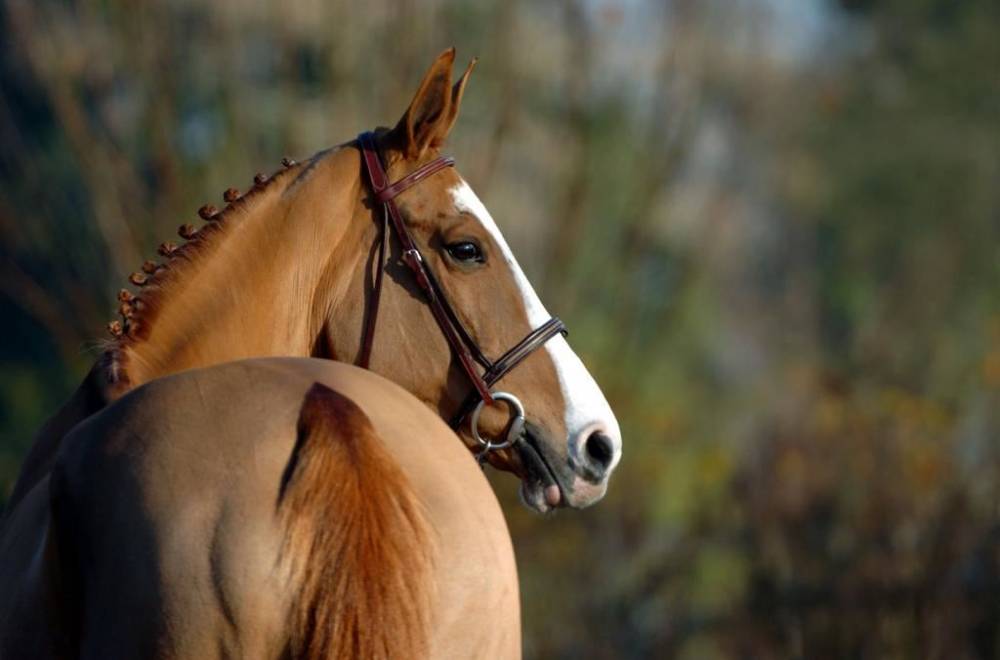 23 November 2020
At the age of 28, Ialta Sitte (Avontuur x Major de la Cour) has passed away. The matron of the Boudrenghien family enjoyed ten years of complete retirement after her last foal because her owner never wanted to use ICSI after deciding that at 18 years old, she had given them enough. The granddaughter of olympic Gutte Sitte first knew a beautiful international career under the saddle of Yves Simon before devoting herself to breeding with no less than 13 offspring which have all known the international stage but two of them have specifically marked the history of this breeding, this mare, the SBS studbook: Ogano and Ugano Sitte! The two SBS-approved stallions have left their mark in the Belgian and even world breeding, a remarkable fact!
Her breeder, owner and rider at the beginning, Daniel Boudrenghien paid her a nice tribute:
"This Tuesday, November 17 was for our family a not very pleasant day.This day has indeed sounded the end of life of a mare who has changed our life from many points of view: sporting, emotional, and financial.
With the birth of Ialta in 1992 began for us the great adventure of the explosion of the Olympic GUTE SITTE strain... but we didn't know it yet! We had acquired her dam Insel Sitte (Major de la cour), daughter of the world star Gute Sitte (Great) and had taken her up to the classical cycle at 4, 5 and 6 years old where she was very brilliant. There was no embryo transfer at that time, we stopped Insel Sitte's career at the age of 7 for her to start breeding; IALTA SITTE (Avontuur) was her first offspring. IALTA's characteristic is that she was successful at any age. At the age of 4, she masterfully won the European Free-jumping Championship in Heysel at the international agricultural exhibition AGRIBEX.
This convoy was a magnificent event for which each studbook of Europe selected its 4 best jumpers. The level was impressive and the public numerous. Many are those who, still today, remind us of IALTA's masterful performance which, they say, they will never forget.
In the years that followed, she was very brilliant in the classical cycle where she had a fan club. At the age of 5, she was the winner of the classic cycle, the only horse to achieve 10 double clear rounds out of 10! (At that time, we rode a jump-off in the 5YO cycle) The same year she brought me to the World Championship final for young horses in Lanaken. I had ridden a few good horses before, but with IALTA I was discovering another world.
At the age of 7, she was rented for 4 seasons to the Horseselect company from Mr and Mrs Willems who entrusted her to Yves Simon. Under his saddle, she enjoyed 4 years of uninterrupted success, totaling 72 victories and top rankings. Ialta was a thoroughbred competitor; when she entered the arena, it was for clear rounds. She was also very fast. At the renowned San Patrignano (Ita) competition, she won the Grand Prix qualifier on Friday, the Derby on Saturday and the Grand Prix on Sunday. Only she could do such things.
While pursuing this career, we were collecting embryos and there too, Ialta was not missing anything. A total of 13 offspring were born by transfer and all 13 have had international careers. Of course, the best known are the stallions OGANO SITTE (Darco) and UGANO SITTE (Clinton). Through these 2 successful stallions, Ialta's genes have spread all over the world, so that today she has thousands of offspring. Many are those who honor their granddam on all the tracks of the world, which brings OGANO SITTE to the 30th place of the WBFSH world ranking and his half-brother UGANO SITTE to the 39th place despite his premature death at the age of 8!
I think I can say that it is a unique case in the history of breeding that a mare has 2 offspring at this level in the world ranking. Their brother BOSTON SITTE (Argentinus) had the same kind of quality and was quickly exported to China. In total Ialta produced 6 approved stallion. We have in our stable about 100 horses and 97% have Ialta's genetics, sometimes at several levels. At the end of her great international career, her precious complicity allowed our son Nicolas to make his first steps in competition, winner among others of the Junior Grand Prix of Ghlin and Durbuy.
The most important thing is the pleasure that Ialta gave us throughout her life, she enlightened our lives!
At the age of 18, we decided to give her a well-deserved retirement and not to bother her anymore with embryo transfers. Of course, we could have done a lot of embryos through ICSI but we did not want to impose her these constraints.
Only 6 months ago, she was 28 years old but she was young! She had an extraordinary energy and trotted around like a 3-year-old. Ialta was 20 years ahead of her time. In today's competition, she would be even more competitive than in her time. Even though we managed Ialta's breeding and sporting careers well, there are days when I wonder if we really lived up to this great lady... the answer is probably negative.
Anyway, I wish all my breeder friends to own one day a mare like IALTA SITTE! RIP Ialta."