"I was trying to copy Marcus Ehning's riding." - Lisa Nooren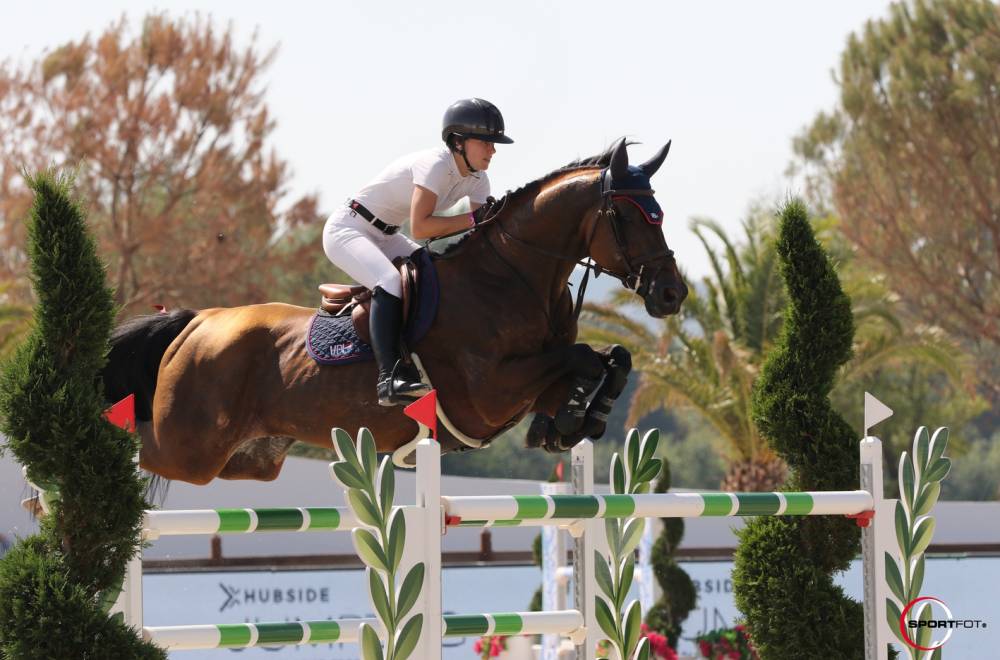 27 June 2019
At just 22 years of age, Lisa Nooren of the Netherlands already has an impressive track record, winning medals at the European Pony, Junior and Young Riders Championships, as well as gold at the Youth Olympic Games. Competing today among the greatest riders in show jumping, Henk Nooren's daughter is determined to make her own name in the show jumping world.
HOW DID YOU START RIDING HORSES?
"Of course, I grew up surrounded by horses, and the only thing I wanted was to be in the stables all day. I remember that at first, I just wanted to be with the grooms, to help out, do anything and everything as long as I was with the horses! I really got hooked from the start and that's what I always wanted to do with my life. I have two sisters who didn't like them, so I think my dad was happy that at least one of us wanted to ride, but I wasn't forced to do it at all.
I started with ponies, but I also rode in Children's Events for a while before returning to ponies, then the Juniors, Young Riders and now the Seniors. The ponies teach you a lot: how to ride, how to do your job and not to think too much, it's really a period of time where you have a lot of fun because as soon as you get to the Juniors and Young Riders, everything becomes a lot more serious. I really enjoyed my pony years, but if you are lucky enough to have a nice horse, the pony to horse transition is pretty good! I'm currently based in Belgium and train with my father, Henk Nooren, and Marcus Ehning when his schedule permits."
WERE YOU ABLE TO MANAGE TAKING CLASSES ALONG WITH RIDING?
"It wasn't easy, it really wasn't, and I hated going to school! I was lucky because my school cooperated quite easily, and I could leave on Wednesdays and Thursdays when I had to. I'm glad that I finished school completely, but I'm glad that's all behind me (laughs)!"
TELL US ABOUT YOUR MAIN HORSE.
"VDL Groep Sabech d'Ha is a French horse that I have had for six years now. He is special to me because when I started doing the big events, I had never jumped 1.50m and neither had he, so we grew up in the sport together, which has created a very good bond between us: we know each other off by heart and we trust each other completely. I know exactly what I can ask of him and he has taught me a lot over the years and given me a lot of victories."
WHAT WAS YOUR EXPERIENCE WITHIN THE ROLEX YOUNG RIDERS ACADEMY?
"I was part of the "Full program", which is the complete program with theory and practice, and I had the chance to train with Marcus Ehning a bit. From the beginning I was always very lucky to have my father as a coach, but it's also nice to have another person who can give me a different opinion, another way of doing things. It's a very good program because you don't just sit on a horse and learn how to ride; it's something focused on riding and the whole environment: the business world, the cost of training a three-year-old up to the highest level... Things that you don't necessarily think about every day, but in the end are so important in our world, and in that respect the Young Riders Academy has helped me a lot."
HOW DID WORKING WITH MARCUS EHNING GO?
"Several things actually happened: I think at the beginning I was trying to copy his riding, but I quickly realized that it wasn't possible to ride exactly like him unfortunately (laughs)! I listened to the advice he gave me but applied it to adapt it to my riding, which wasn't easy but it's a necessary skill to have in life."
HOW DO YOU FEEL ABOUT YOUR FATHER COACHING A TEAM FOR A DIFFERENT COUNTRY?
"I don't think it creates tension, especially since I've been doing more and more things on my own for a while now, even though he supervises and it's always nice to have him by my side at a big Grand Prix. He can't always be with me of course, but it doesn't create any conflict. It's nice that he's part of the French team because it puts me in contact with the French riders, so I meet a lot of new people and I learn a lot."
GIVEN YOUR TRACK RECORD, DO YOU FEEL ANY PRESSURE NOW THAT YOU'RE MOVING UP IN THE SENIOR RANKS?
"There's not really any pressure. I know I'm still very young and I have to work hard. It's hard to get in amongst these great riders. Of course, our Chef d'équipe Rob Ehrens is doing a very good job of giving the young riders a chance to ride as a team, but Holland is a country that has had strong riders for so long. Last year in Tryon, at the World Equestrian Games, Frank Schuttert joined the team. It shows that it's possible but it's just very difficult and you obviously have to be very good to be part of this team, and when it happens, it's a great honor."
HOW DID YOUR COLLABORATION WITH VDL GROEP START?
"Years ago, my father put Mr Van Der Leegte, who owns VDL Groep, in contact with his very first rider, Leopold Van Asten. They've been working together for ten years now. When you start competing internationally, you look for help, support, so I asked for help from the VDL Groep and things started to happen, and the collaboration was successful. I was actually quite young when it started and everything was new, but there is a loyalty to riders and it's nice to have someone like him who supporting you to get horses, who makes you feel safe and who wants you to do well in the sport."
CAN YOU TAKE US BACK TO YOUR EXPERIENCE AT THE YOUTH OLYMPIC GAMES?
"The Youth Olympic Games are played by continent and not by nation. We rode horses that we didn't know and that we rode them for the first time two or three days before the start of the events. We rode the same horse for the whole week. I really had fun, even though I wasn't the most enthusiastic at the start, certainly because I was still young and had to be away from home for a long period of time, but I learned a lot. You see a lot of different sports, all the athletes I saw competing in those disciplines are now the best in their field! It's something fantastic and even if for us it wasn't the highest level of competition because the events were only 1.20m events with borrowed horses, the experience itself, living in an Olympic village for three weeks, is incredible."
SINCE LAST YEAR, YOU HAVE BEEN IN SOME OF THE MOST BEAUTIFUL ARENAS IN THE WORLD!
"I feel incredibly lucky. I was able to go to the CHI Geneva thanks to the Young Riders Academy and it's fabulous because it's one of the most special competitions on the planet: the atmosphere is special and it's unique, it's unlike any other place! Being at the CSI5* in Rotterdam and Amsterdam as a Dutch rider is fantastic because when you enter the arena, the crowd is behind you 200%! It gives you an extra motivation and that's really what I'm looking for."
Interview by Marie-Juliette MICHEL. Featured photo: © Sportfot.com