"I rescued a mare during a summer camp." - Teddy VLOCK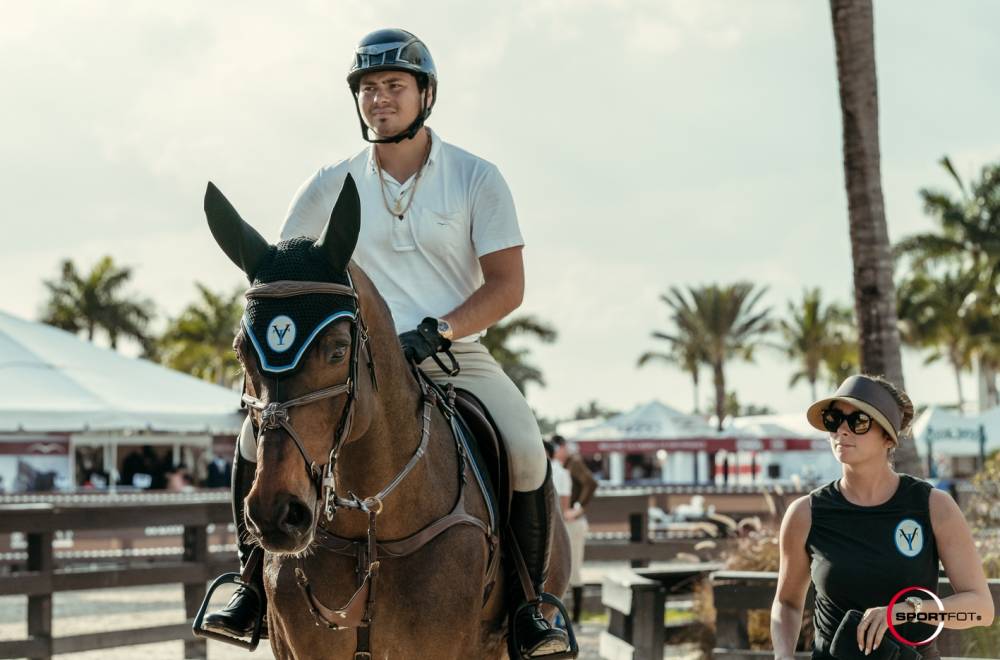 02 February 2019
At just 21 years of age, the man who recently announced that he would now compete for Israel, and who acquired Volnay du Boisdeville (Winningmood), already has a busy life. The son of billionaire philanthropist Karen Pritzker and the late Michael Vlock, Teddy Vlock juggles horseback riding, studies and business. Meet a young man full of plans for the future.
CAN YOU INTRODUCE YOURSELF?
"My name is Teddy Vlock and I'm based in Wellington, Florida, where we have stables. We're there about 5 months a year and the rest of the time we're in Europe with Darragh Kenny, or traveling to other shows in the United States."
HOW DID YOU GET STARTED?
"My parents didn't ride at all. I have an older sister aged 29, who rode as a child. I sort of grew up around horses, but I wasn't really involved. I started riding when I was about thirteen and I rescued a mare during a summer camp I attended, and learned to ride her. A few months later I got my first real horse, so I've only been riding for about 7 years, which is less than most riders. I work hard and train every day, especially when I'm not in class. I dedicate a large part of my life to riding, but I also have other interests."
HOW DID YOUR ARRIVAL IN EUROPE GO?
"I started coming to Europe about three years ago, and the biggest difference with the competitions in the United States is that there are also hunter-jumper classes as well as what is called "equitation" classes. So there are different types of disciplines, whereas here in Europe it's almost all show jumping. I've also noticed that here, the organizers put a lot more effort in to make their competitions special, and that it's a real event: even if it is only a 1.10m speed event. They play the national anthem, and you get a lap of honor. I've never experienced that in the United States, it has to be a very big event to be entitled to it! Over there, we'd rather walk into the arena while they're changing the course and take a picture, but there's nobody else there and no sponsor to come and give us anything. It doesn't matter here in Europe, whether it's a small contest or a CSI5*: people make an effort to have a real prize-giving ceremony, which makes you feel important, and that's something I really like!"
ARE THERE ANY NEGATIVE ASPECTS?
"If there's one thing I may not like, it's that the competitions in America are bigger, physically speaking: the arenas are huge. Everything is often bigger in the United States (laughs), so you have more space and it's very rare to see warm-up rings as small as most of the ones you see in Europe. Most of the leisure rings here would be considered tiny in America, and I may have had the hardest time adapting to that. In Europe there are only two obstacles most of the time, and you have to get up very early, there's always someone standing next to you, someone jumping... Often there are at least three riders in the ring at all times, and in the US that's not something that happens: instead we'll have one person at a time and towards the end of their warm-up maybe they'll let you in, but you'll never see three riders in there at the same time."
SO THE TRANSITION WAS A LITTLE DIFFICULT FOR YOU?
"I had to get used to it and it was difficult because I had to concentrate on myself to do my warm-up, but also pay attention to other riders. In Wellington, for example, you have an international warm-up ring where most of the big events take place and there are only going to be four obstacles and you're going to get the obstacle according to the order you finish in (if you get there first, you get obstacle number one, two when you're second, etc). There's no need to share, which is very enjoyable, and that doesn't exist here; but I think it's just due to a lack of space."
YOU'RE ALSO IN UNIVERSITY.
"I'm in my third year at Yale University majoring in psychology, so for 8 to 9 months a year I study there and ride in Wellington, Florida at the same time. It's kind of hard to balance that because I'm at school for most of the week and then I go to Florida to train. You know, when you get to a certain level, it gets harder and you have to keep training to be able to ride in the big events. One of the biggest challenges for me has been organizing my time to be able to do everything that school asks of me and also be there for the competitions. I think we've found a pretty good balance: from Monday to Wednesday I can do all of my work that's related to classes and then I concentrate on the horses for the rest of the week. Connecticut and Florida are a few hours away by plane so it can be quite difficult to coordinate everything, but we have a really good team at my stables, the Vlock Show Stables, so they take care of my horses 7 days a week and make sure that when I arrive, they're in good shape."
HOW DOES YALE UNIVERSITY HANDLE THIS?
"I don't have a proper schedule with my university to be able to ride; in fact, I wonder if they even know I'm riding! It's more up to me to organize myself. But it's true that schools near Wellington, like in Miami, have specific programs: for example, when you're a rider, you can do certain courses online and they make it easier for you. Yale doesn't do any of that: they want you to be at Yale so it's clearly very difficult, but it's a real commitment of mine. After that, I only have two years left in school, so I don't worry too much about it. However, I also have two businesses to run and I'd like to dive into the business world… but Yale doesn't have a degree in that area..."
WAS IT YOUR CHOICE TO PURSUE HIGHER EDUCATION?
"I'm studying because I think it's important and, in my family, education is something fundamental. I think it's a foundation that you kind of have to have. There are also expectations in my family, but at the same time they know that I like to ride and that's what I want to do, that it's important to me. If I made the decision to stop going to school, they would understand that, but I want to get a bachelor's degree before I know if I want to go any further. It was clearly my choice to study, but it is encouraged by my mother."
YOU HAVE REALLY EVOLVED THESE LAST FEW YEARS IN THE EQUESTRIAN WORLD, CAN YOU TELL US A LITTLE BIT ABOUT IT?
"In 2017, I experienced my biggest progression because I was a member of the Monaco Aces in the Global Champions League. I didn't jump the Grand Prix at the 1.60m level, but I competed at 1.45m and 1.50m level in the 5* events against the best riders in the world for about seven competitions. It was a very good experience for me. My first 5* competition was the Shanghai Global and I was able to ride alongside Kent Farrington, Harrie Smolders, Marcus Ehning and Bertram Allen... Riders who are at the highest level of the sport! It was a huge step for me! In 2018 I focused more on the CSI2*, 3* and 4* levels, which is actually more comfortable for me in terms of my level of experience. I was able to experience these events where I got to compete against great riders, and now I can concentrate on myself and not be dumbstruck by the competition and the other participants."


HOW DO YOU PICTURE THE FUTURE?
"My future is still mixed, I have great expectations: I would like to jump at the 5* Grand Prix level in the future, but at the same time I'm still in university and I run a real estate agency in Florida, T&R Developments. We have about 20 stables and properties and we just opened a restaurant, so a lot is happening right now. Riding is my passion, but it's not the only thing I do, so we'll have to see in the future how far we can go."
Interview by Marie-Juliette MICHEL. Featured photo: Sportfot.com