"I don't like having regrets in the arena" Nayel Nassar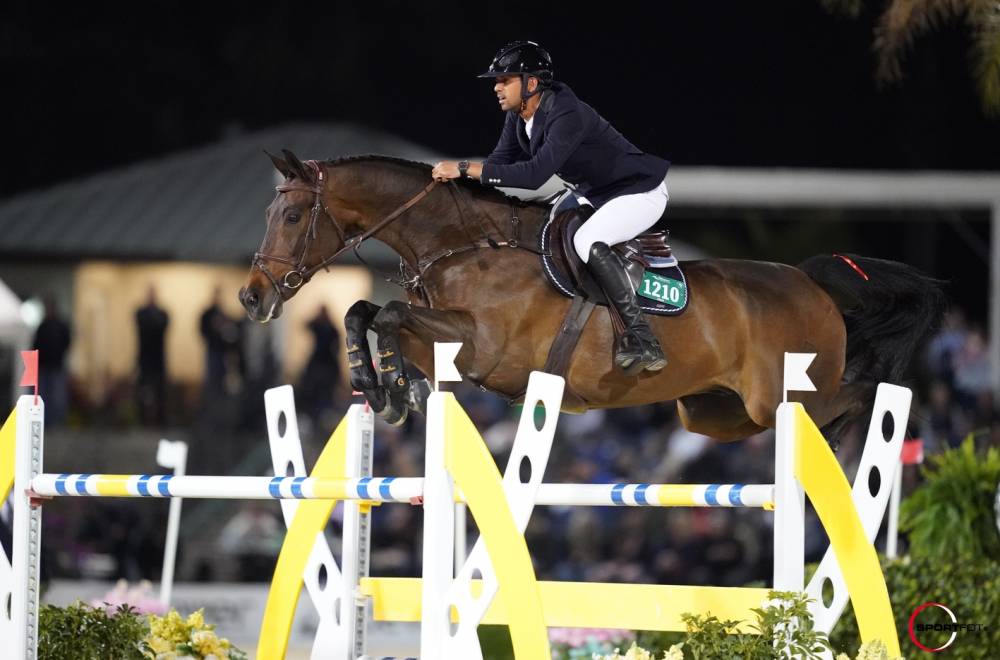 29 April 2019
Winner of the Speed Challenge and the Longines Masters Grand Prix in New York (his very first CSI5* Grand Prix!), the Egyptian rider, Nayel Nassar is the man of the moment. We met him just before his victory in the major event of this New York weekend!
YOU RECENTLY FINISHED SECOND IN THE $1M OCALA GRAND PRIX AND FIRST IN THERMAL'S, WAS THAT REALLY THE GOAL YOU SET FOR THE END OF THE WINTER SEASON?
"For sure, it was one of my goals. I really kept Lordan back for the $1M Grand Prix in California and Lucifer for Ocala. There's a lot to win and these are interesting events to choose from, but I'm especially happy to have had two very good results with two different horses, almost in the same week."
ISN'T THAT SOMETHING RARE - A HORSE THAT CAN WIN BOTH THE SPEED CHALLENGE, WHICH IS ONE OF THE FASTEST EVENTS ON THE PLANET, AND A GRAND PRIX?
"Lucifer is a unique horse. He can do everything and he's very fast by nature. Sometimes I can without even trying to (laughs!), just by being efficient and trying to save time with options. He's a bit special in his head and sometimes a bit funny when we're working at home. He needs to be relaxed but he's very talented and special to me (Lucifer won the CSI5* Grand Prix in New York one day after this interview)".
CAN YOU RIDE ALL KINDS OF EVENTS WITH HIM ALL THE TIME?
"It's obviously not the best thing to do to prepare for a Grand Prix by riding hard in a speed event two days before. But the Longines Speed Challenge is one of my favorite events and there's no fun riding without trying to win. I also think that you never know what might happen on Sunday. If you decide to go slowly for the speed event and you don't finish, and then you score four points on Sunday in the Grand Prix, then you will regret not having ridden fast enough on Friday and having a chance of winning the event. I don't like having regrets and thinking I should have tried when I didn't. So, I prefer to focus on winning and deal with the consequences afterwards."
THE OLYMPIC GAMES ARE COMING SOON, IS THE EGYPTIAN TEAM PREPARING FOR THEM?
"First we have to qualify, but it is of course a great goal for us to be able to participate in the Olympic Games in Tokyo. The qualifying competition is at the end of the year so we still have some time to spare our horses for the Nations Cup in Morocco, which will qualify the best team for the next Olympics. I'm careful about spacing my competitions well so that my horses are kept back for the end of the year. We have a very good team with good riders such as Sameh El Dahan or Abdel Said. It's been many years since we last qualified for the Olympic Games and I think we have a very good team with a chance. We will do our best for our horses to be on form!"
ARE EQUESTRIAN SPORTS DEVELOPING WELL IN EGYPT?
"There are many young talents in Egypt. Some riders have better chances than others and are able to go to Europe during the Summer, for example, to gain maximum experience. It's actually easier to evolve towards the top level in regions like Europe! Mohamed Taher Zeyada, for example is a very good rider. He rode in the last championship for Egypt and did a very good job. He is only twenty-four years old and I have known him since he was very young, he is very talented. There are obviously other riders that I haven't had the chance to meet yet, and who I hope will be able to go to Europe or the United States to make a name for themselves."
YOU AND HARRIE SMOLDERS HAVE TEAMED UP AROUND JENNIFER GATES AND EVERGATE STABLE, CAN YOU TELL US ABOUT THIS NEW VENTURE?
"I actually joined the Evergate Stables team recently. I started riding for them in the middle of last year. My duties are mainly to look after the horses that need work to get to the highest level and develop the business. That's given me the chance to ride exceptional horses like Lucifer V, who ended up under my saddle quite by chance. He had an accident with Kent Farrington and came to me. It took us a bit of time but now we know each other well and I'm lucky to have him. I'm very grateful to Evergate Stables, they've taken me to the next level in my career and so far, the partnership is going very well. My partner Jennifer, who started the project, has recently started training with Harrie Smolders. So we are all together in the United States during the Winter and will be returning to Europe very soon, where we'll stay until the Autumn. Harrie will of course remain very involved with us, even though Jennifer and I have our own stables in Belgium. Through this partnership, Jennifer is trying to take a step in her ascent to the very top level and thanks to Harrie who is an excellent rider and coach with a very good eye, she has progressed tremendously."
YOU PROBABLY LEARN A LOT FROM HARRIE?
"Yes, having Harrie Smolders at the stables every day gives us a lot. Everything is going very well. Even before the Speed Challenge this weekend, he came to me and told me what everyone was doing. It's very good, especially for someone like me who's always worked alone. It's great to feel the team spirit and support with Harrie and the whole Evergate team."
Interview by Théo CAVIEZEL in New York. Featured photo: Sportfot.com