"I am proud of what I've built." - Marcel Rozier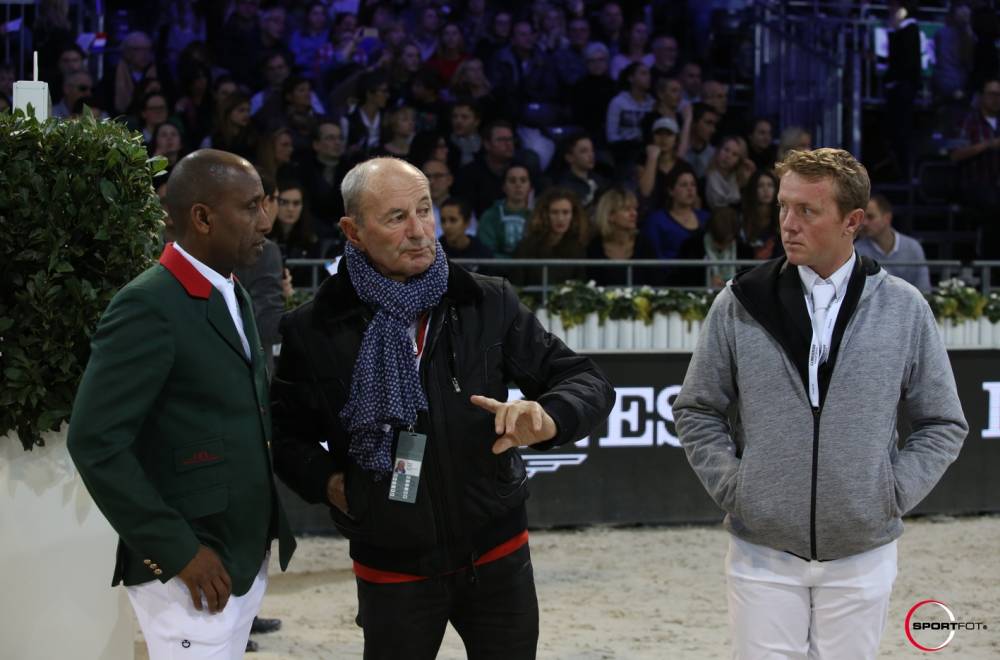 17 June 2020
Marcel Rozier, who was crowned the Team Olympic Champion in Montreal in 1976, and converted to the position of coach of the French team in 1977, is one of the legends of French show jumping. Starting from nothing, over the years he has built his empire around high level equestrian sport as well as the trade of sporthorses, notably with the creation of the Fences sales, originating from his land in Bois-le-Roi. At the age of eighty-four, and after more than sixty years spent around horses, he looks back on his debut and the key moments of his career.
YOU DO NOT COME FROM A FAMILY OF RIDERS AT ALL...
"My father was a cattle dealer. He had a few horses that I used to ride. One day, he put me on one of them and I went to race against some racehorses in the Lyon area. I did this as an amateur and I won quite a few races. With each victory, they added two kilos to handicap me; I couldn't even carry my saddle in the end!" (laughs)
IS IT THE RELATIONSHIP WITH THE HORSE OR THE ADRENALINE OF THE SPORT THAT YOU LIKED IMMEDIATELY?
"To tell you the truth, I never thought about riding in competitions until I was twenty years old. I worked on the farm with my parents, then at the factory, and one day I had the crazy urge to ride horses again. I told my father who took me to a racing stable. That's where I learned everything. Not how to ride, but how to know what a good horse was and how to take care of it. I have very good memories of that. And then I told the person in charge of the place that I wanted to ride. So, he found me a place in Bois-le-Roi, at a certain André Parot's place. There I met his son, Hubert Parot - who later became my brother-in-law - who was competing. I passed my three degrees and the tutoring in Barbizon and I started giving lessons. Hubert made me ride his horses and jump them. And one day, André, saw that I was getting it on with his daughter, and fired me. Hubert was very unhappy with that decision and told him: "If you fire Marcel, I'll go with him!"
That's how I started working in a private stable with him. Hubert was riding this gentleman's horses and I was helping in the stable and in competitions as a groom. The first competition we took part in was held in Pau. I took the train with the horses to Gare de Lyon in Paris to get there. On the first day of the competition, Hubert fell and dislocated his shoulder. So he asked me to replace him as a rider. I had never jumped a course, but I rode the four-year-olds anyway. I notched up four clear rounds.
Sometime later, I met up with André Parot again to ask for his daughter's hand in marriage and I went back to work at his place. I got on well with some of his clients who gave me horses to ride. One day, in a competition, a man came to me and asked me to ride his horses at the last minute. I accepted and finished first and second in the Grand Prix. Among those horses was Quo Vadis, the mare I went to the Olympics with four years later."
YOU STARTED FROM NOTHING AND REACHED THE HIGHEST LEVEL THANKS TO THIS "GIFT" YOU HAVE FOR HORSEBACK RIDING. SHOULDN'T YOU BE CALLED THE "WIZARD" LIKE NELSON PESSOA?
(Laughs) "Neco is a genius, he's one of a kind. His position is perfect, it's a pleasure to watch him ride. I remember that one time he was riding an extremely difficult horse, Grand Geste, but when he was on it, you couldn't see tell. He was ten years ahead of the other riders thanks to his equitation."
TELL US ABOUT YOUR COLLABORATION WITH ABDELKEBIR OUADDAR.
"I have spent my last few years as his coach. It was a real pleasure because he's like me, he has only one desire: to win. I often had to slow him back down. I knew that he was able to leave out a stride in a combination where there were two. But he's not a boy that can be ordered about. Whatever I told him, I did it with skill. He has a lot of instinct. You have to know how to talk to riders like him. I have made extraordinary memories with Kebir. He lengthened my life by five or six years. At eighty, you feel a little bit like quitting, but then I was with him all the time. We call each other regularly. I like to know how his horses are progressing. I like his new trainer, Philippe Lejeune. I understand well how he trains, so I have peace of mind."
WOULD YOU HAVE GONE TO THE RIO OLYMPICS TO WATCH YOUR SON IF ABDELKEBIR OUADDAR HADN'T PARTICIPATED?
"No, I don't think so. I would have been too nervous. We ended up there with Kebir as an individual competitor and that fault at the last obstacle cost us dearly in the final event. But I got an incredible consolation prize! Once Kebir was out of the running, I took the French team jacket, changed my hat and went and supported my son, Philippe. He rode with incredible self-control and, I'm not saying this because he's my son, he rode a fantastic round as the fourth rider didn't even have to compete. At the time, I didn't even realize that they were already gold medalists."
WHEN YOU YOURSELF WERE AN OLYMPIC CHAMPION IN MONTREAL, HOW DID YOU EXPERIENCE VICTORY?
"You realize that when you go back to France. After the press conference in Montreal, Gilles Bertran de Balanda, who was a reservist, and myself went to eat a sandwich in a small bistro. I had the medal in my pocket. At that point you don't realize what a big deal it is because it's too big, too fresh. And, to realize forty years after that we have never duplicated that, it's crazy!"
YOU RECENTLY STATED THAT HORSE RIDING AND THE OLYMPIC GAMES ALLOWED YOU TO HAVE DINNER WITH FIVE PRESIDENTS OF THE FRENCH REPUBLIC. IS SPORT THE ONLY WAY TO CAPTURE AN ENTIRE POPULATION?
"At the time, there weren't many medals being won by the French at the Olympics. In Montreal in 1976, there were only two, Guy Drut (in athletics) and us, so the invitations were pouring in. It was the same thing at the Olympic Games in Mexico City in 1968 (the French team won the silver medal there). I remember entering the courtyard of the Elysée Palace in my Citroën DS to meet General de Gaulle. There were eighteen of us at the table and I was sitting in front of the President; I can tell you it was unforgettable. As there were so few medals won, it was more promising for the sport. That's how, along with cycling, we were allowed to organize indoor events at the Bercy stadium when it was built under the mandate that Jacques Chirac laid out."
DO YOU THINK THE OLYMPIC GAMES WERE MORE VALUABLE IN YOUR TIME THAN THEY ARE NOW?
"I'm not saying they aren't valuable today, but there are a lot more people. The people who went to the Olympics a few years ago were really good and I think the people who won then would still be there today. In fact, even though there are more riders now, it's always the same ones who are among the best. There are a lot of one-horse riders out there that you never see again afterwards."
LIKE PIERRE DURAND, YOU PUT AN END TO YOUR INTERNATIONAL CAREER WHEN YOU WERE RELATIVELY YOUNG. WAS IT MORE COMMON AT THE TIME TO STOP EARLY AND DEVOTE YOURSELF TO OTHER ACTIVITIES?
"I stopped when I was offered the national coach position. At first, I didn't want to do that because I was still riding in competitions every weekend and organizing them at home, it was my passion! After many requests, I finally accepted. I was asked to do the job for two months and I stayed for two years. I have no regrets but I could have won many more events and made it to sixty without a problem."
PHILIPPE GUERDAT TOLD US THAT HE DIDN'T WANT TO COACH THE SWISS TEAM BECAUSE HIS SON WAS PART OF IT. YOU'VE BEEN THERE...
"Yes, but I didn't make a difference. When it came to selecting riders for the Olympics, my son had a great horse that jumped really well. At the Games, Philippe (Rozier, editor's note) was criticized because he was the coach's son, but he had the only one clear round and rode perfectly. It was the best gift he could give me. Later, he was second in the Bercy World Cup stage, which was a confirmation of his talent."
IN THE FILM JAPPELOUP, THE PORTRAIT THAT IS DRAWN OF YOU IS RATHER NEGATIVE. ARE YOU ALWAYS A TARGET WHEN YOU'RE A TEAM COACH?
"To tell you the truth, I wasn't aware that that film was going to be made. I was never asked about anything. They were inspired to make it by Pierre Durand's book. This story of a bad distance portrays me negatively in the film (Editor's note: During the 1984 Los Angeles Olympic Games, Marcel Rozier was accused by some people of deliberately falsifying the distance in front of an obstacle, causing Jappeloup an injury). I'm not stupid, I'm a horseman. When you lose, you always look for an excuse, and the excuse was me. But I went beyond that, I didn't want to give an answer to anyone. Pierre Durand was a gold medalist (Editor's note: in 1988), he won with his will and his character and I respect that."
YOU HAVE WORKED FOR THE UNITED ARAB EMIRATES FOR A YEAR. THERE ARE OFTEN CASES OF ANIMAL ABUSE WITHIN THIS NATION, ESPECIALLY IN ENDURANCE. HOW CAN WE MAKE THESE COUNTRIES, WHICH MAY NOT HAVE THE SAME EQUESTRIAN CULTURE AS WE DO, RESPECT HORSES MORE?
"It's not simple. First of all because their climate is not very suitable for horses, especially in the Summer when it's really too hot for them. Personally, I didn't go to the Emirates, they came to me. I had eight or nine riders and about twenty horses that I was working with. Everyone has their own technique and way of doing things, but I like simple things. As I often say, it takes five minutes to break a horse but it takes days, weeks, months to repair it. You have to think about that and work your horse the right way, keeping in mind that if they're not well, there's a reason for it. You have to know how to respect them and it's up to the riders to feel that. Today, this is perhaps what young riders are missing. The over-tightening of the boots on the hind legs, for example, I'm completely against it. If you tighten the boots, you tighten the tendon and when the horse starts to jump, it hurts. When we see horses "swinging" their hind legs, it's because they are afraid of being hurt and it breaks my heart."
TELL US ABOUT BOIS-LE-ROI AND THE FENCES SALE, WHICH IS PERHAPS ONE OF THE FIRST SYSTEMS TO GATHER SO MANY PRESTIGIOUS CUSTOMERS...
"I've always said that in order to make money from horses, you have to know which ones to buy. Buying the best horse for millions of euros is something everyone knows how to do. But buying well, with a goal in mind, is a different job and I've got it under my skin. I learned a lot from my father, who was a cattle and horse dealer. He not only taught me how to buy horses but also how to be liked and respected."
TO SETTLE DOWN IN THE MIDDLE OF NATURE, IN THE MIDDLE OF THE FOREST, WAS IT A DETERMINING CRITERION FOR THE HORSES WELL-BEING?
"Yes, when I arrived here, André Parot assured me that it was an exceptional place. We have the forest, sand, land and a wonderful climate. We are also ideally located forty-five kilometers from Paris, close to a train station, and thirty minutes from the airport. In fact, I never understood why Fontainebleau wasn't chosen to host the equestrian part of the Olympic Games that are going to be held in Paris in four years. Everything is already ready as it is. Especially since our sport is expensive and the facilities that will be set up in Paris may only be used once."
YOUR SON GILLES IS NOT A RIDER. IS HE A LINK TO THE WORLD OUTSIDE OF HORSES FOR YOU ?
"When you're surrounded by horses, you only talk about horses. However, at family dinners, we rarely talk about them. Gilles rode a horse in the beginning, and he was extremely gifted. One day, he asked his brothers to lend him boots and off he went and jumped, without ever having trained before. We even sent him off to compete and he won a Grand Prix. When the time came to provide horses for the whole family, we couldn't always afford them. Gilles is proof that you learn a lot just by watching."
AFTER EIGHTY-FOUR YEARS OF LIFE, WHAT ARE YOU MOST PROUD OF?
"I'm proud of what I've built. I came to Bois-le-Roi with nothing, at the age of twenty, without ever having jumped an obstacle in my life. I'm also proud of having started a family, of having sons who do the same job as me and of having built an institution like mine because I could never afford to buy it."
Interview by Théo Caviezel. Featured photo : © Sportfot.com