How do you sell your foal?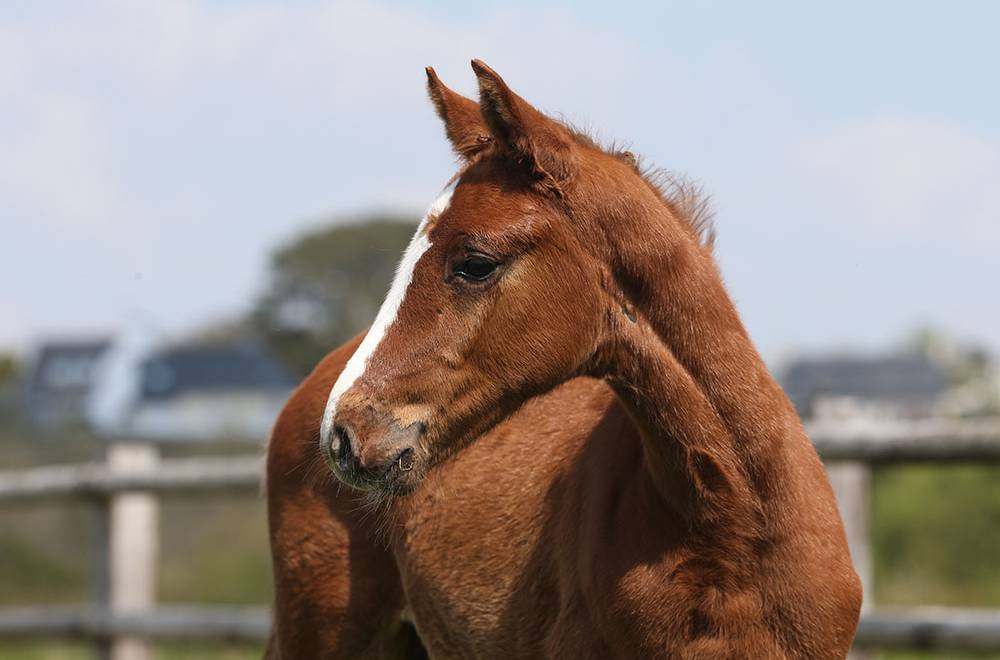 15 May 2021
Spring is here and the foaling season is in full swing. The arrival of newborns brings great hopes, dreams and plans, but often, reality catches up with you very quickly. When you breed, you must also be able to sell. There are a vast number of options for many breeders: classified ads, websites, auctions, online sales: what is the solution? This is the Question of the Month!
To answer this question, we asked Guillaume Ansquer of Élevage de Kreisker, a well-known breeder in Finistère, as well as Tom Lemmens who has developed several options for breeders within Zangersheide for the Z market, with online auctions as well as the Z Quality Auction, and Ludovic Haid, a passionate amateur breeder.
Guillaume Ansquer
Seen here with his flagship mare Jumpy de Kreisker, Guillaume Ansquer will sell his first foals of the year at the "Hus Kreisker Auction" online.
The French breeder is often distinguished by his very international perspective as well as his very French lines that have given him his best memories to date, with horses such as Jumpy and Quickly de Kreisker: "Every year, I sell at least 60% of what I produce. My objective is therefore to choose my stallions well, looking for "fashionable" ones such as Chacco White, El Barone 111 Z and Candy de Nantuel, that are in the spotlight or performance tested. I also try stallions that are popular abroad but not necessarily well known in France, as I did with Chacoon Blue. He's still used very little here whereas he has a huge popularity abroad. To achieve this, I have many different places from which I get information on breeding trends. That is how I'm lucky enough to have one of the only 3-year-old Conthargos in France. The goal is to always be one step ahead, even though sometimes I must admit that I'm wrong. I often plan my crosses during the winter evenings by the fire, even though these plans are sometimes modified during the season if a horse explodes in popularity, as is the case with Mumbai vd Morhoeve (Diamant de Sémilly x Nabab de Rêve) this season. We also know that there are some magical crosses like Eldorado vd Zeshoek over For Pleasure dams, Carthago over Heartbreaker dams, and Kannan over Diamant de Sémilly daughters, but the magic of breeding means that sometimes it works and sometimes not!"
Between conception and birth, it's often well over a year, and even if the cross meets expectations, the breeder still has to be made aware of it. "Every year I present several foals at different auctions, but this year we decided to do things differently by holding our own online sale. For several years, we have been associated with Xavier Marie and we work closely with the Haras de Hus. So, it seems logical for us to work hand in hand again to organize a nice sale which will put forward the products of our breeding programs. We have very interesting genetics, both at Hus and here at Kreisker, and this is an opportunity to showcase our work because when we participate in other sales, our foals are often drowned out. In this sale, we have proposed all our first foals of the year with notable progeny out of Shirel de Kreisker, the last daughter of Betty de Kreisker, as well as Quindy de Kreisker and Team de Kreisker, a maternal half-sister to Quickly de Kreisker. Not depending on an organization also allows us to be in direct contact with our customers. I think this will definitely lead to new partnerships. This kind of new project certainly brings some adrenaline to the situation. An online sale is ideal for a collection like ours that can reach customers globally by showing what we can do."
Tom Lemmens
Tom Lemmens, who has been Judy-Ann Melchior's right-hand man for many years, is himself a passionate breeder and a key player in the development of the Zangersheide studbook: "Zangersheide is working on Mr. Melchior's ideas. It was always very important to him that breeders could sell their foals. He never hesitated to buy many of them during the Z Festival and often, when breeders came to him with foals they wanted to sell, they stayed at Zangersheide because that was something very dear to Mr. Melchior. He then created the Z Market as well as the auction because he always wanted to find ways to sell foals. When we launched our first online foal sale in 2013, it was a big novelty and people tended to be skeptical. The prices were pretty normal for the first few sales, but by the fourth, we started reaching top prices. Today, people realize that for foals born early in the year, it is better to sell them online sooner in the year, rather than waiting until September for our Z Quality Auction. I think that in the future, people who have exceptional lots will even prefer selling them online because it is easier to promote these lots that way rather than through a physical sale. Our sales have developed strongly since we sell foals, broodmares as well as embryos and even young horses. Our objective is still to help breeders to sell; that's the most important. In the last months, many dealers are more and more interested in participating in our sales, but we'll remain cautious about this and will never lose sight of the breeders. Today, sales are an integral part of Zangersheide. Judy-Ann Melchior has put a lot of effort into this. The Zangersheide brand continues to grow even though we still have a lot left to reinvent.
Ten years ago, we were registering 1,000 foals a year; today we have 7,500 foals registered every year. We have also strongly developed our stallion activity. I think it's also thanks to our ability to find buyers for these breedings. Our biggest difficulty today is to be able to follow up with our staff because it requires a lot of work. In addition to the online sales and the Z Quality Auction, we have also developed the Breeders Auction, which isn't very well named because it's rather an online private sale than an auction. We have noticed that when the sellers ask for reasonable prices, a lot of horses are sold on this platform. If the prices are right, the horses are often sold within a few days. The power of the Breeders Auction is that it is very accessible and can go very fast. A horse that was put online in the morning can be sold in the evening. We have gone from one auction per year to a full-fledged auction house with several full-time employees. The total sales is a lot of organizational work because we have to plan selection days, gather horses and know the needs of our buyers well, but we can only be satisfied with the work we've done so far. After all, the best thing is to see that both the breeder and the new owner are satisfied. We have several international clients who buy several times a year and almost blindly trust us, and who are still able to earn a lot of money with the horses in the auctions after us. This is actually the best compliment."
Ludovic Haid
Ludovic Haid and his wife Aurélie with their first foal of 2021, Cisley des Mines Z (Colorit Z x Crown Z).
Ludovic Haid is the Head of a construction company specializing in tiles, and is above all a passionate breeder with his "des Mines" suffix. For him too, when you breed, you have to sell. "Breeding is my passion and not my livelihood. Our policy is very simple: everything is for sale, but nothing is for sale! I mean, every year we sell foals but I have nothing against keeping them to let them grow up longer here. To sell a foal, you really must be able to offer five-star genetics. I have English customers who came to us a few years ago and left with three foals out of the five available, leaving us Fetching des Mines, who was approved and toured internationally afterwards. To this day, he is still one of the best successes of our breeding program, of which we are so proud. We have between three and five foals per year. I always give a young stallion the opportunity to make his mark and I also use stallions that are recognized or have performed in 5* events themselves. When I choose my stallions, I make sheets with the family trees of my mares and those of the stallions I want to use. I always try to look for crosses that have produced good show horses and try to breed fairly modern foals. I haven't had any foals go to any auctions yet because I think I need lines that I have yet to build in my mares. We are fortunate to have a nice little reputation today that we have built up especially via social media, where I am quite active. I think it's the best way today to establish contacts all over the world. It is a modern means of communication and we are regularly asked what horses we have even if my goal is not to sell them all as foals."