How do you keep team spirit without team competitions?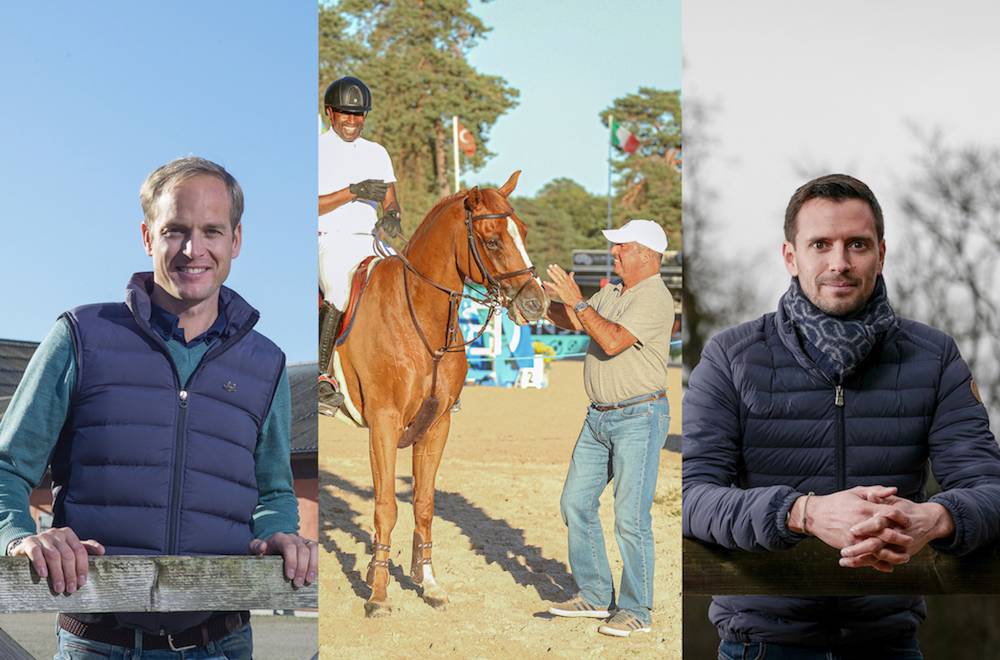 11 March 2021
Studforlife asked three Chefs d'équipe how they managed the lack of competition with their team. We sounded out Henrik Ankarcrona, the manager of the Swedish team, which has already won several medals at major events, Michel Sorg, the young leader of the Swiss team, and Philippe Le Jeune, the Moroccan Chef d'équipe. Three profiles from the heads of three teams from different organizations. It's a diverse panel, so that we can get an idea of the various strategies used to combat this question for March.
Henrik Ankarcrona
Henrik Ankarcrona has been the Swedes' Chef d'équipe since 2016 and has achieved many successes and medals with his team, notably at the World Championships in Tryon and the European Championships in Gothenburg, not to mention a sensational victory at the Nations Cup in Aachen in 2019.
"A little less than a year ago, the announcement of the postponement of the Olympic Games was hard for many riders," explains Ankarcrona. The fact that they were able to participate in a few competitions during the 2020 Summer helped them to keep their morale and form. I try to stay in close contact with them: we call each other often and organize training sessions when possible. While everyone is extremely motivated and training hard, they're just waiting to compete again as soon as the situation allows it, so we can't really talk about team spirit: for the moment, it's every man for himself."
The form of the horses remains unclear: "As far as the athletes' form, most of them have training programs established in partnership with specialists from the Swedish Olympic Committee. I know they work well, so I don't worry about them. It's more complicated for the horses: even though I know them and trust my riders, as long as I'm not able to see them jumping, I can't be perfectly sure of their state of fitness. It's frustrating!"
Henrik Ankarcrona also had to adapt his Chef d'équipe role to the current situation: "I wouldn't say our role is more important at this time than in a normal competition season. It is certainly important, but in a different way. Obviously, this situation complicates things for everyone; both Chefs d'équipe and riders. They need a different kind of support. I'm lucky to already have a few years of experience in this position and to know my riders. Some call me to discuss their schedule often, while I know that others can go a month without having any contact with me. Everyone has their own way of working, and a Chef d'équipe has to deal with these individualities. The other part of my job is to plan schedules for the months ahead, knowing that they will most likely be cancelled. It's hard, but it's our role to show maximum motivation, to show the riders that we're optimistic, so that they stay optimistic too. We want them to act as if competitions are going to take place until a cancellation is announced, so that their preparation is optimal. When plans change, we set a new goal to keep everyone focused."
The arrival of the EHV-1 virus has added yet another element for Chefs d'équipe to manage: "It's a new factor that adds to an already difficult situation. My heart goes out to the riders affected or stranded at competitions. In these cases, we must be there for them. We're trying to help our athletes from Sweden; listening to them, helping them organize their return trip, and to find safe stables for them to stop at during the 3,000 km journey. From here, there's not much more we can do, but we're doing our best."
Michel Sorg
Having only been the leader of the Swiss team since last September, Michel Sorg had to be patient as he has only been able to participate in one Nations Cup; the one in Vilamoura last Fall. However, he is trying to make the most of this period: "I took the opportunity to visit the stables of several members of the Swiss team's management team. It gave me the opportunity to meet their teams, their grooms... I find it interesting to see the environment in which the riders are evolving. By visiting their stables, I could understand how they work. Over a coffee, I was also able to exchange ideas with them in a different way. It allows me to take the relationship further. Since January, and until the beginning of March, before the arrival of rhinopneumonitis, we have organized several training sessions for managers in French and German-speaking Switzerland. I had also planned to bring all the riders together for an executive day, which has been going on for a long time, and I had several ideas, but that wasn't possible, because that would have meant bringing 30 people together in the same room. We also wanted to plan some activities for the Tokyo Olympics, but that wasn't possible either."
What worries the young Chef d'équipe is how he will put together a team for big events: "In my opinion, for a team to perform well, it's not just a matter of putting five riders together and saying, 'All right, let's go,' you have to be able to create something more."
Unlike Chefs d'équipe that have been in office for several years, Michel Sorg has taken on his responsibilities in the midst of the pandemic. "It wasn't a very pleasant way to start my mission, but it has certainly allowed me to take more time to build strong relationships, and in the end, it may prove beneficial. You have to at least try to get something good out of every situation."
Without competition, how does Michel Sorg get a grasp of the horses' and riders' form? "It's obviously difficult to know if a horse is in good shape when it doesn't compete or only competes a little, but I trust the riders. From the start, I said that communication was one of my keywords, and that I found it important, especially because of my professional background. They all understood that and play the game. Obviously, to prepare for an event, you have to go to competitions, so it's complicated. What worries me now, whether it's with regard to the Olympics or the European Championships, is how we're going to prepare for those events. We don't know what's going to happen between now and then. How can we plan to embark for Tokyo if we have only been able to do one Nations Cup? However, you shouldn't try to control that which is uncontrollable. We must just do our best and proceed step by step. I've prepared my schedule as if everything will go smoothly from the outdoor season on. You have to be ready for everything, and it's better to be too ready. I already have my Nations Cup team for Gorla Minore, La Baule and St. Gallen in mind, but with rhinopneumonitis, it's putting a big handbrake on things."
And for the rest of the program? "Since the arrival of the rhinopneumonitis tragedy, I have been in daily contact with the riders in Spain. As competitions have come to a standstill once again, I will resume my visits to riders' stables; I may as well make the most of these enforced breaks."
Philippe Le Jeune
Philippe Le Jeune, the 2010 World Champion, has been at the head of the Moroccan team for more than a year and he makes mention of the particular characteristics of the North African nation's organization: "In Morocco, it's a little different from other European countries and the United States, because all the best horses belong to the Federation or to His Majesty the King. They are therefore based in the same place, in the federal stables. The riders work together every day and see each other daily. So I have no worries concerning team spirit."
The Belgian has travelled to Rabat every other week since January: "I stay there all week, so I basically always have my whole team around me. We take advantage of being able to alternate many things. For example, we take the horses to the sea, or we go to the forest next to the site. As the riders haven't been to a competition since the CSIO of Vejer last November, they lack that competitive edge. Therefore, training courses have been organized at two different arenas: the one at the CSIO of Rabat, where there are some of the most beautiful obstacles in the world, and another site where His Majesty's and the Prince's breeding farm, which covers more than 400 hectares, is located. I had some showjumping courses put together by a Belgian course designer so that we could recreate the real conditions of a competition."
The essential point in Philippe Le Jeune's eyes is "to keep my guys motivated, because they miss the competitions. When I go to Morocco, I take advantage of being able to do what they didn't do too much of before I took over the reins, which is to work on the horses' conditions."
This pandemic has thus allowed the Belgian to pass on his knowledge: "I had the time to teach them a different way of working on the flat. We mustn't forget that it's at home that we learn flexibility, control and gymnastics. You don't learn that at a competition. There, you accumulate mileage, which is also necessary."
And what is his view on the horses' form? "We're ready to compete in some great events. The riders and horses have made good progress. At the Nations Cup in Vejer, we had good results as there were zero and four point courses. The riders have good confidence, they have gotten used to my system and feel good. They have horses that are in good shape, who want to work. Plus, they have very good horses now, as good as the ones in Europe."
What about the rest of the program? "The Moroccan team was due to arrive in Europe in March, at a stable near Antwerp. With rhinopneumonitis, their arrival has been postponed until April. They're bringing about 15 horses and will stay until September. Once they're in Belgium, I'll go to the stable one or two days a week and I will accompany them to competitions."
Philippe Le Jeune also mentions the difficulty, especially after a long period without major competitions, of managing to get places to take part in CSI5* events: "It's not easy to get an invitation for the Division I CSIOs in Europe. It's not easy to manage the schedule with the Olympics coming up, because I'd like my guys to have some 5* events under their belts before going. I want them to be able to familiarize themselves with these heights. We'll find a way for them to participate at the CSI5* level; we're hoping to get one or two wild cards from the FEI."