How is Coronavirus changing the world of jumping?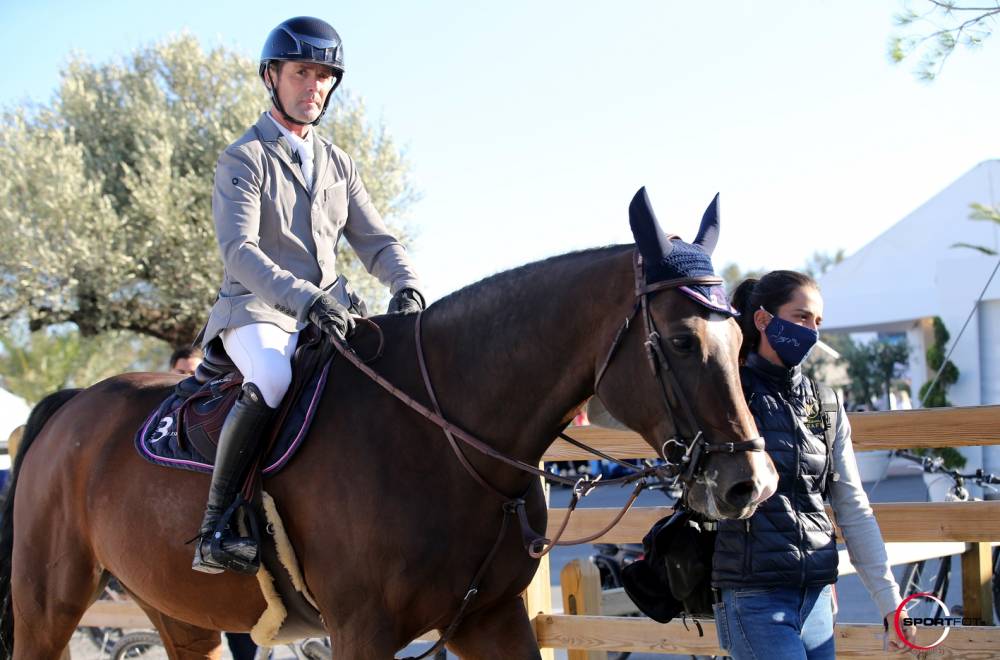 11 May 2020
This month, Studforlife's question is the pandemic and subsequent lockdown in France and many other countries. How are riders getting through it? How are they reinventing their daily lives in this time of crisis and how do they see the future? World Champion Philippe Le Jeune and French rider Thierry Rozier gave us their answers to the question of the month.
Thierry Rozier: "As a human being, I am aware of my privilege. I have the chance to live in a wonderful setting with beautiful infrastructure, with the forest nearby and in an isolated place. All my entourage lives on the spot which makes it possible to limit contacts to the maximum. We are living at an anxious time and it's hard to keep the morale up. I would like to take advantage of this moment to thank all my team.
My daily life was turned upside down by the announcement that the Tokyo Olympics are being postponed to 2021, and I've been working really hard. An entire program had been put in place both for me and my mare. So the postponement was a shock even if I was expecting it a bit, given the current context. I had made an announcement that I would be retiring from top-level sport at the end of the year after the Olympics. So the deadlines were twofold, a sporting deadline and a deadline for the end of my career. It was this year or never to perform in championship. So I'm in the middle of thinking about what to do next for my season. I don't intend to make any decisions in the heat of the moment. Sixteen months until the next Games is obviously a long time. It's been a bit of a blow to my morale because my mare has never been more ready. She was in the best shape of her life with energy to spare. She will be sixteen years old in 2021, which is something to consider. I'm losing precious months with her. Lately I have been thinking about horses in every aspect of my life. I was 200% focused on Tokyo. So I'm going to take the pressure off with Vénézia d'Ecaussinnes because the deadlines are now not the same anymore.
I will try to prepare my horses for a good, if curtailed, season in the knowledge that we can't set a program or objectives today. This lack of visibility is difficult to manage on a daily basis because, like any sportsman, motivation comes from competition. The horses' behavior is not the same either. They are competition horses, they are conditioned for it, and they live for it. Competition is something they miss. This lack of adrenaline is difficult to manage on a daily basis.
At home, I am working my horses normally even if the absence of competition is changing my way of working. They are high level horses, so they need to be kept muscularly fit to prevent them from getting rusty and be ready to restart. I take my horses out twice a day, I change the exercises frequently to keep them focused and I re-mobilize them by working in a playful way. I prefer to do more ground work such as trotting and gymnastics to develop their muscular capacities while keeping them in good spirits. I also share a lot with some riders of the French team like Nicolas Delmotte with whom we exchange exercises. We motivate each other, and give each other moral support every day. We sometimes go around in circles, but we are aware of how lucky we are at the moment, to be able to go outside every day and be in good health.
Concerning the equestrian sector and especially the competition organizers, I am very worried. Lockdown is a very complicated period for them with the economic weakness. The financial balance for competition organizers is not always easy to achieve. It can be a bit challenging to have an economically viable event and the current pandemic is jeopardizing this. Indeed, sponsorship is often at the heart of equestrian competitions and with the economic crisis that we are going through, nobody will come out unscathed. The post-lockdown period will be very difficult, there will be few competitions and seats will be hard to get, leading to high levels of raised anxiety. As director of the Chantilly CSI3*, we will decide by the end of April. Many questions are still pending, such as whether non-European riders will come to Europe this year. Their presence helps the competitions to function, but they will also have to count on the sponsors, many of whom are at a standstill. This unprecedented situation will shake up the pack of cards and I think it will shake up the whole system. International competitions welcome sportsmen from all over the world and attract many people. I think it is difficult to consider a return to normal before some time, knowing that with the pandemic the worst is yet to come.
During this challenging period, I communicate more by phone with my friends as well as through social media where I keep in touch with my community. I have a lot of fun on Instagram and I find it very easy to use. It allows me to share with my community in a good-natured atmosphere, to show my daily life in all transparency and to reflect a positive image of my sport. I have nothing to hide, I like to show my work at home. Instagram is my safety valve in these times of crisis. I think it's important to show what's going on behind the scenes (what Studforlife is trying to show you on a daily basis, editor's note). It's important to show that you can succeed by being a horseman, by respecting animal welfare, and by working without cheating. Our sport, like others, has faced strong criticism and I think it's important to take the time to explain our profession, to show teaching methods and also to defend our sport. I interact a lot with my community. I've learned how to present it well and I have to admit that it's a very powerful tool. I was surprised by the popularity and the enthusiasm generated by my videos. I created the #ÀlaThierryRozier challenge on Christophe Ameeuw's advice. So I'm using the extra time I currently have to share with the enthusiasts who follow me".
Philippe Le Jeune: "I think that given the current context it is important to put the riders' situation into perspective. Health is paramount. When I see CSI5* riders complaining on social networks about the lack of competition, I think there are other priorities. It shows how disconnected some 5* riders sometimes are. They seem not to be living in the real world but in a parallel one. Competition currently is secondary; we need to respect the value of the human being.
I even think that for some horses, this situation can be beneficial. Most of the top horses are in high demand all year round. The schedule is overloaded, and many have only a two or three week break between two competition periods, which for me is not really rest. Mentalities are changing and nowadays you must be competing all the time. It's very rare to see riders offering long periods of rest to their horses if they don't have any health concerns. I hear a lot that horses are happy to go to competitions and that they miss it if they are stopped for too long. This is something that stuns me. We have to stop humanizing horses! The horses' well-being depends on the fact that they are considered as such. A happy horse is the one in a meadow, grazing with other horses.
With the current period, we must try to be positive and turn this crisis into an opportunity. I think that riders should use the time they have to better discover their young horses and to work more deeply. This is our current philosophy at the stables with my wife Lucia. We take the time to work each horse in the right direction to keep them in good shape. We have the same habits at home as well. The staff is on site, but we limit the contacts as much as possible. We have neither owners nor pupils. I only travel once or twice a week to the stable rented by Abdelkebir Ouaddar in Antwerp, where I am the trainer until the next World Equestrian Games in 2022. I have established a work plan with him and if the containment no longer allows me to travel, we will do remote coaching through videos and Skype.
During this crisis, I am also spending more time with my family. I'm devoting more time to my daughters and refocusing on the essentials. I'm also continuing to fight a battle that is dear to me, namely the defense of my sport. In just a few years, our sport has undergone many changes to become the business sport it is today and I find it difficult to get my bearings. This system is now shaken by the current crisis and I would like it to start a process of questioning the industry. Perhaps this pandemic will make my voice heard.
If you compare today's dressage and CCE with CSO, you will see many differences. I have the feeling that the horse is no longer in the center of our concerns. Today a horse of CSI5* level is an investment that has a very high monetary value. To participate in very good competitions today you often have to pay. It drives me crazy! It is forbidden by the FEI and yet it is a reality. I see it with my wife who still competes at a high level. Meritocracy no longer allows you to climb the ladder from a certain level. Many very good riders have to sell their horses or lose them when they are ready to ride CSI4* and 5*. You end up with the highest ranked riders in the world, as well as riders who have paid for tables or paycards in the Global Champions Tour to compete in CSI5* and you see such ugly courses where some riders knock over half the rails. Where is the ethics or the respect for the animal when you see this kind of show?
I believe, in conclusion, that this crisis will allow us to ask the right questions and take the time to answer them. We need to put humans and horses back at the heart of our sport. Money is needed to allow the stakeholders to make a living from their passion. However, we must not lose touch with the essential. The glitter sport model currently proposed has clearly been shattered by the pandemic."
Interview by Manon le Coroller. Featured photo: © Sportfot.com