"The horses will be ready for the Olympics" Grégory Bodo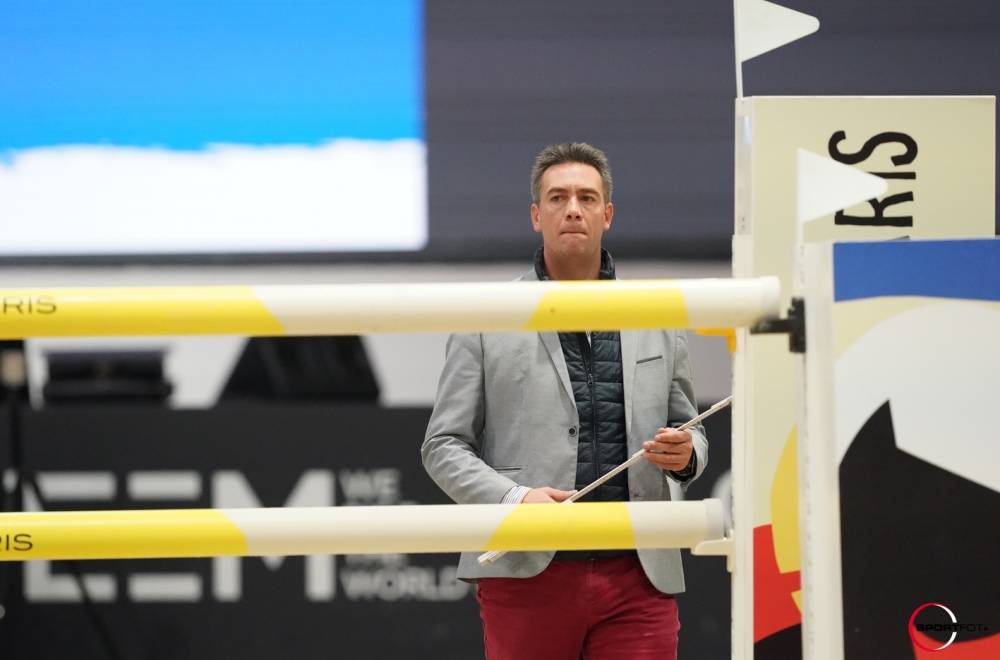 24 April 2021
We have talked a lot about riders, grooms, and horses during this rhinopneumonitis (EHV-1) epidemic, added to the unprecedented Covid-19 pandemic. However, there are other professionals in the sector who had to reinvent themselves overnight, including Course Designers. Grégory Bodo, a reference in the industry, tells Studforlife about these last few months and his next goal: the Olympic Games in Tokyo!
How have you dealt with this period as a Course Designer?
Honestly, I personally had nothing to complain about at the beginning of the year because I was able to fully officiate at the Sunshine tours in Vilamoura, Oliva, Vejer de la Frontera, Gorla Minore... I was also lucky enough to participate in the last authorized competition before everything stopped because of rhinopneumonitis. I was able to contribute to the preparation of some horses at the beginning of the year for the big events to come. As a result, I can't complain about that.
However, with the sport stopping, partly because of Covid-19 but especially lately with rhinopneumonitis, it allowed me (like numerous other Course Designers) to turn to other activities, namely the one that I have done for several years as a Professor of Marketing and Management at a Business School, and as an Academic Advisor there also. The follow-up of students' files, courses given in person and by videoconference, and the individual interviews have kept me busy during this period away from the competition grounds!
I still kept a foot in the door during this period because, on the one hand, I was able to contribute to the training of regional course designers (CRE du Grand Est), and on the other hand, I also sent training plans to high-level riders so that they could build the courses themselves at their stables.
Now that competitions have resumed, I have been able to officiate as a Course Designer at the Grand National de Vichy and will continue on as normal with trips to the Netherlands, Germany, and again in France...
Was it important for you to leverage this forced break to train the next generation, to prepare future French international course designers, and to share your experience with as many people as possible?
Absolutely! As I have always claimed, I do double duty as we don't know what tomorrow may bring - and this has been evidenced by the last two years! - so I don't want to put all my eggs in one basket, as the saying goes. But that doesn't stop me from trying to bring my modest experience to the obstacle building industry. This is a job that is really aiming to professionalize and structure itself, at least in France. I try as much as I can, through the opportunities that I'm offered, to share my knowledge within the framework of educational programs. There's no point in lamenting our fate and looking behind us, we must turn towards the future and prepare for it, in a progressive way, so that we can be stronger tomorrow. Important progress has been made in terms of French course designers representation at the international level, but this is not enough!
You will be officiating at the Olympic Games in Tokyo; how do you imagine the courses will be on site, when the horses have competed so little in recent months?
It's true, if we take stock of the sporting season, both indoor and outdoor, that there have been major constraints and many cancellations. The 2020 and 2021 seasons have disrupted the projected calendar of all riders who were aiming for big events like the Olympic Games. I honestly believe that the horses will arrive fresh for these events. What may be lacking is the competitive spirit of the horses and riders. This parameter will have to be rebuilt as the competitions go on, especially as they will not be able to be supported by the public with the competitions taking place behind closed doors... Riders and horses are athletes and they also need psychological resources.
The riders work at home a lot to optimize the muscular condition of their horses, I am regularly in contact with these athletes. I'm sure that all of them will be physically ready, even if they have not competed in a lot in competitions these past few months. It's really the spirit of competition that I think will be lacking and therefore it will need to be restored gradually. No matter what, the competition officials at the Olympic Games will consider these factors and therefore, the courses will perhaps be less impressive than in previous editions, but certainly more subtle, without the level dropping too much. The same will be true for the European Championships, which will take place in September.
Competitions like the Masters of Chantilly, where I'll be officiating in July, are necessary as part of the riders' calendar in view of these championships, and will be perfect preparatory competitions in the final lead-up to them! To conclude and to answer your question, it will be up to us, the Course Designers, to show adaptability, especially regarding parameters which will be linked to technicality, obstacle measurements, the length of the course and the horses' moral comfort regarding the proposed courses.
We are less than three months away from the Masters of Chantilly, what do you plan to offer up to the riders at this large grassy arena set against the Chantilly Castle in the background?
I haven't yet decided on the courses I will design for the Masters of Chantilly. It's an arena that I don't know yet; it will be a great first for me as the principal Course Designer! However, due to the reputation of this competition, the quality of the infrastructure, the image that this competition has, and also the fact that it is now organized by Christope Ameeuw's EEM group in collaboration with Rolex, this competition will obviously be targeted by a good number of the world's best riders. It will be difficult for me, as I'll have to be flexible. The horses' behavior during the first day of competition on site will be a determining factor in helping me finalize the key courses that will be used for the Rolex Grand Prix in particular. Now, we have more than two months to adjust the horses arriving on such important events.
Featured photo: Sportfot.com