"The history of our sport must be given a place in all of this." - Éric Navet 2/2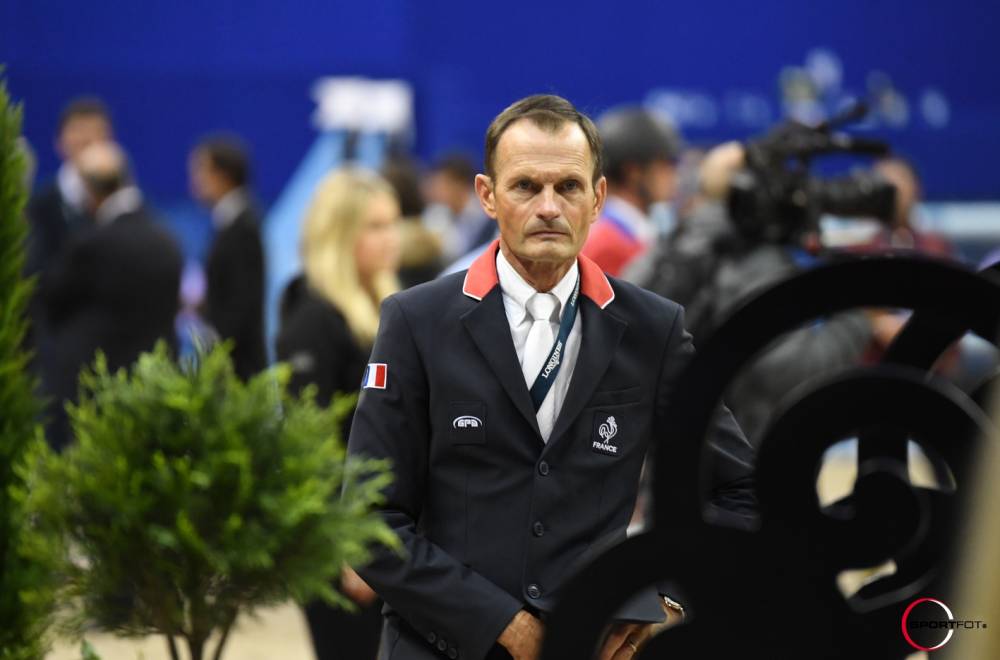 21 May 2020
Today we continue with our interview with Eric Navet, in which he tells us about his life as a coach in the United States and gives us his view of modern show jumping.
SOME PEOPLE MAY NOT KNOW THIS, BUT AS YOU MENTIONED BEFORE, YOU'VE BEEN LIVING IN THE UNITED STATES FOR SEVERAL YEARS NOW…
"That's right. In 2013, I left France with my wife and daughters to come and train Karl Cook here in California. My initial exclusive contract was for four years and was scheduled to end in 2016, but due to our excellent arrangement, it was renewed for another four years and will end in a few months. We weren't necessarily aiming for Olympic deadlines. Of course, every rider and every coach dreams of going to the Olympics. I would have loved to be able to go with Karl, but making the U.S. team for a young rider is extremely difficult, especially with the new formula that reduces the teams to three. There are a lot of top riders here and logically the most experienced are selected."
CAN YOU TELL US ABOUT YOUR LIFE IN CALIFORNIA AND ABOUT HOW YOUR DAY IS ORGANIZED?
"During a normal season, we start on the California circuit in Thermal. The competition lasts nine weeks, but we only take part in the first two weeks and the last three so that the horses can rest. Here, our rhythm is very different from that of European riders who go to a new competition in another city or country every weekend. We leave for three weeks, a month, and then we come back for a rather long period of time, before leaving again. On the one hand it's because the territory is so immense, and on the other hand, it's because there are less top competitions on the West Coast. It's nice to be able to sit down and think between each deadline. In June we leave for Kentucky, then for Virginia for the superb Upperville competition, and then we head to New York to take part in the Gold Cup. It's the most famous Grand Prix in the United States. Last year Karl finished second just behind Beezie Madden and almost beat her! For us coming from California it was quite a performance and it made us realize that we were mentally and technically up to the challenge.
Then we come back home for the Summer break during which I try to return to France when possible. In the Fall, we head back to Vancouver and Spruce Meadows, where the first qualifying step of the World Cup circuit is held. In 2020 we were supposed to compete in the final in Las Vegas but unfortunately that had to be cancelled."
DO YOU PLAN TO RETURN TO FRANCE AT THE END OF YOUR CONTRACT WITH KARL COOK?
"There are several possibilities and I haven't made any decisions yet. Of course, I would like to return to France, especially since I have been an expatriate for a long time. I miss my country and I haven't had many opportunities to come back. I can't take too much time off between competitions because I have to continue training the horses.
In fact, I would like to change things up, to have less constraints and be more available. In the end, I have devoted myself fully to Karl for eight years, without being able to help anyone else, given the exclusivity clause that I'm bound to. It's frustrating sometimes because many riders ask me, Americans, Canadians, Mexicans. I still have a thirst to learn and progress with other people. But I also don't want to run around a lot. I will have to organize things the way I want, in order to continue to have fun while working."
MICHEL ROBERT EXPLAINED TO US A FEW DAYS AGO THAT A GOOD COACH IS ONE WHO DOESN'T HAVE TO BE WITH A PUPIL ALL THE TIME WITHOUT THEM SUFFERING FOR IT.
"I agree with him. A good coach is one who makes sure that their pupil can do without them once they are ready. That's how I work with Karl. The further you go, the further I step back. I observe more and point out less. As of last year, I no longer intervene in the warm-up, he makes his own decisions and I just watch him. At the debriefing, I ask him questions and he tells me how he feels. We talk daily, but I'm preparing him for my departure so that he can do as well as possible, without getting into trouble."
IS THERE AN "ÉRIC NAVET METHOD"?
"No, there isn't. I have often been asked for books or videos. I have always refused because I'm a perfectionist and I would be afraid of it not being complete enough. When we practice a sport with a tool, a racket for example, we can talk about the method. But it's not the same with horse riding, it's much more complex and you have to talk about philosophy instead. Horses are all different, therefore advice is not universal. For that reason, I like to get to the bottom of things with a horse and a rider at the same time. I like to work on a case by case basis, with unlimited space and time because there is nothing worse in our sport than having short-term goals. You have to settle for little and reward often, everyone knows the saying. You have to move forward day after day, little by little, following a plan that is specific to each horse."
WE SAW YOU AGAIN AT A HIGH LEVEL OF THE SPORT IN OMAHA IN 2017 WHEN YOUR LAST PARTICIPATION IN A WORLD CUP FINAL WAS IN 1992. HOW DID THAT HAPPEN?
"It wasn't planned at all. I started working on Catypso when he was six years old with the goal of adding him to Karl's string. But they didn't get along very well; the horse wasn't very cooperative, so he didn't want to keep him. So, I rode him and we found ourselves qualified for Omaha. I wasn't sure what awaited me there. I hadn't been at that level for a very long time and we hadn't been able to practice: our last competition had taken place in a huge grass arena in Thermal, which had nothing to do with what we were facing. Moreover, as a West Coast rider, I was far from the level of those from the East Coast; there was a lot of pressure. I didn't want to look ridiculous (laughs)! In the end, everything went well, and I really enjoyed myself. Catypso wasn't able to really perform but he jumped very well. I was able to again taste the elation of the big events.
My former teammates were thrilled to see me again. The family of top riders is tightly knit. We see each other every week all over the world. We even help each other out on the big championships' course walks. It's something that lasts and that I love. Today, despite the increased pressure from owners, sponsors and the media, our relationships remain the same."
LET'S LOOK AT THE EVOLUTION OF THE DISCIPLINE. IS TODAY'S SHOW JUMPING THE SAME AS WHEN YOU COMPETED AT THE TOP LEVEL?
"No, it's not the same sport at all. There are more and more wonderful competitions, that are very well organized and of a very high level, which makes it possible to get people talking about our discipline, to attract sponsors and encourage them to invest money in it. However, this also contributes to making it less and less accessible to young riders, it becomes much more difficult to break through.
The sport is far more publicized, more exposed and that's a good thing and something to be happy about. However, media exposure brings additional pressure that you have to be able to manage. In the past, the media was only interested in equestrian sport when it came time for the Olympic Games and sometimes the World Championships. When I was crowned World Champion, journalists got closer to me, and the other riders through me, because the final was held on a weekend without a Formula 1 Grand Prix or Grand Slam tournament. The day after the rotating final, I remember going to the TF1, France 2 and France 3 TV channels. A team from Paris Match had followed me to Gavrais on a young horse competition for a report. They dedicated a five-page report to me as well as a large photo. It was quite unprecedented."
WHAT WAS YOUR EXPERIENCE OF THIS SUDDEN MEDIA COVERAGE?
"Quite bad. At the time, media training didn't exist, and we didn't all speak English well. I'm discreet by nature, I don't like to expose myself. Besides, taking part in that live event required great effort from me, but I was delighted to do it! Suddenly being solicited by so many journalists at the time had disrupted me a lot. I have to say that I didn't experience the after-effects of the title very well. I was constantly being called to Paris. I had to travel and spend a lot of time responding to the media, which sometimes cost me my favorite way of spending time: time spent with my horses. I'm very organized, and I hate being disturbed. I find it difficult to adapt, it's my main fault. I didn't want my life to change because of the medals. For me, it was normal to be back in the field with my young horses two days after the end of the championship. I managed not to deviate too much from that, but it took a lot of effort.
Besides, in Stockholm I was one of the outsiders, they didn't expect anything from me, so it all fell upon me without me being prepared. A few months ago, a Californian journalist who was present in the stands during my victory in 1990 contacted me and sent me the magazine in which she had published the story of those World Games. In it, she talks about me as a complete unknown and how she didn't think I could make it to the end of the competition (laughs)."
ON THE WORLD RANKING SIDE, WE ARE WITNESSING A REAL POINTS RACE TODAY. YOU WERE ONE OF THE FEW FRENCHMEN TO REACH THE NUMBER ONE SPOT. WAS IT THE SAME BEFORE?
"This race started as soon as the rankings were created. John Whitaker was unbeatable for a long time until I managed to take his spot. A bit like Steve Guerdat at the moment. Even though Martin Fuchs managed to take pole position from him for a while, it didn't last. At the time, there were fewer riders, so there were fewer people to overtake. 1992 was the best year for me. I took part in a lot of competitions; I was omnipresent in French selections thanks to Roxane de Gruchy and Quito de Baussy who were both at the Nations Cup level. I reached the first place in the world rankings by winning Luzern and then Madrid with them."
WHAT DO YOU THINK OF THE NEW OLYMPIC FORMULA WITH THREE RIDER TEAMS?
"It's not convincing. Every rider's dream is to one day compete in the Olympic Games. With this new format, there will be one less rider per country and per event who will have the opportunity to go. It's a real shame. It means that access to the Holy Grail is considerably reduced. I don't think anyone can be blamed, because unfortunately if this new format had not been adopted, our sport would have lost its Olympic status. These constraints were imposed by the International Olympic Committee. The FEI could only follow along.
On top of that, I'm afraid that the globalization of the Olympic Games is dragging the level down. That means we will have teams from Asia and the Middle East, which are far from being on the same level and which are taking the places of very strong European teams. For these teams, the level of difficulty of the Olympic Games will have to be lowered. At least as far as the team events are concerned. Furthermore, I don't really see the point of running the individual competition before running the team events. Until today, the team events were organized by taking into account the level of the nations present, including the weakest. Then, in the individual competition, once the best riders were qualified, the real Olympic level was set up."
WOULD IT MAKE SENSE TO ADD A SIXTH STAR TO THE MYTHICAL COMPETITIONS TO DIFFERENTIATE THEM FROM THE MULTIPLE CSI5* EVENTS?
"In my time, there were very few CSI5* events. Those that still exist are what we might call CSI6* today. When we won a CSI5*, everyone remembered it. It was an occasion. It was almost like a title. You have to differentiate between a number of competitions, the most representative of the best level. Some deserve one more star. Then we would have to define the right criteria to select them. If one decided to make the prize pool the only criterion, then it would be enough for its organizers to add a million more in their competition to get a sixth star; it wouldn't make sense. For all riders, the criteria that are most important when choosing a competition are the quality of the footing and the course designer. But these two criteria can also be combined in a "sandbox".
The history of our sport must be given a place in all of this: I'm thinking in particular of the competitions in Rome, Aachen, Madrid, Spruce Meadows, Hickstead, Dublin, St. Gallen and others. Where the names of the winners are engraved! In France, great things happened in La Baule and Dinard! When I was eleven years old, in 1970, my parents took me to the World Championships at the François André Stadium where I attended the rotating final with David Broome, Harvey Smith, Graziano Mancinelli and Alwin Schockemöle. At that time, women and men competed separately. Janou Lefèbvre who was crowned the winner in the women's category. It was magical. I think that the most wonderful CSIOs are the competitions that should be valued. The riders who compete in these events should be the best in the world. That's what happens with Steve Guerdat, who keeps himself at his best level and manages to keep his leading position, participating far more in CSIOs events than in other circuits.
However, I would like to point out that it is extremely important to have circuits with organizers who publicize our sport. I'm obviously thinking of Christophe Ameeuw's excellent Longines Masters series, which are organized around the world. These are extraordinary events that attract top sponsors and the media. That is, once again, essential. I'm also thinking of the Rolex Grand Slam, which includes the prestigious stages of Aachen, Spruce Meadows, Geneva and 's-Hertogenbosch. When a rider manages to win all of the stages in a row like Scott Brash, it's historic, really! He's the only one who has done it and I don't know if it will happen again."
Interview by Pauline ARNAL, Théo CAVIEZEL and Raphaël GARBOUJ. Featured photo: © Sportfot.com