A historic double win for Steve Guerdat!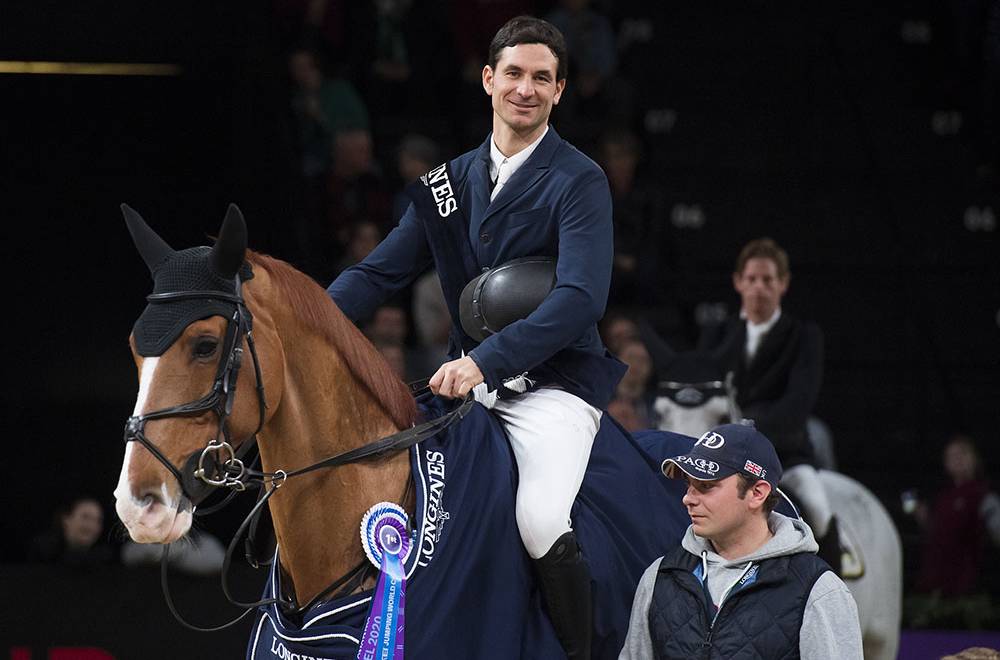 13 January 2020
After winning the Grand Prix on Friday, Steve Guerdat was back with Victorio des Frotards (Barbarian) to win the Basel World Cup stage. This time he was half a second ahead of Julien Epaillard and Queeletta (Quality), who had already won the major event on Thursday evening. Pieter Devos, who came in 3rd with Apart (Larino), had to relinquish his place as the circuit leader to the day's winner, while Marcus Ehning once again showed the longevity of his horses by posting a nice 4th place with the 17-year old veteran, Cornado NRW (Cornet Obolensky).
"It's special for a whole bunch of reasons. First of all, it's a victory that's close to home, in a competition that I've never been too successful in until today. I've never won and I've never placed in a major event here so I didn't expect much, but on Friday we had a fantastic victory in the Grand Prix. I wasn't sure if I would ride Victorio again today, but he was really fresh and with this double, it's just great. He was brilliant in the jump-off. I bought him with two friends just before the Summer. It took us some time to get to know each other, but I always thought he had something more to give. He won a lot at the two- and three-star level, but we've had our ups and downs. At one point, I wondered if we were going to make it. Nevertheless, he was good in Stuttgart and after that he really started to give me a great feeling. When it was time for my top horses to take a break, I asked him to take it to the next level and our confidence grew. At first, I wanted to change him, to make him easier to ride... but it didn't work. He was quirky like that when he was winning in France, so I realized I had to trust him more and let him do it his way, so he's happy now!" said Steve Guerdat, who is facing a luxurious new choice for the Las Vegas finals. "Venard de Cerisy was my first option for the final, but after today, I have to admit that de Victorio is another option."
In Opglabeek, Jérôme Guery won the 2* Grand Prix with one of his new mounts, Diego (Verdi), that has been entrusted to him by Jose Alfredo Hernandez and Martina Romagnoli after his Mexican rider had a bad accident. He came in ahead of Ivan Dalton on Ajaccienne (Calvaro), and Grégory Wathelet on Spike vd Withoeve (Sting vd Withoeve). The Wathelet stables achieved a good result, as Ugo Berrittella came in 6th with a double clear round on the pinto gelding, Utah van de Rock (Limbo).
Patrick Stühlmeyer won the Neustadt Dosse 2* Grand Prix with Varihoka du Temple (Luigi d'Amaury), ahead of Carsten Otto Nagel on the stallion L'espérance (Lord Z).
In Vincennes, Belina Josselyn (Love You) won the Prix de Belgique, the last of the 4Bs, and qualified for the Prix d'Amerique. She came in ahead of the brave Enino du Pommereux (Cocktail Jet) who watched as Jean-Michel Bazire's ballerina passed him in the final meters as Davidson du Pont's (Pacha du Pont) sumptuous final stretch was held up, finishing in a well on the outside to take third place.