At his first European Championships, Andre Thieme thwarts all the predictions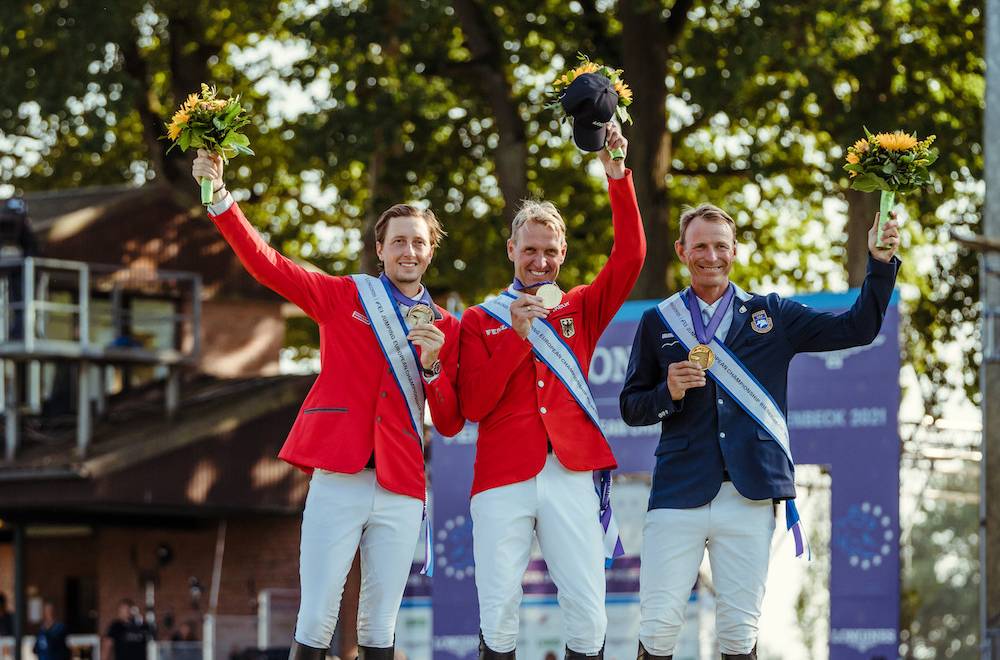 05 September 2021
After five days of intense competition at Ludger Beerbaum's facilities, in the end, Andre Thieme was crowned the European Champion. He succeeds Martin Fuchs and Peder Fredricson who fought hard for a second title, but this time they had to settle for silver and bronze.
Who would have bet on the victory going to Andre Thieme at the beginning of the week? A month ago, the 46-year-old rider was competing in his first Olympic Games. In Riesenbeck, he was competing in only his second international championship, and although he has already won some great events in Europe and the United States, the German has always remained discreet. Thanks to the complicity of the delicate and bubbly DSP Chakaria (Chap 47), whom he loves "as much as his wife," Andre Thieme nevertheless established himself as the new European Champion. "Tokyo was a bit too early for Chakaria, but she learned a lot there and so did I," explains the German.
The pair was penalized by four faults in the first qualifier, but then followed up with a double clear in the team final, contributing significantly to Germany's silver medal. "Everyone was very happy with that result but deep down I was a little disappointed, we had come so close to gold! Martin then looked at me and said, "You didn't really think you could beat us, did you (laughs)?!" Two days later, Andre had his chance to get revenge in the individual final. He took the lead after a clear round in the first run. He didn't let go of it again despite having a rail down in the second, which turned out to be particularly fault-heavy. Only two pairs were able to achieve a clear round: Christian Kukuk with the powerful Mumbai (Diamant de Semilly), and Nicola Philippaerts with Katanga v/h Dingeshof (Cardento), which allowed them to finish fourth and fifth, respectively.
Honoring the outsiders...
Andre Thieme won the most beautiful victory of his career. "I've won a million-dollar Grand Prix before, and I must say it was very enjoyable, but this is different. I've never ridden such difficult courses in my life in front of my family, friends and such a crowd (Editor's note: Over 3,000 spectators gathered today)." The triumph of a German rider at home was the perfect ending to a championship that was just as perfect in terms of infrastructure and organization.
Andre Thieme with his arms up, as he cherishes victory
Although the starting list lacked one or two big names, who were either resting after Tokyo or sent to the Rolex Grand Slam (whose next stages will be run in Spruce Meadows and Aachen next week) and the Longines Global Champions Tour, it had the merit of highlighting new names. Norway's Victoria Gulliksen (9th) and Greece's Ioli Mytilineou (12th) are two we can mention. The latter was the real revelation of these European Championships with her little star Levis de Muze (Elvis Ter Putte). She hadn't knocked down a single rail until they had a disagreement at the entry to the triple combination on their last course which forced her to retire. "I've been admiring this pair all week," said Ludger Beerbaum. "She showed us what a great relationship between horse and rider is. Even those difficult courses looked easy. What happened to them was undeserved, but that's sport. She made a very good decision and I'm sure we'll see them in some great events in the future and probably on the podium."
Ioli Mytilineou and Levis de Muze didn't jump a single obstacle without the audience being ecstatic about their ease of going
The favorites were still there
In addition to these beautiful discoveries, the podium regulars kept their grip on the remaining medals. The European Champion two years ago in Rotterdam, Martin Fuchs came back with a very young 9-year-old horse, Leone Jei (Baltic VDL). Spotted three years ago with the Hendrix family, this big gray has always been special, but he really revealed himself in the Young Horse classes at CHIO Aachen in 2019 where he had a string of clear rounds. From then on, Martin has taken the gamble to make him a championship horse, and bingo! Six months after competing in his first 5* Grand Prix, Leone Jei was crowned the European Reserve-Champion. "After the first qualifier's prize-giving ceremony (where he finished fifth), Ludger Beerbaum came to see me to tell me that we would surely meet again on Sunday, and we did!" A little disappointed not to have succeeded in securing the double, the Swiss rider still managed to beat Peder Fredricson and his experienced Catch Me Not S (Cardento). This time, the Swede, who was the gold medalist in Gothenburg in 2017, settled for bronze.
After Rotterdam in 2019 with Clooney 51, Martin Fuchs is on the podium again thanks to Leone Jei
Photo credit: FEI/Christophe Taniere et Sportfort.com