High-level sport and animal welfare: how compatible are they?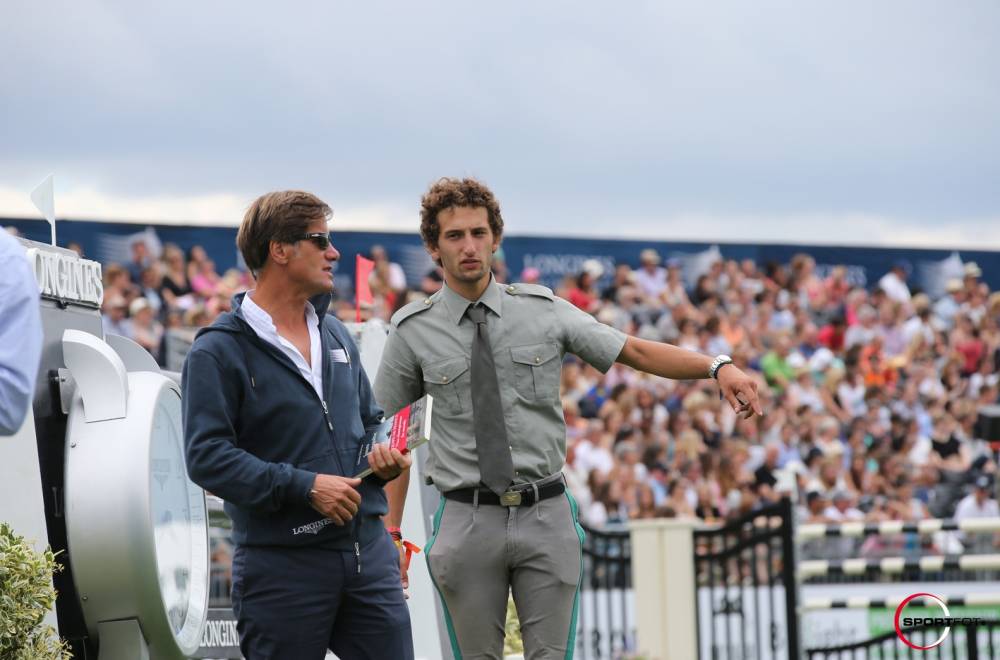 17 July 2020
The post-pandemic period will disrupt the equestrian sector and therefore the whole system currently in place. While many players are wondering what the post-Covid-19 period will look like, Studforlife has been looking at the compatibility between the current system and animal welfare. Indeed, though animal welfare has become a leitmotiv in recent years, horses have never been put to so much effort. We therefore interviewed two experts, Eric Louradour and Patrick Bartolo, to answer this new "Question of the Month"!
Patrick BARTOLO, international judge: "For me, animal welfare is treatment that results in the animal being happy, that they do not suffer, have no fear and are treated to the best of conditions in order to have a pleasant life while enjoying excellent health. There has been a real awakening in our industry over the past few years now and I find that, for the most part, the horses well-being is now a priority in everyone's eyes. It's a key concern of the system even if, as in any system with several participants, there are obviously some black sheep that do not respect it.
The number of CSI5* events has exploded in recent years with no less than eighty competitions of this level organized in 2019. The question of ethics and animal welfare is not an issue for riders with a big string since they can manage the effort imposed on their mounts, as well as the competitions. The problem therefore lies more at the level of the riders who have no other choice for moving up the rankings, or who have chosen to make it just a high-profit occupation, than at the level of competing intensively. In this case, the way is opened to abuse and disrespect of the horses' well-being. The solution is, however, quite simple in my opinion. It would be enough to open the big events no longer just to top riders, but also to "worthy" pairs and/or riders from the younger generation. Several options could emerge, such as limiting the number of annual entries or distances covered to a reasonable number, or introducing a certain number of rest days. This would keep the number of events the same and allow young and not-so-young riders who have found their horse of a lifetime or brought a young horse up to the required level to participate in this type of competition and have a chance to emerge at a high level.
There has been a lot of controversy recently related to horses' welfare. I will therefore touch on some of the themes that have sparked the debate. I would like to stress that if these issues arise today, it's because there is inadequate or unclear regulation regarding them, which creates doubt and therefore different interpretations of these rules.
Let's start with the use of weighted hind boots. I'm neither a veterinarian nor an equine locomotion specialist. But without being an expert, as soon as it comes to using a device of this type, it seems logical that it is to make up for a defect or a weakness. If one were to compare with human athletes (leaving aside the eternal "the animal hasn't asked for anything"), it's possible to help yourself by using weights or elastics by using them correctly and measuring the effort required to correct a fault for example, but never in competition! As far as the International Federation for Equestrian Sports (FEI) regulations are concerned, I find it paradoxical that the dangerousness of these boots have been demonstrated, but that they will only be banned in 2021, on the pretext that some have been able to qualify for the 2020 Olympic Games thanks to this "system" and that it would be unfair to deprive others of the same tricks. This amounts to authorizing all riders to endanger the health of their mounts so that they are all on an equal footing.
Regarding the controversy over the traces of blood on horses' flanks which leads to a direct disqualification of the combination, I find the regulation aberrant as it stands! Another example of the disempowerment of the officials by the FEI authorities! It seems that the judges are not able to differentiate between a scratch, a mosquito bite, or cruelty. To give everyone a clear conscience, it was necessary by saying that a trace of blood had to be disgraceful, because it must be intentional, without letting the officials judge and sanction according to the situation!
Regarding the debate on the contamination of horses in competition, here too we are unfairly touching on the infamous zero tolerance rule. In this case, you should give yourself the means to achieve your ambitions, but as those who have already attended a CSI5* know very well, it is very easy to contaminate a horse at any time. It would be better to define thresholds, products, and effects, rather than commas. To punish abuses harshly and to assess the circumstances, but to do so, we should already work on the assumption - quite Swiss, I grant you - that the athlete is honest and not the opposite.
The questionable quality of some infrastructure at competitions is also a controversial issue. The reason is simple: as long as the star system for international competitions is awarded according to the money that's on offer, this situation will be inescapable! For years, we have had to hand out questionnaires to all stakeholders, the results of which nobody knows. But when you see how long it takes to set up something at the FEI (and I'm not even talking about trying to get an answer to a letter) you wonder who benefits the most from the system…
The current pandemic is reshuffling the cards. I think, like some riders, that this forced break is beneficial to many horses. I don't think that horses are missing competition as some riders are currently suggesting. They're well, enjoying the fields. However, we must also realize that humans, at the top of the food chain, are not going to release all of the indoor cats, dogs on leashes, fish in jars or other vivarium animals. Today, a horse would no longer survive without humans in our environment, it's a fact, and fortunately they have been able to adapt. And I'm convinced that horses love competition!
The current health crisis may force the system to evolve. I think the interests involved used to be too big for anything to change. Today we've realized that nothing will be the same as it used to be. Perhaps the FEI will realize that without competitions, without organizers or paying riders, they receive no fees and no income. Maybe they'll see that sponsors are not that easy to find and that the omnipotence of money has its limits! They may also start listening to the riders, organizers, owners, grooms, technicians; the people who make a living from this sport… that for the majority of participants, they're passionate equestrians.
I think it is high time that we bring together all stakeholders to build tomorrow's system together. By listening to some of them, we could make progress instead of keeping them at a distance by trying to enact ever more restrictive rules. It would also be interesting to show the efforts that have been made for several years in terms of animal welfare. Our sport has evolved in the right direction a lot with, for example, the material available such as safety sheets and much lighter rails. We must point out what we do well and invite those who have doubts to discover it for themselves by accompanying them to explain the changes."
Eric Louradour, renowned show jumping coach: "Animal welfare is an essential concept for me. When a person adopts an animal, he or she makes a commitment to respect, love, protect and be faithful to it. Animals, like people, like to feel loved and appreciate nice, suitable things. Therefore, in my opinion, it's our duty to bring balance and give an animal a good life, as much as possible.
I think that horses are much better off today than they were thirty years ago. Nowadays, we know that it's important for a horse to have an outside-facing window, to have at least some tactile contact with its boxed neighbor, to have turnout time, etc. In Switzerland, for example, if you build a new stable, you must respect these kinds of details which are essential for the well-being of horses and they must have direct access from the box to the paddock. On the other hand, I've heard a lot of people say that a horse is better in the field than in the stable. I don't think a horse is happy in the field all the time, especially if they're alone, if it's hot, if they have no shelter, if the space is too small, if they have no affection, no attention, no care, too many insects. Horses now also travel in very comfortable trucks, they get a lot of care and attention, they go out at least two to three times a day. At my place, for example, the horses are ridden in the morning and then go to the paddock in pairs and stay there until 4 or 5pm, before going on the walker for thirty minutes. Then we take care of them and groom them.
However, concerning the pace of competitions, I'm really worried that some riders are not respectful enough of their horses. And this is true at any level. At the lower level, beginner riders are not well enough aware of the love and respect owed to the horse. At the high level, it's often ego, the thirst for victory, money or pleasure, but also the hunt for points for world rankings, which incite riders to do too much. However, each of them should never forget that they came to riding out of a fascination and love for the horse, and not for competition. Otherwise they could have been riding a motorcycle. Some riders will say that they love their horses and that, as proof, they don't hesitate to get the veterinarian, the osteopath or various other interventions on a regular basis. The latter, therefore, get the feeling that they do everything well, and claim to be able to get more out of a horse. They forget the basics. They should know that the best remedy for a horse is rest and that the right planning of work and competitions, associated with a good method of riding, avoids all these steps that are done mainly to give themselves a clear conscience. Furthermore, in addition to being harmful to the horse, they are very expensive for the owner.
The health crisis has given many horses a break and I think it's a shame that it takes a pandemic to make people aware of the need to change their mentality. The "winter break", as we were obliged to have every year, is indispensable, especially when you ask a lot, and often, from your horse. These periods, in addition to giving the horse a rest, allow riders to question themselves, to work to improve and thus to refine their riding and their relationship with the horse. I was fortunate to have been educated in equestrianism at a time when more time was spent working and preparing for competitions than actually competing. The latter was really the icing on the cake. When we went there, we tried to make sure we felt technically ready and that we were really working in harmony with our horse. We accepted a slow method of training and progression, focused on the right riding, the well-being of our companion and safety. In addition, we were also made aware of the financial aspect.
What joy, passion and energy we put into making our horses the happiest, cleanest and most beautiful in competition. We loved them superbly groomed and spent a lot of time working on them (grooming, mane and tail braiding, rump patterns, etc). We pampered them in order to thank them for the good time they gave us, out of love and respect, but also to make them appreciate competition. Thus, we often heard that some horses liked competitions. Well yes, it was a reality! Horses love the company of man, the more time and affection we gave them, the more easily they forgave our mistakes as novice riders and kept our morale high and our spirit generous. When horses feel love, passion, respect, trust, serenity and sincerity, then they give you everything! We now know that horses truly can read our emotions and our moods.
Today, unfortunately, competition seems to take precedence over pleasure and passion. As proof, some parents are ready to put themselves in financial difficulty to please their spoilt child, the teaching system pushes consumption and competition. However, it's possible to ride without necessarily thinking about competition. Just as a person can learn to play the piano without thinking about a concert or learn to play tennis and never want to go to a tournament. Federations and teachers should encourage their members to come to riding by making them aware of the love and respect for the animal and through many different and varied activities that can be practiced with horses, without necessarily thinking about competition. The national equestrian federations must also basically train teachers who will encourage beginners to discover the world of horses by insisting on loving and respecting the animal, maintaining its well-being and the importance of a solid foundation to be able to progress in total safety. Let's not forget that this sport is more dangerous than Formula 1 and that many accidents happen due to negligence of the safety rules and lack of professionalism, competence and seriousness of the instructor. Horse riding is the only sport where the person is not always a real athlete, neither in physique nor in spirit, at least at a low level: often there's no warm-up, no additional sports, no progression of steps undertaken to reach a compulsory exam, etc. In most other sports, if you don't have the right foundation and a certain pattern of progression, you can't get into increasingly difficult competitions.
I personally educate my pupils so that they favor "good training" above all, by insisting on learning the biomechanics and the right horse-man relationship: physical and psychological balance, knowledge of the animal and the right riding method. The horse that uses its body correctly and has good impulsion has a better capacity to jump correctly. A good rider shouldn't need to use tricks such as weighted hind boots that physically damage the horse. Unfortunately, in the current system, these corrective tools can be used to add value to some horses that don't use their backs enough or to correct a certain insensitivity to touching the rails with the hind legs. In view of the technicality of today's courses and the lightness of the rails, these boots can also reassure some riders who feel the need to use them because everyone else does and they want to be on an equal footing with other competitors. In any case, here again, the federations must react. Amateurs or beginners should not be allowed to use them, and their excess use by certain professionals must be severely sanctioned. Ideally, I think it would be better to lower the technical level of the events at the high level and ban this kind of boot completely. Every rider must never forget that riding is an art, that sport is ethical, that the horse is a living being but also the main athlete in the pair and therefore deserves double the respect and love. A good rider must be more demanding towards themselves and less so towards their companion. They must know how to improve their horse by using a good riding method, good management and the innate or learned ability to avoid error by playing on his talent, position, or technique.
For that, I repeat again, I admire Steve Guerdat, both for his riding and for the management of his horses and his career. He deserves his World No. 1 spot and he must be a source of inspiration for all. For my part, I am in the process of training quality horses for high-level sport but by training at a slow pace, and respecting them physically and mentally, and especially their growth. We mustn't forget that a horse only finishes its growth between 7 and 8 years old and that the back is the last part of its body to finish growing. Knowing that a horse has been ridden since the age of 3 years old and not always by good riders with a stable or light seat, one can understand why it is essential to act with finesse, slowly progressing, with respectful management of the animal. It's not for nothing that it is the part of the horse's body most treated by veterinarians. In this group of young horses, I have four 8-year-old horses that have only done a few events when they were 5 years old. At 6 years old, they had no competition and were turned out for 6 months to grow. At 7 years old, they had six months of competition and 6 months of turnout. Next year, I want to bring them up gradually to 1.45m events. At 10 years old, they will hopefully join some of the best riders in the world's stables. These horses have never seen the vet. It's incredible to see their evolution and transformation on a physical, mental and technical level. I've already done this before, over twenty years ago with four horses who all went on to compete in CSIOs.
Another point that I think is important to address is ethology. It's very fashionable today. But here again it's a question of marketing, and often some people are mixing things up or lack knowledge. In equestrian sports, there have always been great horsemen who showed great tact, knowledge, love and respect for horses, and who knew perfectly well how to react according to the animal they had in front of them. They used a gentle, slow and fair method in the horse-man relationship. What I don't like with today's ethology is this relationship of dominating for control. Real horsemen know how to make the horse understand when it does well or not, but in an egalitarian relationship: "ask often, be satisfied with little, reward a lot". That's what I like to do and what I have been lucky enough to learn. Throughout my sporting career I have had horses that stopped or caused real problems for many great top riders. I always solved the problems and was able to win with them thanks to putting their well-being first and forming a good relationship with them based on respect.
Also, about competitions, I think that the quality of the grounds and the organization of the competitions have generally improved. However, perhaps some organizers focus a little too much on the well-being of people (eye-catching competitions in a search for funds, atmosphere, the sale of VIP tables and entrance fees) and less on the horses' well-being (boxes that are sometimes too small and too fragile or placed on land that is damaged in bad weather, no exercise grounds to work the horses outside of the competition because the competition is overbooked and has little space, etc.). I understand that organizing competitions is not simple, and it's also necessary to give some people time to evolve and grow. I'm a Libra and, as such, I think that balance must be found. On the other hand, giving a five-star label to a competition that doesn't live up to the specifications is not very reliable on the part of the FEI. The prize money shouldn't be the main criterion for awarding stars.
We are able to see the shortcomings in our behaviors, lifestyle and thinking in many areas including sport. Horses have always allowed man to evolve, to feed ourselves, to travel, to win wars, to work the land, to heal ourselves, and lately to have fun, and this has been going on for more than six thousand years. We owe them the utmost respect and I'm certain that they can still help us a lot more in the future. I hope that soon, and given the present circumstances that are still giving us pause for thought, that many mentalities and views on life will change. Including in our industry. It's everyone's responsibility; it's in the common interest and future of our sport. Crises are a time for reflection and reaction. For my part, I have confidence and I remain positive for the world of show jumping. We have an equestrian discipline that is, from my point of view, and compared to all the others, the most natural for a horse. If we know how to maintain a technical level and rules that respect the animal as well as a true sporting ethic, then there is no fear to be had. Our sport will continue to please and to fascinate, because horses are really fascinating. With riding being a true artform, it will continue to be one of the best schools of life to help us be able to live together respectfully."
Interview by Manon LE COROLLER. Featured photo: © Sportfot.com