Henrik von Eckermann's masterstroke in Šamorín!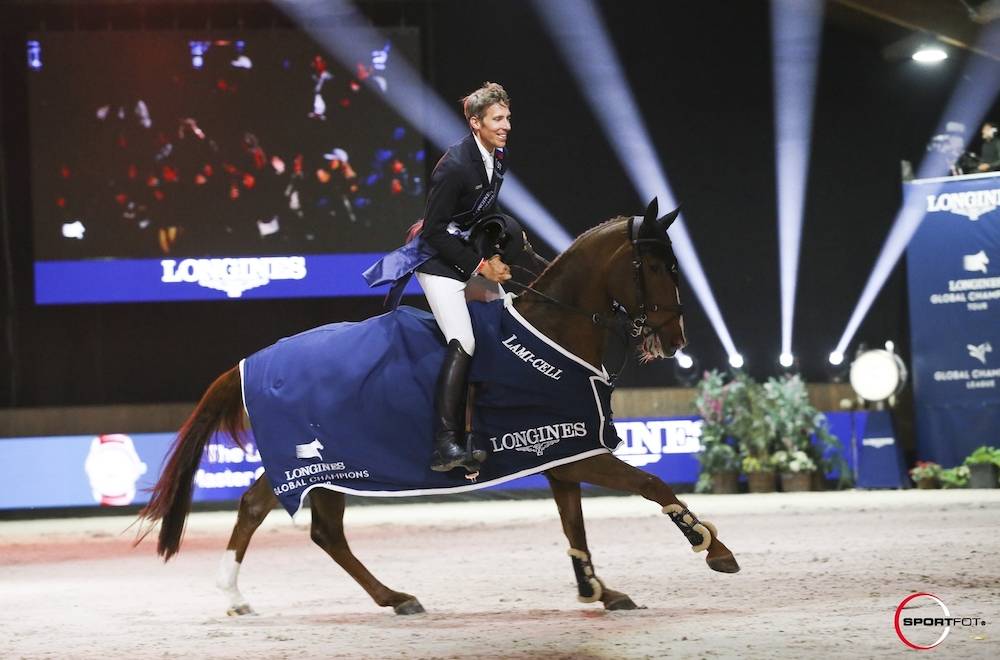 24 October 2021
The last stage of the Global Champions Tour in Šamorín was won by Henrik von Eckermann and his phenomenal mount King Edward (Edward 28). The Swedish rider secured his ticket to the Super Grand Prix, organized for November in Prague!
This weekend, the Global Champions Tour riders should have been in Shanghai for the final stage of the circuit. The Covid-19 epidemic has once again decided otherwise and forced Jan Tops' teams to settle in Slovakia. They have been in the X-Bionic Sphere's facilities for a week now.
For this second weekend of competition, Italian course designer Uliano Vezzani set the bar very high for this Grand Prix; mistakes came from everywhere! Thirty-three riders managed to qualify for this event earlier in the afternoon, but only five found the key to a clear round, including Henrik von Eckermann who kept the suspense going until the end! Second to last to start in the initial event and last in the jump-off, the Swede turbo-charged his round with King Edward to beat Marlon Modolo Zanotelli and Like a Diamond van het Schaeck (Bamako de Muze) by 20 hundredths of a second. "Fantastic, we couldn't have had a better end to the day, I'm so happy. King Edward is sensational, the horse deserved it, last week I didn't ride well and now, we did it, he deserves this victory. He's everything," said the Swede with emotion.
Maurice Tebbel preferred to ensure he turned in the perfect round to secure a place on the podium, and so he did! For the first time this season, the German placed third in a Grand Prix on this circuit with Don Diarado (Diarado)! A special mention goes to the newly formed combination of Pieter Devos and the new mare he presented a week earlier, Mom's Toupie de la Roque (Kannan), who finished fourth in the event.
Pieter Devos and Mom's Toupie de la Roque.
The last ticket of the Prague Super Grand Prix was also up for grabs last night! It logically went to Henrik von Eckermann who had not yet won a Grand Prix on the Global Champions Tour this season. "I came here with the goal of winning the golden ticket. I'm sitting on a horse that can win it and everyone knows it. He deserves to be in this final. I'm really happy," said the rider. The Swedish rider has set a date with Niels Bruynseels, Oliver Robert, Peder Fredricson, Ben Maher, Scott Brash, Sameh El Dahan, Darragh Kenny, Sergio Alvarez Moya, John Withaker, Daniel Deusser, Harrie Smolders, Malin Baryard, Bryan Balsiger, and Spencer Smith in the Czech Republic.
Peder Fredricson, Champion of the Longines Global Champions Tour 2021!


The last stage of the circuit also means the crowning of the Champion! The season finale was shaping up to be a must-win showdown between Peder Fredricson and Ben Maher who were at the top of the leaderboard. Only eight points separated the two, 249 to 228. In the end, it was a night that ended up causing a lot of trouble for Ben Maher, who was knocked out of the top three with three fallen rails in this Grand Prix, riding Explosion W (Chacco-Blue). With a large lead, Peder Fredricson and All In's (Kashmir van Schuttershof) two faults in this event didn't jeopardize the World No. 1's position! "I'm very happy; I will definitely remember 2021. It was a fantastic year. It's one thing to win a competition but to win this circuit you must be good all season. I have some amazing horses and I'm very grateful to their owners who keep them for me," he said. Indeed, what a season and what a day for the Swede. A few hours earlier, he helped the Valkenswaard United team win the Global Champions League team championship!
Henrik von Eckermann and Olivier Robert's final performances allowed them to finish second and third this Global Champions Tour (GCT) season!
Featured photo: Sportfot.com