Henrik von Eckermann wins the Equita Masters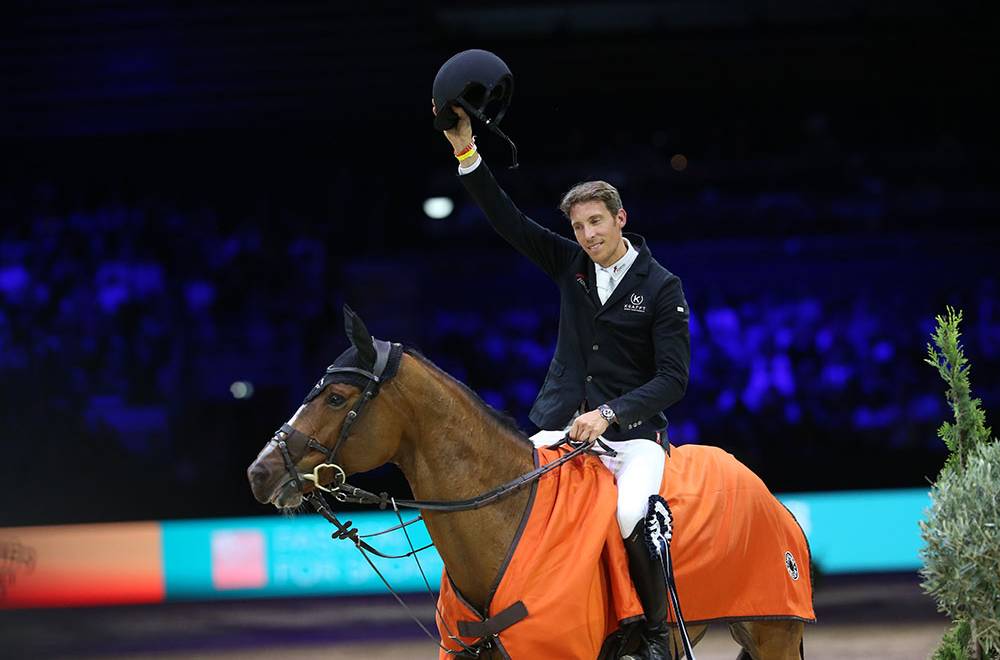 31 October 2021
In Lyon, the Saturday evening event was held in front of a full house: There were 20 riders in the first round and the 10 best combinations made it through to the second round! But contrary to the previous day, clear rounds were not as frequent with only five combinations going clear and two penalized by going over time.
Petronella Andersson and Halita O
After her great performance the day before, Sweden's Petronella Andersson was again present, this time with Halita O (Eldorado vd Zeshoek), out of a maternal half-sister of Randgraaf, Philippe Rozier's former Grand Prix horse. Penalized by one fault for going over time, she settled for a clear round in the second round.
Holly Smith and Denver
After her magnificent second place the day before, British rider Holly Smith also found herself caught out by the time and without taking too many risks, she secured a better time than the Swede, while waiting to see the results of the other competitors with her faithful mount Denver (Memphis).
Mathieu Billot and Lord de Muze
Mathieu Billot was the first of the five to start. The Normand rider attempted a very tight turn, but Lord de Muze (Nabab de Rêve) couldn't avoid having a rail. Lyon was a real family affair this week. The day before, there were two offspring of the Holsteiner mare Laska III (Caretino); Gracieux du Pachis and the SBS approved stallion Tinka's Hero, who placed 8th that morning with Simon Delestre in the 1.50 event. This Saturday, it was Cordula de Laubry who was in the spotlight since the dam of the stallions Fantomas de Muze and Lector vd Bisschop was represented here with Lord de Muze, but also the very nice Malissa de Muze (Vigo d'Arsouille).
Max Kühner and Up Too Jacco Blue
Austrian rider Max Kühner was the first to achieve a double clear with Up Too Jacco Blue (Chacco Blue): 42.16 seconds, our first reference time.
Christian Ahlmann and Mandato vd Neerheide
In full confidence after a sumptuous first round, Christian Ahlmann attacked the course with Mandato vd Neerheide (Emerald van't Ruytershof), but the German also tried the same tight turn as the Frenchman and the verdict was identical: 4 faults!
Nicolas Delmotte and Citadin du Chatellier
Nicolas Delmotte seemed to hold the key to making the Austrian tremble with his fast mount Citadin du Chatellier (L'arc de Triomphe) but there too, a rail fell!
Henrik von Eckermann and Glamour Girl
There was only one protagonist left to try and shake Max Kühner: Henrik von Eckermann was present, and he didn't want to miss out on the chance with Glamour Girl (Quamikase des Forêts). Their course was magnificent, fast, and above all, clear! More than three seconds better than the Austrian. The Swede did not disappoint!
"I'm very happy tonight. Yesterday, I was really angry because I had come here with this mare for this event, but I ended up 21st and first unqualified. My stable is only composed of four horses, including an 8-year-old who still has to get used to the job: I have to preserve my horses and choose my events well. I was therefore all the more disappointed not to be qualified for this event, then finally, this morning, I received the green light to ride, and I told myself that this really must be my event! Over the last few years, I've had some great results, some great wins, but mostly I've had a lot of second placings. This year, that seems to have changed. I've won several times (editor's note: at the Olympic Games, in the Grand Prix of Samorin last week, and others), and I don't think I'll ever experience a year like this again. There was probably a trigger, but nothing has changed in my everyday life. I'm very lucky with this mare with whom I have difficulty taking my time, but who always jumps better when asked to accelerate. It's really a luxury problem," explained the Swedish rider.
Having placed second in the Grand Prix and third in the Equita Masters, Holly Smith and Denver had an incredible weekend: "Yesterday was incredible because I rode the fastest round I could by starting first and thinking I was going to be beaten and in the end, only Scott Brash did that by starting last. This second place by starting first in a competition like this, was unhoped for. The situation was very different today because with one time fault, I just had to go clear again by ensuring a better time than Petronella. It was positive because I didn't have to ask her to go too fast since Denver also has to jump the World Cup event tomorrow! It's a very busy weekend for him but he's the only one I have to jump such events and we don't get to jump in a competition like this every week! I felt he was in great shape today. He's a horse with a lot of blood and quality, the more he jumps the better he jumps," said Holly Smith.