Hello again Scott Brash !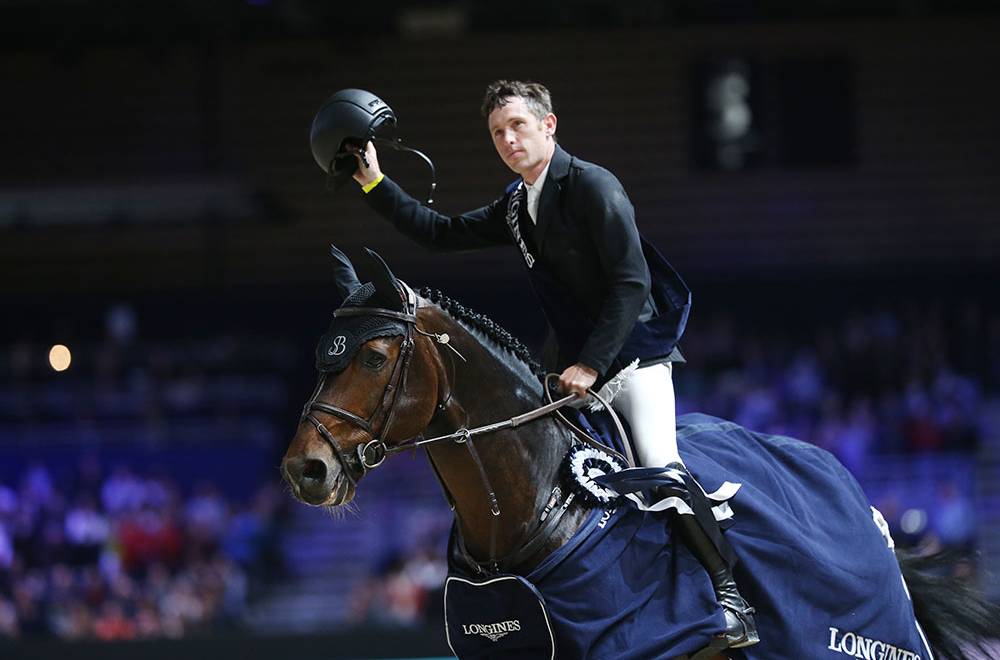 30 October 2021
The first big event of this weekend's CSI5* in Lyon turned into a fight between the two British compatriots, Scott Brash and Holly Smith. Always at ease in the Equita arena, it was Scott who finally won with Hello Vincent.
Megane Moissonnier and Cordial
The public gathered in large numbers last night for the first highlight of the weekend in Lyon: The Longines Grand Prix. What was at stake in this event? The 20 best horses qualified for the Equita Masters, the traditional Saturday evening event, and 11 also secured a ticket for the World Cup Grand Prix. Among them, the young Mégane Moissonnier with Cordial (Casall) that she has been riding for two years despite a few months' break. "Cordial was sold to a young German rider in February 2020 just before the pandemic, but she didn't take him out to competitions and following the containment, she decided to resume her studies. She sold all her horses except for Cordial, which she kindly entrusted to me so that I could ride him again without any particular commercial objective. It's perfect for me," explained Megane. Since then, the pair has competed in their first 5* Grand Prix in Valencia and then Grimaud, and they are making an impression. He was no exception yesterday with another clear round and just four faults in the jump-off. "Today, he has come and taken back his role as number one in my string, I'm very happy. Riding here in Lyon, in my region (editor's note: she comes from Ain, a few kilometers away), puts a little extra pressure on me because you know that there are lots of people watching you, but it's also stimulating to be at home, to have the public behind you... I love Equita Lyon. So obviously, to do a clear round in a Grand Prix like this is a first for me and it's all the more pleasing here. I have nothing to regret with the fault at the last obstacle of the jump-off, the horse was a bit tired." Nothing to regret indeed since her time wasn't good enough to allow her to hope for victory. She is nevertheless qualified for the Sunday Grand Prix. "It will be a first for me and I'm looking forward to it. Until then, I will leave Cordial rest."
Petronella Andersson and Castres van de Begijnakker Z
It was necessary to take lots of risks in the hope of winning. Although the Grégory Bodo-designed course seemed to be quite large at the time of the course walk, 19 combinations qualified for the jump-off. Holly Smith was the first to start with Denver (Albfuehren's Memphis). After winning the first event of the day, the British rider was ready to do it again. From the start, she managed to come in under the 35 second mark, a feat that few were able to surpass.
Holly Smith and Denver
Even the riders who are reputed to be the fastest on the circuit found it hard to counterattack. Julien Epaillard and his Billabong du Roumois (Mylord Carthago), winner of the St Lô Grand Prix last weekend, started off swiftly, perhaps too much, and the two rails of the double fell. Denis Lynch managed to do better in terms of time (34.07 seconds) with Cristello (Numero Uno), but they hit the penultimate vertical.
Scott Brash and Hello Vincent
At the very end of the event, only Scott Brash was still able to beat his compatriot. "It's clear that as I was last to start, I wanted to win... But we've seen other riders hitting rails when trying to go fast. I think that in this case, you must stay focused on your own lap. I was hungry for a win but focused on executing my plan." Scott is a regular winner in the Lyon arena as he won the Equita Masters in 2018 and 2019 with Hello Mr President and Hello Shelby. This time, it was with Hello Vincent (Consul DL Vie Z), born Coquin de Coquerie Z, that he won. "Vincent is an incredible indoor horse: he stays so cool in his head; he lets me ride him without being distracted by the atmosphere. I knew we had a chance tonight... Like every time he jumps because he's a very talented horse that could become a championship horse, he has the qualities. I'm lucky to have two horses from the same generation that are quite incredible. We acquired them almost at the same time and we finished training them. They had great qualities, but they weren't the easiest. Nevertheless, I think it's our job as riders to allow them to refine their skills. They were born with incredible abilities, and it's our job to create a good partnership with them to allow them to shine at the highest level. I'm truly privileged with horses like these." Between now and the World Cup Grand Prix, which he will compete in with Hello Jefferson (Cooper vd Heffinck), the Scot will put his cup back on the line in the Equita Masters with Vincent.
With Julien Counet. Photo credit: Julien Counet