Harm Lahde's dreams come true in the 7YO!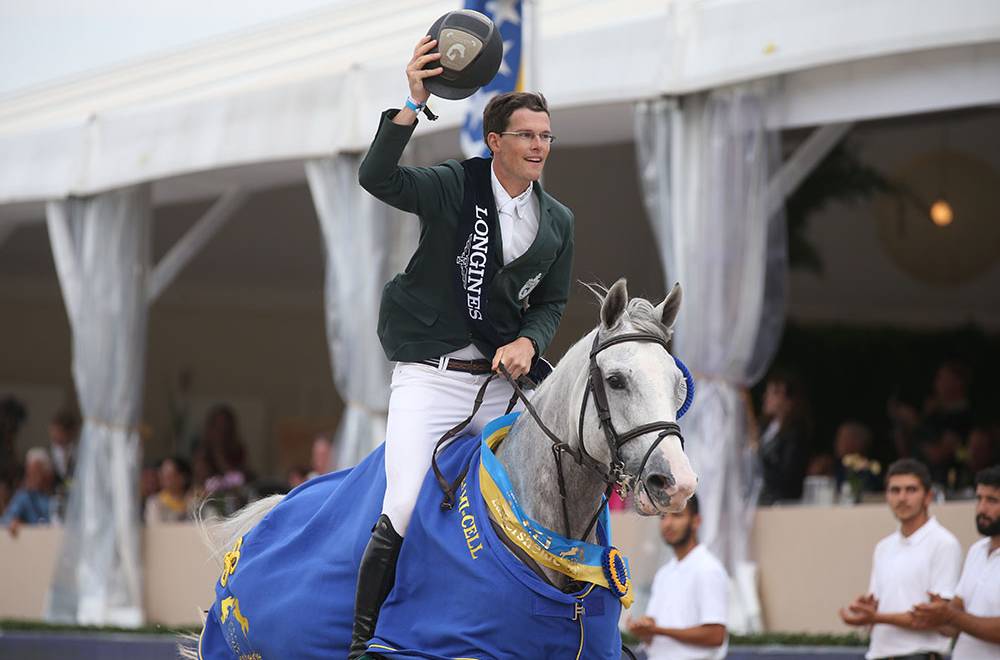 10 October 2021
In the last final for the 2021 edition of the World Young Horse Championships in Lanaken, 41 7-year-old horses were ready to fight it out. However, there was quite a course and a tight time ahead of them, and only Eugène Mathy held the secret.
Several of them came close to a clear round with Stephex rider Kendra Claricia Brinkop notching up four faults over the last obstacle on her mount Origi Horta, a son of the Sires winner Kasanova de la Pomme with former Stephex Stables' star, Irenice Horta.
Andres Vereecke and Ona vd Begijnakker (Comme Il Faut) experienced the same disappointment. Ona is a full sister to Janne Friederike Meyer's former champion Goja vd Begijnakker, and Petronella Andersson's new star Castres vd Begijnakker. It was an obstacle that also shattered the hopes of Nicola Philippaerts and Extase de Ste Hermelle (Uto Kervec).
The Philippaerts brothers weren't far from the jump-off, but the disappointment was maybe made greater for Olivier who was deprived of a final run by four hundredths of a second with Odiena van Berimar.
There were only four combinations in a jump-off that was full of promise where nobody had anything to lose! Italian rider Antonio Campanelli was the first to start with Diniva (Baloubet du Rouet) and tried his luck, but he couldn't avoid two rails.
Dominique Hendrickx then started with the Selle Français Etundel de Marocy (Diamant de Sémilly), who is co-owned by the two great Belgian traders François Mathy and Gilbert De Roock. He attacked the course but can't avoid a fault over the Z obstacle placed in the penultimate position.
"I thought I had a great chance of winning today. I tried, but unfortunately it wasn't my day. He had already jumped very well the first two days. Today wasn't easy, the time was tight. I think he deserves a nice holiday now," said the Belgian rider.
German rider Harm Lahde was particularly motivated with his KWPN Just A Dream (Quamikase des Forêts aka VDL Zirocco Blue). He achieved the first clear round with the best time so far: 39.30 seconds!
Gilles Thomas is the man of the weekend, chasing after a third podium placing in three days! However, the day before, he had said that a podium on Sunday would be an exceptional result because he had discovered his mount, J. Comghorla van Beek (Commme Il Faut), in Lanaken. So this final was already a great goal in itself. The young man did his best and succeeded in securing a double clear round. However, he could do nothing against the German: after two bronze medals, Gilles Thomas took the silver this time for a third podium in three days, at the age of 21!
"Here, I think the credit goes, at least as much, to Hilke Mouws who rode the horse throughout the season. She trained him but at the Belgian 7YO Championship it turned out that it was bigger than what she usually jumped, and she wasn't very comfortable. So, as I already ride other horses for the same owner, I was asked if I could ride the mare. When I tried her, I thought she was nice and during the week here, I saw that she was really good. Today in the final, I really felt that she had the ability to do great things. I'm really happy for her breeder because he's really an incredible person. There are people who use stallions because they are well-known. He has watched the finals all day and he's already thinking about a youngster that he likes, or the sire of the horses that he marked to use next year. He really lives for this. I think that now, the mare deserves some rest and then she will come back home for the rest of her career," said the weekend's triple medalist.
The new World Champion was particularly happy after his title with Just A Dream (VDL Zirocco Blue): "I'm delighted, especially as this is my last appearance under Gestüt Eichenhain's colors. To be honest, I didn't expect to go clear. She's a real fighter and time isn't a problem for her. She's not an easy horse but I really wanted to try, I didn't want to have any regrets and it paid off today. We bought her last year and she has already won a lot on the international young horse circuit; I really want to thank Judy Ann Melchior and her team. After the coronavirus, it's not easy to organize such an event. But here, it's like no one had any doubts and it was a no-brainer for everyone, including the sponsors, to be there. It's really fantastic," concluded Harm Lahde