The Haras des Coudrettes to organize their first breeding sale.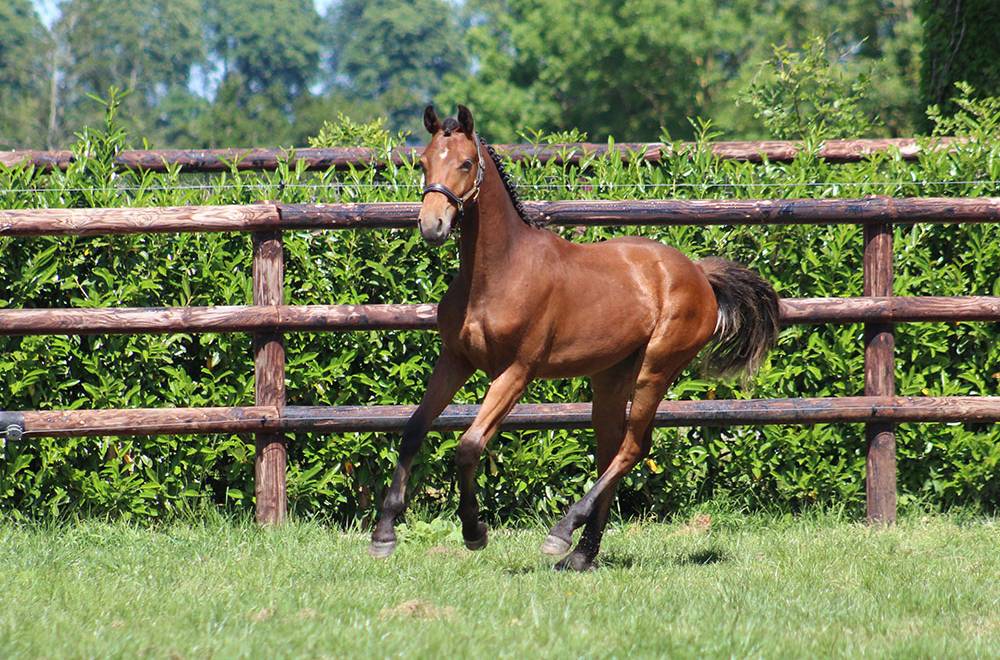 02 July 2020
From July 9 to 11, the Haras des Coudrettes will offer 18 horses for sale for the first time, including many of their own breeding stock, in an online sale in partnership with Arqana.
"For the past four years, we have been producing almost 15 foals a year, and I want to keep our breeding program small. So, we don't have a choice: we must sell. All the more so as we're professionals now and the different departments of the business must therefore be able to finance themselves. The idea came up to create a framework for a sale by doing things differently. In recent years, I have had the unfortunate experience, while buying at different sales, of finding that the horse I saw on the evening of the sale and the one that arrived in my yard did not show the same qualities and had often been traumatized. Those who know me know how important animal welfare is to me. As we spoke with other buyers, we realized that we weren't the only ones who had this in mind, so I wanted to organize a sale where people could see the horses as they are and as they will have them at home. The 2-year-old horses jumped 1.30m and the 3-year-olds jumped 1.40-45m.
Iyad Express (Orient Express x Del Pierro P&B), Ayade de Septon's grandson.
In fact, at our place, the horses are distributed between two sites. They are born at Les Lys and grow up there until they are two and a half years old, when they join the Haras des Coudrettes. For the sale, we took the horses from Les Lys to Les Coudrettes in groups of two or three and they all stayed there for just four days! We groomed them on the first day. The second, we walked them. The third, we let them loose in the arena and they jumped a crossbar. On the fourth day, it was their big day: we plaited them, jumped them and presented them in hand. So, you can see them as they really are at home. I'm convinced that we need to change the sales model, but maybe our model is too forward-thinking. We'll see at the end of the sale... but I'll do it again anyway, because I'm sure that's the right way to do it.
Of course, I've also often been asked about how we made our selection for the sale. For me, by organizing this first sale, it was a way of presenting our work from the last four or five years. I therefore have no interest in organizing a sale of horses that we no longer want, quite the contrary! However, what I have done is to offer horses for sale from which we already have several offspring, and often even two or three of their own siblings. I want to do things right... but I'm not craving something big. Here you can find offspring from all of our lines, except for Silvana, from whom I said I would only ever sell one of her progeny; which is what I did at the Fences sale last year. This is a choice that I have made because Silvana is no longer young, and we only have a limited number of foals from her; which is also the case Ornella Mail. Nevertheless, we have all our other lines available, including Ayade de Septon's line, who fills us with joy because she is a very prolific producer, and I'm only offering an embryo of hers by Orient Express for sale because I already have several foals from them.
We put our heart and soul into this sale and my greatest success would be to see amateurs trusting us by coming to buy their future heart horse.
Being from Normandy, the collaboration with Arqana was obvious. We had been in contact on several occasions and we twice came very close to investing in a part share of a thoroughbred, which will happen someday. I wanted this sale to be done through local actors to complete the picture and now that is being done," explains Emmanuèle Peron Pette.
Emmanuèle Perron Pette on Call Me Express whose own brother is part of the catalogue.
Among the 18 lots offered for sale, three will carry the genes of Ayade de Septon. An embryo by Orient Express from this great international winner, as well as one of her first daughters, Eliade de Septon and one of her grandsons.
You will also find two lots by Patrice Delaveau's star, Carinjo, out of the former 5-year-old French Champion, Tallyne de la Pomme (Parco x For Pleasure), granddaughter of the famous Fragance de Challus.
Most of the best French lines are also present at this sale, with the lines of Loripierre, Bourrée and Baloubet du Rouet, and even foreign lines with the line of Via Volo vd Molendreef, to name but one.