"A growing awareness of the importance of innovations in our sport " - Christophe Ameeuw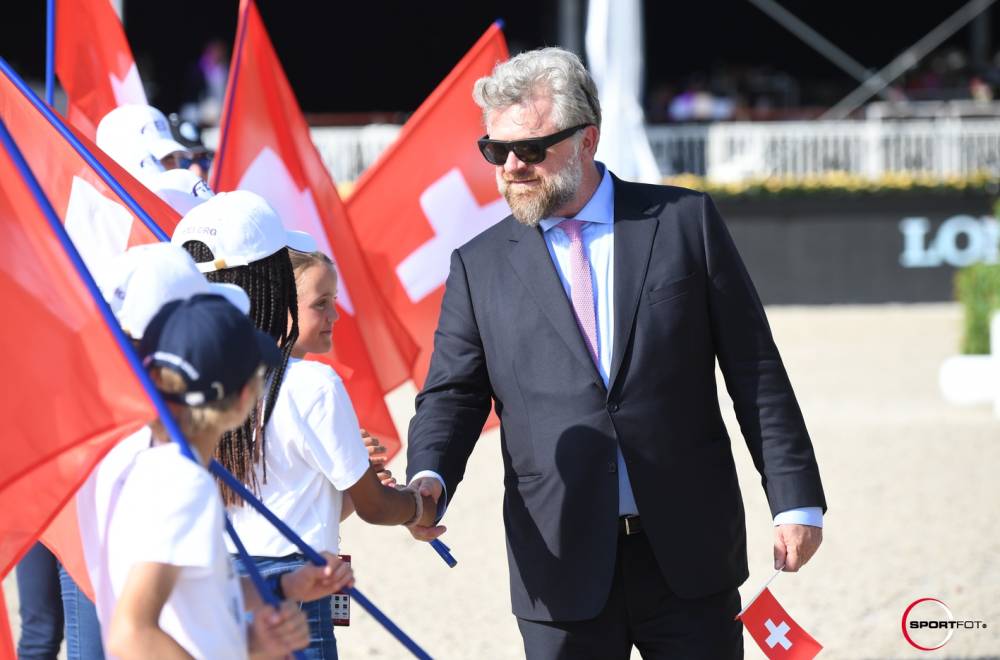 07 May 2019
Christophe AMEEUW, founder and CEO of the Longines Masters Series can be proud of the success of the final New York stage. But how did this circuit come into being, and why is showjumping at a turning point in its history? The Belgian businessman talks to Studforlife in an exclusive interview.
CAN YOU TELL US ABOUT YOURSELF AND YOUR RELATIONSHIP TO THE HORSE?
"I think I would define myself as a great dreamer with a lot of impulsiveness. If you don't dream and you're not slightly impulsive, you can't get involved in Dantean projects like the Longines Masters. I am above all a man of horses, more a farmer than a gentleman, and I have always wanted to promote equestrian sports and make them known to the greatest number of people with the exceptional values they represent. So the only way was to get into the event business and place the sport in the spotlight to reach a new audience. Burying your head in the sand, at your own private garden parties with the small, elitist and inaccessible equestrian community is not the right way to get people talking about equestrian sports and to develop them. In my own way, I have embarked on the adventure. It has almost become an obsession, and we are achieving it in Asia, in Europe and in the United States too. All this takes time but I think that the professionals of the sports world are starting to realize the potential and the capacities of show jumping. The equestrian world is, like the values that we profess in this industry, a little more cautious and will perhaps understand the importance of what we do when I am no longer here (laughs)! In any case, the transformation has already been begun a long time ago."
SO YOU HAVE ALWAYS HAD A PASSION FOR EVENTS?
"As I told you, I always wanted to put my sport in the spotlight and give it credibility, so I asked myself how I came to be interested in the sport. The answer is that one day, my parents took me to the famous Brussels international competition, which wasn't just jumping but THE jumping event. Families came en masse, the audience was receptive, the national channels broadcast the competition, everyone was meeting in Brussels for this really institutional jumping. I was right on the edge of the paddock when I saw Nelson Pessoa, Eric Wauters, Axel Verlooy, all these great riders who made whole generations dream. I could also see the public stomping their feet in the stands at the Friday night Power event and standing to applaud the Grand Prix winner. In fact, the arena was called the "Golden Track"! It was all of this that one day made me want to get my foot in the door. So I came back to the idea that the sport had to be staged to sell it, to make it credible. It does indeed involve changing formats and adapting, as it has happened in all other sports."
HOW DO YOU ANALYZE THIS NEW EDITION OF THE LONGINES MASTERS ON THE AMERICAN CONTINENT?
"The outcome is simple. If we compare our European stage in Paris, which has been going on for ten years, and the Asian one in Hong Kong for seven years, there is still a long way to go. Here's a specific example: a person who has unfortunately been in a wheelchair all his life, one day manages to get up and walk five steps, this is a huge victory. Honestly, the American market works like that, and I really believe that we have taken a big step this year, by sending a message to Americans, and showing them what an equestrian event in New York City, the city of all possibilities, one of the biggest in the world, was like. And as Frank Sinatra would say, if you can do it in New York, you can do it anywhere and the sky is the limit, this is how difficult the American market is.
Our partners follow us 300%, they understand the potential and believe in this beautiful sport, while knowing the complexity of the market. They also know that in a few years' time, everything might take on an extraordinary dimension, which will be much more important than in Europe or Asia, because that's what America is like, all or nothing! When it works, what we're already starting to feel here is a completely different dimension of what we traditionally know."
ON SATURDAY WE ATTENDED AN ENJOYABLE EVENT, THE MASTERS CUP RIDERS. DOES IT REPRESENT THE WHOLE FUTURE OF OUR SPORT FOR YOU ?
"It's the future of the sport, we want to connect a new audience around this world. The only way to create a new community around the horse is to give a sport that is accessible, understandable, exciting, and passionate. The Masters Cup has been developing in many sports to great success, like golf for example. Since the dawn of time there has been a battle between Europe and America. We have a chance in equestrian sports since American and European riders have always fought for Olympic and world medals, so yes, this format will work, everyone wants to support their nation, their flag, their national anthem. When you watch the Olympic Games, we are all the same. We may not know a sport, but we feel that thrill when an athlete wearing our colors performs.
However, I would like to make one thing clear. If the foundation of our sport, which is its community, does not realize that these new formats are the future, they will literally be shooting themselves in the foot. They have to be very careful. America has lost the Riders Masters Cup for the fourth time and it really is time to realize the importance of innovation in our sport. I don't know if they realize that we were broadcast in 120 countries, reaching 320 million homes. The world is watching them, so I sincerely advise them to play the game."
HOW DO YOU SEE THE EVOLUTION OF EQUESTRIAN SPORTS IN ASIA?
"We are also developing equestrian sports in Asia. The Riders Masters Cup's format, for example, would not be relevant on this continent now since the two biggest equestrian "nations" are the USA and Europe. Asia is still a few years away from having many great international riders. We are now starting to build the foundations and prepare them for future battles. We are not afraid to take the challenge and we have time ahead of us. In Hong Kong, we have developed the Asian Challenge, an event specially designed for future top riders.
We are following all this very closely with the Hong Kong Federation and the other Asian federations, the Hong Kong Jockey Club and the International Equestrian Federation. It is a key priority for all of us that Asia develops in the best possible way in equestrian sports."
THE LAUSANNE LONGINES MASTERS 2019, YOUR FIRST OUTDOOR COMPETITION: STRATEGY OR OPPORTUNITY?
"It's a very good opportunity that has been created in Lausanne, and I'm sincere about that. First, I think it's very important that we develop the number of stages on our circuit to create synergy all year round, and by sharing with each other all year round. If we can afford to expand our circuit, it will be beneficial for our communication, our sponsors and obviously for equestrian sports without any exaggeration. Our new stage in Lausanne brings together all the ingredients. First Switzerland is a neutral country and always a privileged destination. Secondly, we must not forget that the best riders in the world are from Switzerland. There is a real culture of show jumping, medals and an excessively interesting knowledge of equestrian sports. Above all, Lausanne is the headquarters of the International Equestrian Federation and the Olympic Committee with all the Olympic sports federations. Our event will take place during the Olympic week and all members of the Olympic Committee will be present. All the ingredients will be there to place our sport once again in the spotlight, not only in the world of equestrian sports, but in the world of sport in general.
I've always been a strong supporter of indoors competitions since that's where you manage to concentrate the audience around the sport and the show- with sound and light for example! For these reasons, indoor competition is a concept that I find absolutely brilliant. We must not stop ourselves from developing so I am open, I adapt and if there are great outdoor opportunities to join the Longines Masters circuit, they will be seized."
Interview by Théo CAVIEZEL. Featured photo: Sportfot.com