Grégory Wathelet is concentrating on the future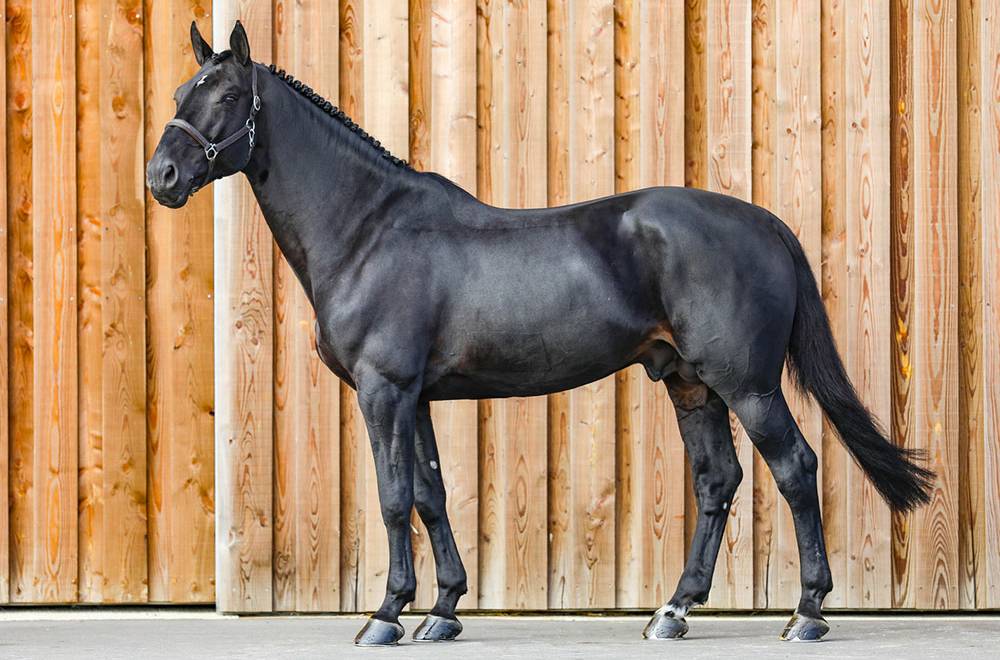 04 April 2020
Like everyone else, Grégory Wathelet is biding his time and taking the opportunity to complete his rehabilitation. His main horses will take a long break, and, against all odds, Nevados and Iron Man vd Padenborre will be available for the breeding season.
"We have a huge chance at the stables because a lot of the people working here are also staying here, so we are all living through the containment together without any real change. The only outings I allow myself are my appointments with the physiotherapist with whom I have been working for several hours a day since my fall, and going to buy bread for us, my parents and grandparents. I go out very little, I've become a homebody, but we can't complain. I think that nobody was prepared for what we're going through now, and I'm afraid that unfortunately the competitions won't resume for some time. I hope that we'll be lucky enough to be able to do national competitions between now and the Summer, but for the internationals, I have a lot of doubt.
Nevados S (Calvados Z x Romulado), a member of the Belgian 2019 European Champion team.
During the year, we often go to competitions for 3-4 days with only two horses, which makes for very quiet days, but now, we have all that time to spend here. It's been two or three days since I started riding like I used to but I'm not going to ride more than seven or eight horses a day. So far, I have taken advantage of this absence from competition to ride only three, four horses a day and not to push myself too much. Obviously, to go to Doha, I pushed myself a bit. I had to make the choice quickly whether I would ride or not because the other horses of the Global Champions Tour team I ride for were in the USA. I had to decide to either ride, or to have some of my teammates' horses repatriated from the United States... So, I chose to ride, but once this decision was made, I had to get there. I worked hard with my physiotherapist, Noel Lutgen, who is fantastic. He gave me two or three hours of exercise a day. Now we'll see in a few months if I'll pay for it because I've been told that there's a risk I will. There was still a ruptured ligament, a fractured shoulder... and three weeks later I was on horseback. Now we're at eight weeks, and that's when I should have started riding again. However, I have taken some time to go and see how we were going to place the new fences, even though with my shoulder, I can't help putting the posts in yet unfortunately. But I'm planning them out with everyone, whereas normally, as I'm always in a rush, I would have settled for a little sketch. I'm also taking time to go and see the foals, and watch my young horses jump with my stable rider. It's also so nice to get home at 5pm, which is usually unthinkable.
For the first ten days, I continued to work horses like Nevados and Iron Man, who had already had a rest during the winter (they were about to start competing again in 's-Hertogensbosh... but they had to turn back on the highway). But when it became clear that it would take much longer than many were expecting, I adapted their programs. We decided to make Nevados and Iron Man available for the breeding season. I could never have imagined this at first, but they are now available via fresh semen, and we'll take advantage of this time to stock up on frozen as well," explained the rider, who had just secured Nevados with a few investors to keep him in his stables.
Melia de Regor (Elvis Ter Putte x Cento x Nabab de Rêve x Chin Chin), Qerly Chin's great-granddaughter.
"My four main horses: Nevados, Iron Man, Indago and Full House wern't going to be going back to competition right now anyway. Spike had a small injury and was a bit at a standstill anyway, so we'll just keep these horses in good condition. They'll alternate between flat work, the canter track, the paddock... and the phantom for the two stallions. I think it'll be time to start them up again in a little while, but I don't think it will be tomorrow. I'm also going to send Melia de Regor and our Belgian 7-year-old Champion, Argentina de la Marchette to do some embryo transfers, even though I'm going to continue to ride them just as I am doing with the ones I took to Oliva and the ones I should have taken to the Sunshine Tour: Ace, Cocktail de Talma, Moonlight and others. I jump them enough at home to test them, bring them on, or to get them back on track. With these horses, I don't want to waste too much time, I want them to keep progressing. They jump twice a week, either by doing small exercises or by doing small courses. Not particularly high, today I jumped a 1.35m course with three of my eight-year-olds, including Carleyle and Cool Girl d'Ick, who I started competing in Oliva (editor's note: she's none other than the sister of the star performer A Big Boy). They don't need to jump high, but they do need to keep to a rhythm. These are horses that need to get a little bit of mileage because we don't know when the competitions are going to start back up again, but we're all hoping that the national competitions will be able to start again first... even though we don't know if it will be in June or August! For me, these horses need to work. They're not like our experienced horses for whom there's no point in jumping them at home. They'll have to wait until we have more details about the return to normal before they see a pole again. I think this long break will be beneficial for some horses, but others need to stay active.
Argentina de la Marchette (Acajou de la Marchette x Del Pierro P&B), the 2019 Belgian 7-year-old Champion "made by Wathelet".
They're a bit like us at 40, when we get up in the morning, there are times when there's a bit of back pain, a bit of knee pain... which we didn't really have at 25. When I get back in the saddle after a few weeks without riding because of an injury, I'm obviously a little bit stiffer. I think it's the same for the horses. Nevados and Iron Man hadn't jumped since Geneva and had already had a rest. Nevados had a perfectly planned program to go to the Games. The only difference was that I had decided to send Iron Man to vacation at Philippe Le Jeune's because I thought the sea might have done him some good and then, one thing leading to another. I had also asked Philippe to ride him a little bit to get his feedback and expertise on the horse, thinking he would have another approach and some ideas. I think that he's a very good horse and has done some good things last year, but he's sometimes a bit too inconsistent.
I thought that because I had been riding him for several years myself, I might have been missing something. So I wanted to get another opinion... then things followed on from one another and with my injury, I asked Philippe to compete him and he rode him in a 2* in Lier. Of course, there was no miracle, you can't transform a horse that much, but I think Philippe confirmed my thoughts that he was a very good horse. Sometimes you can start to doubt yourself when you have a horse who has placed second in the Bordeaux World Cup, fifth in the La Baule 5* CSIO Grand Prix, and then three weeks later, he has a bad Grand Prix. You start questioning yourself. It's nice to have someone who comforts you and gives you some ideas to try. What's more, Philippe has nothing to prove and he has already ridden this type of horse in Nabab de Rêve and Vigo d'Arsouilles, great horses with strength, a bit of a funny mouth, horses that he improved quite a bit. This is the type of horse that he can give really good advice about. When I went to watch the horse, I jumped him with Philippe. He helped me and gave me a couple of ideas... now, practically, we'll see how we go on course... and that, unfortunately, won't be tomorrow. I don't know if we'll have the possibility of working together again. We haven't discussed it because things with us have come about in a very natural way and have followed on from each other. It will mainly depend on how much time we both have."
Iron Man vd Padenborre (Darco x Chin Chin x Fantastique) is a son of a maternal half-sister to top performer Tortonto vd Padenborre and the famous Pin Chin, herself a top winner, but above all, dam to the star Up and Down vd Padenborre and the international performer, Socrates vd Padenborre.
For Nevados, the postponement of the Games doesn't change much. He'll turn thirteen next year, so he's in his prime. If I can get him in shape this year, there's no reason why he shouldn't be in shape next year. We all know that in Belgium, the level of competition is very high and that we'll have to fight it out until the last moment for a place. Now, I don't have any pressure. Initially, with his former owner, the idea was more to keep him for the Games and then sell him, now that we have managed to secure him, the question no longer comes up. We're just a little disappointed that we bought a horse to show... right when there's no more competitions. But that's the way it is. He'll be competing this year, and will focus on the Games next year, when he would have done the opposite otherwise. In any case, this postponement of the Games is an indisputable and unavoidable decision. In my case, it doesn't change much, but it may change more for others. I may have one or two horses that will mature and maybe they'll be more likely to compete with the others. Nowadays, we have to be realistic: today's Belgium is not the Belgium of ten years ago, when we were just happy to find four combinations to go. That's the reality, I did the London Games with Cadjanine. Let's put it this way: if I had Cadjanine today, I would have no chance of going, because Belgium is much stronger, and we have much stronger horses now. Some horses that had their chances before, wouldn't have it today, and there are some top horses that have had their chance now, but will have to stay at home! We will see if other horses mature in the meantime. Another year is a long time. A lot can happen.
I assume that for me it will be difficult to combine a fresh semen breeding career with a top-level competition career. We manage to arrange rest periods for them to be frozen. These are career choices that are made according to the owners' requests, and breeding is one of the demands placed on stallions. We all know that a horse that covers thirty mares, and a horse that covers three hundred, is not at all in the same profitability range. The original idea was to build up stock so that we could rest easy for the future, but this break will allow us to distribute fresh semen also... which is something I've never done before, at least for Iron Man and Nevados. We know that a lot of breeders like fresh, especially in Belgium. A horse that only offers frozen covers half as many mares. We will be working with centers as we've always done, the Haras de Hus with whom I have been working for years, as well as France Etalons in France, Klatte in Germany, then in Belgium, Christian Liégeois, Pierre Paindaveine, Equimedic, Twinkeling and Keros. They are the ones who will manage the bookings. I think Nevados will bring a lot of quality to his offspring. He's a genius and over an obstacle, he's very respectful and will pass his technique on to his offspring. In my own breeding, I still don't have enough to go on because I only have one two-year-old and the others are only yearlings, but the videos I've seen over the last 5 years assure me that he's going to pass on his quality. He's a very sensitive horse, a little delicate, and I think that with a mare who has strength and size, he'll bring everything that's needed to the pairing. I have a lot more insight into Iron Man's offspring, having used him a lot simply because I was already his co-owner! I've already seen some very interesting 4, 5 and even 6-year-olds, and I think that he hasn't yet had the best broodmares. Even though he has covered a few less mares in the last few years, he still produces very promising horses. Contrary to what everyone thinks, he passes on a lot of blood. Even Philippe, the first time he rode him, told me right away that he thought he had a lot of blood and that he was very sensitive. Everybody has the impression that he is a heavy, slow horse, but that's not the case at all, sometimes he even has too much. He will also bring strength and body... but if mares lack blood, it's not an issue."