Grégory Wathelet celebrated his Belgian medal with his team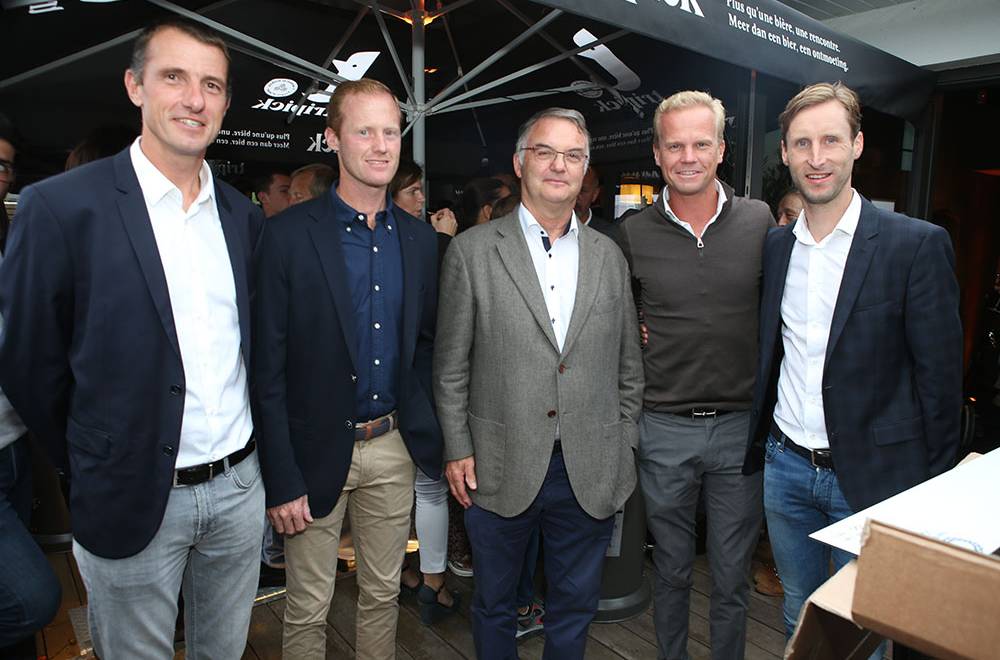 24 August 2021
The four Belgian musketeers and their captain have been celebrating since their return to Belgium... even though they have already successfully returned to the competition ring. Having placed fourth in the 5* Grand Prix in London last week with Faut Il des 7 Vallons (Comme Il Faut), Grégory Wathelet took ninth place in the 5* Grand Prix in Valkenswaard this week with Cockatil de Talma (Baloubet du Rouet) before winning the 2* Grand Prix the next day with one of his latest recruits Berline du Maillet (Berlin), who was making her debut at this level.
Though all of the Belgian team was present, Grégory Wathelet didn't forget Yves Vanderhasselt who should have been part of this adventure had it not been for his mare's withdrawal a few days before the start.
The former Belgian Champion, a double medallist at the European Championships, didn't fail to invite his most faithful owners who have accompanied him since he began such as Robert Bragard, Nadine Motmans and Bernard Dandrifosse, who are always present at his side, as well as all the coaches who have allowed him to become who he is today such as Hervé Daout, Félix Brasseur, Fabrice Kettmus, Lionel Collard Bovy and Frédéric Pirmolin who still accompanies him today.
Only a few weeks after his arrival, little Théo Wathelet was also present with his mother Pauline Delaunay to celebrate his father's medal... and he didn't fail to get just a spoilt as the latter by guests.
Above, the RTBF journalist Pierre Deprez was present while Michel Guiot and Maxime Denis of the Haras de Talma had come from Champagne-Ardenne for the occasion.
Grégory Wathelet can always count on his most faithful friends such as Benjamin Lambillotte (above). A Wathelet stables' rider, Manuel Thirry, also found his trainer Gilles Botton here, accompanied by François Bossu (below).
Gregory Wathelet's strength also lies in knowing how to bring people together and create relationships around a project as happened with the "rescue" of Nevados, who was put up for sale by his owner. A consortium of owners committed to the cause of the Belgian rider now enjoys their sporting thrills in Switzerland, Germany, Norway and elsewhere.