Grégory Cottard - a rider back in shape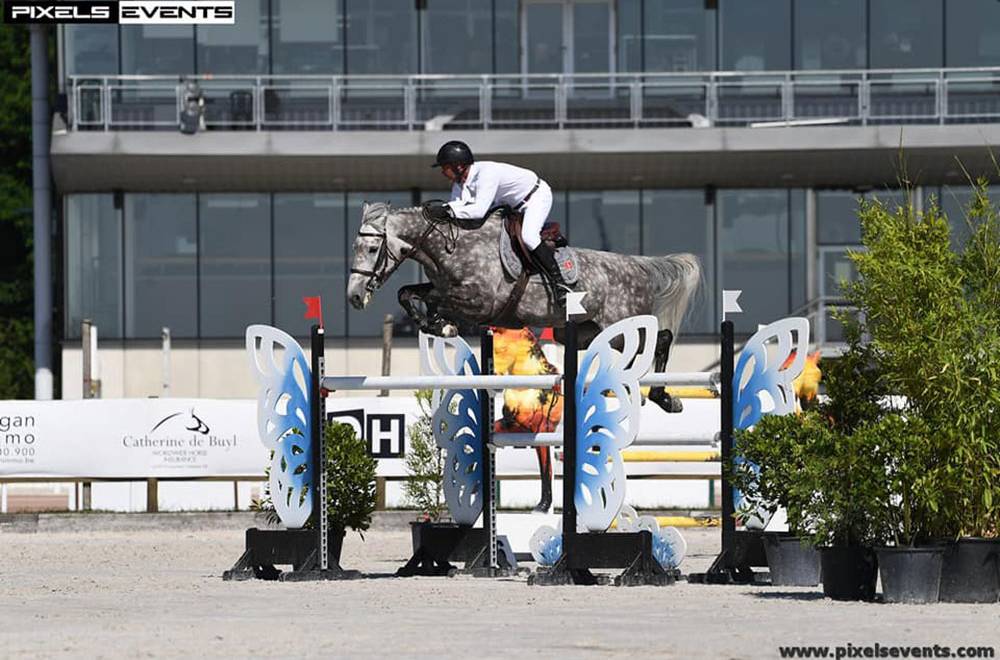 02 July 2019
Studforlife: You had great results this weekend...
Grégory Cottard: Yes, I'm very happy. It feels good because I've been less competitive for some time. I haven't competed much as I haven't had enough horses. As soon as you run out of horses, you immediately have less success, which is often accompanied by people questioning your ability. After this weekend, I've been feeling good again, finding happiness. I'm getting my bearings back. I hope this continues.
SFL: Who is in your current string of horses?
G.C.: I can count on Bibici (Norman Pré Noir), who has become my lead mare after Urhelia went to Kevin Staut. She's 8 years old and she took 5th place in the Grand Prix this weekend. I'm throwing her right in the deep end. I also have Régate d'Aure (Robin II Z), but her performances are less consistent, and I need to restore a climate of confidence with her. I'll try facing her with some bigger challenges and we'll see how she reacts. I still have Alamème, a 9-year-old mare by Armitage, who joined my stable last November. I'm taking the time to get to know her, to form a partnership with her. Bugatti du Lys, an 8-year-old that I own, and Une Futée de Wy, who has just returned from injury, complete my string.
SFL: So, Urhelia Lutterbach recently left you for Kevin Staut...
G.C.: Indeed. We've decided to entrust her to Kevin Staut in mutual agreement with the Ecuries de Wy Sprl, owned by Marie Caroline Besins. I've been working with Marie Caroline for more than 10 years; she's become a member of the family. We listen to each other, and the company Les Ecuries de Wy owns almost all of my horses. We wanted to find a way that Urhelia could participate in 5*'s and since Kevin had a few less horses, we thought he would be perfect for our star. Kevin didn't take her away from me, contrary to what some people think. For my part, I was faltering a bit, and that devalued the mare. In order for her to regain value, she had to go to a rider who is used to participating in 5*'s and who has access to these great competitions.
SFL: And how are the beginnings with Kevin going?
G.C.: Everything's going well. We have good chemistry. I'm looking forward to working more regularly with him in the future to further my progress. He lives an hour and a half from my house, so it's ideal.
SFL: This weekend the Ecuries de Wy horses excelled everywhere.
G.C.: Yes, in a single day, three horses belonging to them placed in classes that count towards the rankings: in Monaco, Urhelia distinguished herself with Kevin Staut, while Frantz Ducci and I placed with C Lena du Grand Champ and Bibici in Mons.
SFL: What are your goals for the rest of the season?
G.C.: I'll go to Mons for the 3*. The goal is for my 8-year-old to continue gaining experience, just like Régate. It's also necessary to bring on new horses, so they can share the workload with my current string. I'm really in a year of transition. We've got to take the time to rebuild. I'm waiting. I don't know what for, but I'm waiting.
SFL: The aim is to market Urhelia, and also to reinvest in young horses?
G.C.: The goal is to sell her, but nothing is certain... We still have to talk to Marie Caroline and Kevin. The three of us have never met together before.
SFL: Is your owner really passionate?
G.C.: Yes, she's an amateur rider herself. Even though she doesn't compete anymore, she still rides at home. She's really passionate about horses. She was with Kevin in Monaco this weekend. Even when Kevin was riding For Joy, she followed everything. She's very involved; she lives it all 100%.
SFL: What about your longer-term objectives?
G.C.: It all depends on the horses. We riders are great dreamers, but I can't really answer that question. The future will tell us.