A great weekend for Mimi Gochman!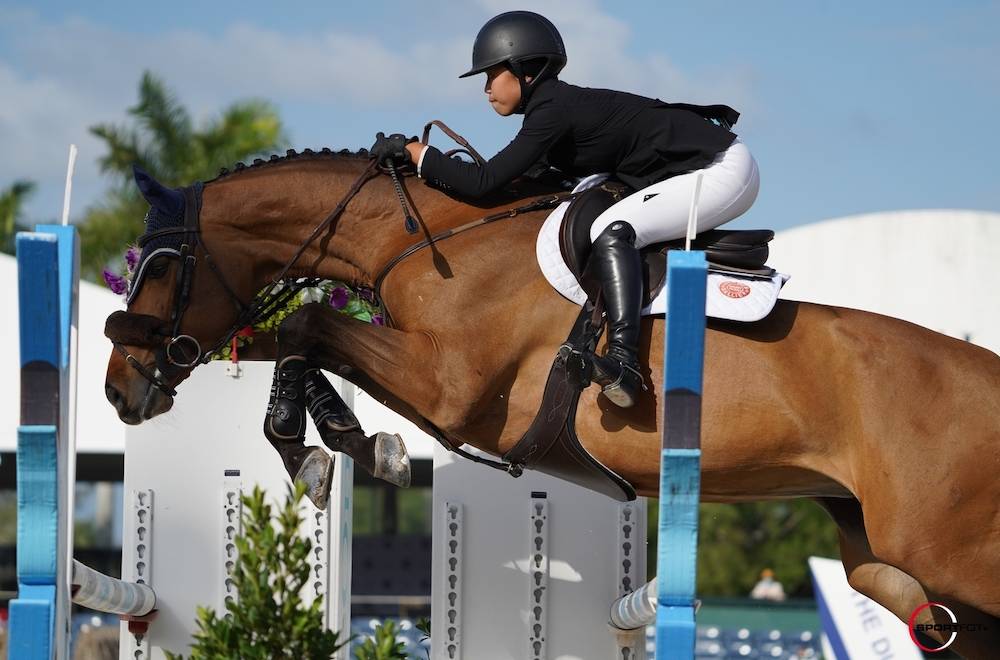 22 March 2021
With competitions still at a standstill in Europe, all eyes were on the USA this weekend. The sport was in full swing with CSI4*, 3* and U25 events. Let's take a look at the results from the West to the East Coast!
Thermal CSI4*
California hosted the major CSI of the weekend, a 4* event held at the Desert International Horse Park in Thermal. More than 30 riders took to the start of this difficult Grand Prix which was set at 1.55m, with a $250,000 prize pool, where only two riders made it through with clear rounds. It was Ireland's Nicky Galligan, partnered with Javas Miss Jordan (Luidam), who came out on top in the final placings. "I thought, 'Have fun today, it's a two-man jump-off'," Galligan explained. "I have a friend who always says, I want to be proud of you, and I want to see you win trying to win rather than lose by trying to win. So when you get that chance, you take it." The second step of the podium went to American Richard Spooner with his good gelding, Quirado RC (Quinar). The fastest of the four fault rounds was American rider William Simpson, who placed third in the Grand Prix with Chacco P (Chacco-Blue).
Wellington CSI-U25
During the 10th week of the Winter Equestrian Festival in Wellington, the last CSI-U25 of the 2021 season long series took place. Eight combinations managed to qualify for this final 100% female jump-off! The $50,000 Grand Prix was won by an American, Mimi Gochman and Celina BH (Canstakko). At just 17 years old, she beat her compatriot Ashley Vogel on Bellissimo Z (Bamako de Muze), by more than one second. Third place went to Natalie Dean and her Selle Français mare, Dotcom d'Authuit (Diamant De Semilly). At the foot of this entirely American podium, the Stephex stables' rider Zoé Conter, placed fourth with Dawa de Greenbay Z (Diarado).
Wellington CSI3*
After the younger generation performed well in the Wellington arena, attention was then turned to the CSI3* Grand Prix. The Irish flag was raised with Darragh Kenny's victory on Great-Tikila J (Carosso VDL). "I actually had a lot of luck in the jump-off, to be honest," said the winning rider in a statement. "I had planned to do the six strides like everyone else did in the first line, then I turned very tight to get back to the double, and it was a big effort, but I made it through. Then I ended up doing six strides, where Hilary (Editor's note: McNerney) had done five, so I thought, 'Okay, better run'."
Darragh Kenny & Great-Tikila J. Photo: Sportfot.com
American rider Hilary McNerney, who also had a perfect double clear round with Lovelight (Lord Z), came second, just ahead of the young talented rider Mimi Gochman, who this time rode Gigi's Girl BH (Vingino). "Today was amazing! I felt very honored to be included in such a high level group of riders! Each of them is at the top of their game; so competitive and amazing," said the young American. "I'm happy to have finished the last CSI-U25 event at the WEF on a high note, my horse was spectacular! With Gigi, this third place was a huge confidence builder for the future with her. My goals are to continue at the CSI3* level and to be more consistent at a higher level," she concludes.
Featured photo credit: Sportfot.com