Great sport took place this weekend!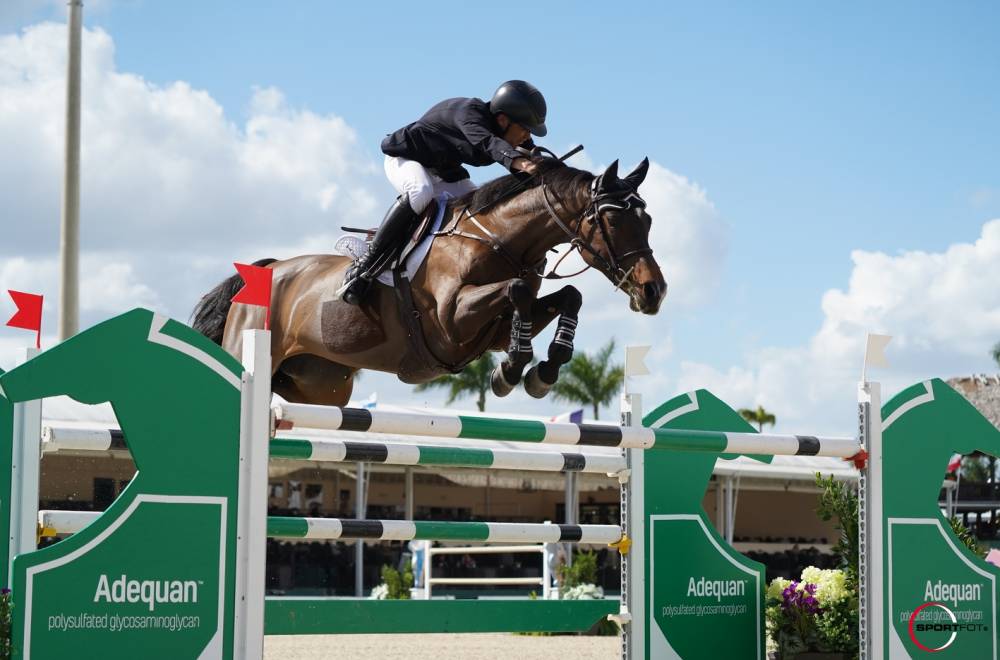 01 February 2021
The international competition schedule is becoming increasingly steady as the weeks go by, and so much the better! Now you're used to it, here's the Studforlife summary of the weekend's international results.
Oliva CSI3*
Julien Epaillard is at home in Oliva! After winning the Spring MET 1 Grand Prix with Usual Suspect d'Auge (Jarnac), he then went on to win the MET 3 Grand Prix with the Chev'el stable's protege, Queeletta (Quality 9), at the end of an eight-rider jump-off. The French combination was followed, by more than two seconds, by Sweden's Malin Baryard-Johnsson on H&M Indiana (Kashmir Van Schuttershof), then Germany's Philip Houston with Sandros S Bella (Sandro Boy).
Vilamoura CSI3*
Luiz Felipe C G De Azevedo Filho won the difficult Vilamoura CSI3* Grand Prix, which was run on Sunday afternoon. In the saddle on his son of Vigo d'Arsouilles, Hermes van de Vrombautshoeve, the Brazilian won ahead of British rider Lily Attwood and Calvaro's Up To Date (Calvaro), who also turned in a double clear round. This international podium was completed by Taiwanese rider Jasmine Shao-Man Chen on Ninyon (Nintender).
Thermal CSI3*
Off to America now, where the Thermal CSI3* was run in the Californian desert, at the Desert International Horse Park. The $137,000 Grand Prix was won by Ireland's Nicky Galligan riding Javas MIss Jordan (Luidam). American rider Erin Davis-Heineking took second place with Leonie (Leo Von Faelz), followed by Alec Lawler, who rode the Holsteiner, For Gold (For Fashion).
Wellington CSI3*
On the other side of the United States, the $137,000 Grand Prix was run on Sunday night in Wellington with a very strong line-up. As is often the case, it was American rider Kent Farrington who was able to pull off a very fast jump-off at the reins of Austria 2 (Casall), his accomplice when he secured first place in the 2019 IJRC Top 10. The pair had already won the Challenge Cup on Friday!
Spencer Smith, who also scored a fast double clear round, took second place with Ayade Hero Z (Aganix of the Lord). The person that completed the podium was none other than the rider that we will welcome this Monday evening LIVE on Studforlife's Instagram account! Nicola Philippaerts, the only member of his family who made the trip to Wellington for the Winter Equestrian Festival, took third place with Katanga v/h Dingeshof (Cardento): "It's great to be here and see a little more of what my horses can do. So far, this mare is doing very well; she jumps very well. She's one of my best horses, so I'm very excited to see what she can do during the rest of the season here," said the Belgian to the competition team.
Puebla CSI3*
Off to Mexico now, where the Puebla CSI3* Grand Prix was run on Saturday afternoon. Argentina's Manuel Chechic, who is only 21 years old, won with his Selle Français mare, Abril Giquadana Semilly (Quadanne Z), beating out eight Mexican riders. It was the famous businessman Jose Antonio Chedraui Eguia who, on home soil, took the second step of the podium on Mighty Mouse (Quartz Adelheid Z), who was trained in France by Aymeric de Ponnat. Manuel Gonzalez Dufrane completed this international podium with Martialis (Bocifuego Negro).
Opglabbeek CSI2*
A Grand Prix event set at 1.45m was offered to the 55 riders that were entered in the CSI2* on Sunday in Opglabbeek. The competition was tough as 13 combinations qualified for the jump-off, including Marcus Ehning, Rolf-Goran Bengtsson and Max Kühner. However, it was Brazil who won, with Marlon Modolo Zanotelli securing top the honors, and who, for this occasion was associated with Charlie Harper (Comme Il Faut 5). Marlon even allowed himself to pull ahead of two of the stalwarts of the German team: Maurice Tebbel and Don Diarado (Diarado), and Christian Ahlmann who was accompanied by his powerful mount, Dominator 2000 Z (Diamant de Semilly).
Valencia CSI2*
Michael Greeve won the 2* Grand Prix of Valencia! The Dutchman rode his young horse Guan Gjb (Namelus R). In a very tight jump-off, Frenchman Guillaume Batillat placed second with Baby Love (Lupicor), just ahead of the Lithuanian rider Kristaps Neretnieks on J'Adore Van'T Voortveld (Kashmir Van Schuttershof).
Featured photo: Sportfot.com