"Great Britain is an eventing nation," Gilles Viricel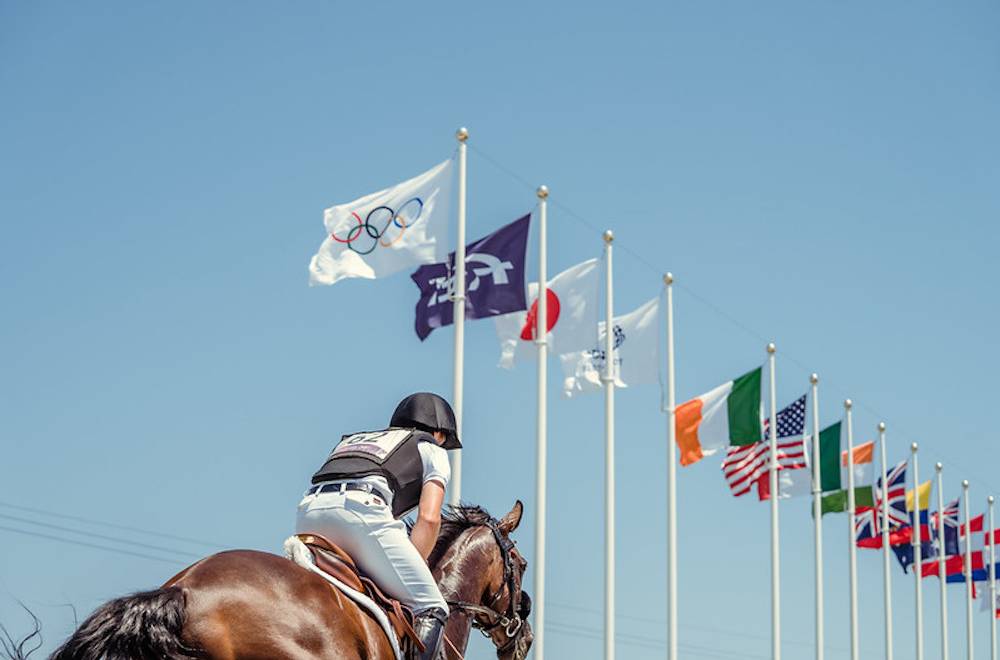 04 August 2021
He also knows a thing or two about the Olympic Games! In 2000, Gilles Viricel flew to Sydney with Caprice de la Cour (Franc Parler) to defend the French colors in the eventing competition. More than 20 years later, he uses his expertise and analyses these four intense days of competition in Tokyo for Studforlife.
Tokyo 2020 was the first opportunity to discover the new Olympic format of three-person teams with the possibility of a substitution between tests. What did you think of it?
I find it very disabling for a team to bring in another pair at the last moment. Neither the horse nor the rider is really on their game and have the same adrenaline as the others. I doubt that this will add any suspense to the competition and keep a potential medal away, especially since 20 points are added to the nation's score for a substitution. The strong teams have not done it, a few nations like Switzerland have used it - especially after a tragic event occurred with one of their horses- . It is also important to know that a new pair can only enter the competition for medical reasons for the rider, or veterinarian reasons for the horse that is already on the team. This distorts the game a bit, knowing that this format is not used at all in other championships. I am afraid that it has been set up to move eventing aside little by little at the Olympic Games. I still think that it can be interesting for emerging nations. It can allow them to finish the team event and for each pair to gain experience.
This new Olympic format has led to dressage being revisited, with some excellent performances coming out of it. Are those performances proof that the competitors are putting more preparation into it?
Previously, the dressage test lasted about seven minutes, but this time it was four. It is very condensed, and we could see that from the beginning we needed horses that were well trained, listening and that had a lot of movement. Through this format, we have realized that some horses have less blood than before. For the cross-country, the horse has to go fast, but it has to gather itself and have a lot of strength, and quickly, for both the dressage and then for the jumping. Riders have always emphasized this test and even more so now since the new format is getting closer to pure dressage. Today, most riders use private dressage trainers and that's why we've seen some great things happening.
Karim Laghouag and Triton Fontaine (Gentleman IV). © Sportfot.com
The French horses did well but lacked movement compared to some other foreign riders. This is what they were penalized for, not on technique, but on the horse's own merit. It was no surprise for the French clan, this test is also on the Grand National circuit. On the other hand, it is not used at international competitions and some of the riders present at the Games didn't compete at these competitions because of the Covid pandemic and thus could not be seen by the foreign judges.
For these Tokyo Games, the cross-country was run at Sea Forest Park, the second competition site. Doesn't this change make the stress more complicated for these high-level athletes?
To come to Japan, the horse already has an important stress factor which is the long flight. It is important to note that most of the horses, especially the French horses, had never traveled by air, and then there is the added stress of an hour and a half truck ride in the middle of the competition to run the cross-country. Indeed, this can be an added stress for everyone. Nowadays, trucks are very safe for horses, but there is always a risk of injury. The horses changed environment and box, but they were always accompanied by their groom with whom they spent most of their time. This gave them a certain calmness and confidence to travel well. Concerning the organization, it was stressful for us too. We couldn't forget anything.
Did a shortened cross-country course with few clear rounds play its role and reshuffle the cards?
The course was very hilly and had a short format, so the obstacles needed to be closer together. The weather conditions also had a role to play as it was very humid. I found it difficult at the beginning with the fast approach to the first water, it had a lot of galloping and then big jumping efforts close together. At the finish, you could see that the horses were affected, even though they were very well prepared! Overall, the event ran well, especially for emerging nations like China, Japan and the Indian rider Fouaad Mirza.
Indian rider Fouaad Mirza and Seigneur (Seigneur D'alleray). © Sportfot.com
Maxime Livio's riders, the Thais, encountered some bad luck and didn't finish the competition. However, they are learning their trade and I am sure that in a few years, we will see them on the podium. We often hear that the Games are less difficult than the World Championships and this is not totally wrong. The cross-country is always built in such a way that riders from emerging countries can finish it. For the big nations, this test did not impact them because they are used to riding at Badminton, Pau and Le Lion d'Angers and all of them have demonstrated their ability. The great favorite, who was leading after the dressage, Michael Jung, triggered a MIM clip. It is a system that we have seen for several years so that cross-country obstacles can fall, especially those with a straight edge, which are also called verticals, or corners. It is used to protect the horse and the rider. It is a pity because a cross-country obstacle that falls doesn't exist in eventing. However, today, it can avoid bad accidents. If ifs and ands were pots and pans there'd be no work for tinkers' hands, but let's imagine the MIM clip hadn't fallen, where would Michael Jung be now? In any case, without these faults, the event would certainly not be the same.
From the beginning, the British led the way with a good showing in the dressage, a freshness on cross-country and finally, finesse over the show jumping obstacles. Why are they so good?
The British riders Tom Mcewen (Toledo De Kerser), Oliver Townend (Ballaghmor Class) and Sandra Auffarth (Viamant Du Matz) have won Olympic gold! © Sportfot.com
It was the first Olympic Games for each rider, but they have almost all competed at Luhmühlen, Badminton, Burghley and the World Equestrian Games in Tryon, like Tom McEwen and Toledo de Kerser, in their career. So they all have experience at even bigger events. Britain is an eventing nation and offers a lot of international competitions year-round for riders. I'm not saying it's easier, but they have more hindsight and experience to compete at these events.
Julia Krajewski became the first woman Eventing Olympic Champion. It was a great comeback after her disappointments in Rio and Tryon. How can you describe her Games?
She is 33 years old; she is still young and had a lot of bad luck before she won a medal, but time and hard work did the trick. She didn't miss a single event and that's also where we saw the quality of the horses. After the cross-country, which can be tiring for some, her mare Amande de B'Néville jumped her two show jumping events with great ease.
The new eventing Olympic champions, Julia Krajewski and Amande de B'néville ! © Sportfot.com
What changes can you see that need addressing after watching these Olympic Games?
We don't see the big scores we used to, even for the emerging nations that managed to qualify for the show jumping. I'm thinking of the Chinese with their faults and even just three rails, it's not as "catastrophic" compared to before. The faults in the jumping were mostly in the combinations but the difficulty of an event horse is that they have been stretched out on the cross-country course, then the next day they need to sit up and jump on a canter stride without lowering the withers. Today, this type of good event horse is difficult to find because at the beginning, it's not always very compatible. We see in this discipline that the top horses arrive rather late and are mostly French. I can see that in the young horse finals, the foreigners already have a lot of balance and movement, so they are already more efficient, but they don't last as long. Our young Selle Français, even Anglo-Arabs, are lanky and not mature physically. Then, we see them evolve with work, arriving at maturity around 10 years old and being incredible thereafter.
Gilles Viricel's takeaway:
"The French team's management has been remarkable. Thierry Touzaint is a discreet, efficient and dynamic man. He's a horseman and above all a medal hunter. Since he has been at the head of the national team, he has always brought something back. He has a great quality which is that he has a clairvoyant ability for horses and riders. Sometimes, we don't always understand his selections but when we see the result, we see that he was right. Karim Laghouag was sitting in sixth in the initial selections. Following the withdrawal of Thomas Carlile, Astier Nicolas and Thibaut Vallette, he joined the team and once again, it came back with a bronze medal, which shows that there is quite a reservoir of talent! This is where Thierry is very strong because he prepares many riders, and he knows how to surround himself well. Jean-Pierre Blanco and Serge Cornu know what they are doing and are also horsemen. They have all ridden in competition at a high level. The icing on the cake is the arrival of Michel Asseray, the new Deputy Technical Director for eventing, who is a very good organizer. You get the feeling that the team is cohesive and calm: which was always Thierry Touzaint's vision."
Featured photo credit: © FEI/Christophe Taniére