Good things come in threes: the Netherlands have won the Nations Cup final again!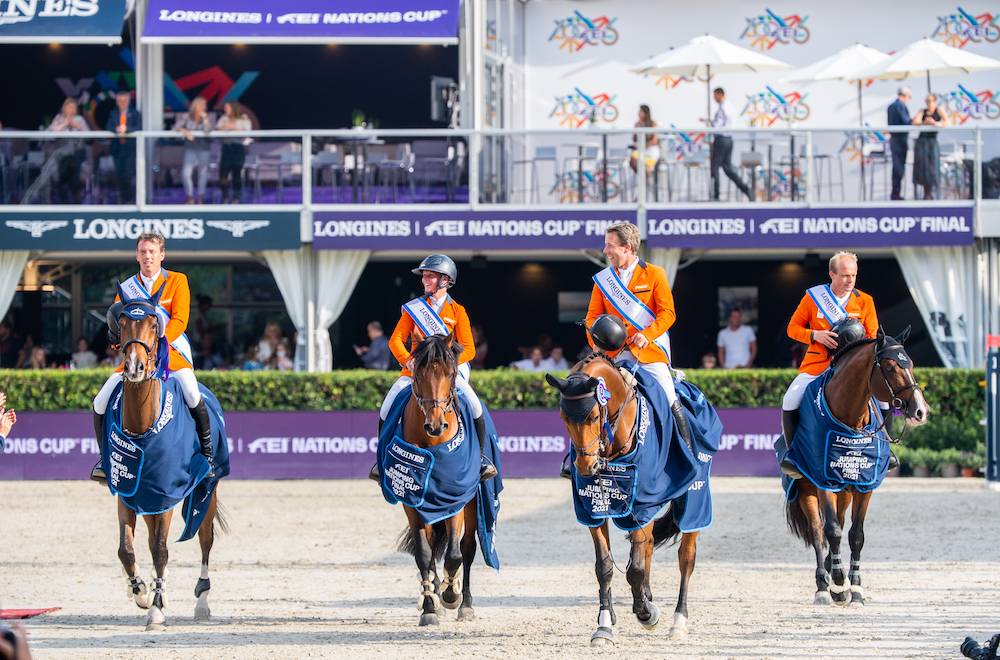 04 October 2021
It was the last, but not least, day of competition at the Real Club de Polo in Barcelona! This afternoon, eight nations met to compete in the grand final of the 2021 Nations Cup circuit. For the third time since its creation, the Netherlands won the title, this time placing ahead of Ireland and Belgium.
Maikel van der Vleuten and Beauville Z (Bustique), who started as openers for the Dutch team, proved that they were still in great shape after returning from the Tokyo Games, where they won bronze in the individual event. After a clear qualifying round, they did it again! "I've been waiting for this final in Barcelona, it's always exciting to be here. Our Chef d'équipe, Rob Ehrens, had me start first and it was important for me to try to have a clear run to give everyone a good feeling from the start," explained Maikel van der Vleuten in the press conference. The message was received by Willem Greve and Carambole (San Patriognano Cassini) who were able to imitate their comrades. The young Dutch rider Sanne Thijssen didn't disappoint: she was only penalized by one rail with her faithful Con Quidam RB (Quinar). This score was however erased by the experienced Harrie Smolders on Monaco (Cassino II). With this new clear round, the pair enabled the Netherlands to finish the competition with a victorious clean score.
Maikel van der Vleuten and Beauville Z. © Léa Tchilinguirian
The saying "good things come in threes" makes perfect sense! It isn't three consecutive victories (2014, 2017 and 2021), but the Netherlands can clearly be happy with this title. Maikel van der Vleuten was part of the winning team in the first year, but three years later Harrie Smolders was on the top step of the podium with his teammates.
Champion in 2019, Irelande stays on the podium
The fight was hard fought between the Netherlands and Ireland! After Denis Lynch's clear round, Eoin McMahon's time fault and Michael Duffy's two rails, Ireland's place on the podium depended on Darragh Kenny! In this last rotation, the rider of VDL Cartello (Numero Uno) wasn't allowed to make a single mistake at the fences to stay on the podium and he didn't fail. His perfect round erased Michael Duffy's eight faults and kept the final score at one fault. More than happy with his day, Darragh Kenny shares his reaction with Studforlife:
Ireland didn't manage to retain its title this year but did still maintain a foot on the podium by taking second place, all with its new Chef d'équipe, Michael Blake, the successor to Rodrigo Pessoa who started at the end of 2019. Moreover, the riders and horses were different from the last editions, but the nations present on the podium were indeed the same! Belgium, who was second the previous time, finished third this year. Jérôme Guéry and Grégory Wathelet's clean rounds compensated for the two four-fault rounds of Niels Bruynseels and Nicola Philippaerts.
"When Quel Homme (de Hus, Quidam de Revel) came back from Tokyo, he was more than fit. After that, I did a series of competitions in Brussels and Aachen. He gave a lot there, but the plan was still to come here. He had little time to recover, and I felt he was tired. He was too quiet compared to his usual self. That's why he made two mistakes in the qualifier. We let Quel Homme rest yesterday and this morning when he came in he had a sharper eye. When I rode him on the flat, I said to myself, "That's it, he's back. I'm very happy with his round this afternoon, he gave me a good feeling," Jérôme Guéry explained to Studforlife..
Featured photo: ©FEI/Łukasz Kowalski