Good Pleasure Sémilly, is the 2019 Selle Français Champion.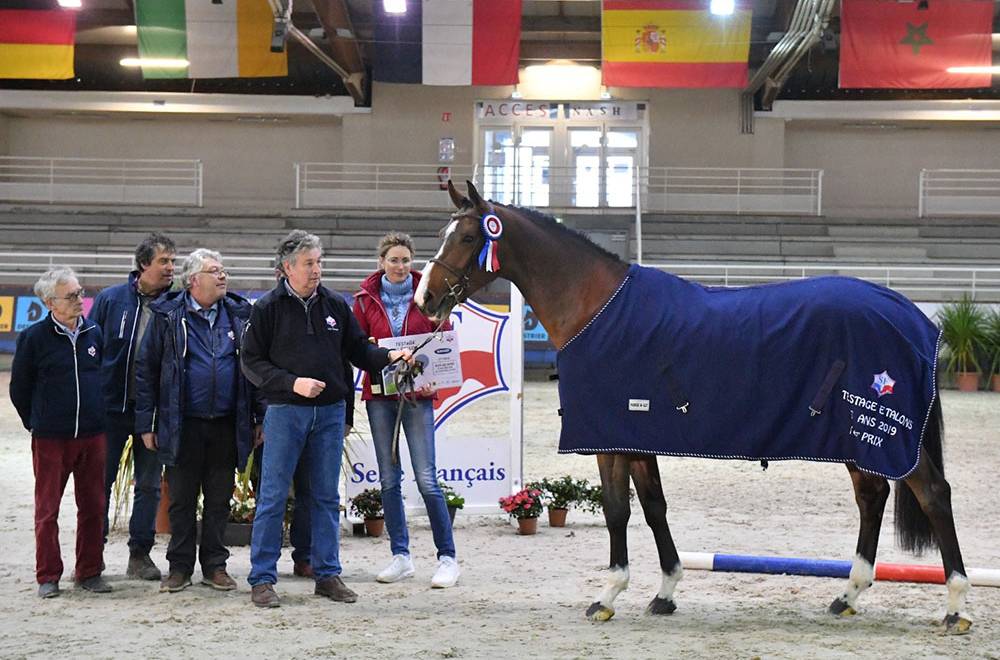 20 December 2019
It has been a special year for the Selle Français Studbook which will start a new cycle of stallion approvals in 2020 by integrating the Selle Français Stallion Championship (21 February 2020) into the opening of the Stallion Show in Saint-Lô.
For the 2019 3YOs, there was no Championship, but there was a test that was held at the Pôle Hippique de Saint-Lô with great fanfare, including a conference on Wednesday evening on the subject "Selecting to perform, our tools for tomorrow", which brought together a large number of breeders, before the last of the 10 days of testing, which was open to the public.
Having been entrusted to the test riders, under the expert guidance of Serge Cornut, Francis Mas and Manuel Godin, the candidates have been viewed by a team of "Selle Français expert riders" which, this year, was composed of Pénélope Leprevost, François-Xavier Boudant, Nicolas Delmotte, Nicolas Touzaint, Alexis Deroubaix, Thomas Carlile, Olivier Guillon and Walter Lapertot. The three best stallions were awarded the top prizes while the others have been classified into two groups: "Very Promising" and "Hopeful".
Good Pleasure Semilly (For Pleasure x Diamant de Semilly), a grandson of the internationally performed Etoupe II, was christened the best of his crop ahead of Goubet d'Arvor (Baloubet du Rouet x Quidam de Revel), and Gwenndu de Kergane (Capoutchi de Kergane x Grand Chef Bleus).
Approved stallions include Galax du Rouet (Lauterbach), who is none other than a brother to Dollar du Rouet; Ginseng Boisdeville (Mylord Carthago), a full brother to Alexandra Francart's former star stallion, Volnay du Boisdeville; Goldeneye Gem (Cicero Z), a full brother to the internationally performed Twister, Tintin de la Pomme and Just an Hero; Gino du Ventel, a full brother to Nino des Buissonnets, and also Groovy Sémilly (Diamant de Sémilly) who is out of the former international Mic Mac du Dieu Démon, who has produced many internationals in her youth, and is also the granddam of Tic-tac, Boyfriend du Seigneur and many others.
3-year-old Selle Français stallion test results.
Photo Les Garennes