Germany wins the Vilamoura Nations Cup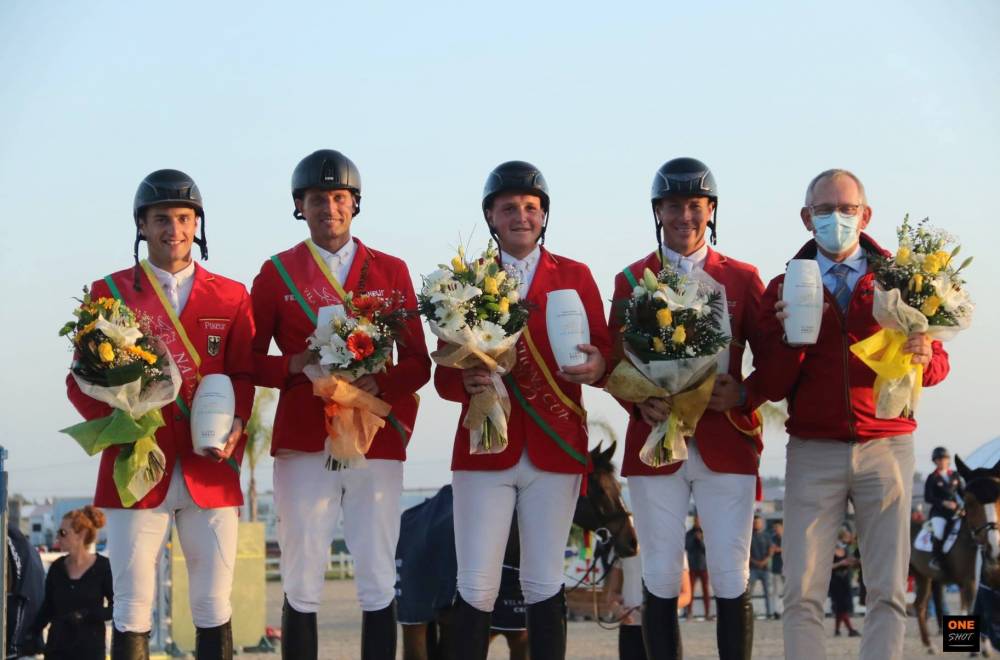 17 November 2020
It was one of the flagship events of the week, the month and even the year! The CSIO3* Nations Cup in Vilamoura finally allowed riders to wear their country's colors.
Under a perfectly blue sky, Portugal's Nations Cup started at 2:30 pm French time in the heart of the Vilamoura Equestrian Center. Twelve teams lined up at the start of this course that was imagined by Italian course designer, Andrea Colombo. The last obstacles were comprised of a triple combination followed by an oxer line and then a vertical line was tricky for the riders. In the first round, English rider Laura Renwick was the first to find the key to a clear round on Arkuga (Arko III). Frenchman Grégory Cottard, who rode Bibici (Norman Pre Noir), achieved the first perfect course of his team. On the phone, he didn't hide his joy at finding himself wearing the tricolor jacket: "It's been a long time! You realize that it's a type of test that's really set apart from the others; the atmosphere is very unique."
The first stage ended with two teams in the lead being penalized by a single fault: Italy and Great Britain. The Netherlands, Ireland, France, Portugal, and Germany each sat on 8 points at that stage. The Brazilian riders were the last to start in the second part of this Nations Cup. Belgium, led by the 34th World Champion, Grégory Wathelet, and Argentina, were excluded from the competition. It was the same for the Swiss youth, who were led by Michel Sorg, as well as for Marco Fuste's Spanish team, which had a score of 20 points.
In the second round, few riders went clear, but German rider Richard Vogel, at the reins of Floyo VDL (Baltic VDL) and Grégory Cottard, did it! The first places in the final standings took a long time to emerge. We had to wait for the last pairs to go to be sure. The gold medal position was fought out between Frenchman Mathieu Billot and German rider David Will on C Vier 2 (Cardento 933). The latter posted the perfect course and offered his nation the victory in this Nations Cup! The German team was also composed of Richard Vogel, Jeens Baackman and Guido Jun. Klatte. French rider Thierry Pomel finished second with a total of 13 points, followed by Italy in third place.
Featured photo: One Shot