Germany in Sopot, Brash in Stockholm and Farrington in Grimaud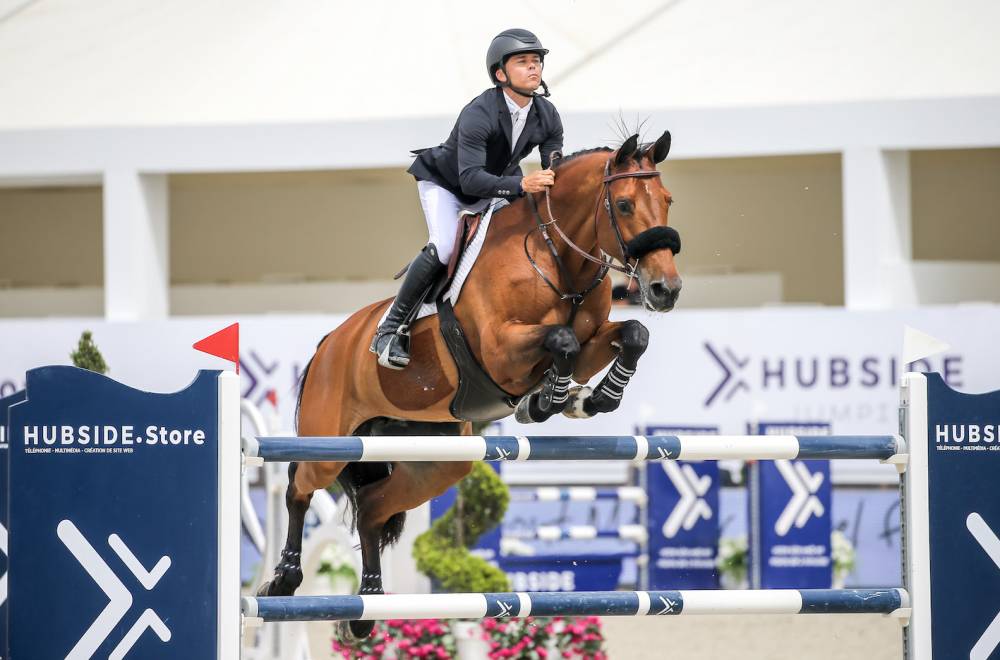 21 June 2021
Three CSI5* events in the same weekend, no less! It's been a long time since we saw that, and the best riders in the world had a lot to choose from. In the end, the champion riders were able to seize the available opportunities and we find the biggest names of show jumping on the highest steps of the various podiums of the weekend.
Sopot CSIO5*
After the American victory of Brian Moggre in the Grand Prix on Friday (read our dedicated article here), lthe victory in the Nations Cup on Sunday went to Germany. The Mannschaft, which presented a solid quartet almost identical to the team at the CSIO in St. Gallen, succeeded in finishing its two rounds without faults. Maurice Tebbel, Christian Kukuk and André Thieme all achieved double clear rounds, thus erasing the two rounds of Marcus Ehning who had saddled up his delicate mount, Funky Fred (For Pleasure). Christian Kukuk explained that he hopes to be a part of the German team for the Olympic Games, but he knows that the German team tickets will be hard to come by: "Mumbai is a spectacular horse. I've been riding him for two and a half years and he's only nine years old. As an eight-year-old he won the World Cup stage at the CSI-W5* in Riyadh in December. With the Games and the European Championships coming up, I'm really grateful to have him," said the German.
Christian Kukuk and Mumbai © FEI/Lukasz Kowalski
The Belgians, the titleholders of the event, came quite close to the winning team, since Peter Weinberg's men only had four faults at the end of the two rounds, finishing second. Niels Bruynseels could even have secured a jump-off against the German team, but made two mistakes with his partner, Delux van T&L (Toulon), dashing their hopes of victory. However, Jos Verlooy and Nicola Philippaerts both went double clear, Pieter Devos and Niels Bruynseels proved once again that the Belgians, the current European Champions, will be serious candidates for the gold medal at the Olympic Games in Tokyo. Apart from these two homogeneous teams, it was harder for the other nations on this sunny Sunday. The Irish team came third with 16 points, as did the surprising Norway team – who were in the lead after the first round – and in the end they secured fourth place, with Great Britain sitting in fifth, and France in sixth. Of note, Norway's Marie Longem Valdar's, Great-Britain's Alexandra Thornton and France's Gregory Cottard double clear rounds. However, William Funnel, who fell in the triple combination, suffered an injured ankle.
Grimaud CSI5*
In the South of France, Kent Farrington wasn't just there to make up the numbers and he had everyone in agreement of that fact in a 12-rider jump-off in the CSI5* Grand Prix in Grimaud. Riding his faithful mount Gazelle (Kashmir Van Schuttershof), the American beat two French riders: Julien Epaillard on Usual Suspect d'Auge (Jarnac) and Nicolas Delmotte on Ilex VP (Diamant de Semilly). The winner didn't fail to underline his happiness at being back on European show grounds: "It's obviously always a great pleasure to win such a 5* Grand Prix, here, near Saint-Tropez, for my first participation in Hubside Jumping. In the jump-off, I started last, and Julien Epaillard was in the lead. Even in the United States we know of him and know how fast he is. I had to give it my all! So I relied on Gazelle's natural speed, and was very careful: for example, a double in a jump-off can be formidable at these speeds; I also had to take care at the last oxer, in short, to help my horse and in Gazelle's case, especially at these two places on the course that could have been a problem. Next week, I'll have a little rest here, then I'll go on to Windsor and then we'll see how the horses are doing." Bryan Balsiger also performed well. The talented Swiss rider took fourth place with Twentytwo des Biches (Mylord Carthago).
In the CSI2* Grand Prix, it was an all-French podium thanks to Jean-Luc Mourier and Caviar de l'Heribus (Cashman), ahead of Mathieu Billot on Ilena S (Verdi) and Olivier Perreau on GL Events Dorai d'Aiguilly (Kannan).
Stockholm CSI5*
It was in the great Stockholm Olympic Stadium that the Global Champions Tour stopped this weekend, and it was the brilliant Scott Brash who won the Grand Prix. Riding Hello Jefferson (Cooper vd Heffink), the British rider won ahead of Edwina Tops-Alexander and Fellow Castlefiel (Je T'aime Flamenco). Young Spencer Smith almost secured the win with Quibelle (Frh Quaid) but a fallen rail relegated him to third place. Fourth place went to Carlos Enrique Lopez Lizarazo on the fabulous G&C Arrayan (Baloubet du Rouet), who was penalized by eight faults in the jump-off. In the top twelve, there were four Swedes, including Henrik von Eckermann who placed eighth with King Edward (Edward 28), Malin Baryard-Johnsson who placed ninth with H&M Indiana (Kasmir Van Schuttershof), and Peder Fredricson who placed 12th with H&M All In (Kasmir Van Schuttershof). These three riders will go to Tokyo with Rolf-Göran Bengtsson, who has also been called up by Henrik Ankarcrona.
Peder Fredricson, who leads the Global Champions Tour rankings, won the big event on Sunday with Catch me Not S (Cardento).
Bojourishte CSIO3*
There was also a Nations Cup in Bulgaria. Counting toward the EEF Series circuit, this event saw Italy take the victory. Finishing on four points, Italy came in ahead of Bulgaria and Romania, with both nations being penalized by eight faults each.
Lexington CSI3*
Irish rider Conor Swail won the Split Rock Jumping Tour CSI3* Grand Prix with Vital Chance*de la Roque (Diamant de Semilly), who had been ridden by Marc Dilasser until last fall. Canadian rider Nicole Walker placed second with Excellent B (Berlin), and the podium was completed by Mark Bluman with Noortje vd Windheuvel (Farfelu de Muze).
Fontainebleau CSI2*
In the CSI2* Grand Prix in Fontainebleau, the victory went to Guillaume Batillat with Baby Love (Lupicor). The Frenchman came in ahead of young Belgian rider Boy-Adrian van Gelderen on No Mercy Van T Kamerveld Z (Norton d'Eole) and his compatriot Alexis Gourdin with Brasilia de l'Abbaye (Ugano Sitte).
Vidauban CSI2*
In Vidauban, it was also the Marseillaise that rang out at the end of the 2* Grand Prix, thanks to Estelle Damians' victory on Felix (For Edition). Luis Ferreira placed second with Cerruti van ter Hulst Z (Cassini I). The podium was completed by Philippe Leoni on James Bond du Bec (Diamant de Semilly).
Peelbergen CSI2*
Sophie Hinners led the lap of honor at the end of the CSI2* Grand Prix in Peelbergen. With Siec Converse (Callado 2), who she has only been riding for a short time, the German rider deprived the Japanese rider Eiken Sato and Chacanno (Chacco-Blue) of victory by ten hundredths of a second. The leading trio was completed by Jens Baackmann with Caprice 503 (Canstakko).
San Giovanni CSI2*
Having been a prominent part of the Italian team in La Baule and the author of two clear rounds, Riccardo Pisani is continuing with this form, winning the CSI2* Grand Prix of San Giovanni. The friendly Italian wasn't riding with his usual mount Chaclot (Chacco-Blue), but his wife's horse, Charlemagne (Cachas). Second place went to Benatti Andrea on Cantalina (Canturano), followed by Sven Fehln with Ventago (Van Helsing).
San Remo CSI2*
It was a Swiss victory in the CSI2* Grand Prix in San Remo. Simone Buhofer won with her faithful mount Flying Girl (Querlybet Hero). Matias Alvaro took second place with Tempo des Brières (Corland), ahead of Sofia Rinaldi and Hilton de Mereyt (Flamenco de Semilly).
Traverse City CSI2*
At the Traverse City Spring Horse Show, Tiffany Foster won the Grand Prix. Riding Vienna (Valentino), the Canadian beat Emily Ward on Millioninmind (Douglas) and Jonathan Corrigan on Super Chilled (Gelvin Clover).
Olomouc CSI2*
With a lead of more than three seconds in the jump-off, German rider Jörne Sprehe easily won the CSI2* Grand Prix in Olomouc. With her son of Stakkato Gold, Stakki's Jumper, she came in ahead of Mateusz Tyszko and Vladimir Tretera, who both also went clear in the jump-off.
Bonheiden CSI2*
The Dutch took the first three places in the 2* Grand Prix of Bonheiden. Jack Ansems was the fastest with Fliere Fluiter (Zirocco Blue), ahead of Kim Emmen on Jack van Het Dennehof (Toulon) and Dennis van den Brink on Aonia Domain (Mylord Carthago).
Barcelona CSI2*
Jesus Garmendia Echevarria won the CSI2* Grand Prix in Barcelona with Callias (Companiero). Second place went to Carolina Villanueva Suarez with Voice de Chenaie (Diamant de Semilly), and third place went to Pedro Veniss with Nimrod de Muze Z (Nabab de Reve).
Featured photo: © Hubside Jumping - Stefano Secchi