Géraldine Hieronimus, discretion in the service of excellence (2/3)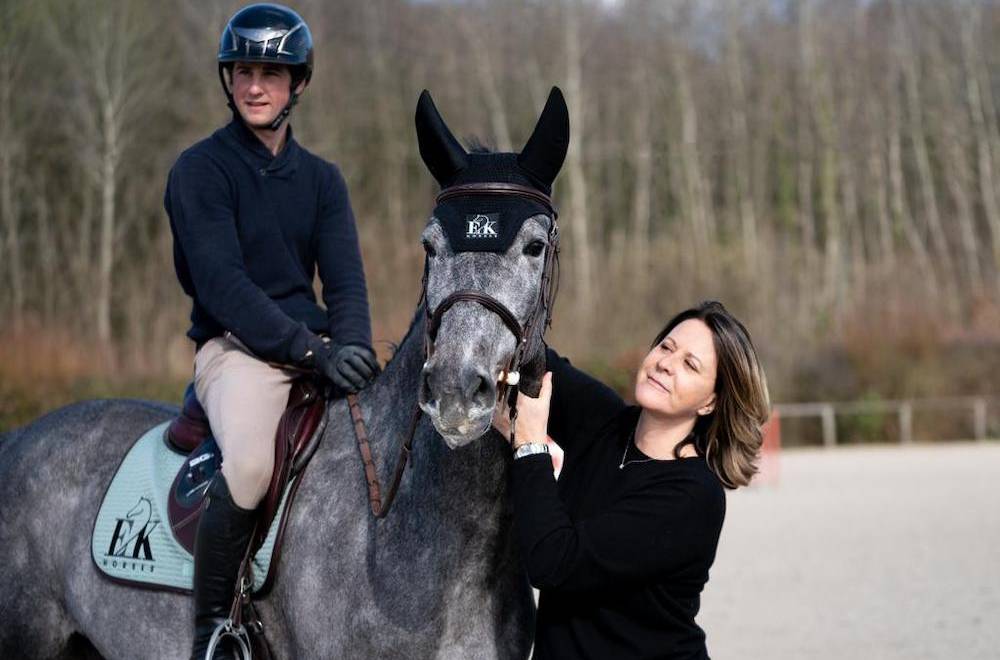 22 December 2021
In this second part of our interview, Géraldine Hieronimus gives us her vision on trading; an important activity at E2K Horses.
Your horses are starting to appear with the E2K suffix. Why did you make this change and besides that, what do you think about changing a horse's name?
"I didn't do it before because I didn't have the time, but now that we have a whole team, it's probably easier to add the suffix to bring more recognition. I can understand that for the visibility of investors or owners, some change the horses' names, but I have mixed feelings. The breeder has such a role that I find it difficult to deprive them of this recognition. Without them, there are no horses and no competitions. There is a whole ecosystem in this environment and the breeder is at the heart of this sport. It's normal that they're part of their horse's success. On the other hand, I think it's great to use a suffix that allows for quick recognition of the team."
E2K Horses equipment. ©Jessica Rodrigues
Today, in your opinion, is it mandatory for an owner/breeder to trade, in addition to supplying their riders, to keep their heads above water? Some only supply one rider but can these methods be sustainable?
"Obviously, it depends on what you can afford; you're always poorer or richer than someone else. In France, there have been great patrons like the Haras des Coudrettes and the Haras de Clarbec who have been great for the sport and have allowed us to have an incredible portfolio of horses, they have spent a fortune for that to happen. I think that after a while, it becomes difficult losing a lot of money every year without having a good income. If you go from "don't worry, I won't sell the horses" to "you must sell them to get by...", then I think it's healthier for the rider to know that these horses can be sold one day. On this point, I'm very clear with my riders. We know that we will sell the horses, we just don't know when. When we have a good offer and the right rider, we let the horse go without forgetting all the history we have had with them, their progress, and their rankings, and it's not because we sell a good horse that we're not passionate! All those people I meet are, and the sales of horses allow the owners to live but also to start again with other young ones: it's a cycle that must be respected."
Several of your horses have gone to foreign riders like Emir du Fresne going to Abdel Saïd for example. Is it different to see them competing under a flag other than yours?
"It's good to be patriotic. The owners are, and they just want the other French horse to have a clear round, but we are also in a global market. I don't like to use this word, but horses have become an industry, in the noble sense of the word, with buyers and sellers. Thousands of people make their living from this business. When you want to grow, the local market isn't enough to keep a business afloat. Quite frankly, if the horse is treated well in its new home - and I think that's the only important condition today - we can only be proud of that."
Formerly ridden by Marc Dilasser, Indigo Blue Biolley (Chacco Blue) is now riding under the saddle of Spanish rider Carolina Villanueva Suarez. ©Sportfot.com
You're used to auctions; why do you go to breeders less? It must be complicated knowing which auctions to turn to, as they have multiplied greatly in recent years!
"I've always been to auctions and sometimes I'd get goofy smiles from breeders or riders telling me that I was going to get screwed and that the horses were prepared. Of course, it's great to go see a breeder but you have to know that the horses are in fields. They don't necessarily all have that ability to come in at the right time to free-jump. Then, if you come across a breeder who says he has a gem - which is surely a good horse, but maybe not an Olympic horse - he will give you a price that is way off the market value; that's also the problem. Buying on the show grounds is also done, but you have to realize that that has also become complicated. All of the traders are combing the competitions. If the rider is sharp and knows the market well, the advertised prices can be ok, but that is not always the case. I find that the auction is one way to buy a horse at a market price: it's crucial. Today, there is so much fantasy about prices! We are the only industry where there is no price guide. Even in art there are quotes and estimates for artists. Auctions allow us to give horses a market price. When you're a buyer and an investor, you must have a vision of the whole market and you can see that sales are watched all over the world. Who goes to Normandy when you live in the United States or in Asia? Moreover, if there are so many, it's because there is great demand for high level horses, from professionals, and amateurs alike."
The last part of our interview with Géraldine Hieronimus will be available as of tomorrow.
Featured photo: Jessica Rodrigues