Géraldine Hieronimus, discretion in the service of excellence (1/3)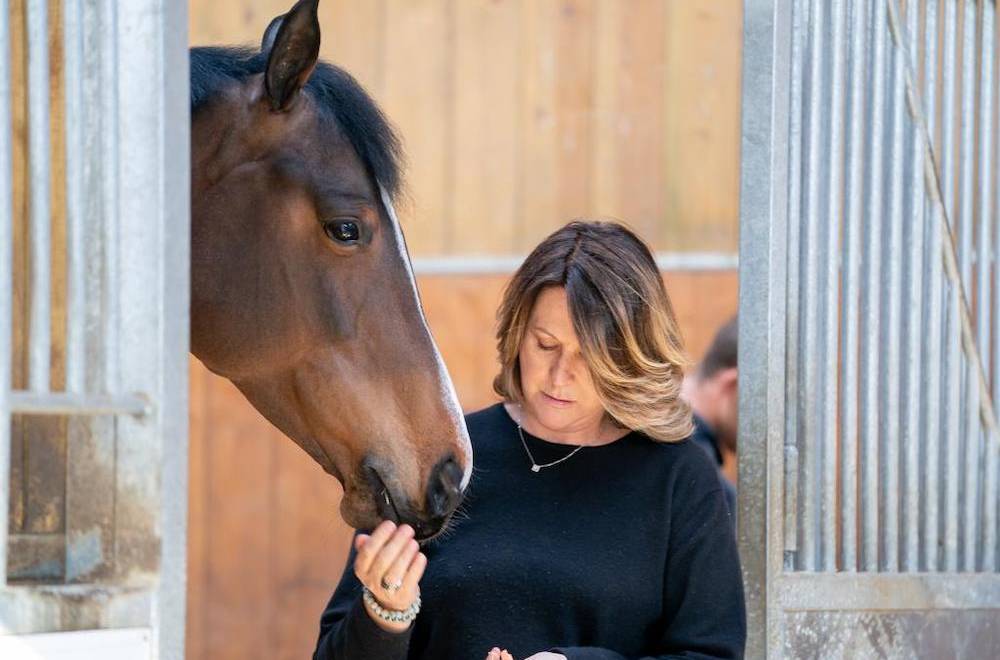 21 December 2021
The ever discreet Géraldine Hieronimus is probably best known for being associated with E2K Horses, a stable that brings breeding, sport and trading together. Her goal is to put her brand forward and not herself as a person. This breeder and owner, who describes herself as curious and hyperactive, wishes to further professionalize her stable, which is at the forefront of the sport more and more lately. This is especially thanks to Marc Dilasser, who takes his horses up to the 5* level, including the well-known Abricot Ennemmelle (Quaprice Bois Margot), as well as Pierre-Marie Friant.
You don't come from an equestrian family, and yet your passion for horses has always existed, from breeding to sport. Tell us how E2K Horses was born!
"I think that one day, a little fairy bent over my cradle, and I became absolutely fascinated with horses! At the time, it wasn't that easy to ride horses in Reims, but I found a riding center dedicated to students. I quickly obtained my 'galops' certification and rode in competitions up to 1.35m. When I was 25, I had a bad fall, my horse crushed my leg, and I had a fracture which still requires surgeries. I still ride horses but less intensively. I also developed my passion for breeding and bought my first AQPS (translator's note: other than thoroughbred) mare that I used to ride. As soon as she started to underperform, I had her covered. I was fascinated by breeding, creating a cross and seeing the results. I actually started quite early on, and it only got more intense each year, little by little, depending on how much money I put into it. I started with an AQPS and today I manage to buy horses of a good level. My first foals were born about 30 years ago. I've always devoted a lot of time to my horses by visiting them, going to stallion approvals and travelling abroad to see what's going on; I have always been very curious. I'm a business owner, I have a professional life in parallel with this, but for the last two or three years, I have been more involved in E2K Horses. Even though it has always been, I want it to become even more successful! During the first containment - due to the pandemic - I wanted to clarify all this with a logo and a brand identity, I think that as an owner and breeder, we all want the work we have done for years to be recognized and that everyone knows our values. At the Haras de Prieuré in Normandy, the foal side is led by Caroline Cancre, who is extremely devoted to horses. In terms of sporting collaborations, I work with Marc Dilasser and Pierre-Marie Friant."
Elika de Villier and François Pelamatti at the World Championships for 7YO in 1999. ©DR
Elika de Villier (Ruby Rouge) has been a bit like the doyenne of your breeding, of its history, and of your desire to continue.
"I must have been lucky, or had a good eye, when I bought her at three years old at a low price. With François Pelamatti, she was the 7-year-old Reserve Champion at the World Championships in 1999. Nobody knew much about that event in France yet, everyone was wondering why I wanted to go there. Like all owners, I think it's very moving to see a mare that was bought young have the Marseillaise ring out for her at an international competition, it also made me want to do it more often. I kept her for almost 27 years, she left us a few months ago. Some of her foals were very good performers, I sold some of them to England and Canada."
Your motto is "a stable of excellence", a term as precise as it is vast. What do you mean exactly?
"I don't want it to sound pretentious. We work with people who have the same state of mind: they are respectful and have a desire to do well. In my opinion, excellence rings true with three words: confidence, expectation, and patience. Some commercial stables try to sell the horse before it's 5 or 6 years old because after that it becomes another sport and the costs become more important, but that's not our goal. We really want to have the horse work according to its physique and its desires, without necessarily competing in finals, but by having it progress at its own pace. Our motto is first of all breeding; I try to do it with the best lines, and I manage to buy prestigious ones. I try to have good mares to have good horses, knowing that it's not miraculous, that there is little chance of breeding a star. So far, we have managed to have good horses in the classic cycles which are then sold to good homes. We also do competitions to get performance records but when we think the horse is ready and we have an offer that fits them perfectly, they're sold. I like to breed, develop the horses and when they're ready, sell them. Not everyone is like that, but I don't mind when I can choose the new rider."
Marc Dilasser and Corona Z, a daughter of Queen of Lulu, performed up to CSI4*. She is now under the saddle of Mexican rider Juan Jose Salinas Pasalagua. ©Sportfot.com
You talk about prestigious lines; for a while you have been working with Uélème's, which other ones do you turn to?
"Yes, I have been working with Uélème's line for about 8 years! I was at Olivier Jouanneteau's where my breeding horses were. I saw Uélème's foals being broken in and progressing, then I bought one of her daughters, Queen of Lulu (Happy Villers). She had foals like Corona Z (Crown Z). I also bought Bibibi's full sister at five years old, Vous Aime (Norman Pré Noir), whom I rode and with whom I did embryo transfers. I also have the Monsieur Paris line with Heidi des Forêts (Number One d'Iso). At the beginning of the month, I acquired the winner of the Körung in Verden, Chaclight (Chacfly x Sunlight), in order to have assets for later and to have the horse progress at the high level."
Géraldine Hieronimus can now also count on Chaclight for the future.
For more than eight years, you've been collaborating with Marc Dilasser, and more recently with Pierre-Marie Friant also. From the young horse to the most experienced, explain these collaborations.
"I started by entrusting a horse to Marc. At that time, I was looking for an experienced, respectful rider that listened, to ride a 7-year-old of mine. He had just settled at the Haras du Millénium and I was one of his first clients. We then went to see a mare in Verden, Cinderella (Clinton), which I bought, and the collaboration really started then. Marc is as passionate about young horses as he is about high-level sport, not all riders are! He knows the lines well. When we see a horse that we like, we always click at the same time. There are many horses that we look at but, in the end, we always agree! I get along very well with him; we're both a bit hyperactive. Apart from all the equestrian aspects, he's intelligent and cultured, it's nice to be able to talk about other things too!
Marc Dilasser and Cinderella. ©Sportfot.com
I met Pierre-Marie through Mr. and Mrs. Bastin, the owners of Arioto*du Gesvres - a horse ridden by Marc Dilasser. He has some of their foals at home. I think he's a very talented rider, I love the way he rides horses, he has an incredible feel and a good position. I think it's great to be able to help a new generation of riders. I started by entrusting him with Cinderella before she was sold. He will also get Magic One d'Anbri (Numbre One d'Iso), who was bought at the Fences sales, and Cascada S (Cornets Iberio) in 2022."
When you own high level horses, it has a certain financial cost and therefore there's a lot at stake. How do you choose the riders you work with?
"It's really by getting to know the riders. I go to their places and observe how things are going. The daily routine must be good, and the horses as well. Honestly, you can tell quickly. If the horse is well, has a totally serene eye, a beautiful coat, comes to us, and on top of that, is good in terms of performance, there's no real doubt. Then, I never work with people for a year or two. When I give my trust, I want it to be respected. You've also got to give the rider some comfort and not make them feel like they're in the hot seat. They have such a hard job, if they feel like overnight the owner can take their horses away, it's not good for everyday management."
The rest of the interview with Geraldine Hieronimus will be available tomorrow. We'll talk about trading.
Featured photo: Jessica Rodrigues